Jackfruit Rice Tortilla Soup With Mango Salsa. It is cold, really cold.  And as much as I would like a nice green salad, I can't resist some soup…some hot and hearty soup. Here it is, Jackfruit Rice Tortilla Soup &  Mango Salsa. Warm, comforting yet deliciously spicy.  This is vegan, gluten free, dairy free, and soul warming.
Jackfruit Rice Tortilla Soup With Mango Salsa
Ingredients
1- 14 oz can of organic jackfruit
3 tbsp. olive oil
1 cup minced red onion
1 cup frozen corn
4 cups organic vegetable broth
6 cups Power Greens, kale chard and spinach
2 cups of cooked brown rice ( I use Seeds of Change precooked quinoa/brown rice)
2 cups mango salsa
1/2 cup cilantro

Spices

2 tsp chili powder
2 tsp cumin
1 tsp oregano
1 tsp smoked paprika
1 tsp sea salt
1/2 tsp black pepper
1 tsp granulated garlic

Toppings

1/4 cup chopped cilantro
1/2 cup green onions
1 cup blue corn tortilla chips
1 avocado
4 Tbsp vegan yogurt
Instructions
Drain jackfruit and saute with onions in olive oil.
Add spices.
Add salsa, vegetable broth, greens and corn.
Simmer for 25 minutes.
Add cilantro and brown rice and stir.
Serve in bowls and top with chopped cilantro, avocado slices, green onions, yogurt and blue corn tortilla chips.
https://greenschemetv.net/jackfruit-rice-tortilla-soup-mango-salsa/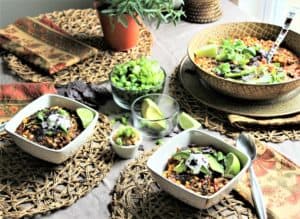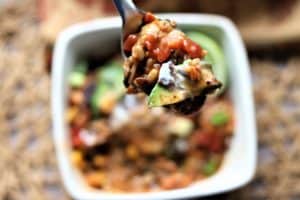 Other recipes like Jackfruit Rice Tortilla Soup  & Mango Salsa that you might enjoy:
Basil Pesto Pasta With Sun Dried Tomatoes and Asparagus
Raw Basil Pistachio Pesto Zucchini Lasagna
Thai Vegetable and Noodle Stir-fry
Quinoa Potato Corn Scramble With Grilled Pepper Chile Sauce
Tofu Cauliflower Kale Tacos With Lemon Mint Creme
Hearty Provencal Vegetable Soup With Pesto