Grilled Chicken Taco Salad.  Summer is almost here, so any recipes that use the grill are fine with me.  I made a Grilled Chicken Tortilla Soup the other day, and decided to create a Grilled Chicken Taco Bowl with some of the same ingredients for those who prefer salad over soup.  Topped with creamy homemade cilantro dressing, I can tell you that ordinary grilled chicken never tasted so good.
I used to eat in restaurants that offered a taco salad in a large taco shell bowl.  That was in the old days when I would eat gluten, and the shell was made with flour tortillas.  A taco bowl gives your salad some crunch, so I had to get creative if I wanted that for my grilled chicken salad.  Now that I am only gluten free,  I had to make it with corn tortillas.
How To Make A Taco Bowl
Because corn tortillas are smaller, you need more than 1.  I used an 8" oven proof bowl and placed 4 tortillas that I had rubbed with olive oil to make them soft.  In order to keep the shape, I made a tinfoil ball, and placed it in the middle.  I then baked the bowl for 10 minutes at 375, or until the edges were crispy.  I removed the tinfoil, and baked for an additional 3 minutes.  Magic.  A perfect taco bowl.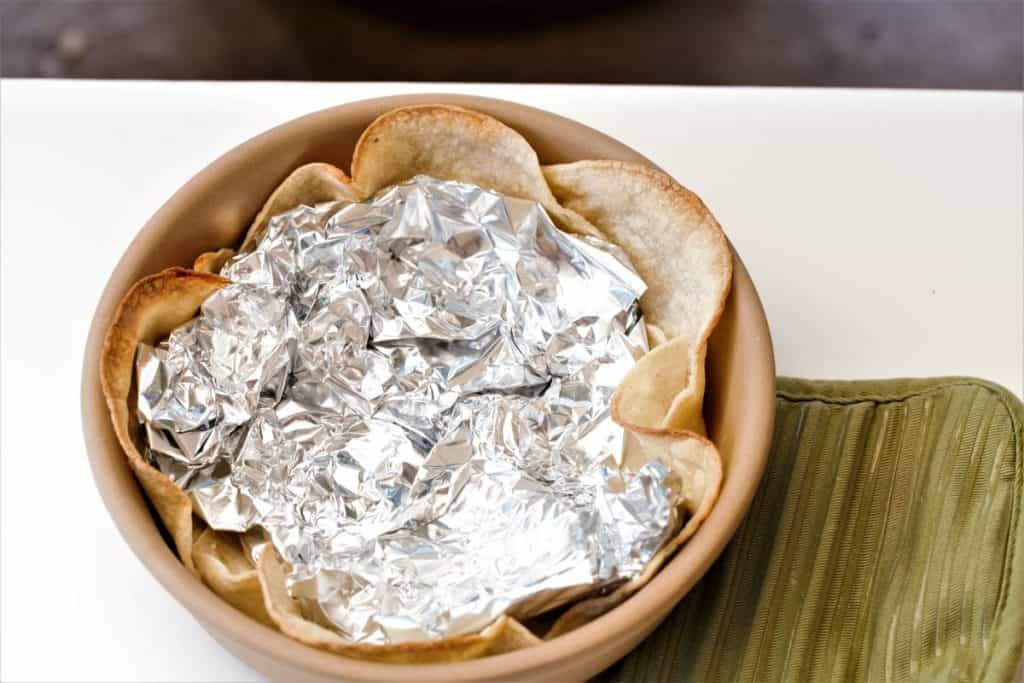 Grilling the chicken is as simple as rubbing it with olive oil and spices and cooking it for 10 minutes on each side, or until done.  This recipe is for one taco bowl, so if you are making several, adjust your chicken, tortillas and salad ingredients accordingly.  The creamy cilantro dressing will actually serve 4.  You can also try the Grilled Chicken Tortilla Soup that I made with basically the same ingredients.
Steps For Making Grilled Chicken Taco Salad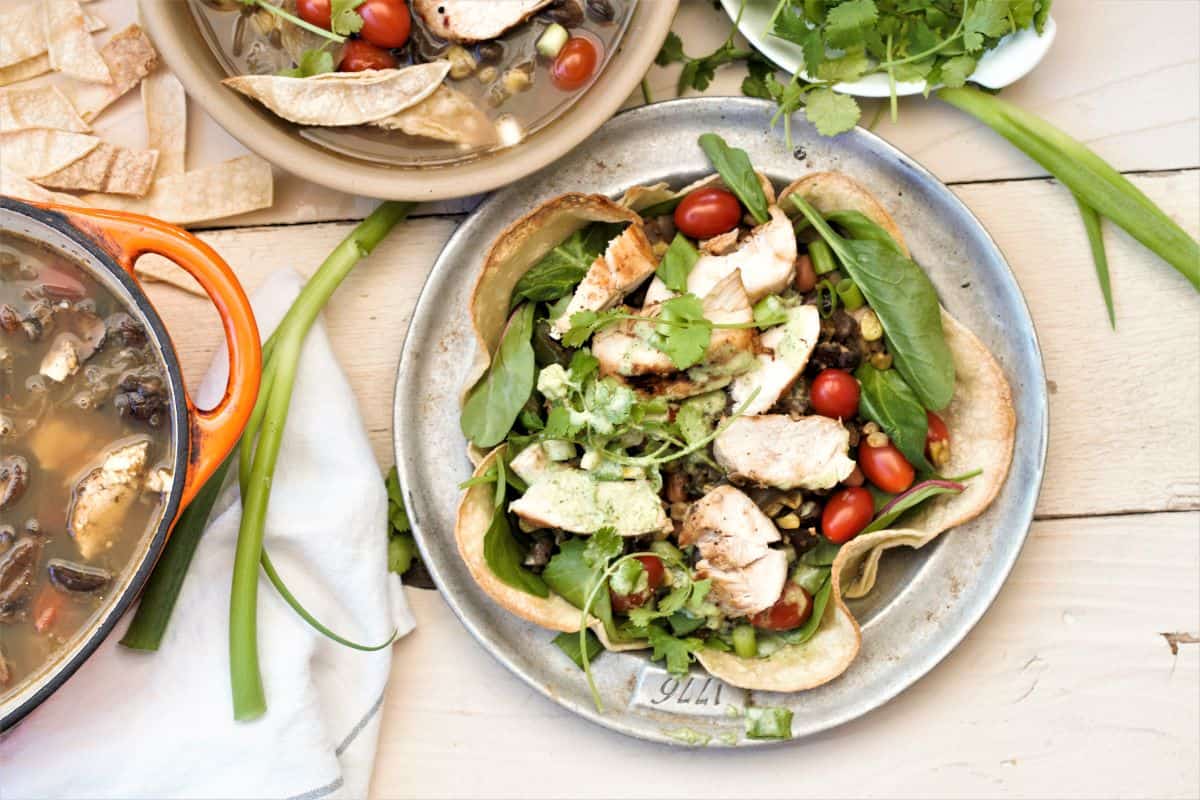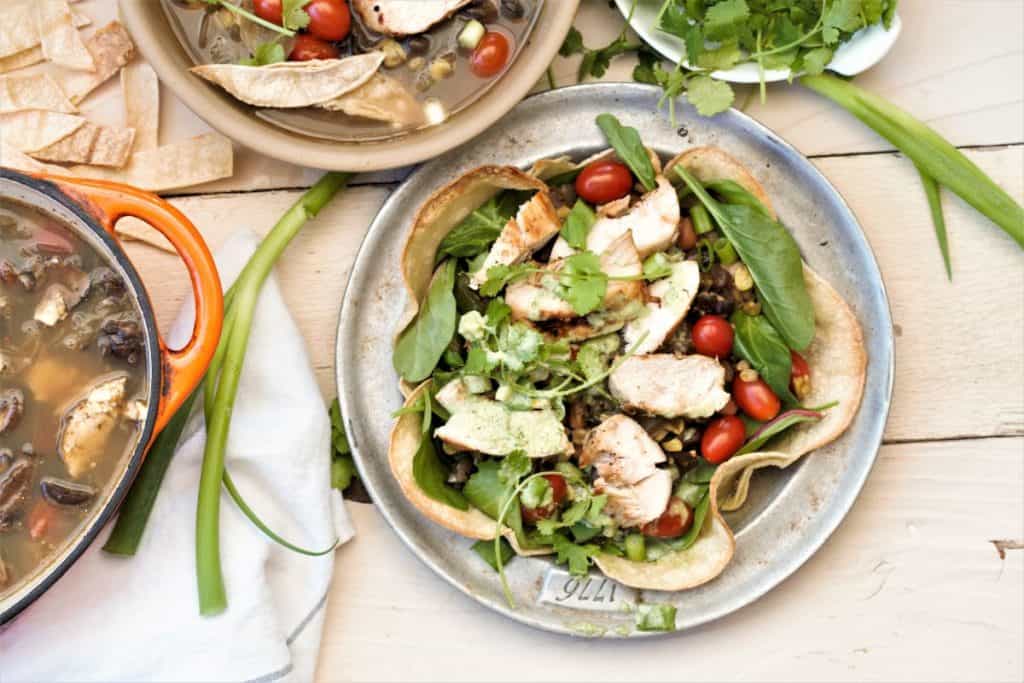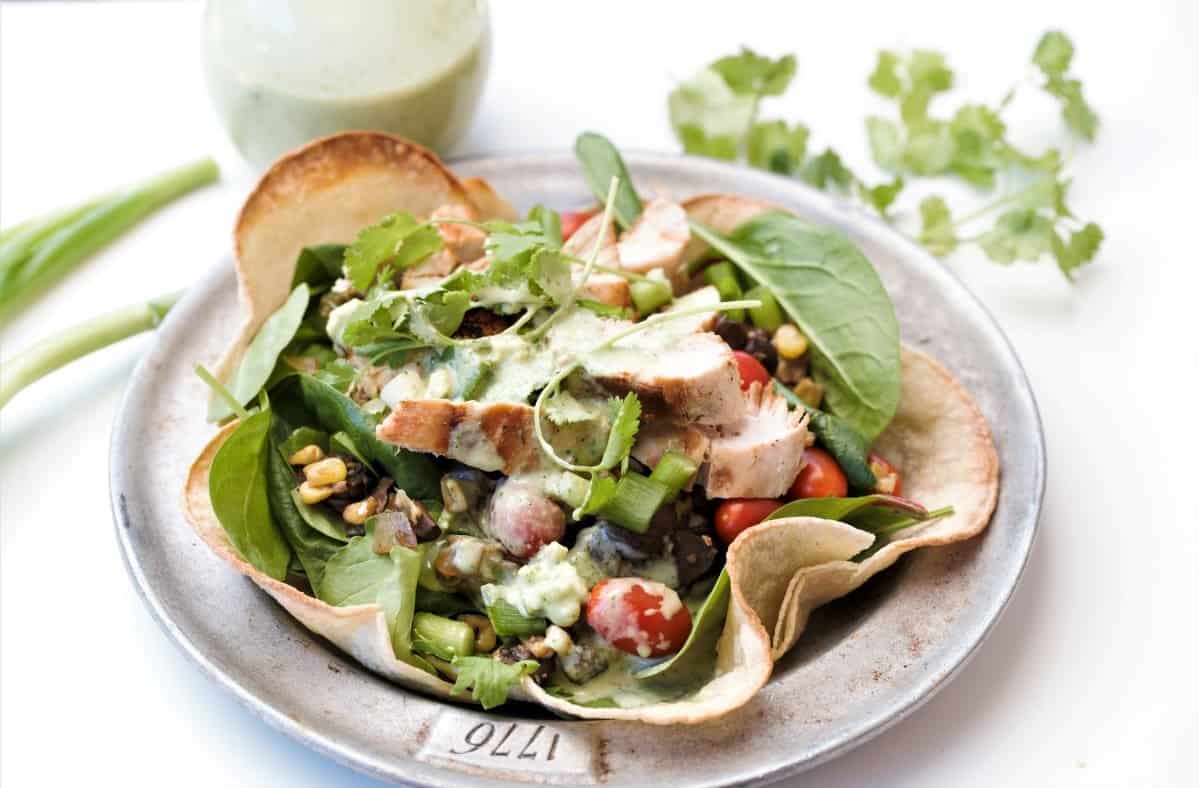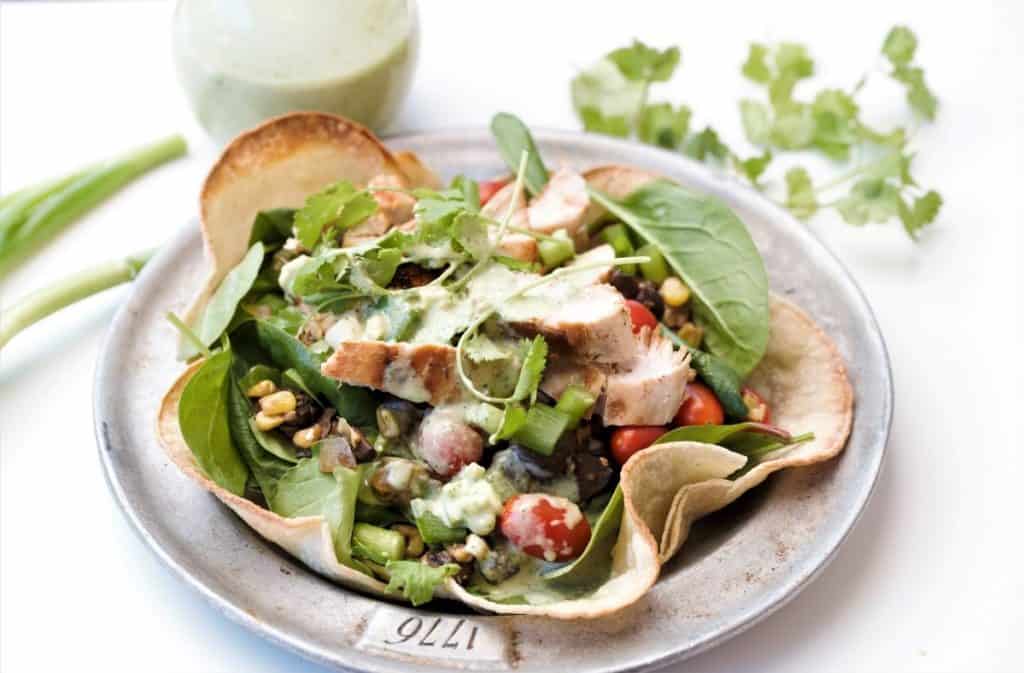 Recipe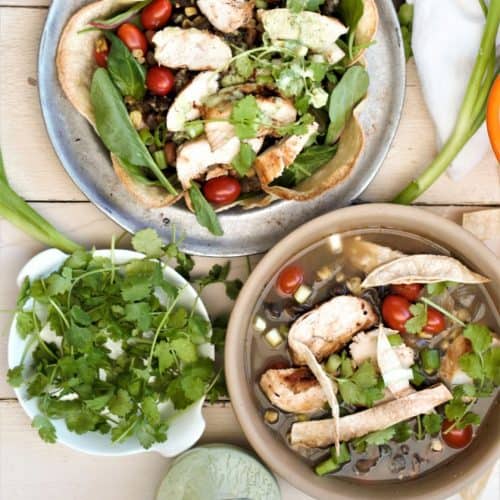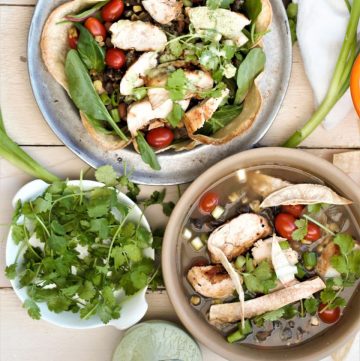 Grilled Chicken Taco Salad
Grilled Chicken Taco Salad. There is something especially cool about eating a salad out of a taco shell. This spicy grilled chicken is combined with greens, beans and vegetables and then topped with a creamy cilantro dressing. This is a perfect flavor combination! So quick, easy and healthy and of course, gluten and dairy free.
Ingredients
1

tablespoon

olive oil

1

teaspoon

red pepper flakes

1

teaspoon

granulated garlic

½

teaspoon

sea salt

1

skinless chicken breast

¼

cup

sliced mushrooms

¼

cup

corn

¼

cup

tomatoes

½

cup

mixed greens

¼

cup

pinto beans

4

corn tortillas for taco bowl and olive oil for drizzling
Creamy Cilantro Dressing
½

cup

raw cashews

½

cup

water

½

cup

fresh cilantro

½

teaspoon

granulated garlic

2

tablespoon

maple syrup

1

lemon, juice of

¼

teaspoon

lemon zest
Instructions
Place 4 corn tortillas in oven proof bowl and drizzle with olive oil. I used an 8" bowl. Add tin foil to the middle to create a taco bowl. Bake at 375 until edges are crisp, approximately 10 minutes. Remove foil and bake an additional 3 minutes.

Marinate chicken in olive oil and spices for 10 minutes. Cook chicken for 10 minutes on each side or until done. Slice chicken after removing from grill.

Add greens, beans, vegetables to bowl. (either raw or sauteed). Top with sliced grilled chicken.

Blend all dressing ingredients in high speed blender. Pour cilantro dressing on salad. Top with fresh cilantro and green onions.
Notes
This recipe is for ONE taco bowl and salad.  For each salad that you are making add an additional chicken breast, and salad ingredients and tortillas listed above.
You can make this salad with either raw or sauteed vegetables.  I have done both, and it is delicious either way.
Nutrition
Serving:
2
cups
Calories:
309
kcal