Grilled Polenta Bowl. As Labor Day approaches, we like to post as many grilling recipes as possible since it basically means the end of summer grilling. One of my favorite things to create is bowls comprised of healthy grilled food. Here, we are using seasoned, spicy polenta, rice, beans, greens, red onions, jalapenos and topping it all with avocado and salsa.
Jump to:
Ingredients
What a great combination of flavor!This is a very simple recipe, using only 8 ingredients that you may already have in your kitchen. If you are shopping, here is what you will need: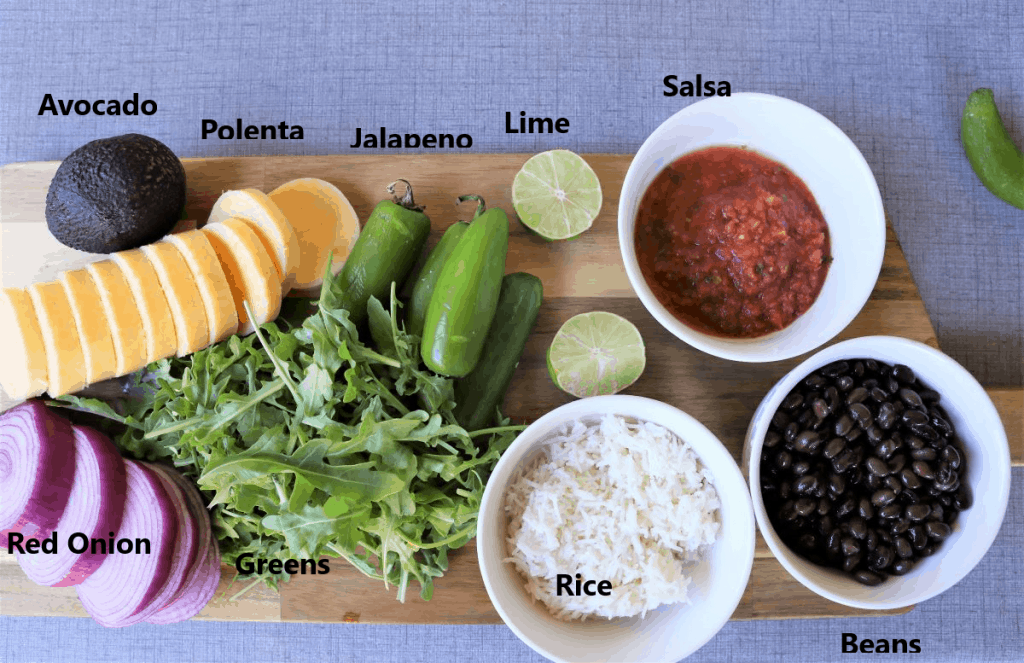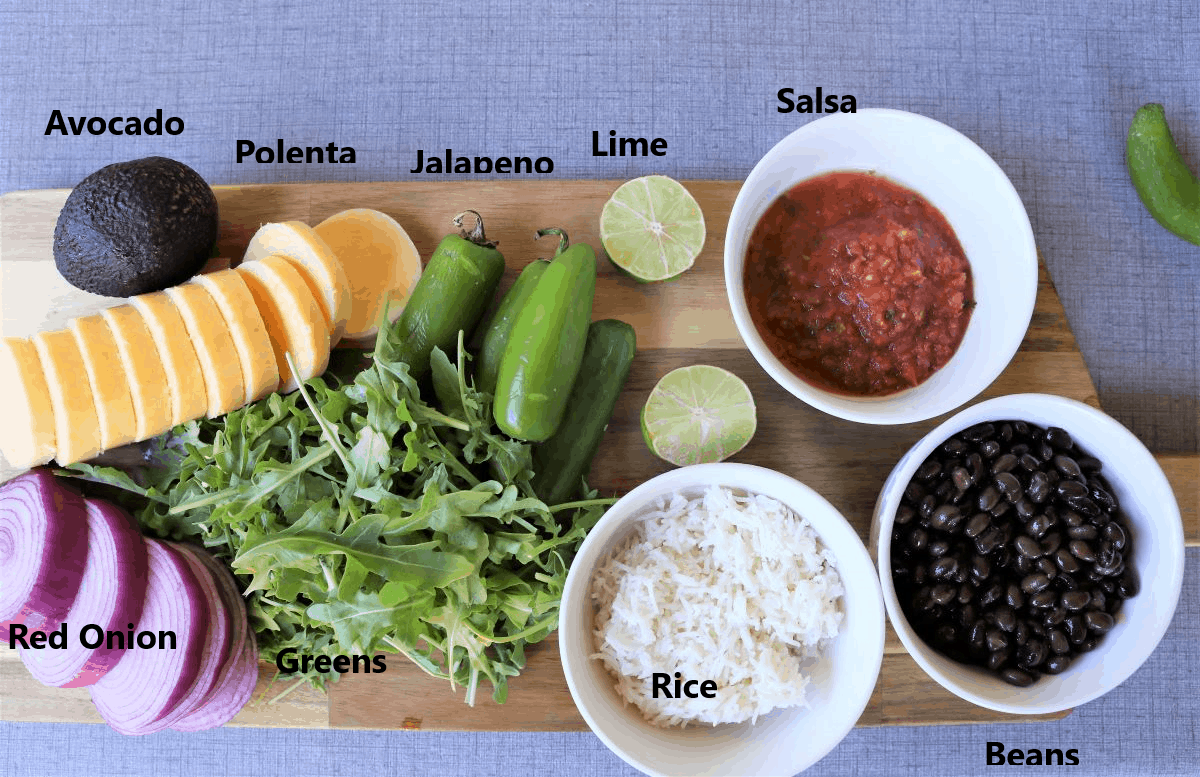 Shopping List:
Polenta (pre-cooked tube)
White rice
Black beans
Mixed greens
Red onion
Jalapenos
Avocado
Salsa
Oil, salt, spices
Instructions
The most important player in this dish is of course, the grill. I always use the George Foreman grill because it gives me perfect results without a hassle. (Read my review here)
This grill is an indoor/outdoor grill, but I have never used it indoors. Set the temperature to medium high so that it starts to warm up while you prepare your ingredients.
First, cook 1 cup of rice according to package directions. Heat your black beans for 1-2 minutes in microwave. Slice polenta into ½ " slices, and add to flat dish. Pour olive oil, sea salt, granulated garlic and smoked paprika on the polenta and mix well. Slice your red onion and jalapenos.
When the grill is warmed up, add onion, polenta and jalapenos. Cook for 4-5 minutes on each side (each grill is different, so watch carefully to see when your ingredients are cooked). Get ready to build your bowl.
For this bowl, add white rice, black beans, greens, red onions, jalapenos and grilled polenta to a large platter or bowl. Add avocado and top with salsa and lime juice. These ingredients will serve 3-4, so after adding all of your ingredients, you can mix well and dish into individual bowls. That is it--bowl is done and ready to enjoy spicy grilled polenta and vegetables ready in less than 30 minutes!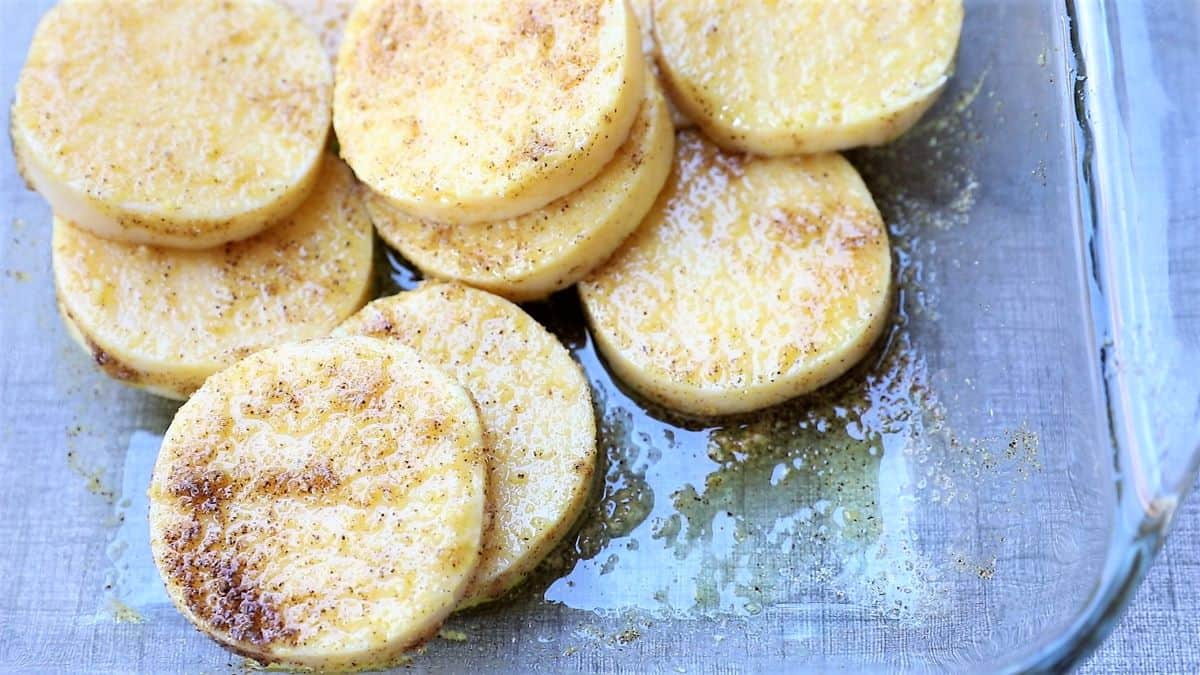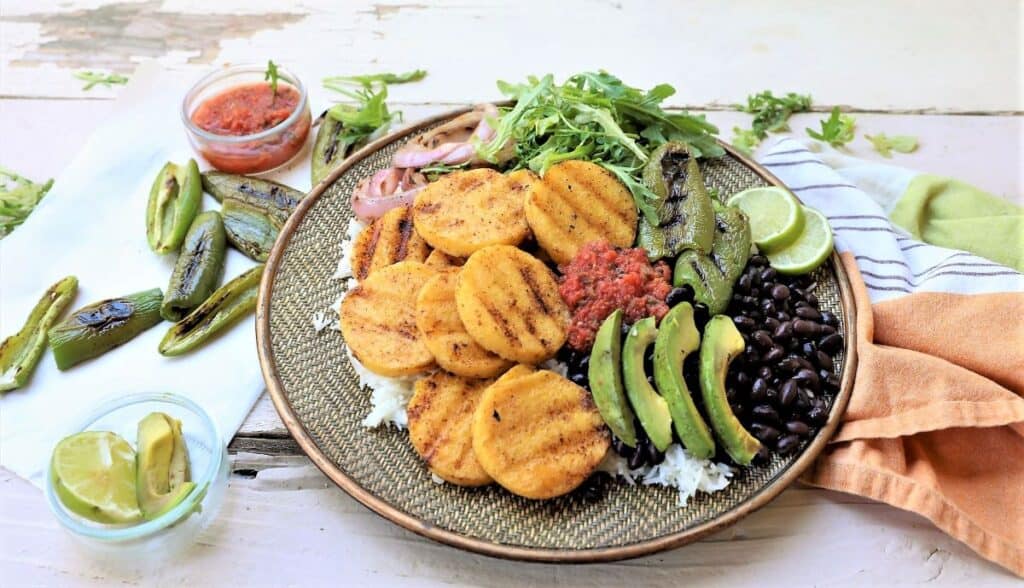 Outdoor dining with your grilled polenta bowl. Protein, fiber, nutrients and flavor!
Is Polenta gluten free?
Every recipe on this site is gluten free, so whenever I include ingredients that are not obvious, (like an apple), I like to address it so that there are no concerns.
Polenta is a gluten free grain, made from cornmeal. It is often a good substitute for pasta, rice or quinoa which are staples in most diets. It is very similar to grits that we used to eat growing up in the south, and can be added to a variety of recipes to change up your gluten free diet options.
Polenta can be purchased pre-cooked, in a tube, and that is how I buy it if I am going to grill it. I usually get it from Trader Joe's, because they offer organic, labeled gluten free polenta. That is the safest buy in my mind.
If you are looking for more of a cereal or porridge texture, you can buy stone ground cornmeal and cook it from scratch. You will find many polenta recipes that use that method like this Lentil Pasta With Red Pepper Polenta.
Top tips
First, and most importantly, jalapenos add so much kick to a bowl, but they are hot, and you should use caution while slicing and de-seeding the jalapenos. Wearing gloves is recommended, and do not touch your eyes.
Use cooked polenta, and slice ½" thick to make sure that the polenta can hold up on the grill.
Cook rice according to package directions or use Instant Pot (which I think is the best rice ever). Check out the review here to learn more about how great your cooking will be when you use it:)
Recipe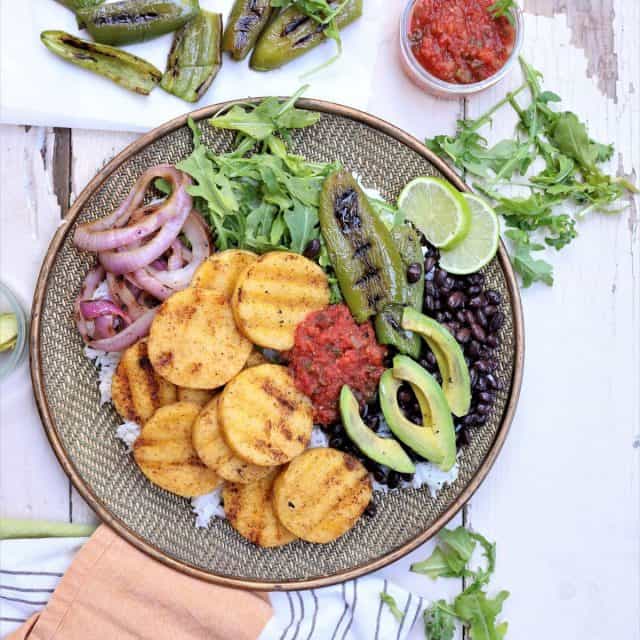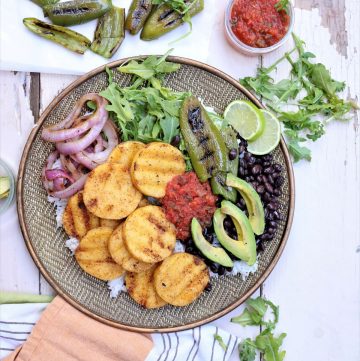 Grilled Polenta Bowl
Grilled Polenta Bowl is quick and easy and perfect for that end of summer grilling dish. Spicy polenta, rice, beans, greens, salsa, onions and Jalapeno give you a robust flavor that is off the charts delicious. Ready in less than 30 minutes. Vegan, vegetarian, gluten free, dairy free.
Ingredients
18

oz

polenta (in a tube)

¼

cup

olive oil

1

teaspoon

sea salt

1

tablespoon

granulated garlic

1

tablespoon

smoked paprika

1

cup

uncooked rice, cooked according to package

14

oz

can black beans, drained

1

red onion, sliced

4

fresh jalapenos, sliced

½

cup

salsa

1

avocado, sliced

1

lime

2

cups

spinach or greens
Instructions
Turn grill on medium high to warm up. Cook rice according to package directions. Heat black beans in microwave for 1-2 minutes.

Slice polenta into ½" slices. Place in dish and add oil, salt, granulated garlic and smoked paprika. Mix well.

Slice onion and jalapenos. Place polenta, onion and jalapeno on grill. Cook 5 minutes on each side (but watch carefully because grills differ in cooking time).

Build your bowl. Add cooked white rice, beans, greens, onion, grilled polenta and jalapenos. Top with salsa, avocado and drizzle lime juice. Yum!
Notes
Use precooked polenta, and do not slice too thin so that they will hold up on the grill.
Nutrition
Serving:
1
cup
Calories:
296
kcal