Cauliflower Quinoa Pizza Gluten Free.  As I have said many times on this site, when I found out that I had to adhere to a gluten-free diet, one of the things that I missed the most, was pizza.  In 2008, there were not many options for gluten-free anything, and certainly not pizza.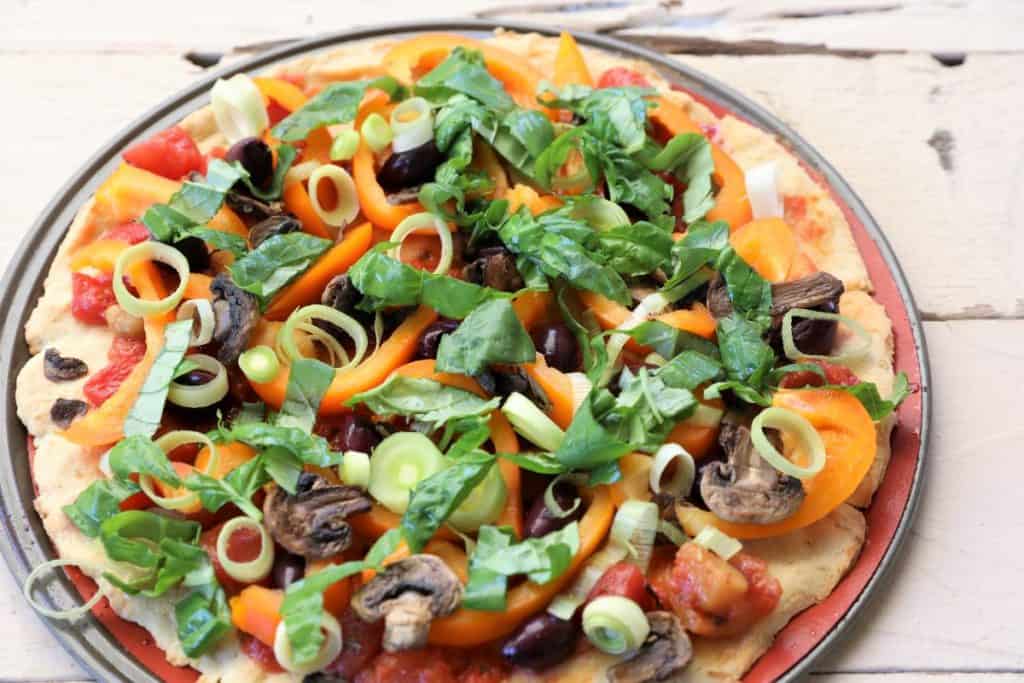 Today, we have so many gluten-free options, that it is almost possible to forget that you are "burdened" with a gluten-free diet.  With this cauliflower quinoa pizza, we have not only a gluten-free pizza but also a pizza packed with nutrition, flavor, and fiber.  What could be better than that?
Pizza can be such a versatile meal because you can make a savory pizza, like this roasted vegetable pizza, or a sweet pizza, like this berry chocolate pizza. Whether sweet or savory, pizza is great comfort food!
As is the case with any pizza, you can make the crust, and add any toppings that you like, or just use what you have on hand.  The options include any vegetables or even fruits to give your pizza a sweet flavor.  That way, if you have different tastes in your house, you can please the crowd with a variety of toppings.
In order to make the cauliflower quinoa pizza crust, your cauliflower and quinoa must be pre-cooked.  I prepare them in the Instant Pot, but you can also cook them on the stovetop.  This will definitely be your go-to pizza crust when you need a gluten-free, nutritious, high-fiber crust.
Ingredients
If you are on a gluten-free diet you should still be able to enjoy pizza! This cauliflower quinoa pizza is simple to make, nutritious, and delicious. It's one of my favorite comfort foods, and I'm so happy to be able to enjoy pizza again.
For the crust you will need:
Cooked quinoa
Cauliflower
Gluten-free flour
Egg
Goat cheese
Sea salt
For the toppings, you will need:
Pizza sauce or bruschetta
Olives
Mushrooms
Red or yellow pepper
Leeks or green onions
Fresh basil
White cheese
For this pizza, we used the toppings listed above.  My personal favorite toppings for pizza include fresh vegetables, and there is nothing better than fresh basil grown in the garden.
The flavor possibilities are endless.  This pizza will be ready to eat in one hour, and it will taste so much better and fresher than any processed or delivered pizza.
Instructions
This homemade pizza crust is light and crisp and packed with fiber and nutrition. In only an hour you will have a delicious gluten-free cauliflower quinoa pizza that is much tastier than any frozen pizza.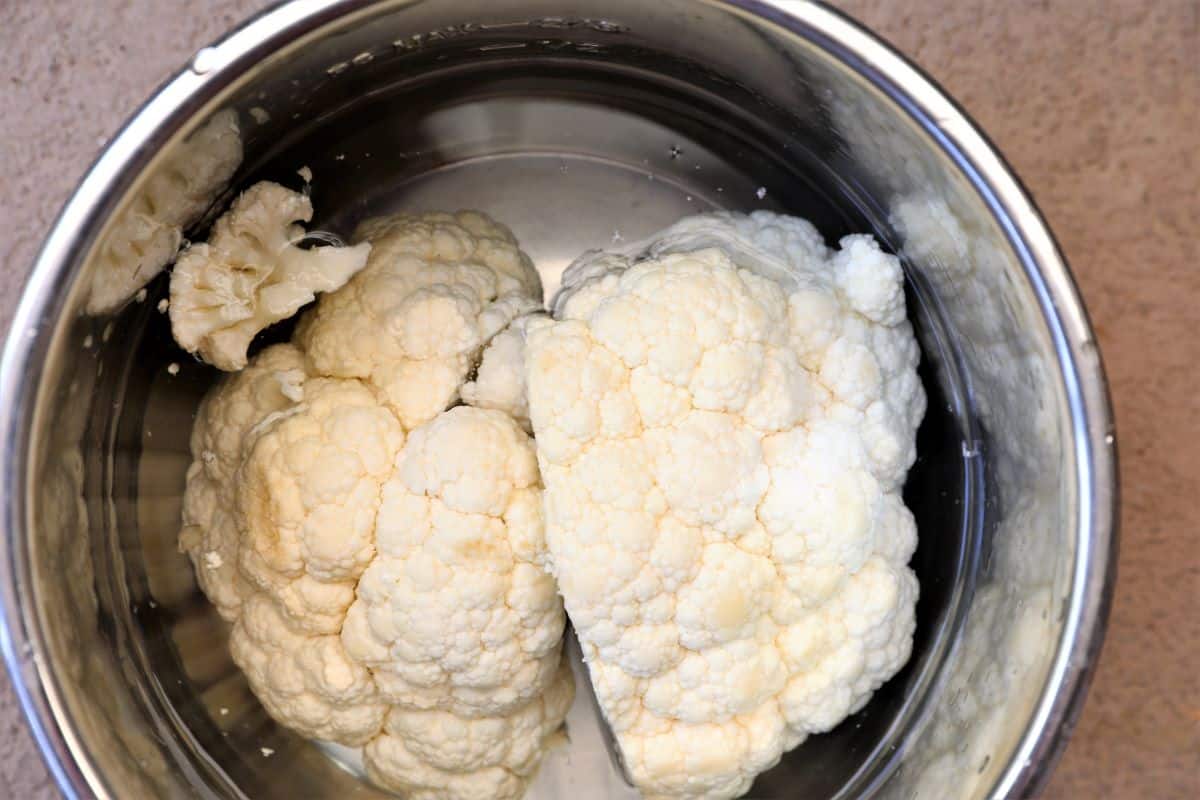 Cook cauliflower in Instant Pot for 3 minutes or boil on the stovetop until cauliflower is tender. Remove moisture with a towel.
Cook quinoa according to package directions.
Add crust ingredients to a food processor and process until all ingredients are mixed.
Spread crust on an oiled pizza pan with a silicone mat or lined with parchment paper. The dough will be sticky so, with a little oil on your hands, spread and press the dough around the pan evenly.
Bake for 30 minutes at 350 degrees
Spread bruschetta or pizza sauce evenly over the crust. Add vegetables, herbs, and cheese on top.
Bake for an additional 20 minutes.
Topping Suggestions
The possibilities are endless when it comes to toppings for pizza. You can make a sweet or savory pizza using this pizza crust. Here are some ideas to get you started. Let me know in the comments below what your favorite pizza toppings are. I'd love to know!
Bell peppers - Green, red, orange, yellow. All of them make tasty pizza toppings!
Broccoli
Olives - Kalamata or black olives.
Artichokes
Mushrooms
Fruit - Pineapple, berries, kiwi just to name a few. Peaches are great on pizza in the summer!
Greens - Spinach and arugula are both great options.
Sun-dried tomatoes
Herbs - Basil (this is probably my favorite), dill, or chives.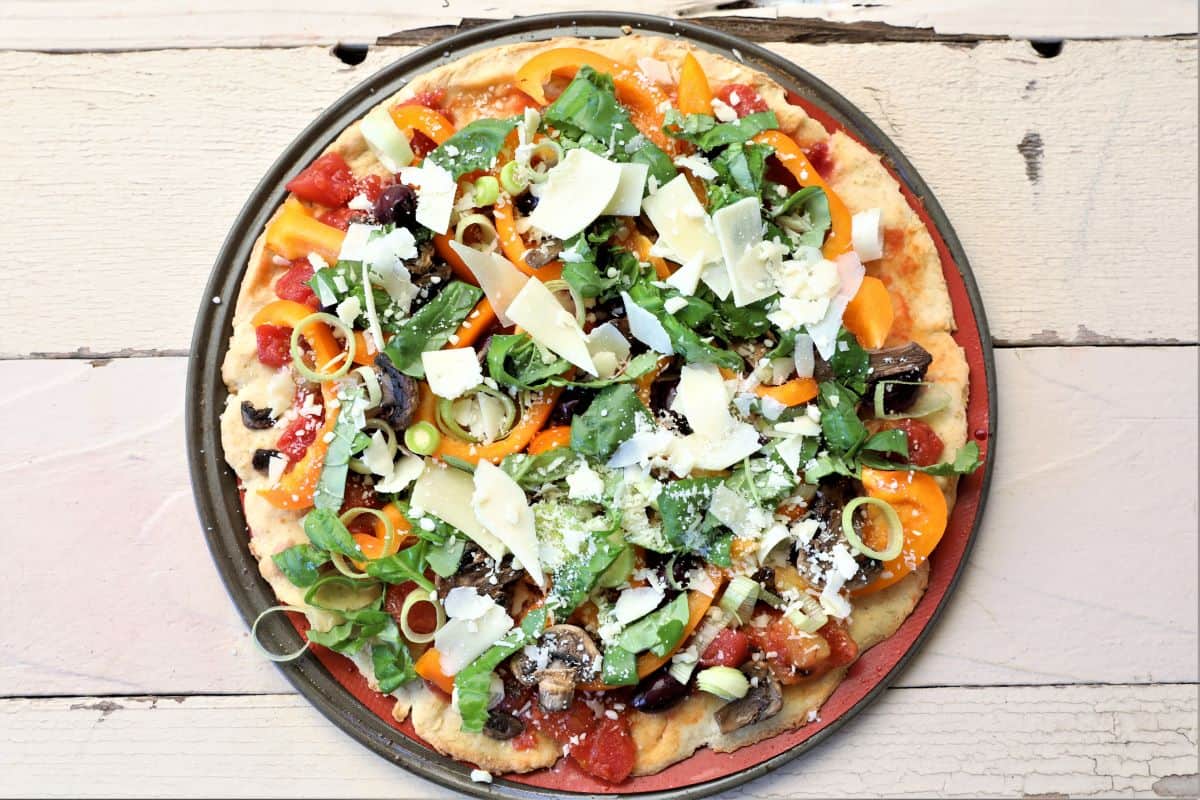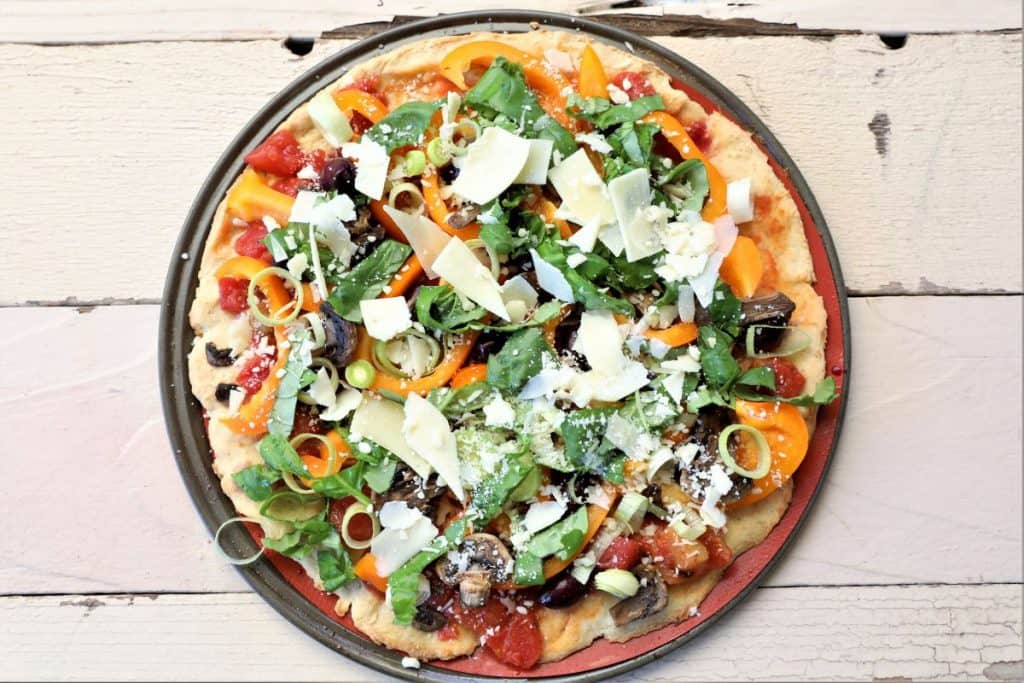 Tips
This cauliflower quinoa pizza is delicious and easy to make. Here are some tips for making this recipe.
The crust will be sticky and will not be rolled like a traditional pizza crust. Oil your hands to prevent sticking and press the dough into the pan.
Make sure to bake the crust for 30 minutes before adding the vegetables and herbs.
Do not put more than ½ cup of sauce on the pizza or the crust will get soggy.
You can substitute any vegetables or fruits to create your favorite pizza combination. This pizza is made with peppers, mushrooms, leeks, basil, and olives. 
For a vegan option, substitute the egg with egg replacement, and use vegan cheese for the goat cheese and topping cheese. Here are vegan egg replacement ideas.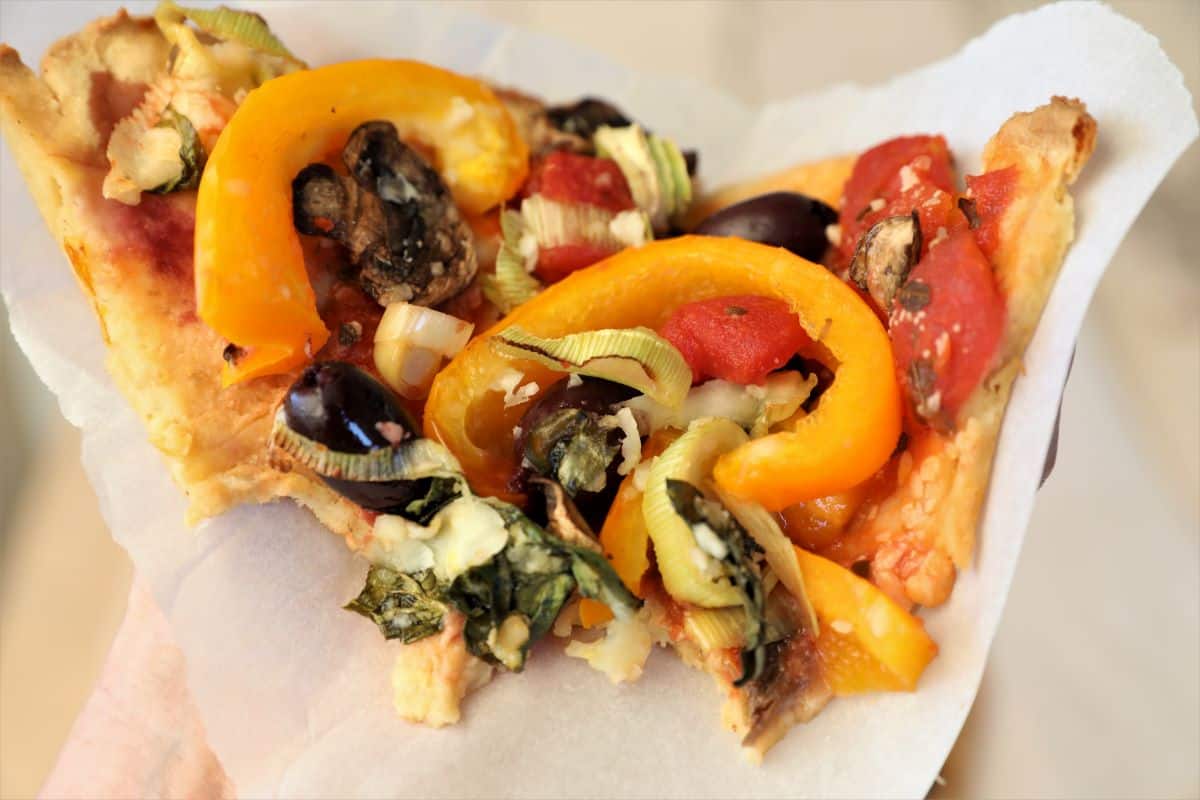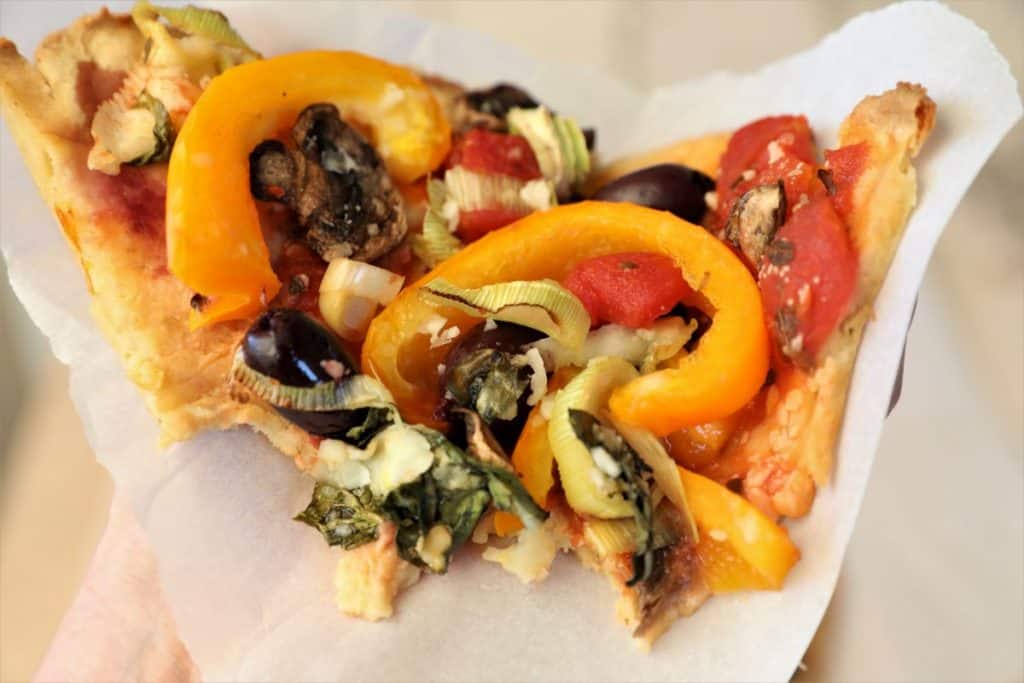 Frequently Asked Questions
Can I use frozen cauliflower?
Yes! For an easier recipe, you can buy frozen cauliflower and then let it thaw in the fridge overnight. The next day, squeeze out the liquid from the cauliflower and proceed with the next steps.
Can I freeze pizza crust?
Yes! I recommend baking the pizza crust and then storing it in an airtight container. When you are ready to use the crust bake it first till it is heated through, approximately 10 minutes. Add your sauce and toppings and then finish baking.
Is cauliflower quinoa pizza crust healthy?
It is definitely healthier than traditional pizza crust. Cauliflower is a good source of fiber and antioxidants. It's also high in vitamins C and K which are great for bone health. Quinoa is a low-fat, high-protein grain option. It has high fiber content and contains important vitamins and minerals, including Vitamin B and magnesium.
Recipe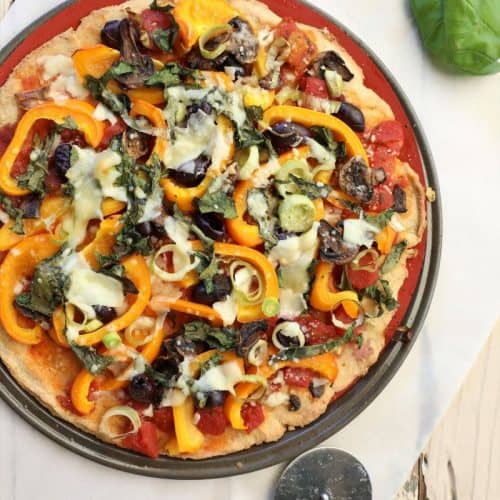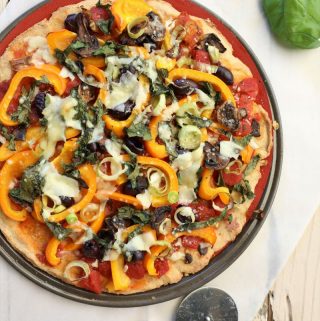 Cauliflower Quinoa Pizza Gluten Free
This homemade pizza crust is light and crisp, and packed with fiber and nutrition. Add your favorite vegetables for a savory treat, or fruits and berries for a sweet pizza....the possibilities are endless.
Ingredients
Cauliflower Quinoa Pizza Crust
1

head of cauliflower, cooked

approximately 1 cup

1

cup

gluten free flour

1

egg or if vegan, egg substitute

1

teaspoon

sea salt

⅓

cup

goat cheese or vegan cream cheese

1

cup

quinoa, cooked
Pizza Toppings
1

pepper, red yellow or orange, sliced

½

cup

mushrooms

¼

cup kalamata olives

½

cup

leek or green onions, sliced

½

cup

bruchetta sauce (or pizza sauce)

½

cup

fresh basil, chopped

½

cup

white cheese, parmesan, asagio or romano

optional-omit for vegan or dairy free
Instructions
Cauliflower Quinoa Pizza
Cook cauliflower in Instant Pot for 3 minutes, or boil on stovetop until cauliflower is tender, approximately 10 minutes.

Drain cauliflower and place in clean towel; squeeze liquid out of cauliflower. You will have approximately 1 cup of cooked cauliflower.

Preheat oven to 350 degrees. Using pizza pan and silicon mat (or parchment paper), rubbing olive oil on the silicon mat to assure that the pizza doesn't stick.

Add all pizza crust ingredients to food processor. Process until ingredients are mixed; do not over mix.

Using spoon, scoop pizza crust out of food processor and place on center of pizza pan. Dough will be sticky so, with a little oil on your hands , spread and press the dough around the pan evenly.

Bake at 350 for 30 minutes.

While the crust is baking, prepare your vegetables and herbs. After pizza crust is cooked, add bruchetta sauce and spread evenly. Top with peppers, olives, mushrooms, basil and cheese.

Return to oven and bake for 20 minutes. Slice and serve.
Notes
Notes For Cauliflower Quinoa Crust
 Your pizza crust will be sticky, so you will not roll the pizza crust.  You will press the crust in the pan with your hands, that you have oiled to prevent sticking.
This recipe can be vegan or dairy free by substituting the egg and cheese with egg replacement and vegan cheese.
Nutrition