Beyond Meat Chili.  I am again venturing into the plant based meat space, because I am so very interested in alternative meat products that can make a dish feel and taste like it has meat in it.  I think that this is crucial to encouraging dedicated meat eaters to try a plant based diet.  I continually read about partners who want to try an alternative eating style, but can't convince their other half to even consider it.  These products offer a compromise.
The first alternative meat recipe that I posted was the Beyond Sausage Sandwich.  I honestly really liked the sausage.  It definitely tasted like sausage, even though it wasn't exactly healthy.  Beyond Meat products do have additives that I prefer that my food not have and I avoid them whenever possible.
I still feel like these products are a positive step toward creating and maintaining meat free diet and this is especially true in households that have several different diet preferences.  It is hard to feed a vegan, vegetarian, gluten free, dairy free, meat eater and junk food eater at the same table.
Nutritional Information
As you can see by the package, the manufacturers of Beyond Meat Beef advise that the product is gmo, soy and gluten free, contains 20 grams of protein and 250 calories per serving and is lower in fat than beef.
What Are Health Reasons To Try Beyond Meat Products?
Check out the American Heart Association, and their information about diseases related to meat consumption... heart disease,  type 2 diabetes.  stomach and bowel cancers and obesity.
For now, I am optimistic about the future of meat free products despite the additives as research continues to improve the products. According to nutritionists,  meatless products are healthier than meat, despite being processed.  Even if the sodium, fat and calories are the same, the other benefits to the environment and animals are significant.
Recipes Using Beyond Meat
I am going to prepare several traditional recipes that include meat, and substitute Beyond Meat Products.  This is Beyond Meat Beef Chili; you can also check out Beyond Sausage Sandwich.
Ingredients For Beyond Meat Chili
Check the ingredient list to make sure that you have everything that you need for this recipe.  You will need:
Beyond Meat Beef
Vegetable broth
Sweet potato
Onion
Garlic
Black beans
White beans
Canned tomatoes
Almond milk
Spices
Olive oil
Steps For Preparing Beyond Meat Chili
As with all of my Instant Pot recipes, this recipe is very simple.  Essentially, saute the "beef", onions and garlic in the Instant Pot.  Add all remaining ingredients, pressure cook for 15 minutes, and done.  Ready to serve.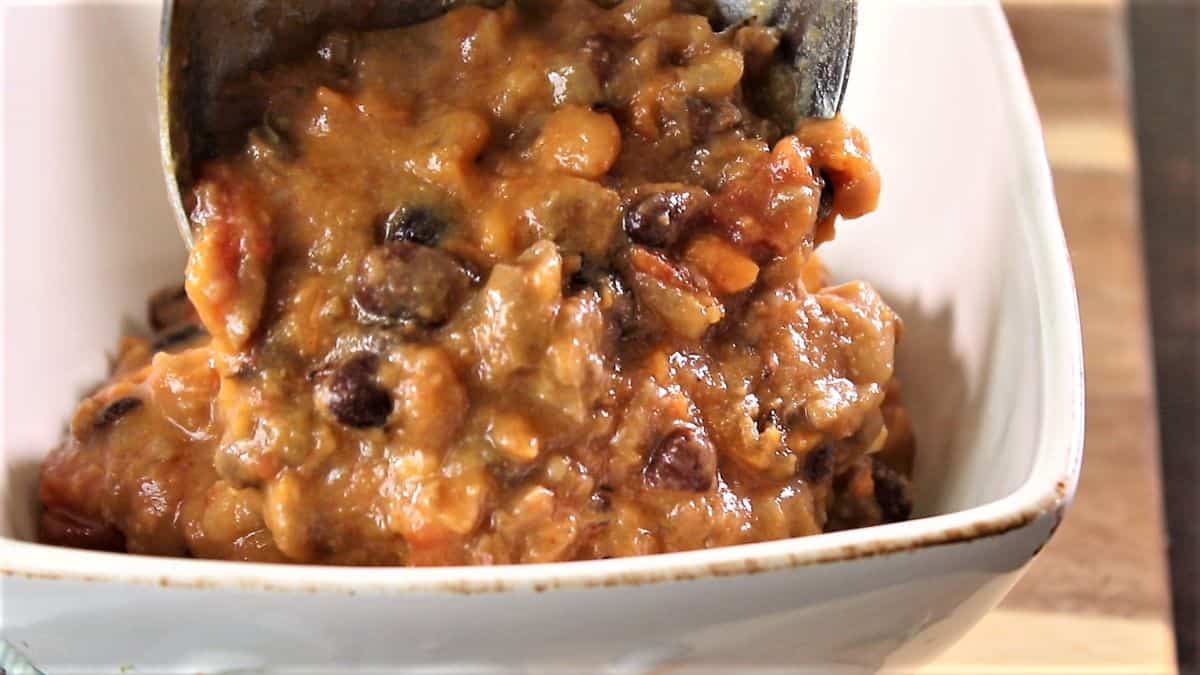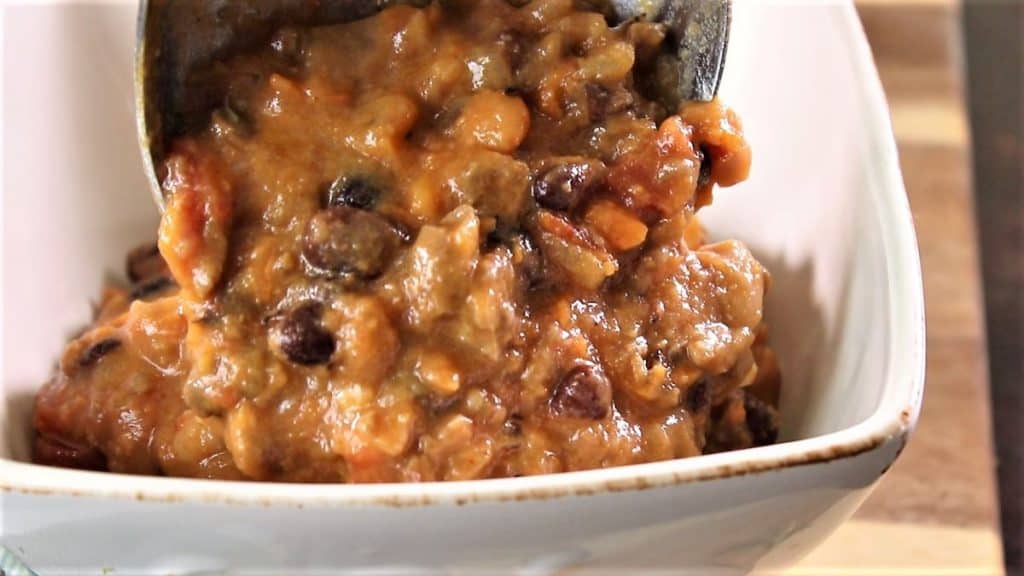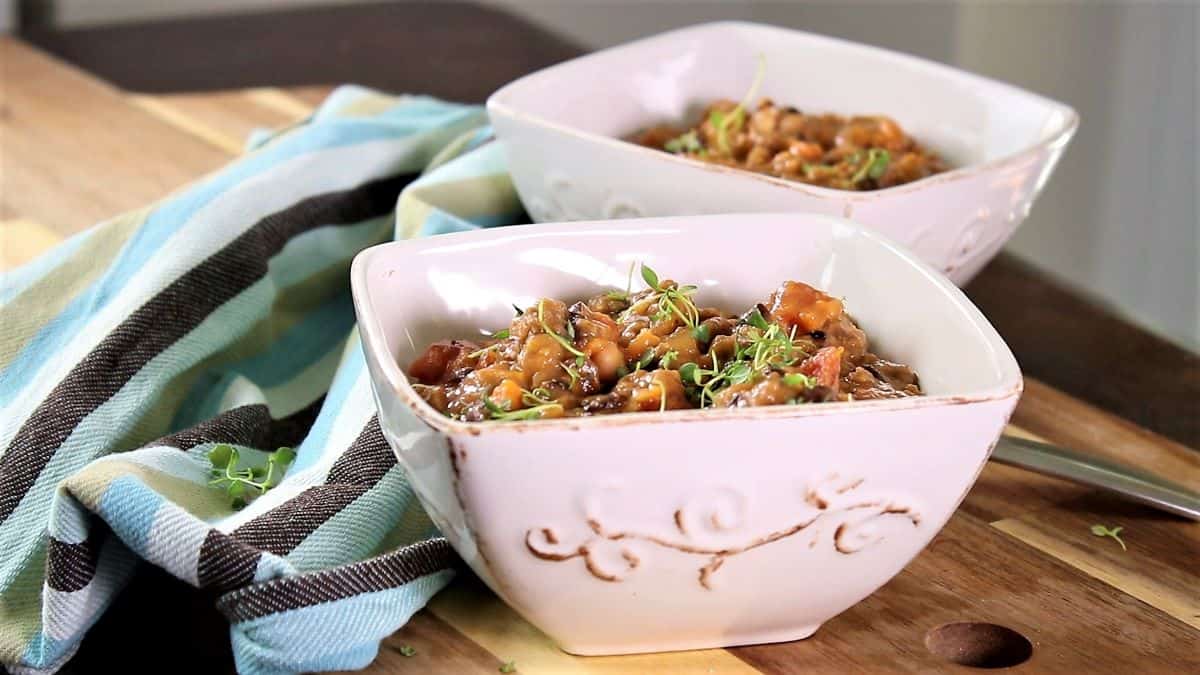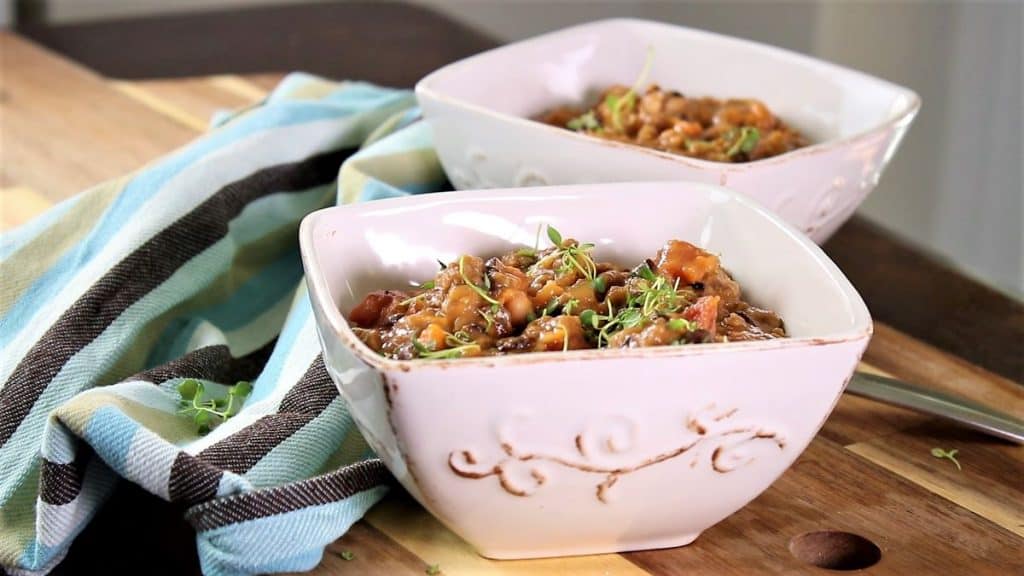 Recipe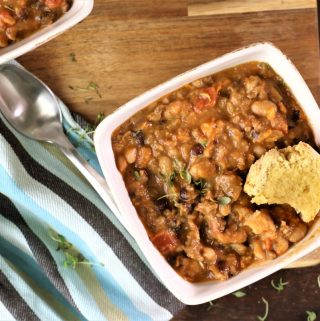 Beyond Meat Chili
Beyond Meat Chili. Ready in less than 30 minutes, this delicious bowl of chili, is made with the alternative meat product, Beyond Beef. Try it for your next meatless Monday; this recipe is vegan, gluten free, dairy free and contains 20 grams of protein per serving. And yes, it really is delicious!
Ingredients
20

oz

Beyond Meat Beef

plant based protein

6

cloves

garlic

1

onion, minced

2

cups

vegetable broth

1

cup

almond milk

1 ½

teaspoon

sea salt

1 ½

teaspoon

smoked paprika

1

teaspoon

coriander

1 ½

teaspoon

chili powder

1 ½

teaspoon

cumin

3

tablespoon

olive oil

15

oz

can white beans, drained

15

oz

can black beans, drained

15

oz

can, diced tomatoes

1

sweet potato, chopped

2

tablespoon

fresh thyme
Instructions
Saute onion, garlic and beyond beef in olive oil in Instant Pot. (See notes for directions to cook on stove or in crock pot.

Add remaining ingredients. Cook on high pressure for 15 minutes. Release pressure naturally.

To serve, top with fresh thyme.
Notes
Notes:  To cook this recipe on the stove, saute the "beef", onion and garlic in the olive oil.  Add remaining ingredients and bring to boil.  Reduce heat and simmer for 1 hour. To cook this recipe in the crock pot, add all ingredients to crock pot, and cook on high for 3 hours.
Nutrition