Vegan Gumbo.  Yes, I know that it is summer, but I am always looking to create vegan comfort food recipes so that we can eat our favorite foods all year long without feeling deprived.  Honestly,  some recipes that I have adapted to vegan turn out better than others.   Here, I have modified a traditional gumbo recipe to make it vegan, while still trying to keep it as spicy and delicious as possible.
Traditional gumbo is spicy, has meat and fish, so after experimenting with several versions, I have come up with this vegan gumbo.  To replicate the meaty texture, this recipe includes jackfruit, which is amazingly adaptable.  It sort of takes on the flavor of the surrounding food and spices, which makes it a great meat substitute.
I had never even heard of jackfruit until a few weeks ago–it has a weird name, and seemed like a food that could only be used as a fruit.  I was pleasantly surprised to find out that jackfruit can be used in a main dish, and is actually delicious.
Fun Fact:  Jackfruit it is a species of the mulberry and fig trees and is rich in protein, potassium, calcium, and iron   How yum is that?  You can adjust the red pepper and add habanero sauce if you like to live on the wild hot side.  This dish is vegan, gluten free and dairy free.
Ingredients For Vegan Gumbo
The basic ingredients for gumbo are the standard vegetables--zucchini, red pepper, onions, tomatoes, garlic, celery and corn.  These vegetables give it a hearty base that will satisfy any soup lover.
To give it the spicy gumbo flavor, we use gumbo file and red pepper flakes.  Spicy is a personal choice, so feel free to experiment.
Steps To Make Gumbo
Fortunately, this gumbo is your basic soup--you just chop your vegetables, shred the jackfruit and toss it all in a large soup pot with spices and broth.  After the soup is cooked, you will add flour and water to thicken it and give it the perfect texture.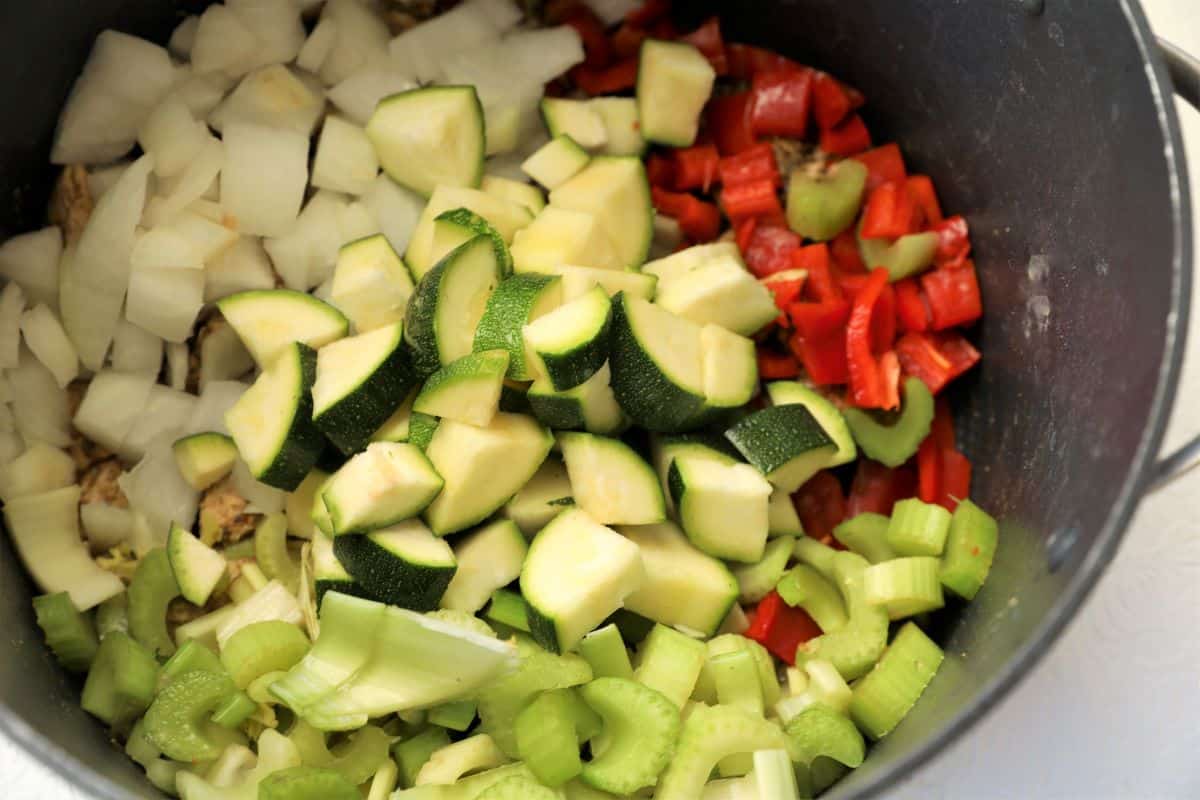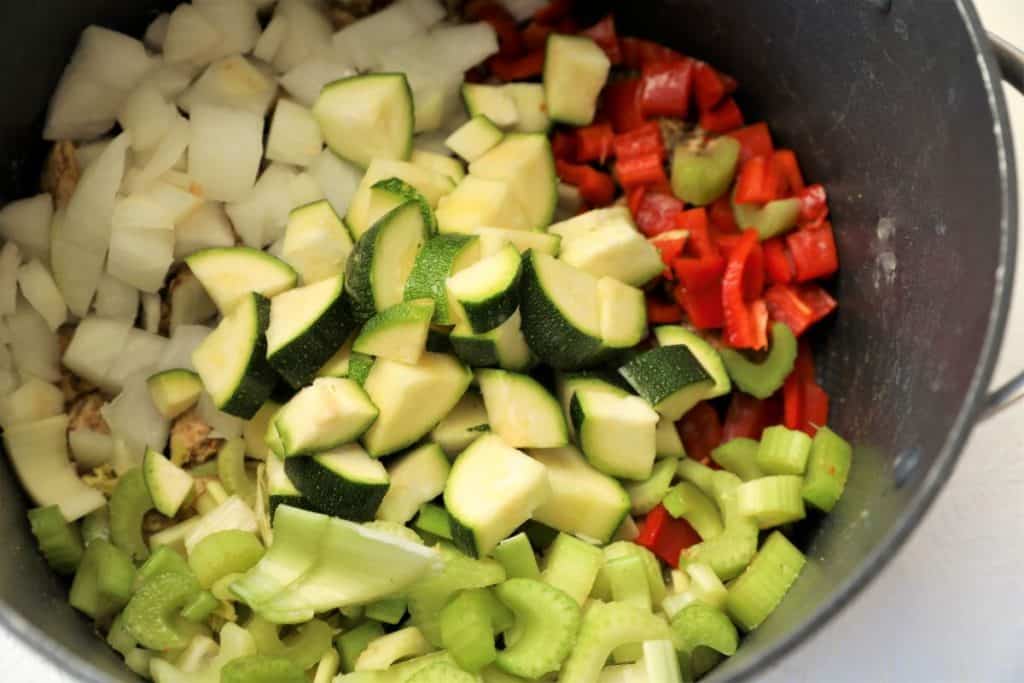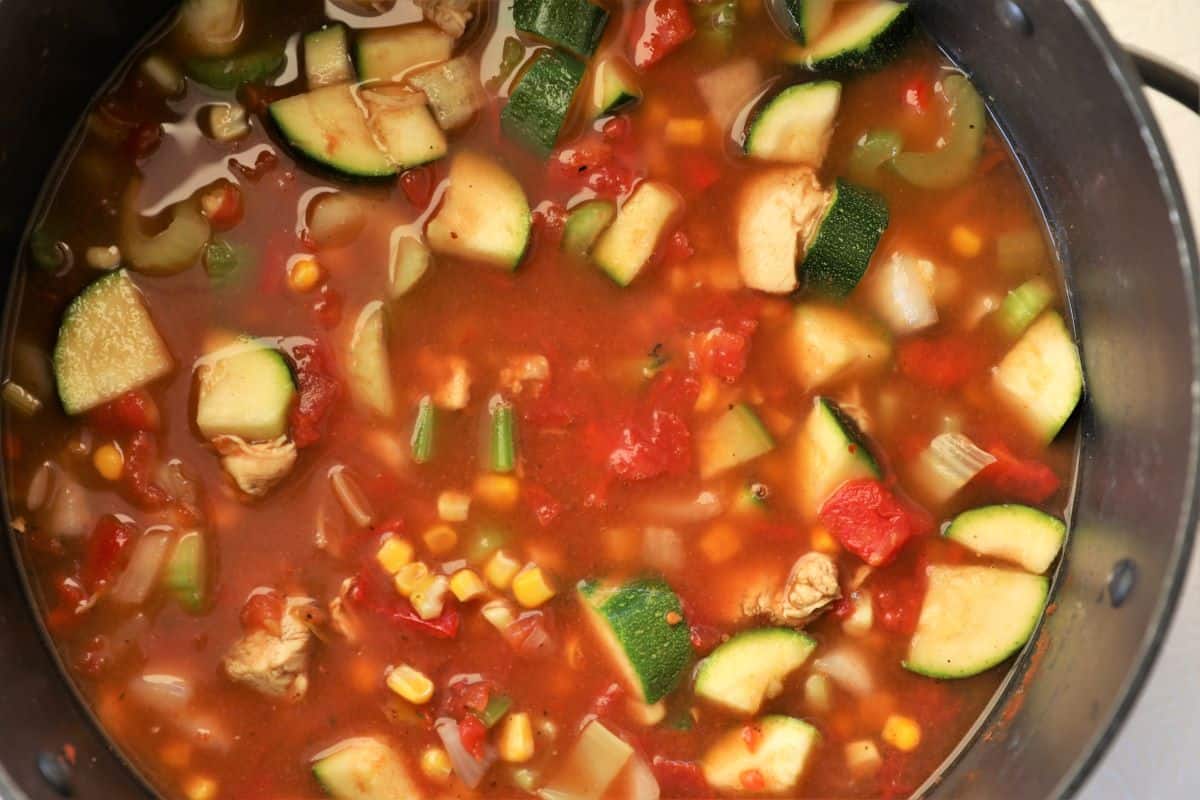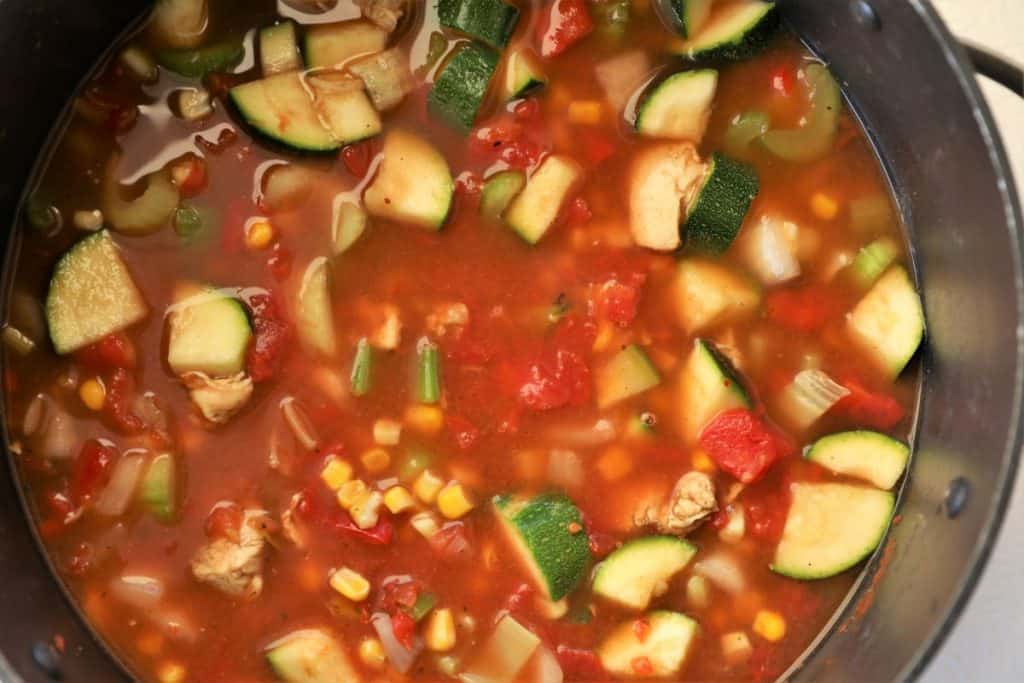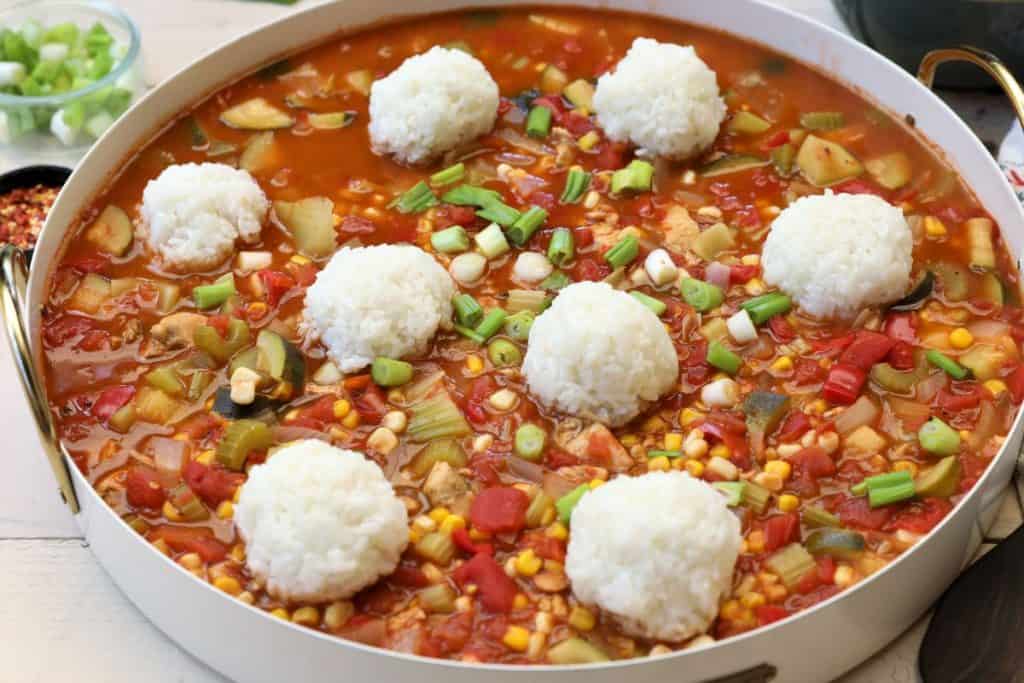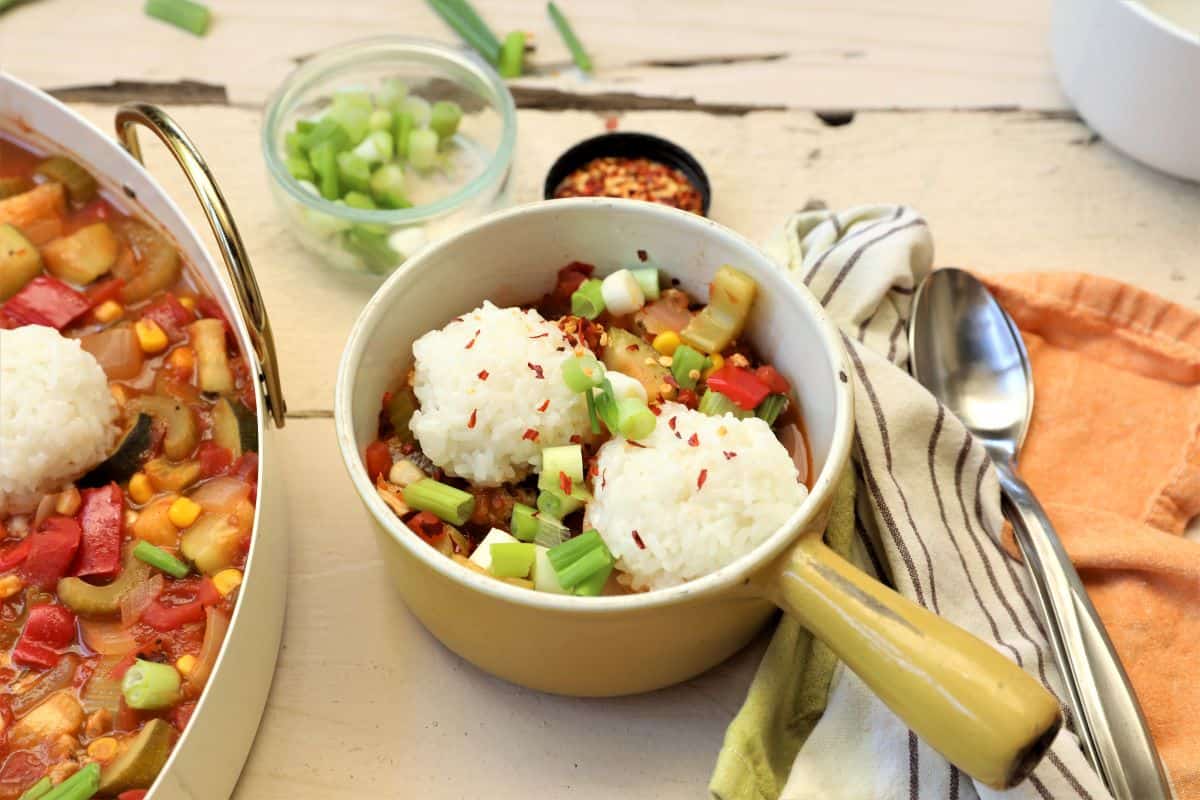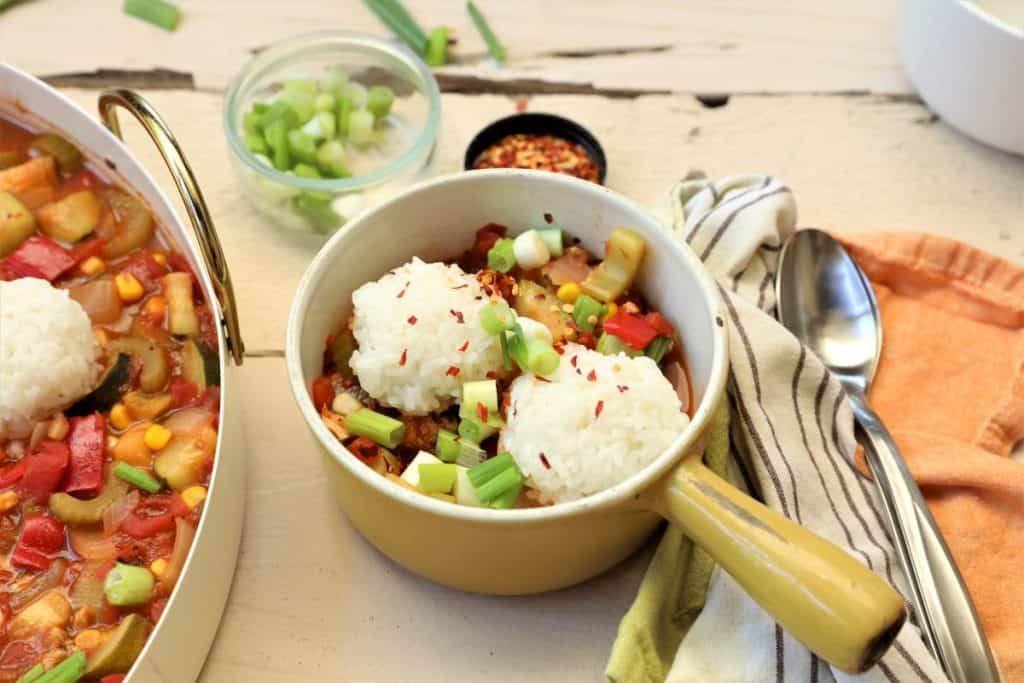 Tips For Making Gumbo
Gumbo can be mild or seriously hot.  If you prefer heat, you can add more red pepper flakes or habanero sauce.
This gumbo can be served with steamed white rice, brown rice, quinoa or even noodles.
The best jackfruit is organic, packed with no syrup or preservatives.
This recipe freezes well, and is great for left-overs or lunch on the go.
Recipe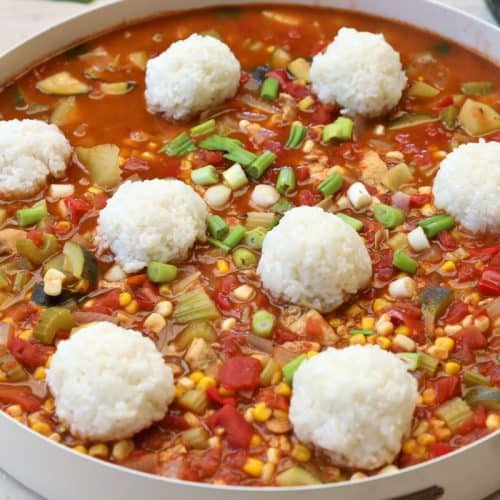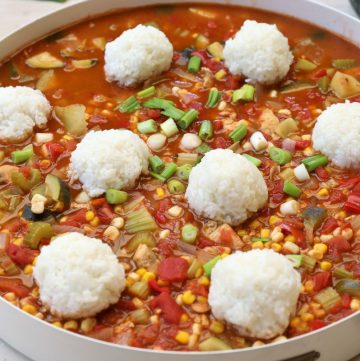 Vegan Gumbo
An old traditional favorite with a new, vegan twist. Delicious, hot and spicy.

Ingredients
3

tablespoon

olive oil

3

cloves garlic, minced

2

zucchini, chopped

shredded

1

onion, chopped

chopped

14

oz

corn, fresh or frozen

1

cup

chopped celery

32

oz

vegetable broth

1

teaspoon

garlic powder or granulated garlic

2

teaspoon

gumbo file

1

teaspoon

sea salt

½

teaspoon

red pepper flakes

28

oz

canned diced tomatoes with green chiles, drained

1 14

oz

can jackfruit

preferably organic(not in syrup)

2

tablespoon

gluten free flour

½

cup

water
Instructions
Rinse the jackfruit and shred into small pieces.

Chop all vegetables and add to large soup pot with oil. Saute for 3 minutes.

Add remaining ingredients except flour and water to pot and bring to boil; reduce heat, cover and simmer for 40 minutes.

Stir flour and water until smooth--strain lumps and add to gumbo in pot to thicken gumbo.
Nutrition
Serving:
1
g
Calories:
258
kcal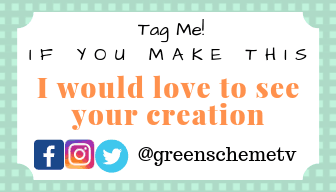 More recipes like Vegan Gumbo: