Harvest Vegetable Jalapeno Bisque.  As fall approaches, I am always looking for new ideas for recipes that will be traditional, yet different.  For some reason, we crave both comfort and variety in food, so creating new recipes with traditional ingredients seems to be the best compromise to meet those divergent needs in recipe development.
Weather is definitely a factor that will drive our food choices.  It is seriously 95 degrees in Southern California today, October 24th and while we are fighting heat and fires, Colorado has white out snow.  For that reason, I post recipes that unrelated to my weather conditions, because I know that somewhere, someone is looking for a warm and comforting soup.
This soup is definitely warm and comforting. Not only is it hot soup, the addition of jalapeno peppers to traditional soup ingredients of carrots, sweet potatoes and apples, makes it just the right amount of spicy hot.
In about 30 minutes, you can be sitting down to this comfort food; add some sauteed zucchini and flat bread, and you have dinner!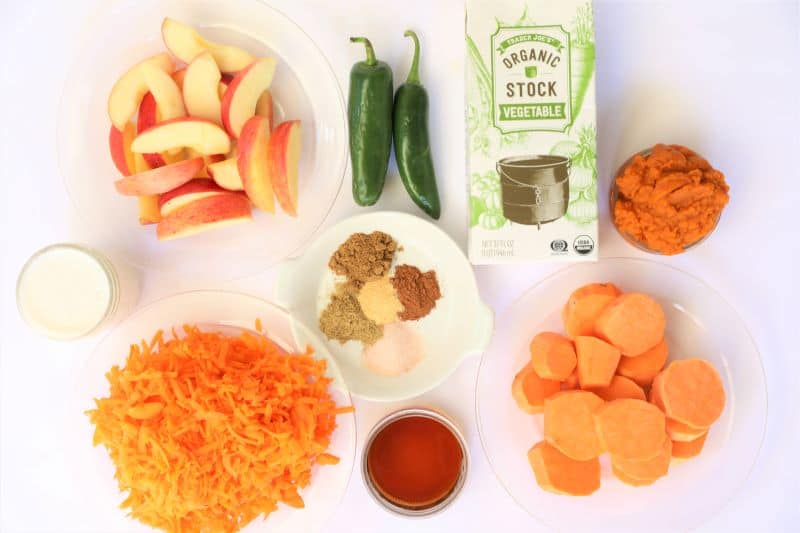 Ingredients For Harvest Vegetable Jalapeno Bisque
Take a quick look at the ingredient list to see if you have everything that you need to make this yummy soup:
Shredded carrots
Sweet potatoes
Apples
Maple syrup
Pumpkin
Almond milk (or preferred milk)
Cinnamon, cumin, salt, granulated garlic and coriander
Vegetable stock
Fresh jalapenos

Steps To Prepare Harvest Vegetable Jalapeno Bisque
Shred carrots, chop sweet potatoes, apples and jalapeno
Add all ingredients to Instant Pot inner pot
Cook on high pressure for 9 minutes; allow pressure to release naturally.
When soup is done, use small hand blender to create a smooth and creamy soup


Add all ingredients to Instant Pot

Mix soup ingredients well; pressure cook 9 minutes

After soup is cooked and removing lid, use hand blender to make soup smooth and creamy

Serve soup with toasted pine nuts

Add sauteed zucchini and flat bread-dinner is on.

Saute zucchini in olive oil, salt and pepper

Tips For Making Harvest Vegetable Jalapeno Bisque

  Use caution when cleaning jalapeno peppers; the seeds are hot and can burn skin and eyes
 Shred carrots for more uniform cooking
 2 jalapenos are just the right amount of spicy kick for me; if you like a milder flavor, use 1 jalapeno
 See recipe notes for instructions for crock pot or stove top
Serving option with flatbread--find a good recipe here

Recipe

Harvest Vegetable Jalapeno Bisque

Harvest Vegetable Jalapeno Bisque is the perfect fall soup, featuring your favorite harvest vegetables and a spicy jalpeno kick. Creamy and warming. Vegan, gluten free, dairy free.

Ingredients

4

cups

shredded carrots

2

cups

chopped sweet potatoes, peeled

2

cups

chopped apples

¾

cup

pumpkin

gluten free, organic if possible

2

fresh jalapeno peppers, seeded and chopped

32

oz

vegetable broth

1

cup

almond milk

1

teaspoon

coriander

1

teaspoon

cumin

1

teaspoon

cinnamon

1

teaspoon

granulated garlic

or garlic powder

1 ½

teaspoon

sea salt

½

cup

maple syrup

Instructions

Add all ingredients to Instant Pot. Set on pressure cook for 9 minutes. Allow pressure to release naturally. When valve is down, open lid.

Use small hand blender to liquify solid ingredients in soup--sweet potatoes, apples and peppers. Serve with toasted pumpkin seeds or pinenuts.

Notes

To cook this soup in the crock pot, follow all preparation directions, and cook in crock pot for 5 hours on high.
To cook this soup on the stove top, follow all preparation directions, and add all ingredients to large soup pot.  Bring to a boil, reduce heat to simmer for 2 ½ hours. 

Nutrition