Vegan Enchilada Casserole is perfect for when I want a recipe that is easy to toss together, has a significant amount of nutrition, and will be something that I can turn to in the future. I don't usually think in terms of one time preparation - I want a recipe for my collection of favorites, and I strive to create a favorite.
Today, it is Vegan Enchilada Casserole. If you follow this blog, you know that in my opinion, it is better for long term health if you have vegetarian meals as often as you can. I recommend that you have a list of quick, easy, one dish vegetarian meals, so that it is easy and convenient to chose a healthy option for your meals.
If you are interested in learning more about a vegetarian diet, check out the Mayo Clinic information. For this dish, we are using tortillas, beans, mushrooms, corn, spinach, green chiles, onions, vegan cheese and hot/enchilada sauce, and it will be ready in 30 minutes.
Preparation
One dish cooking is the best. I start with a 9x13 glass dish, that I have oiled to keep tortillas from sticking. Next, I toss the beans, spices, all the vegetables, and ½ of the cheese in a bowl and mix.
Next, place tortillas on bottom of glass dish, and cover with hot sauce (or enchilada sauce). Pour vegetable mix on top of the tortillas. Top with remaining tortillas, spread with hot sauce (or enchilada sauce) , and sprinkle remaining vegan cheese.
Preheat oven to 350. Cover in foil, and bake for 30 minutes. The result--creamy, gooey, cheesy, packed with vitamins and protein one dish cooking. I think it will be one of your favorites for all of those reasons.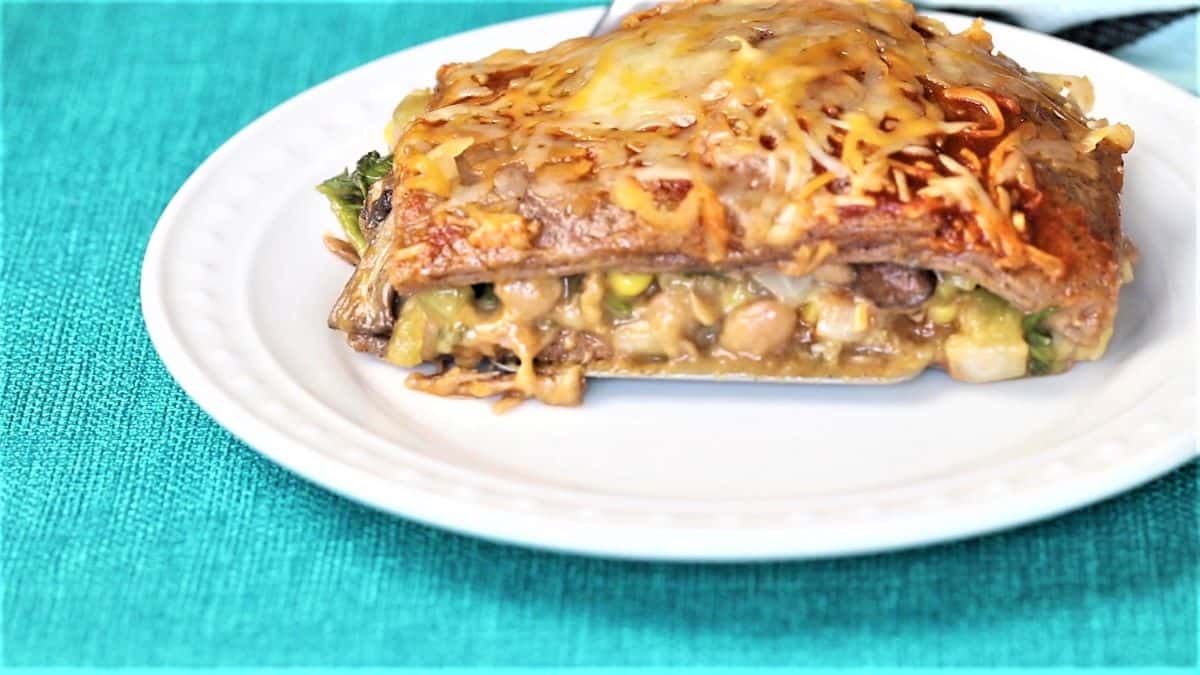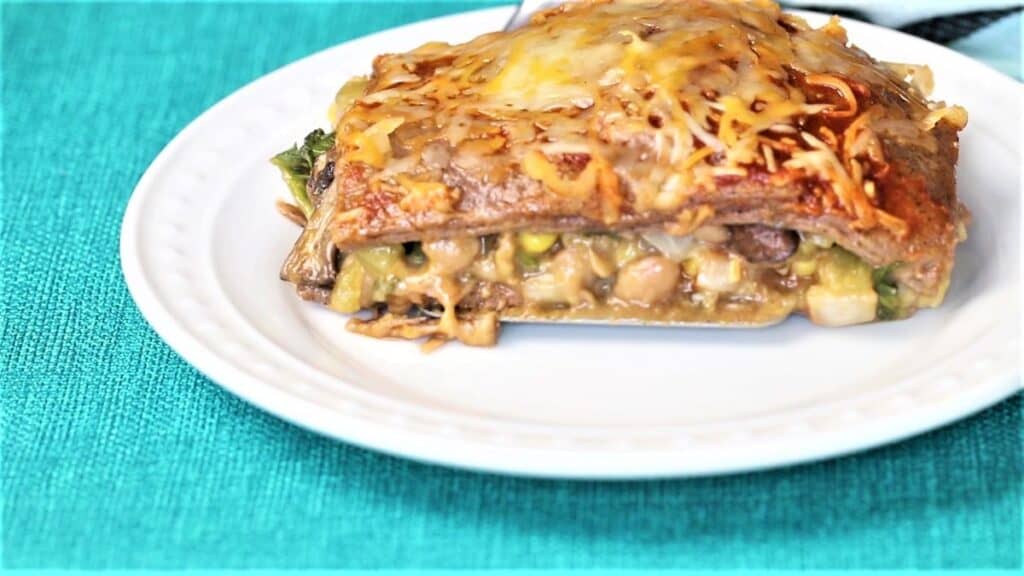 Options For Serving Vegan Enchilada Casserole
I have prepared this dish with Beyond Beef, and it was delicious, so that is an option if you want a meatier flavor and texture.
I serve this casserole with a salad, or if you are really into carbs, some homemade garlic bread.
If you are cooking gluten free, use corn tortillas.  I have also used, quinoa tortillas that I found at Trader Joe's, and they were great.
This recipe can be frozen for future enjoyment.
Recipe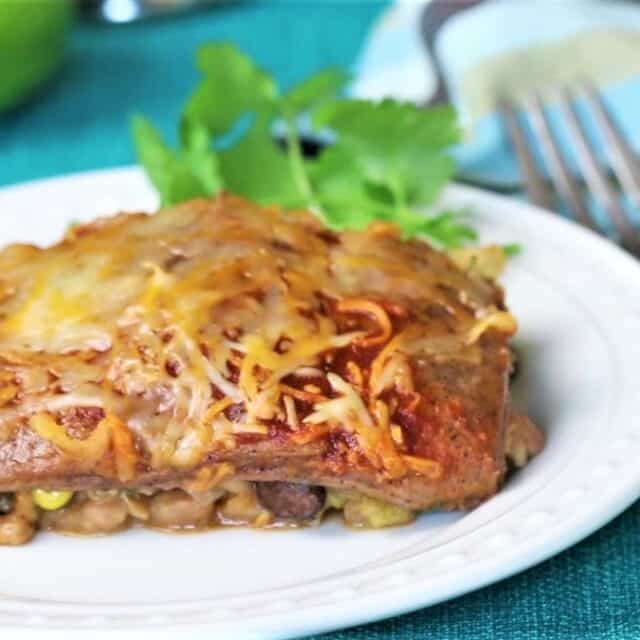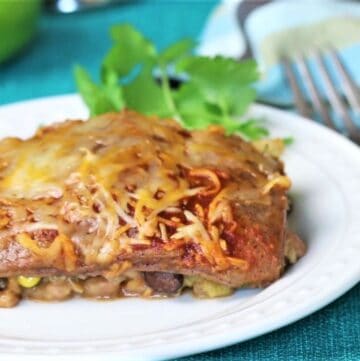 Vegan Enchilada Casserole
Vegan Enchilada Casserole. One dish comfort food, packed with protein and nutrition and ready in 40 minutes. Gluten free, dairy free.
Ingredients
1 ½

cups

mushrooms

sliced

1

teaspoon

garlic powder

or granulated garlic

1

teaspoon

sea salt

2

cups

spinach

or other greens

½

cup

onions

chopped

1

cup

corn

thawed

4

oz

green chiles

14

oz

beans

drained

2

cups

vegan cheese

12

oz

enchilada sauce

or hot sauce

12

small corn tortillas or 8 large tortillas
Instructions
Add spices, spinach, corn, beans, mushrooms, onions, chiles to large bowl. Mix

Add 1 cup vegan cheese to bowl. Mix

Oil bottom of 9x13 dish. Place 6 corn tortillas (4 large tortillas) in dish, overlapping. Spread ½ of enchilada sauce over corn tortillas.

Pour bowl ingredients over tortillas and spread evenly.

Top with remaining tortillas, overlapping. Spread ½ of enchilada sauce on top.

Sprinkle 1 cup of vegan cheese.

Cover dish with foil. Bake at 350 for 30 minutes.
Notes
If you are eating gluten free, use corn tortillas.  If not, any tortillas will work.
I like to use enchilada sauce from Trader Joe's in this recipe, but you can use any enchilada sauce or hot sauce that you prefer.
I have tried this recipe with Beyond Beef, and it was also delicious.
Nutrition