Vegan Asparagus Potato Frittata.  Breakfast any time of the day is always a perfect meal.  This eggless frittata dish makes it possible for vegans to enjoy the delicious flavor of a vegetable frittata with asparagus and potatoes.  Saute the vegetables and spices, add the egg substitute and bake for 20 minutes.  Simple, easy, and delicious.  Vegan, gluten-free, and dairy-free.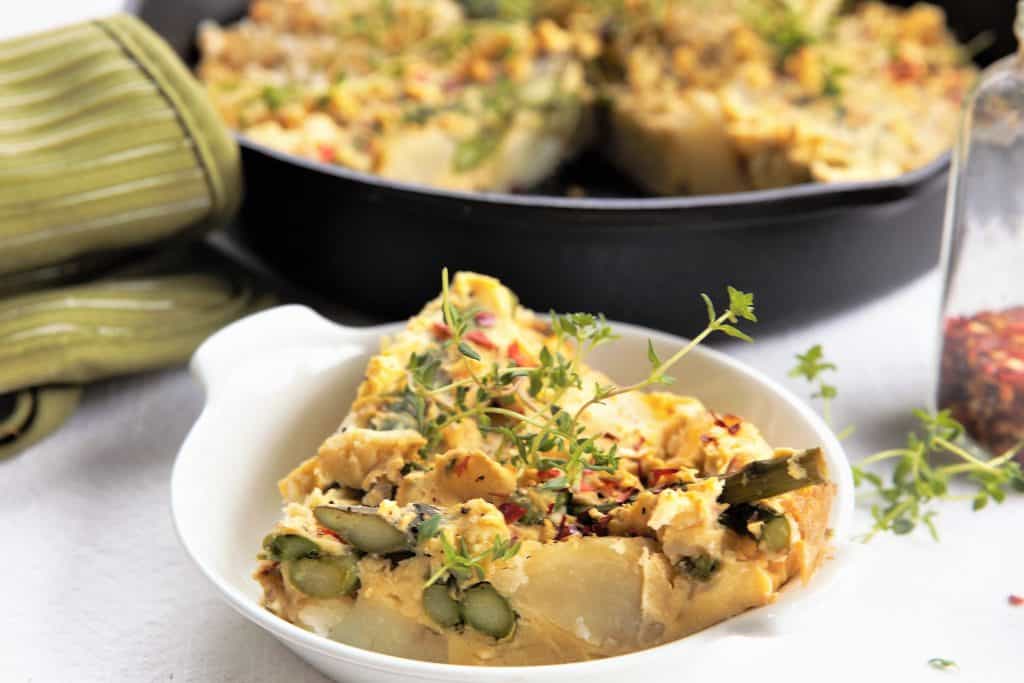 I love breakfast! In my opinion, typical breakfast foods like these frittatas can and should be enjoyed any time of the day. Spinach Potato Mushroom Breakfast Casserole, Grilled Vegetable Breakfast Tacos, and Quinoa Berry Breakfast Bowl are just some of my favorite breakfasts that I also enjoy for dinner.
This Vegan Asparagus Potato Frittata is one of my favorite breakfasts because frittatas are so versatile. This recipe is great for when you know you have some vegetables in your fridge that are about to go bad. Simply swap out the asparagus and leeks for something else, or add extra veggies to your liking.
Frittatas are delicious breakfast food that should be enjoyed by everyone, including those on a vegan diet. I use the Follow Your Heart egg substitute and it closely resembles the real thing.
Jump to: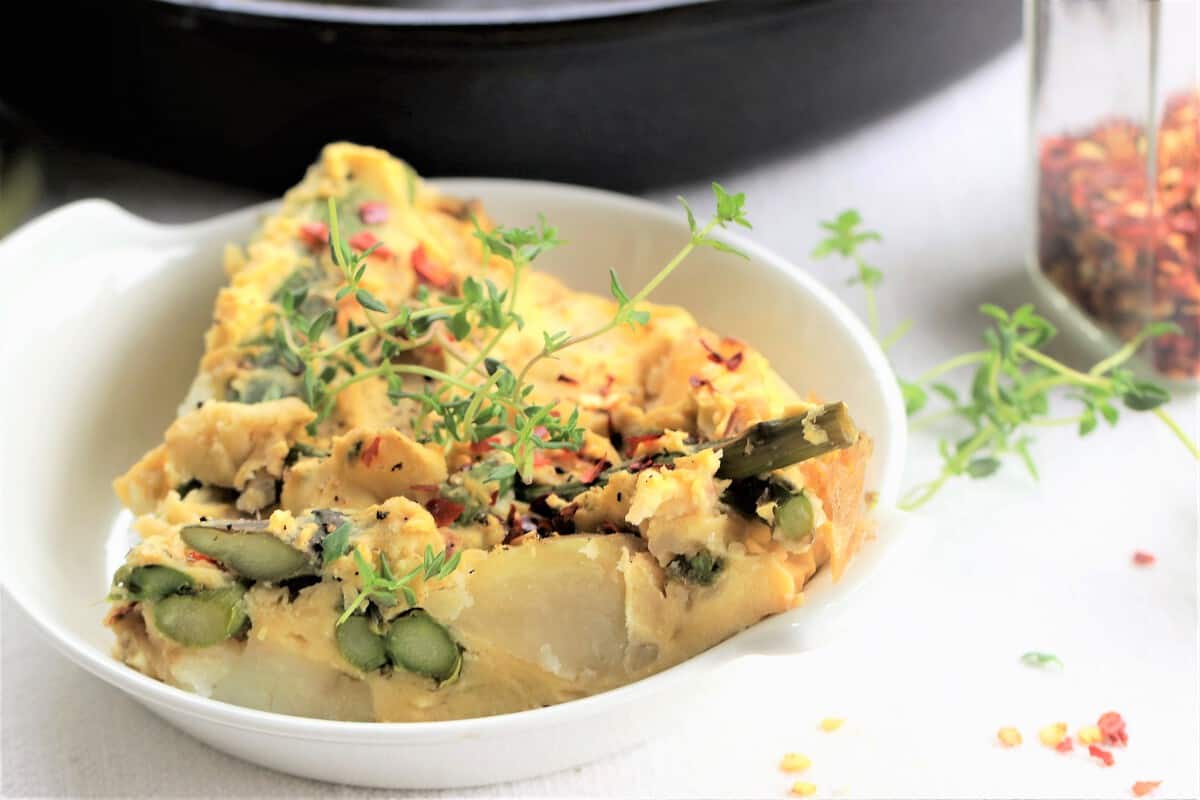 Ingredients
Vegan Asparagus Potato Frittata only takes 8 ingredients to make and is so delicious. Perfect for breakfast or any time of the day. Here is the shopping list to make this dish. The exact amounts are listed in the recipe card down below.
Asparagus
Grapeseed oil - this is the best oil for high-temperature cooking
Leeks - or green onions
Potatoes
Red pepper flakes
Black pepper
Sea salt
Egg substitute - I use Follow Your Heart Egg Substitute. If you are not vegan, you can use eggs.
Fresh thyme - for garnish
Instructions
In only 30 minutes Vegan Asparagus Potato Frittata is ready for you to enjoy. Most of the time is cooking time and it's really easy to prepare all of the ingredients. Here is how you make this dish.
Add oil, leeks, asparagus, and garlic to an oven-safe pan and saute on high heat for 2 minutes, stirring constantly.
Cook peeled potatoes in the microwave for 7 minutes. Cut cooked potatoes into cubes and add to the pan. Add seasoning and cook an additional 4 minutes until the potatoes are crispy.  Remove from heat.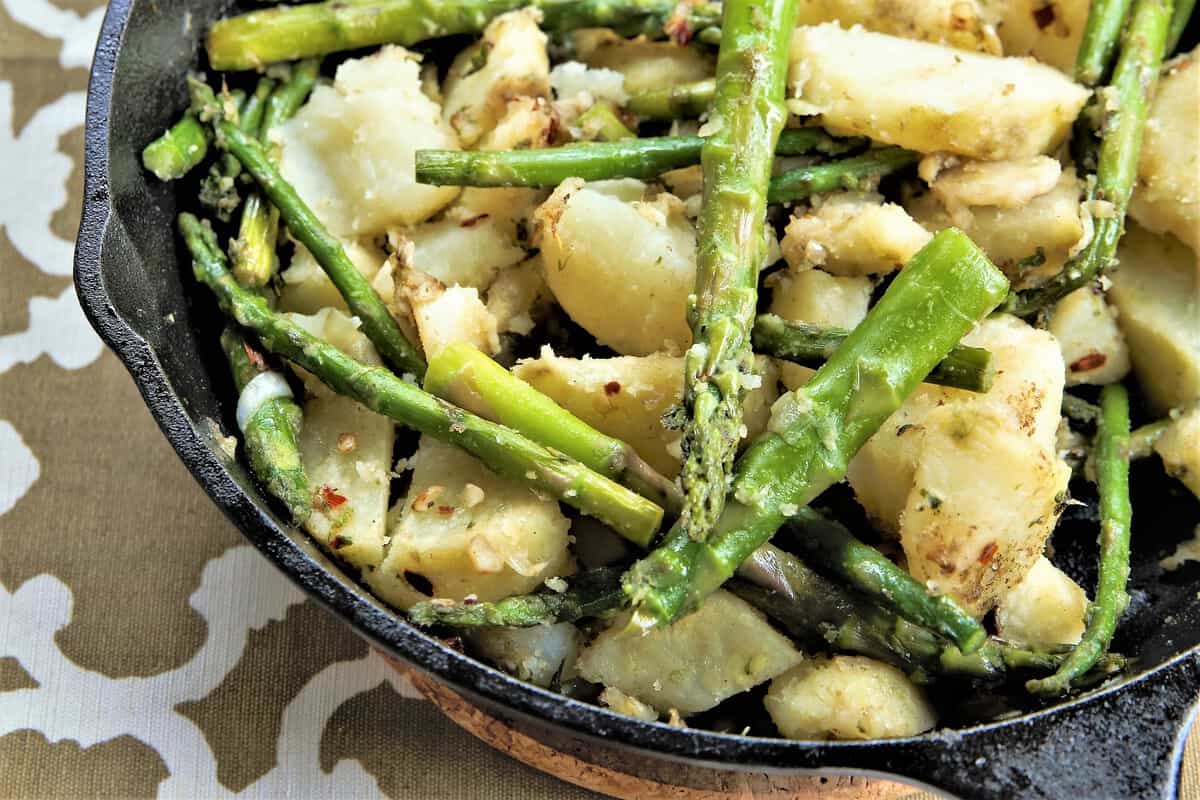 Follow the package directions of egg substitute for 4 eggs, or this is what I did. Measure 8 tablespoons of mix.  Add 1 ½ cup of water and mix in a small blender.  If the mix is still too thick like mine was, add an additional ½ cup of water to make it thick, but pourable.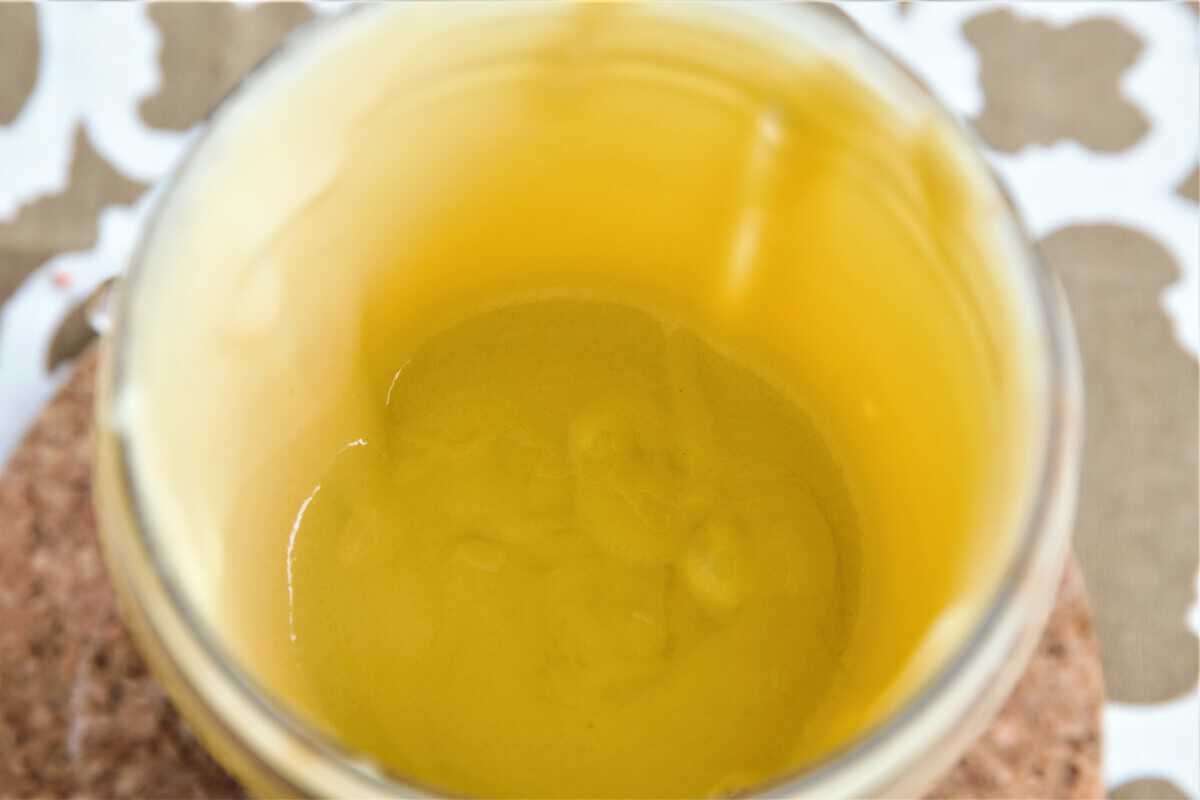 Pour egg mixture over potato asparagus mix and spread over all of the vegetables. Bake for 20 minutes at 375F.
Garnish with fresh thyme and sprinkle with a little red pepper flakes (but be aware of how hot flakes are, so adjust accordingly.)
If you don't have an oven-safe pan to use for baking, a pie dish will also work. Add potato asparagus mix to the pie dish, pour egg mixture over vegetables, and spread to cover all of the vegetables. Bake for 20 minutes at 375F.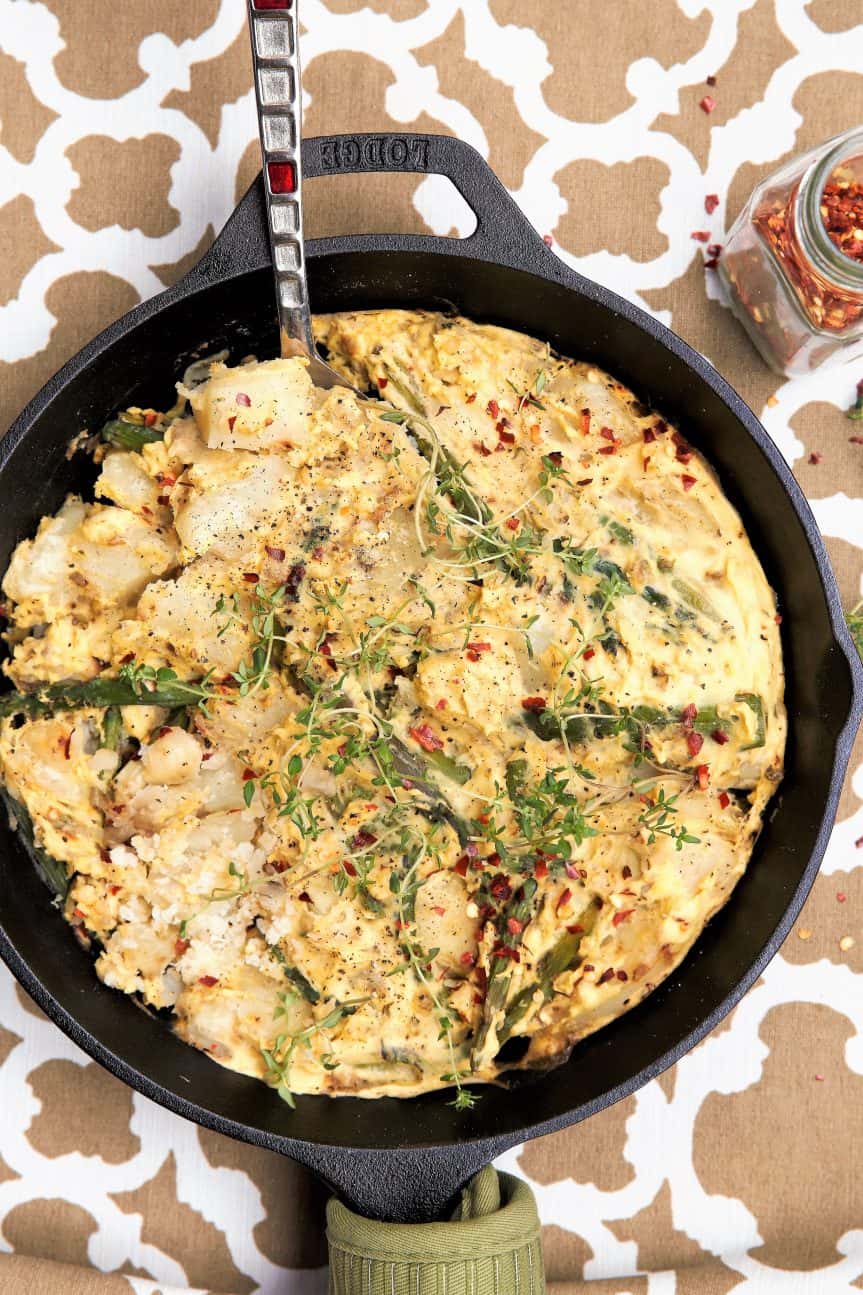 Tips
Frittatas are really easy to make. In 30 minutes this delicious breakfast dish can be ready for your family and friends to enjoy. Here are my quick tips for making Vegan Asparagus Potato Frittata.
Make sure the pan is heated to temperature before adding the vegetables to saute.
If you don't have an oven-safe pan, prepare the frittata then bake in a pie dish or casserole dish.
If you are not vegan, mix 4 eggs in a blender and pour over the vegetable mixture.
Bake frittatas and store them in the freezer in single servings for a quick ready-to-eat breakfast to start your day.
Substitutions
Vegan Asparagus Potato Frittata is so versatile. You can swap out ingredients or add extra vegetables to your liking. It's the perfect recipe to make when you have vegetables that are about to expire. Here are some of my favorite ingredients to use in frittatas.
Use any potato you would like such as russet, red, gold, or sweet potato.
In place of the leeks use green onions, yellow onion, or red onion.
Swap out the asparagus or add additional veggies like any color of bell peppers, broccoli, mushrooms, or zucchini.
Add extra greens such as spinach or kale.
Instead of using thyme, you can garnish using any fresh herb like parsley, chives, or cilantro.
Top frittata with sliced avocado, your favorite hot sauce, or vegan parmesan.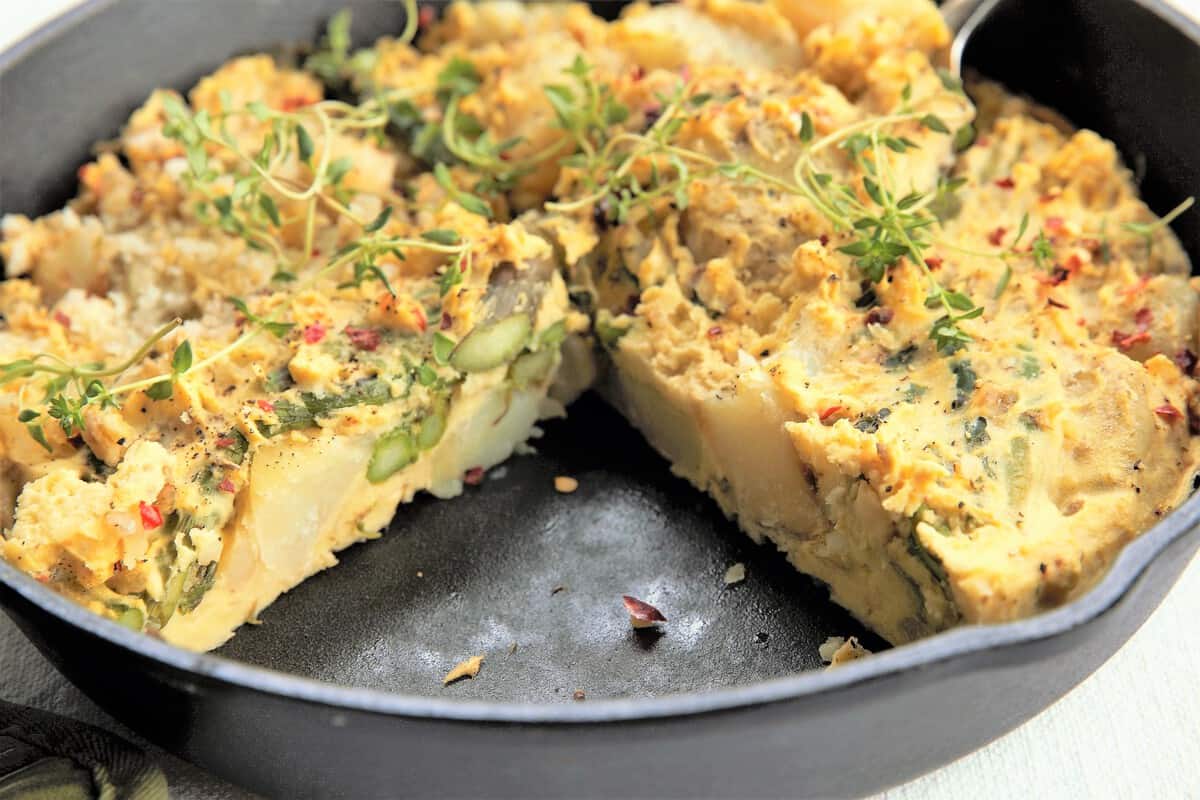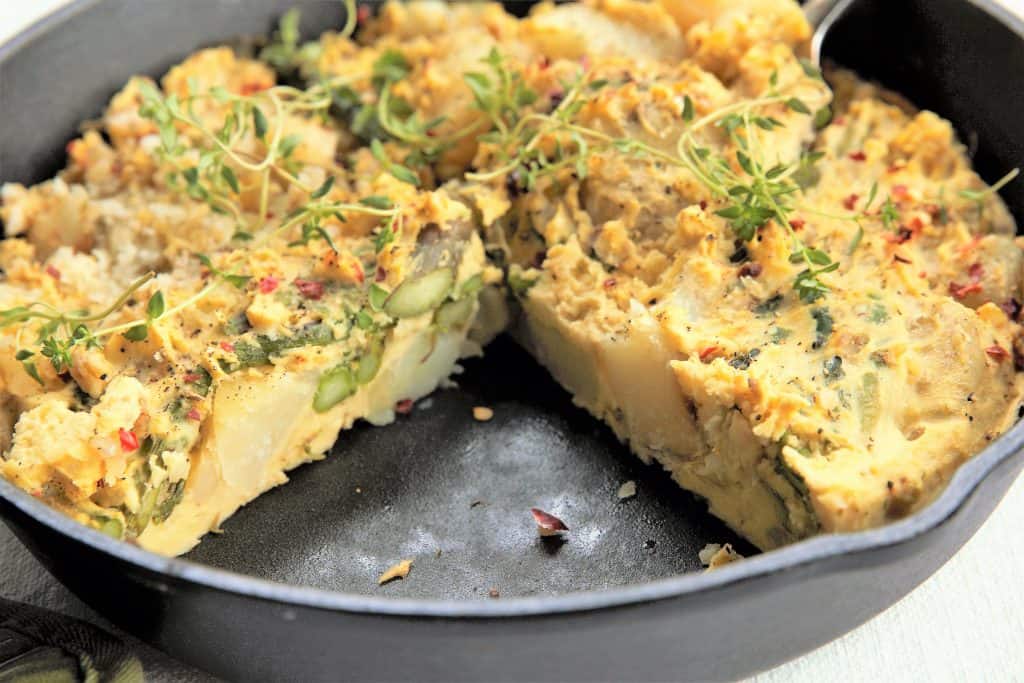 Frequently Asked Questions
What is the difference between a quiche and a frittata?
The only main difference is that a quiche has a crust. Frittatas can be cooked in the same pan the veggies are sauteed in, making it easier and quicker to bake.
How do I store leftovers?
Store leftover Vegan Asparagus Potato Frittata in an airtight container in the fridge for up to 5 days. Reheat in the microwave.
Can this dish be made ahead of time?
Yes! Follow the directions right up until baking and then store covered in the fridge. When you are ready to bake, bake as directed. You may need to add additional time.
Can I freeze frittatas?
Yes! Store cooled frittatas in freezer-safe containers in the freezer for up to 3 months. Reheat in the microwave or slowly reheat in a preheated oven set at 350F for 10 minutes, until warmed completely.
More Breakfast Recipes
If you liked this Vegan Asparagus Potato Frittata check out more vegan breakfast recipes here on my blog.
Recipe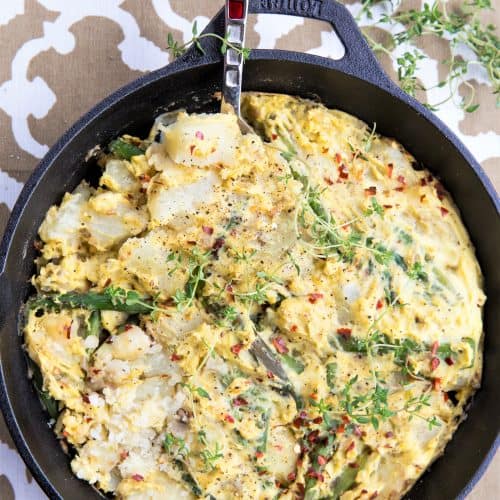 Vegan Asparagus Potato Frittata
Enjoy a delicious egg free, vegetable frittata! Vegan, gluten free, dairy free.

Ingredients
2

cups

asparagus

2

tablespoons

grapeseed oil

this is the best oil for high temperature cooking

½

cup

leeks, or green onions

2

large potatoes, peeled

¼

teaspoon

red pepper flakes

pinch

black pepper

1

teaspoon

sea salt

8

tablespoons

Follow Your Heart Egg Substitute

if you aren't vegan, use 4 eggs, but this was prepared with Follow Your Heart

2

cups

ice water

2

tablespoons

fresh thyme

for garnish
Instructions
Preheat oven to 375 degrees.

Add oil, leeks, asparagus, garlic to 10" pan that is oven safe

Saute on high heat for 2 minutes, stirring constantly

Cook peeled potatoes in microwave for 7 minutes. Cut cooked potatoes into cubes and add to pan. Add seasoning and cook an additional 4 minutes until potato is crispy. Remove from heat.


To prepare Follow Your Heart: I would recommend following the package directions for 4 eggs, but this is what I did. Measure 8 tablespoons of mix. Add 1 ½ cup of water and mix in small blender. If mix is still too thick like mine was, add an additional ½ cup of water to make it thick, but pourable.

Pour egg mixture over potato asparagus mix. Spread over all vegetables. Bake for 20 minutes at 375. If you are not vegan and are using eggs, mix 4 eggs in small blender and pour over vegetables.


Garnish with fresh thyme and sprinkle with a little red pepper flakes (but be aware of how hot flakes are, so adjust accordingly.)

Nutrition
Serving:
1.5
cup
Calories:
273
kcal