Buffalo Chicken Tacos.  This is primarily a vegan, vegetarian, gluten free and dairy free blog, and most of the recipes that I make fall into those categories.  Unfortunately, not everyone that I feed aspires to these diet specifications, and as a result, I often make ordinary food with chicken for those eaters.  I mean, I have hungry people here.  Sometimes, the recipes turn out so well that I have to share with you.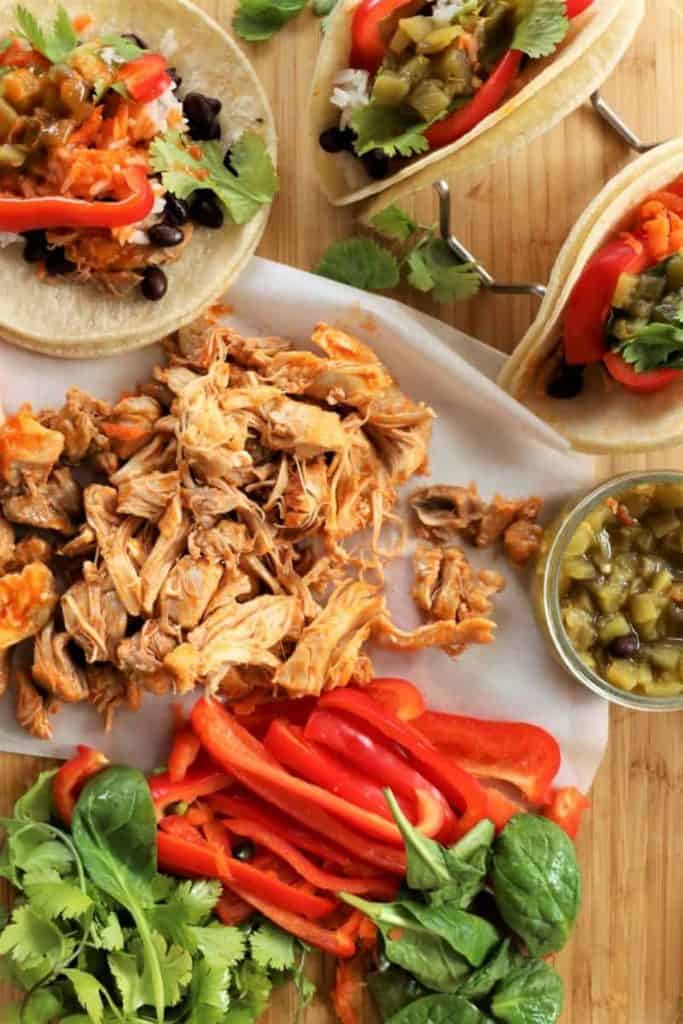 Despite that fact, there are  however modifications that can be made to all of my recipes to make them vegan or vegetarian, and that includes this one.  If you prefer vegan, you can substitute the chicken with 2 cans of organic jackfruit.  Jackfruit cooks just like meat, and has the same texture that is needed for hardy buffalo tacos like these.  Reduce your cook time in the Instant Pot to 10 minutes for buffalo jackfruit.  All of the other ingredients are vegan/vegetarian friendly.
Ingredients Needed For Tacos
I usually like to post a picture of all the necessary ingredients so that you can see at a glance what you need to shop for.  Today, it is a list:
16 oz boneless, skinless chicken thighs (or for vegan, 2 cans organic jackfruit)
12 oz buffalo sauce ( I used Sweet Baby Ray's but you can make your own)
14 oz black beans
12 oz cooked rice
1 red pepper, sliced
¼ cup green chiles
½ cup shredded carrots
1 cup greens
½ cup fresh cilantro
6 corn tortillas (or 12 if you like double tacos)
Steps For Making Tacos
I don't think that there is an easier meal to make, than tacos.  Everyone can build a taco, including the kids.  Essentially, we cook the chicken in the Instant Pot for 20 minutes with the buffalo sauce because, in my opinion, there is the way to get the most tender, juicy chicken.  The chicken shreds easily and literally melts in your mouth and it is perfect in these tacos.  We used bottled buffalo sauce, but if you want to make it from scratch, there is a good recipe here.
Building tacos is something we do in Southern California every day, not just on Taco Tuesday.  The great thing about tacos is, you can personalize according to taste.  Here, we included some beans, rice, carrots, greens, red peppers and spiced it up with the buffalo chicken and green chiles.  This combination is packed with protein, vitamins, minerals and fiber.  Do what you will with your tacos to make them suit your own taste.  Check out the whole recipe and video.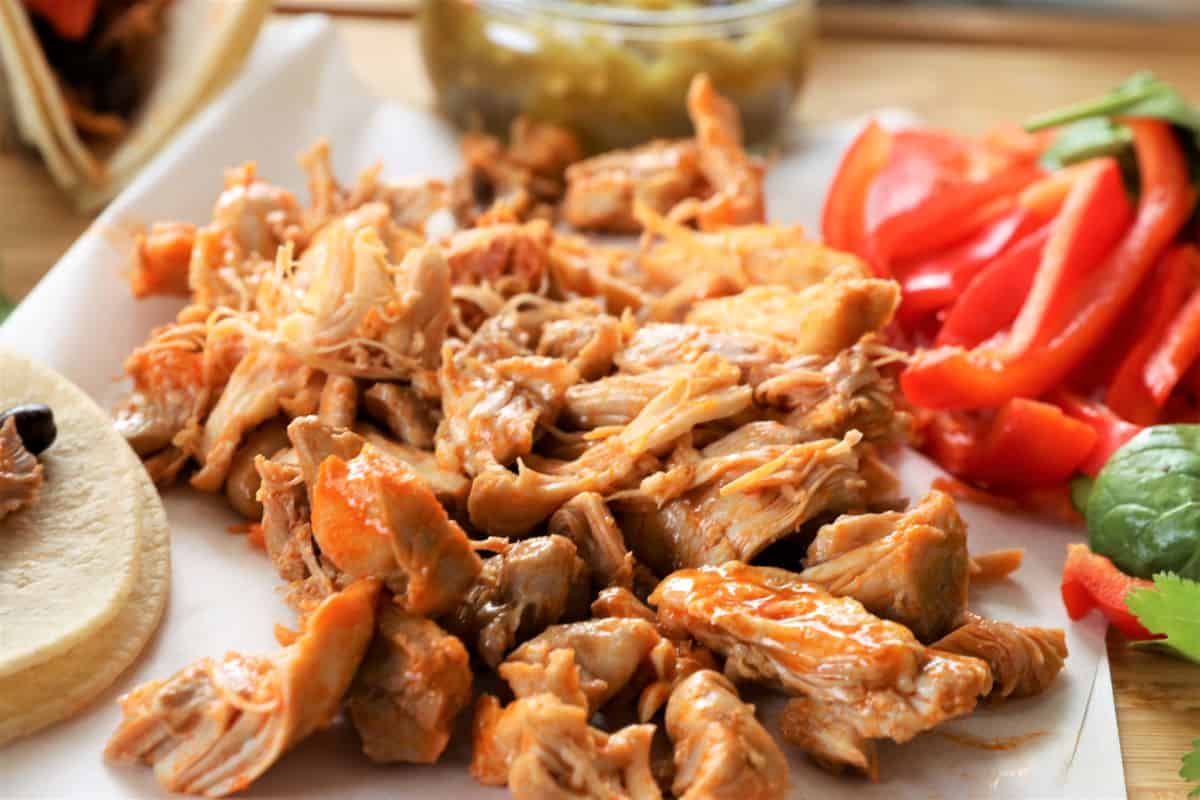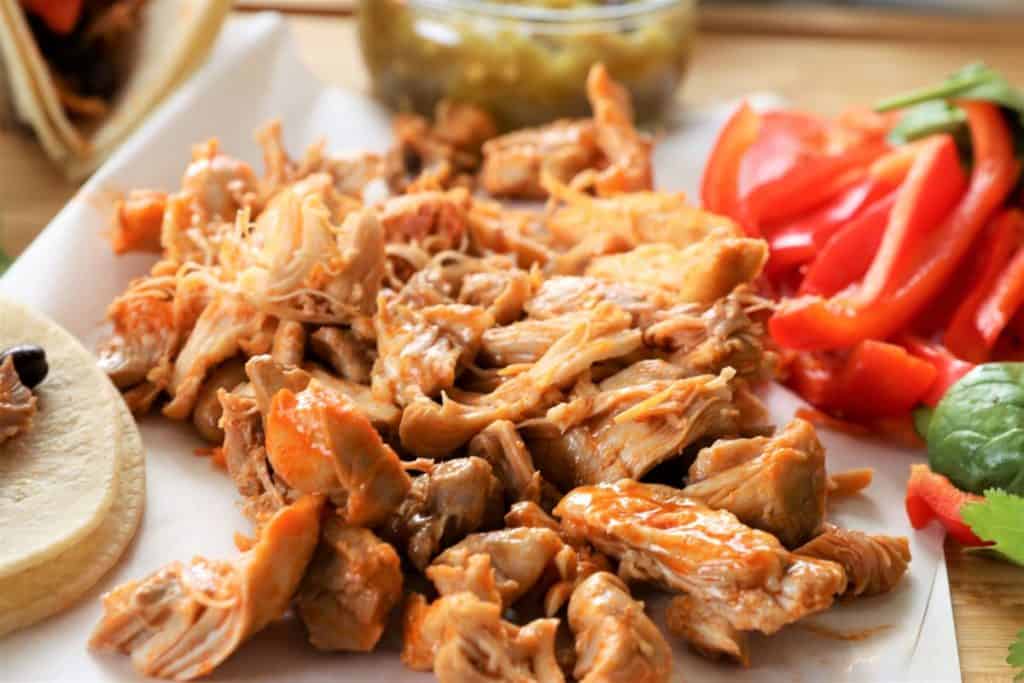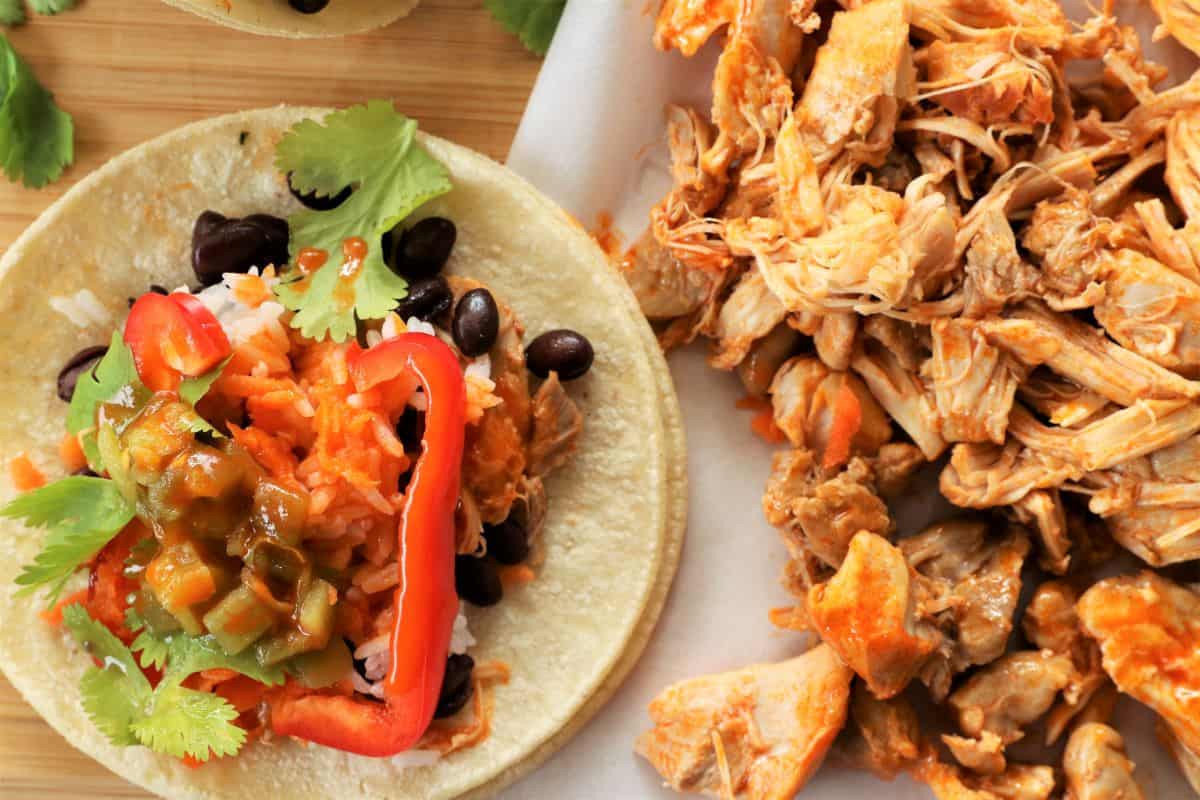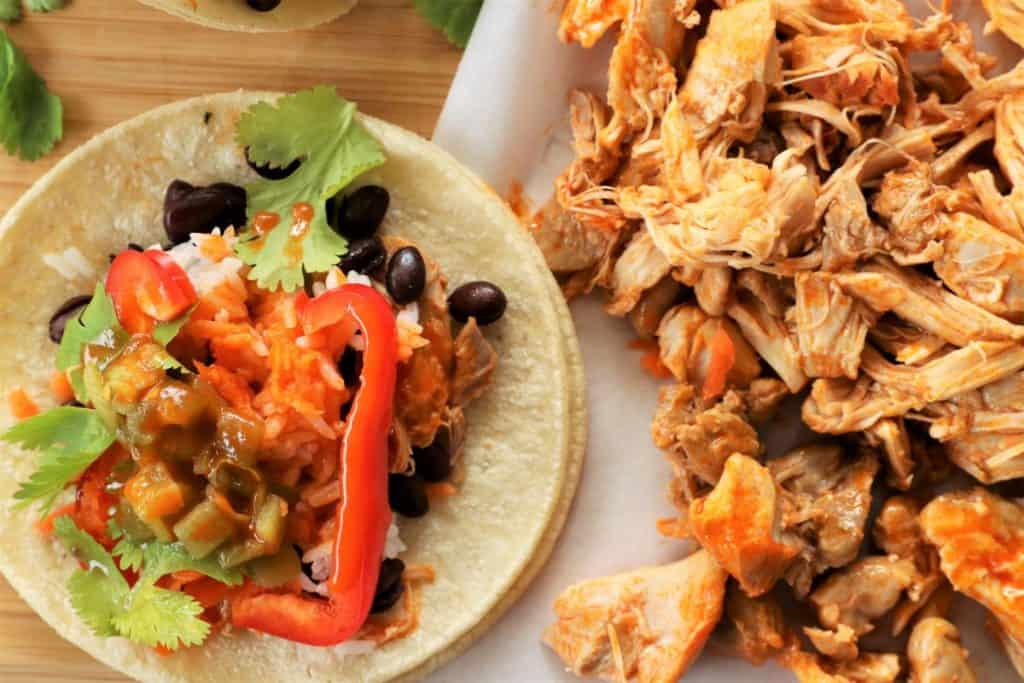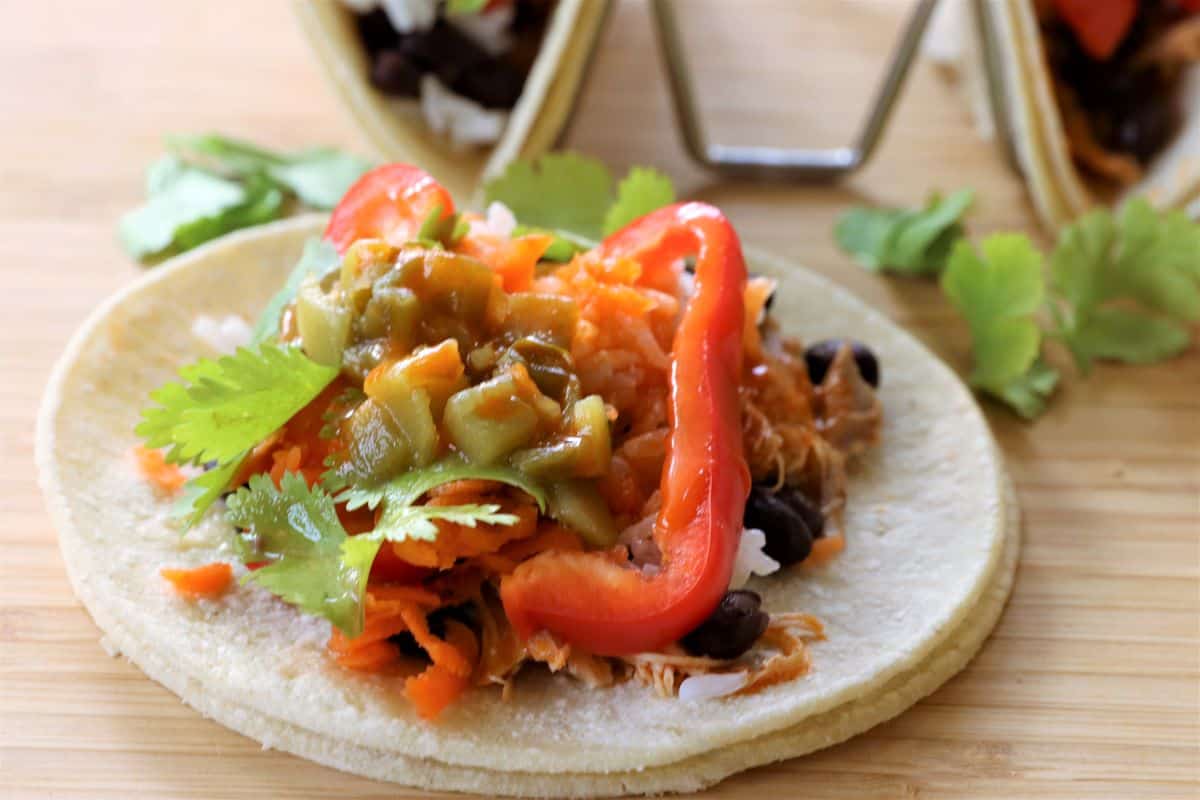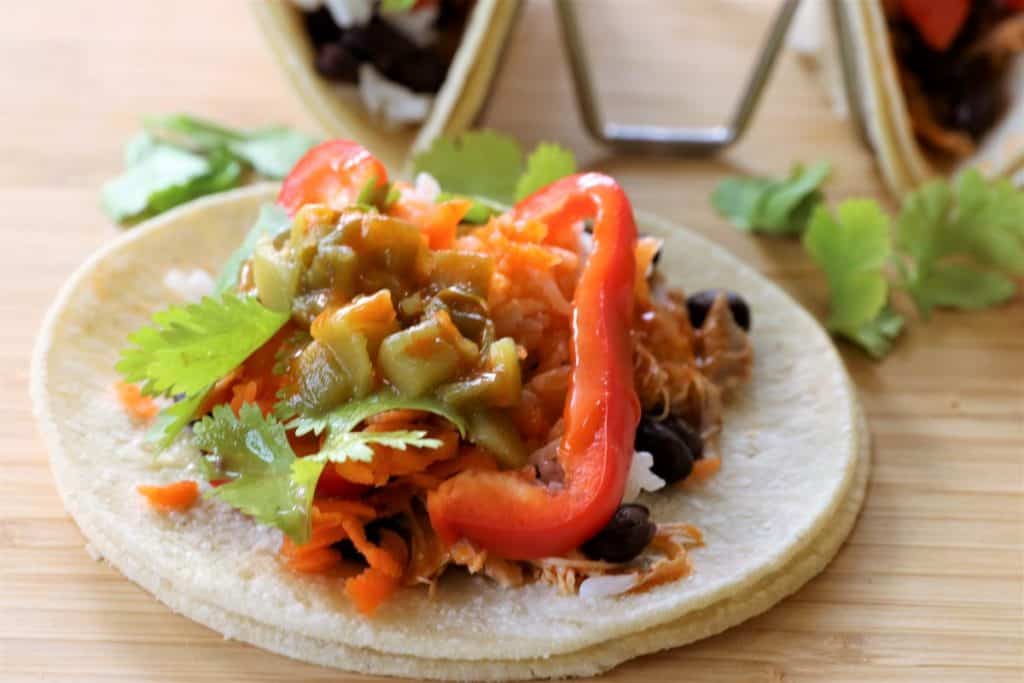 Recipe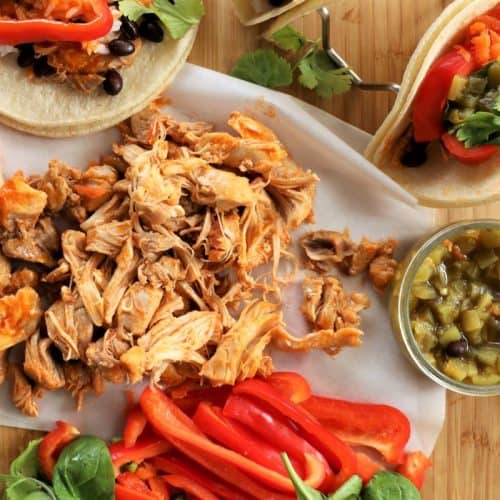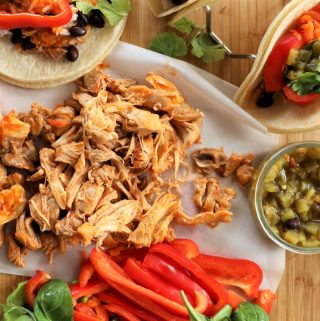 Buffalo Chicken Tacos
Spicy, tender, juicy chicken cooked in the Instant Pot is perfect for Buffalo Chicken Tacos.
Ingredients
16

oz

boneless, skinless chicken thighs

12

oz

cooked white rice

14

oz

black beans

1

red pepper, sliced

½

cup

shredded carrots

¼

cup

canned green chiles

1

cup

greens

½

cup

fresh cilantro

12

oz

buffalo sauce
Instructions
Add chicken and buffalo sauce to Instant Pot. Pressure Cook for 20 minutes. Release steam and remove chicken, preserving buffalo sauce. Shred chicken with fork.

Cook rice according to package directions. Cook black beans in microwave for 2 minutes.

Slice red pepper and shred carrots.

To build taco: Add shredded chicken to bottom of corn tortilla, top with tablespoon of black beans and white rice. Add shredded carrots, red pepper slices and greens. Top with cilantro and teaspoon of green chiles. If you like your taco extra spicy, drizzle remaining buffalo sauce over taco.
Notes
1.  If you are not cooking in an Instant Pot, place chicken on baking sheet, pour buffalo sauce over chicken and mix well.  Bake for 45 minutes, flipping once at 20 minutes.
Nutrition
Serving:
2
tacos
Calories:
349
kcal
More tacos like Buffalo Chicken Tacos that you might like: