Creamy Stuffed Dates. Creamy stuffed dates are the perfect appetizer that's good during any season. The dates are stuffed with whipped cream cheese and topped with raw almonds and fresh basil. This just might be the easiest appetizer you will ever make that will really wow your guests.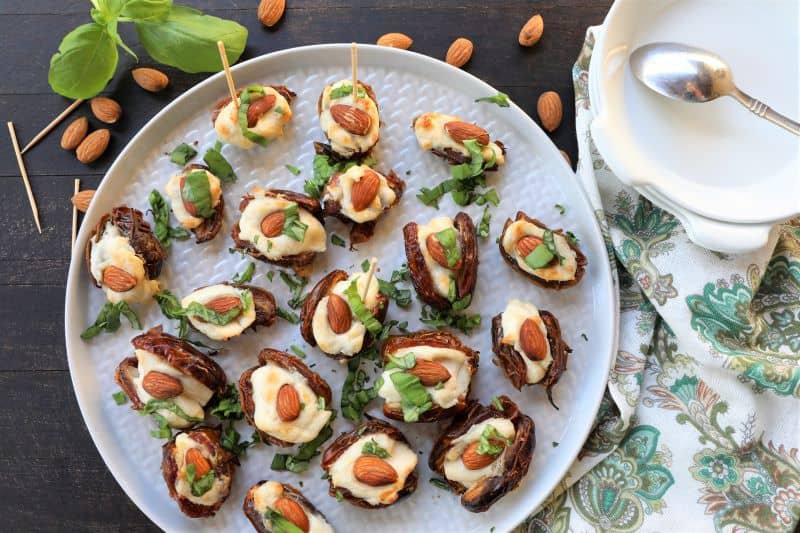 I love a good easy appetizer. I want something that I can throw together quickly, like a simple zucchini onion dip. These creamy stuffed dates are no different. They are ready in 30 minutes and taste incredible.
I have been cooking for over 50 years, and I can honestly say, this is the best appetizer that I have ever made.  Often, when I am creating recipes, they come from a combination of what I have left in the refrigerator. 
That is exactly what happened here. I had dates, whipped cream cheese, and fresh basil.  With those ingredients, I stuffed the dates with the whipped cream cheese and topped them with raw almonds and fresh basil.  The basil was almost an afterthought, but I found that it is the key. So sweet, creamy, crunchy, and overall yummy.
Dates are also really good for you! They are high in fiber, which is great for your digestive system and blood sugar control. Dates also contain important vitamins and minerals and are high in antioxidants.
These creamy stuffed dates can also be adjusted so they are dairy-free and vegan-friendly. The whipped cream cheese can be substituted with vegan cream cheese or you can make your own.
Jump to:
Ingredients
These creamy stuffed dates only take 4 ingredients to make. Check the ingredient list to make sure that you have everything that you need to make this appetizer. You will need:
Pitted dates
Whipped cream cheese - Vegan if preferred
Raw almonds
Fresh basil - Chopped
Instructions
Creamy stuffed dates only take 30 minutes to make and they are the perfect sweet and crunchy appetizer. Here's how you make them.
Soak dates and slice them open.
Spoon cream cheese into the opening and add almonds.
Bake at 375 for 20 minutes. Remove from oven.
Top with chopped fresh basil and serve.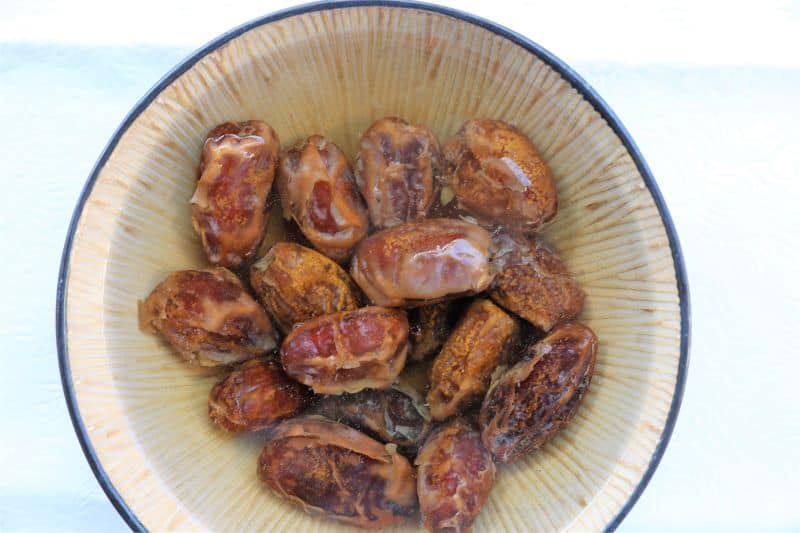 Substitutions
These creamy stuffed dates can be adjusted to your preferences in a couple of different ways. Or maybe if you are like me you just want to see if you can avoid making a trip to the grocery store. Here are some substitutions for this delicious appetizer.
I think goat cheese or ricotta cheese in place of the whipped cream cheese would also be super yummy.
If you are vegan or dairy-free look for vegan whipped cream cheese or you can try making your own.
You can also use nut butter instead of whipped cream cheese.
Instead of almonds, you could also try using pistachios, walnuts, pecans, or really any type of nuts or even a combination of nuts.
If you don't want to use nuts, you can top your stuffed dates with freeze-dried raspberries or strawberries, or top with mini chocolate chips for a sweet appetizer.
Instead of basil, garnish your dates with sea salt, a little bit of raw honey, or even melted chocolate if you want something sweeter.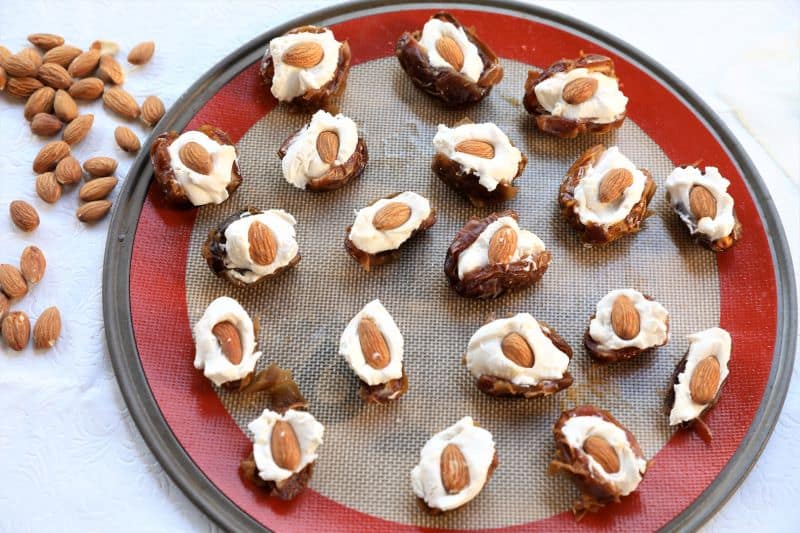 Tips
This appetizer is perfect for everyday gatherings or your holiday spread.  Creamy stuffed dates are ready in less than 30 minutes. You definitely cannot eat just one!
Use dates that are soft and a little bit on the larger side so it's easier to stuff them. Medjool dates are probably the most popular for making stuffed dates because of their size and they are easier to fill.
Purchase pitted dates if possible to save you some time.
If you are not using pitted dates, make sure not to cut the dates all the way through when you are removing the pit.
Get creative and try different combinations to find out what you like. The options are endless!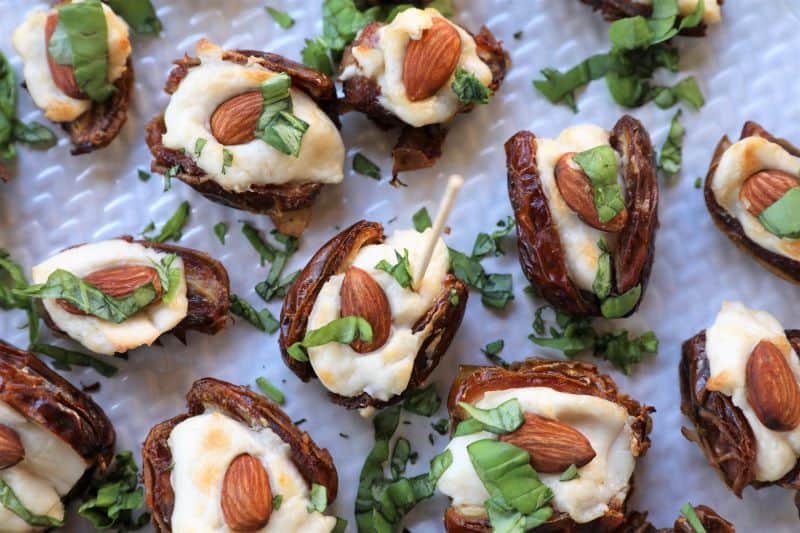 More Appetizer Recipes
If you liked these creamy stuffed dates, check out some other appetizer recipes here on Green Scheme. Here are some of my favorites.
Recipe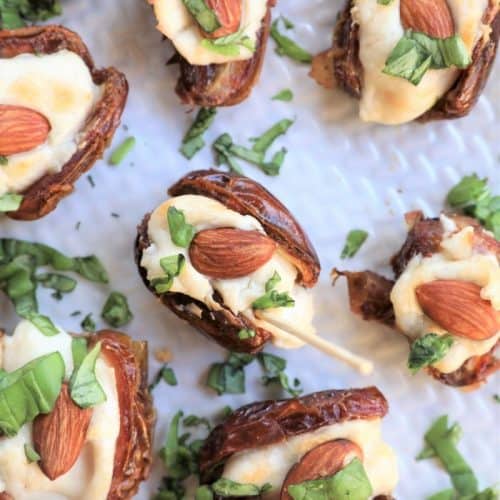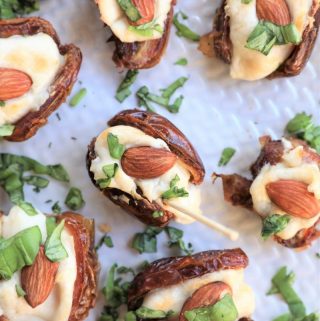 Creamy Stuffed Dates
Creamy Stuffed Dates are the perfect combination of sweet, creamy and crunchy. Ready in 30 minutes, this appetizer is vegan, gluten free and dairy free
Ingredients
16

dates, pitted and soaked for 2 hours

4

ounces

whipped cream cheese

vegan cream cheese if vegan or dairy free

16

raw almonds

2

tablespoons

fresh basil, chopped
Instructions
Soak dates for 2 hours; slice open each date, but don't slice in half

Spoon cream cheese to fill date; add 1 almond in middle

Bake at 375 degrees for 20 minutes on pan with silicon or non stick mat

Remove from oven. Chop fresh basil; spinkle fresh basil on baked dates.
Notes
Notes:
Purchase pitted dates if possible.  If not, gently remove pit after soaking and slicing date open. Try to keep date whole.
Nutrition
Serving:
1
date
Calories:
87
kcal