Gluten Free Cream Cheese Brownies.  Yes, some days, we need two indulgences--gluten free brownies and gluten free brownies to the max with cream cheese.  Today is one of those days. Background...I have been eating gluten free since 2008, and things have come a long way since then.  Not to bore you with the details, but suffice it to say, it was painful. Bread had the texture of a hockey puck, and everything else was an obvious, inadequate substitute.  Fortunately, now in 2020, you can't even tell the difference between gluten and gluten free and can feed a whole crowd of gluten and gluten free without any problems. When baking gluten free though, there are still challenges. 
What Is The Best Way To Bake Gluten Free?
All gluten free flours are not created equal, so often gluten free baking can be disappointing.   The main problem I find, is that the recipes don't rise enough.  I am here to tell you, it doesn't have to be that way. Tip:  The most important ingredient in gluten free baking is the flour.  Don't go for the cheap option.  Always choose a 1 for 1 or Cup for Cup flour. (also referred to as "measure for measure") 
I use King Arthur's Flour 1 For 1 or Cup 4 Cup.(This is not a sponsored post).  Basically, this means that you can prepare recipes that are made with wheat flour, and substitute these gluten free flours in the exact same measurements.
Ingredients For Cream Cheese Brownies
Brownies are usually a simple recipe, and these brownies are no different. They are delicious without the cream cheese, but today was a "plus cream cheese brownie" day.   Here are the simple ingredients that you need for your shopping list. 
Again, the flour is the most important. In regard to the cream cheese add in, many recipes include sugar and eggs, but I am trying to make this recipe a little lower in sugar.  To make your cream cheese mixture therefore, you will only add soy/almond milk to the cream cheese and mix.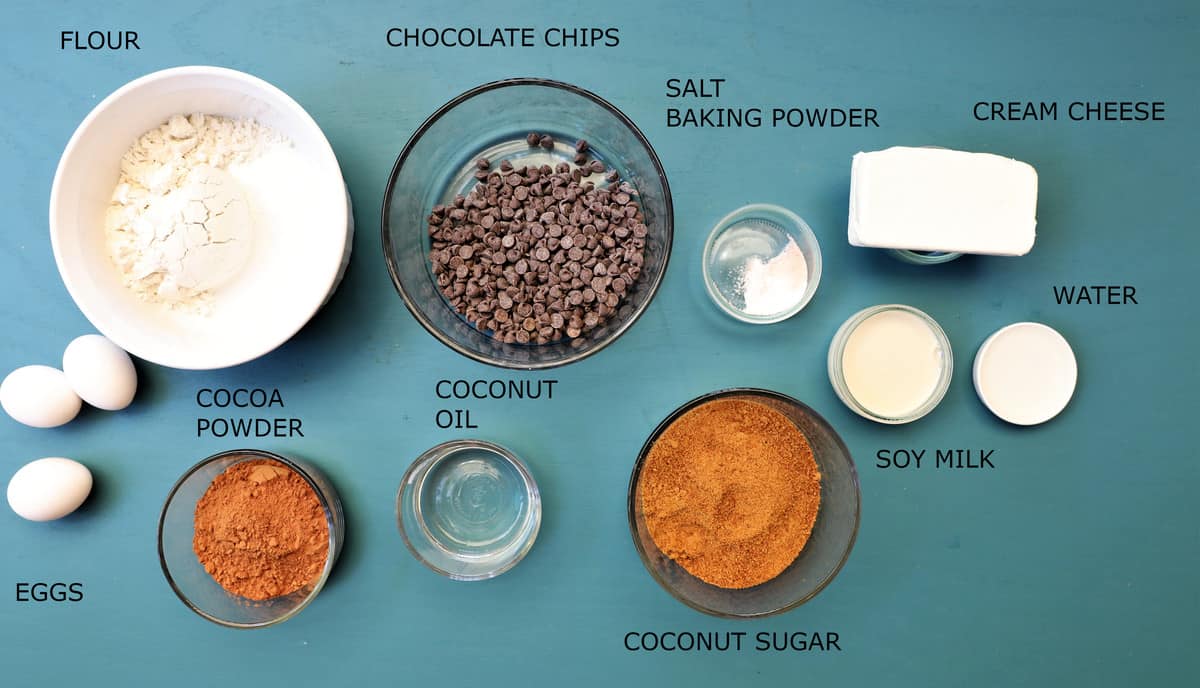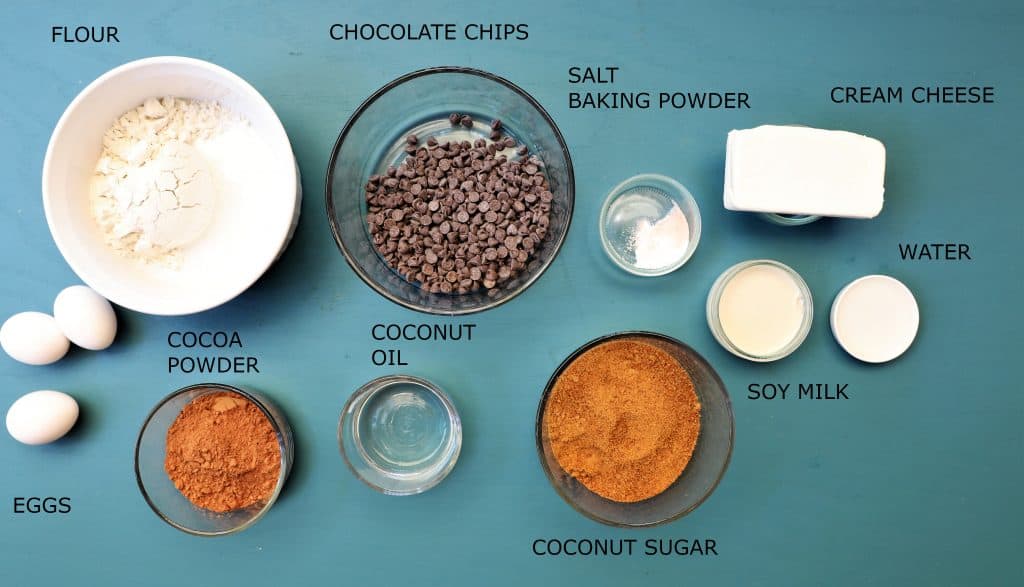 Steps For Making Brownies
I don't even need pictures to show you how to make brownies, but I do love taking pictures.  Basically, mix all the  5 dry ingredients, add the eggs, oil and water, and then chocolate chips.  Mix with a wooden spoon, not a mixer.  Oil a 9x9 pan.  (I used coconut oil spray, and maybe over did it, but my brownies did.not.stick.)
For the cream cheese, add the milk to the cream cheese, microwave for 1 minute, and mix until smooth with a mixer. Tip:  You can get creative with the swirls--it is up to you.  I personally like to put the cream cheese on the top and swirl, like a frosting.  Others put half the brownie mix in the baking pan, add the cream cheese and then top with remaining brownie mix and then swirl.  Up to you. That is it. 
Bake 45 minutes at 350. Dairy Free Option:  This recipe is gluten free and vegetarian, but not vegan.  If you need a vegan or dairy free option, you can use dairy free cream cheese and vegan chocolate chips.  There is always a way to make the recipe the way that you need it to be and still enjoy the deliciousness
And you then end up with this yummy goodness! (the flowers are hibiscus flowers from Trader Joes).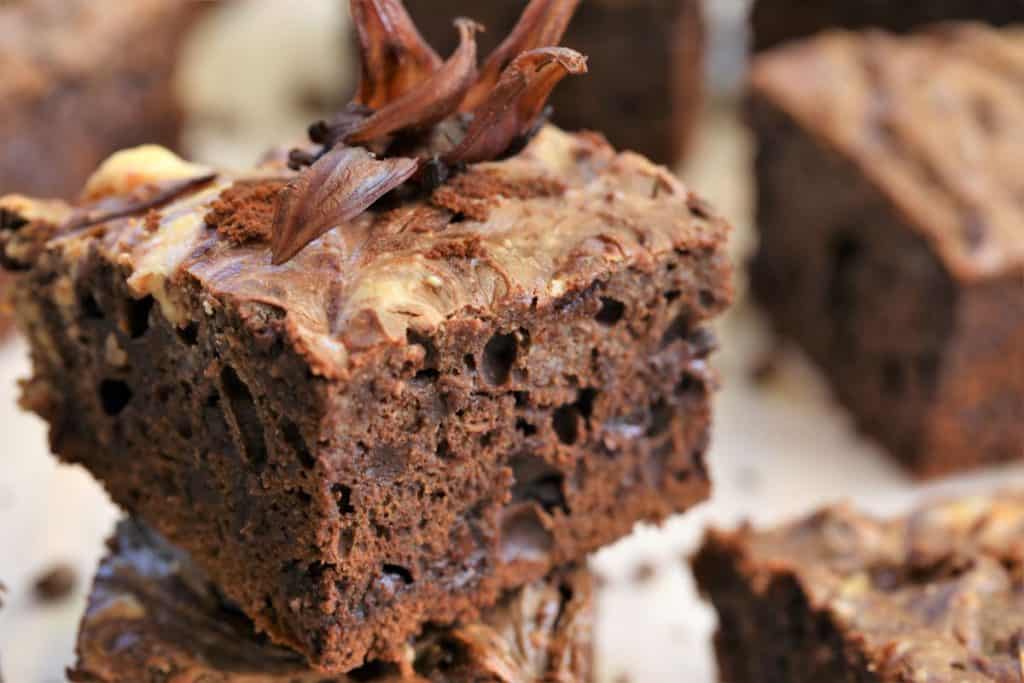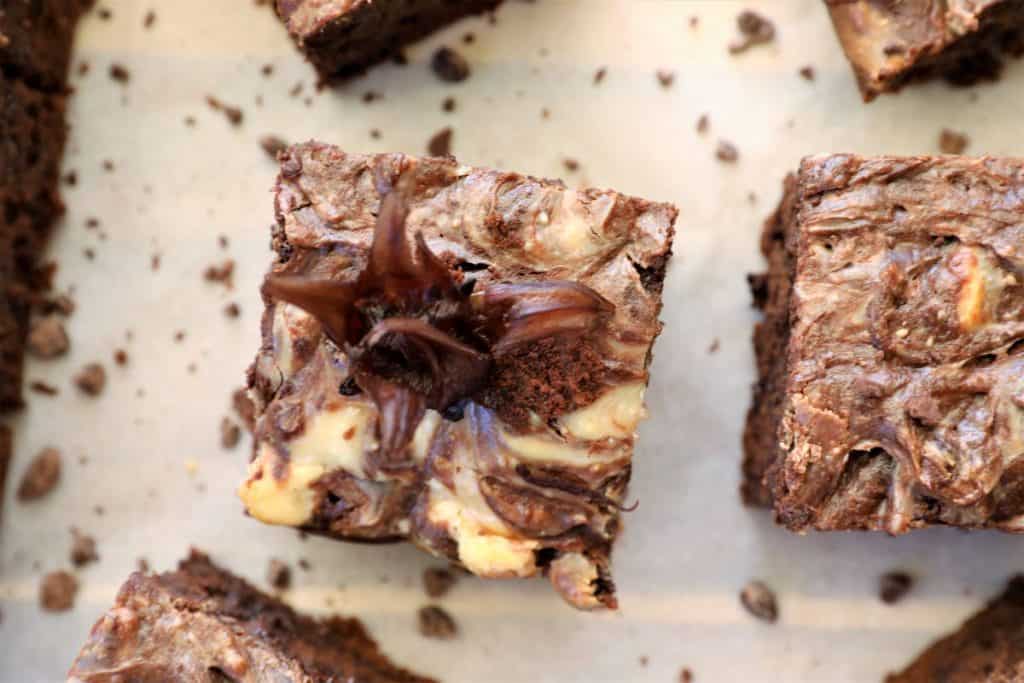 Recipe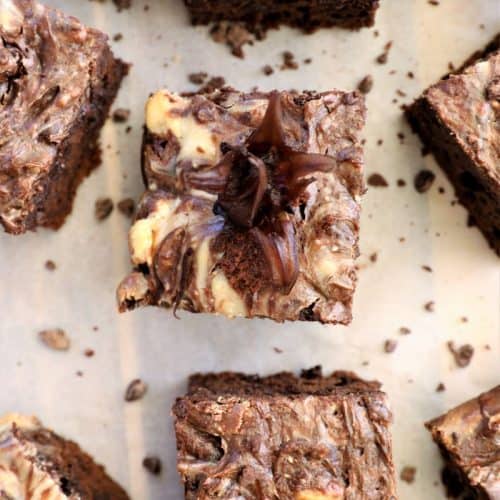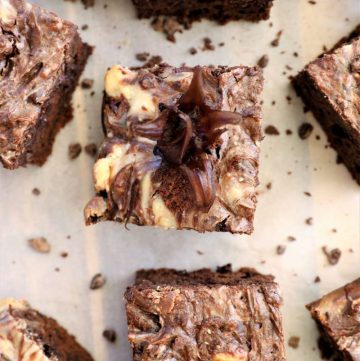 Gluten Free Cream Cheese Brownies
Gluten Free Cream Cheese Brownies are the delectable treat that you need on a day like this. Simple ingredients, ready in 1 hour, and the most creamy, chocolaty brownie you have every tasted.
Ingredients
Brownies
1

cup

1 for 1 gluten free flour

I use King Arthur's 1 For 1

1 ½

cup

coconut sugar

⅔

cup

cocoa powder

¾

teaspoon

sea salt

½

teaspoon

baking powder

3

eggs

½

cup

coconut oil

3

tablespoon

water

1

cup

semi sweet chocolate chips
Cream Cheese Mixture
8

oz

cream cheese

½

cup

soy or almond milk
Instructions
Mix all dry ingredients together.

Add eggs, oil, water and mix well with wooden spoon.

Add soy/almond milk to cream cheese. Cook in microwave 1 minute and beat with mixer until smooth.

Pour brownie mix into oiled 9x9 pan. Scoop cream cheese mixture on top. Swirl with skewer or sharp object.

Bake at 350 degrees for 35 minutes. Let brownies sit for 15 minutes before cutting.
Notes
This recipe is adapted from Rich Chocolate Brownies from King Arthur's Flour.  For the best gluten free baking, always use 1 for 1 flour or Cup 4 Cup.
Nutrition
Serving:
1
g
Calories:
396
kcal
More Gluten Free Baking Recipes