Cream Cheese Banana Muffins. Banana muffins are a kitchen staple, and there are not many people that I know who don't enjoy a good banana muffin.   It is therefore, hard to make a banana muffin that stands out, or is different enough to be noteworthy, especially if you are baking gluten free. 
After much testing, we have created a twist on the old favorite--a cream cheese banana muffin.  A bite into the cream cheese center is seriously a flavor sensation that is unlike any other banana muffin that you have tasted.
These muffins are gluten free, dairy free and vegetarian.  **If you are not gluten free baking, use your favorite all purpose flour.
Jump to:
About Gluten Free Baking
When baking gluten free, the most important ingredient is the flour.  Rather than mixing a combination of flours to make a suitable gluten fee flour, I always use 1 for 1, Measure For Measure (King Arthur) or Cup 4 Cup. 
Getting your muffins to rise is a challenge in gluten free baking, and these gluten free flours always give the best result in my opinion.  So, despite the fact that I used gluten free flour, the muffins are fluffy and light and then there is...that cream cheese filling.  Yum.
Ingredients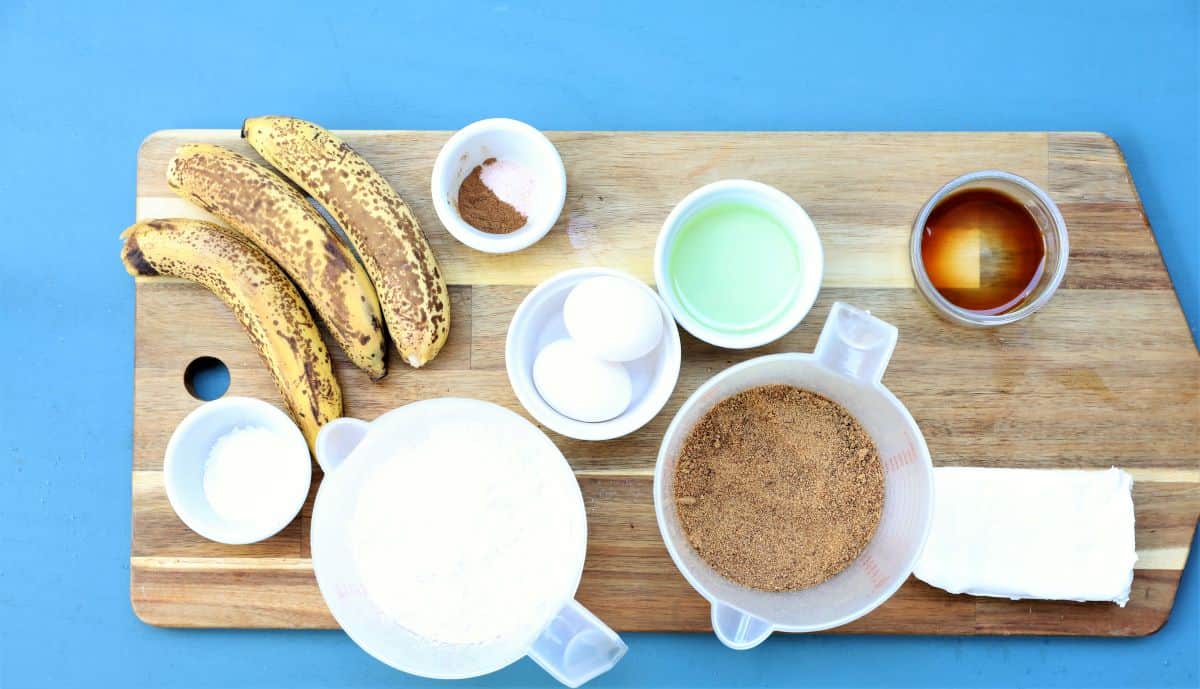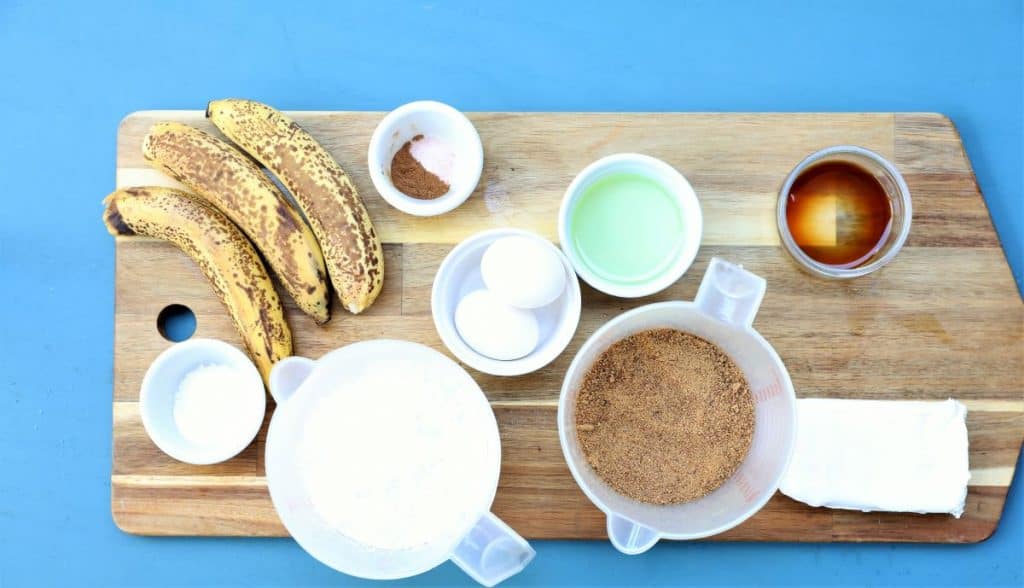 Gluten free flour--most important ingredient so that your muffins rise
Salt, baking soda, baking powder
Cinnamon
Coconut sugar-making these muffins a little sweet, but not overwhelming
Coconut oil-the oil makes the muffins smooth and moist
Eggs
Vanilla
Ripe Bananas-ripe bananas are the absolute best for banana bread
Cream cheese-must be very cold, solid before cutting into cubes
Steps For Making Cream Cheese Banana Muffins
This is a very simple, kid friendly recipe.
Add dry ingredients to food processor with the blade, and mix
Add liquid ingredients, mix and then add ripe bananas
Mix until smooth
Cut cream cheese into cubes
Oil cupcake pan with coconut oil
Pour mix into cupcake pan
Press a cream cheese cube into each muffin
Bake at 350 for 25 minutes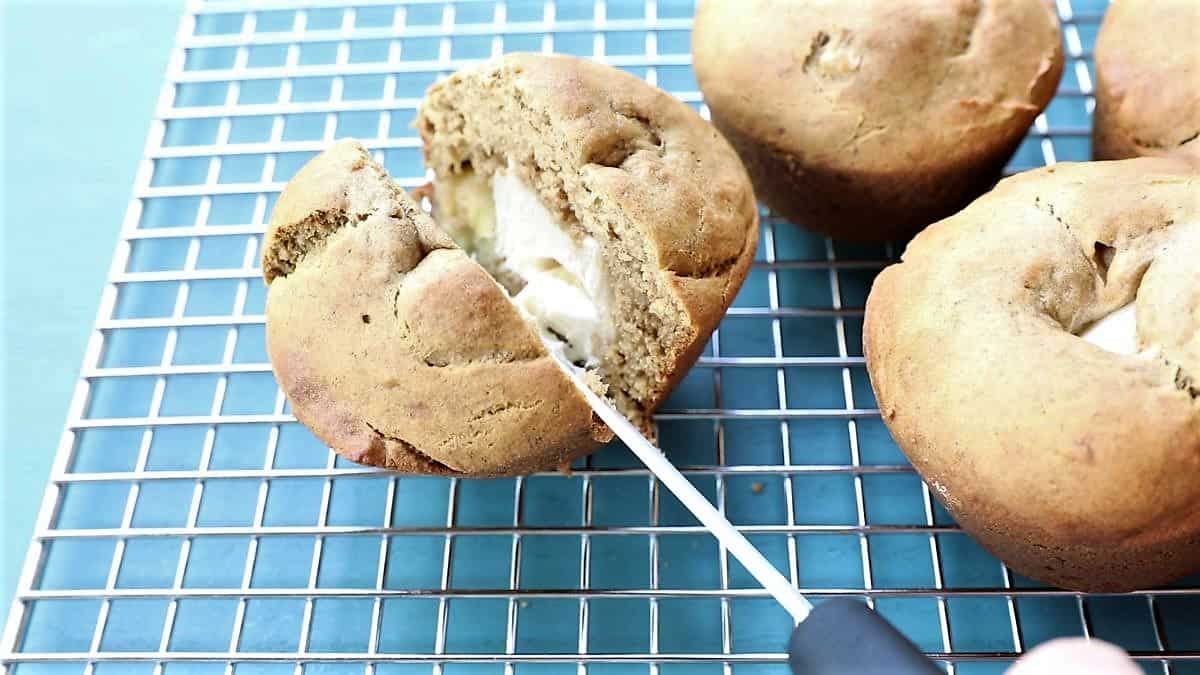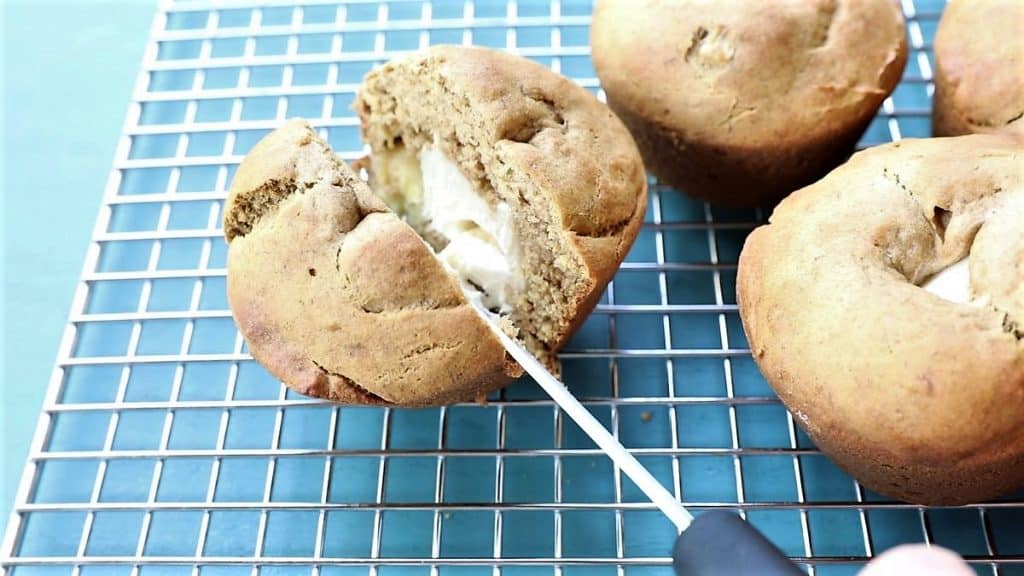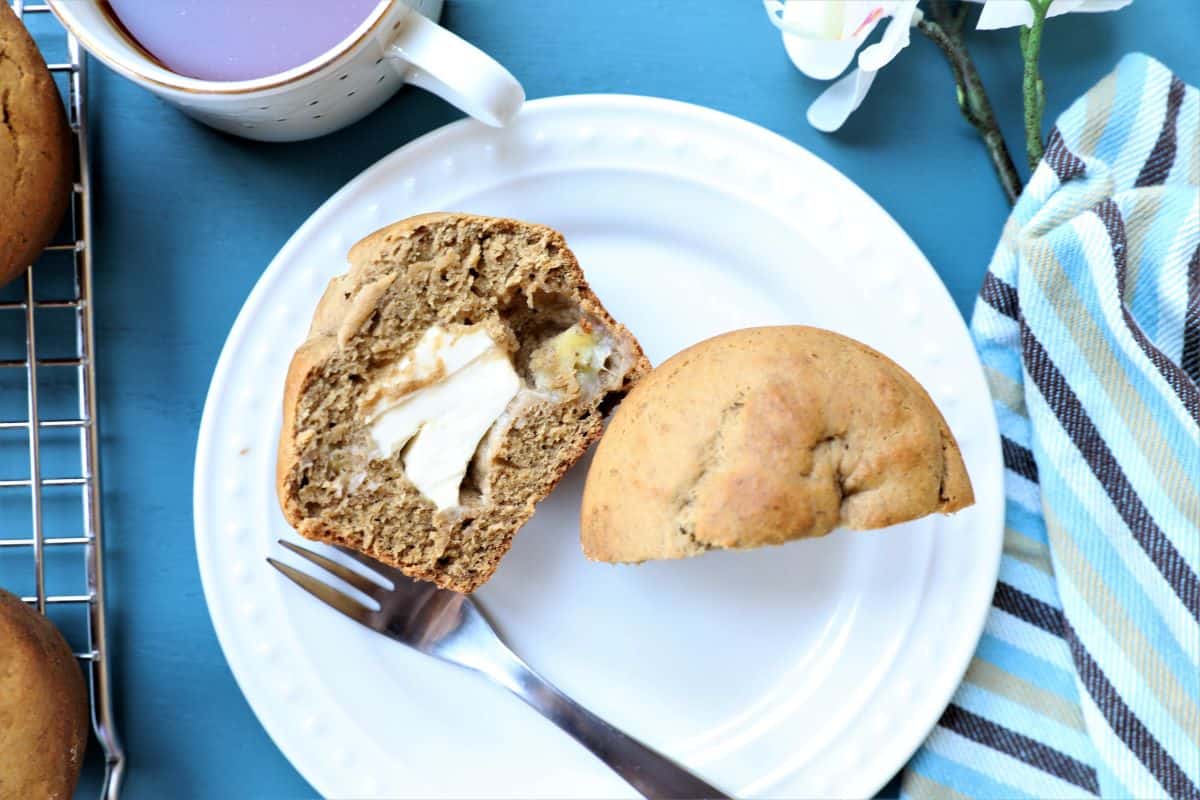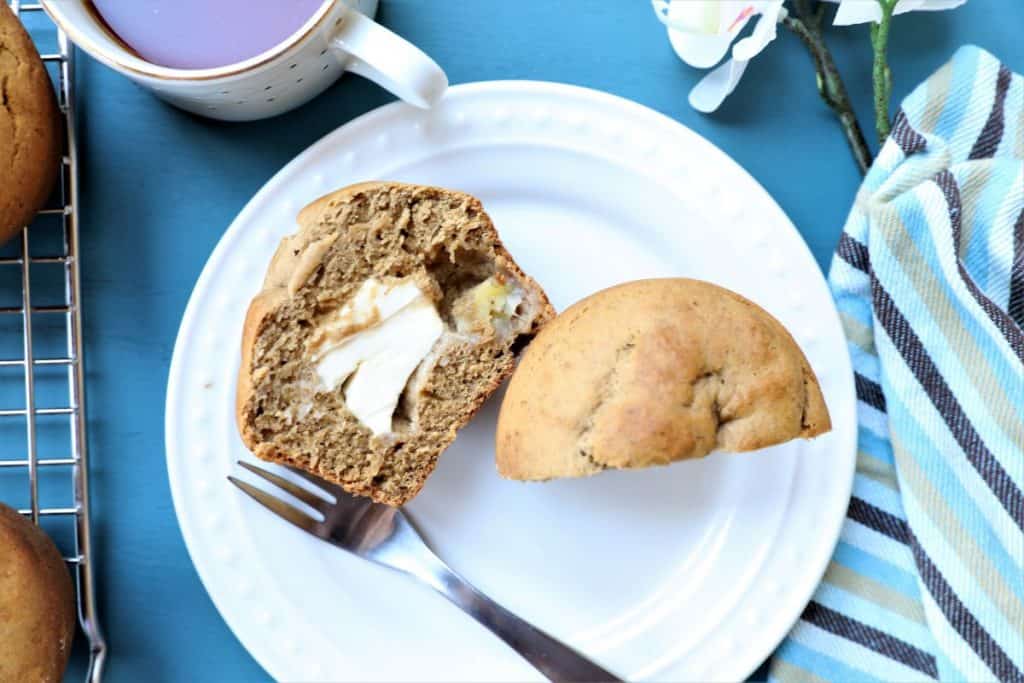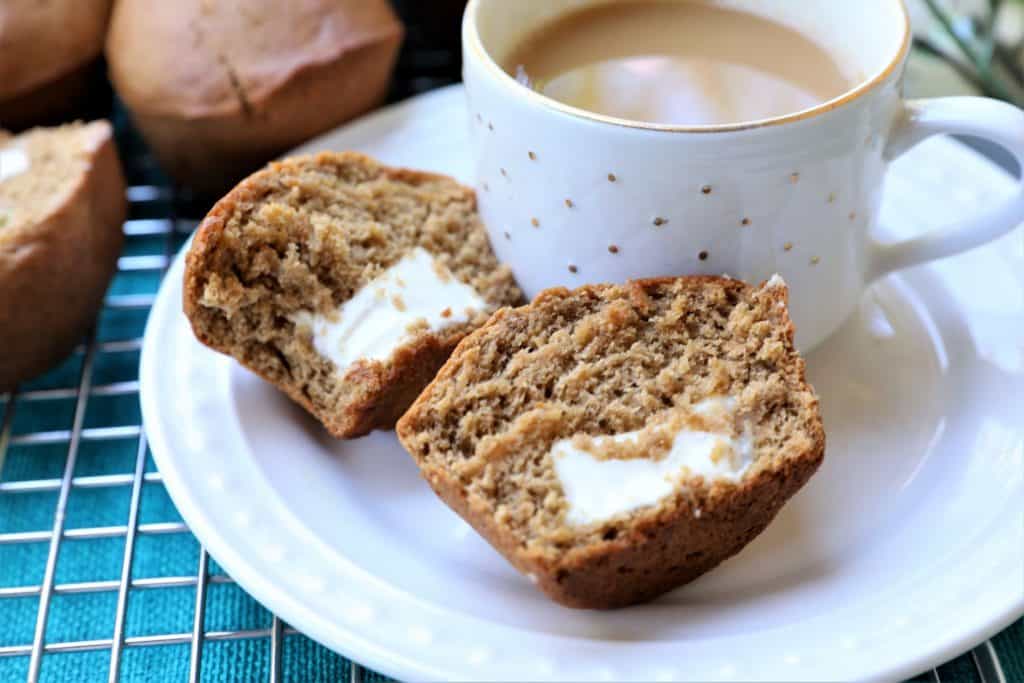 Alternatives and Tips
If you like nuts in your banana muffins, you can add ½ cup of chopped almonds to the batter before baking.
If you want this recipe to be dairy free, use vegan cream cheese.
Like everything chocolate?  Add ½ cup cocoa powder to the batter before baking.
The cream cheese should be very cold, solid before cutting into cubes.
This recipe makes 6 jumbo muffins or 12 standard size muffins.
If you are not gluten free, use your favorite All Purpose Flour.
This pairs best with a sidamo coffee
Related
Recipe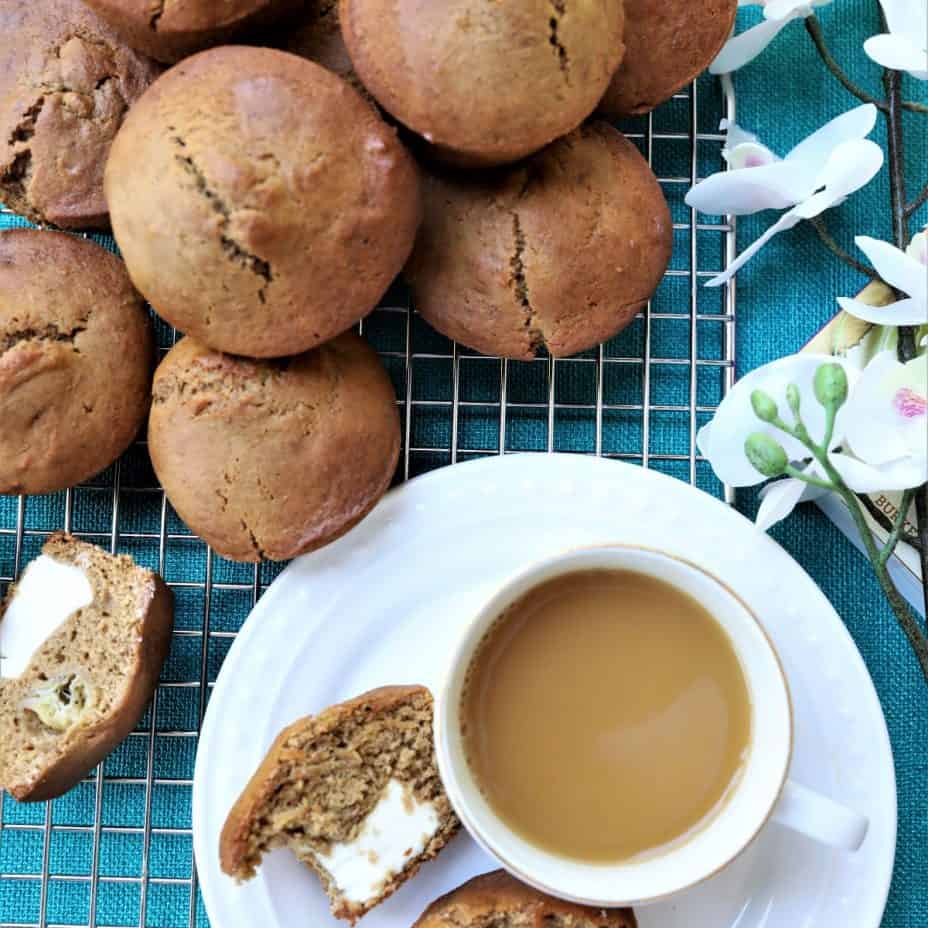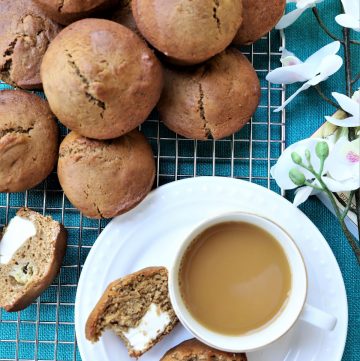 Cream Cheese Banana Muffins
Cream Cheese Banana Muffins-a new twist on an old favorite. Light and fluffy gluten free banana muffins with a creamy filling
Ingredients
2

teaspoon

baking powder

1

teaspoon

baking soda

1

teaspoon

sea salt

1 ¾

cup

gluten free flour

I used King Arthur Flour

1

teaspoon

cinnamon

¾

cup

coconut sugar

½

cup

coconut oil

2

eggs

1

teaspoon

vanilla

3

ripe bananas

8

oz

cream cheese

rectangle block, cut into 12 cubes
Instructions
Add dry ingredients to food processor with blade. Mix well. Add eggs, vanilla, oil. Mix well. Chop bananas and add to muffin mixture.

After batter is mixed well, scoop into cupcake baking pans that have been oiled with coconut oil. Press a cube of cream cheese into each muffin, and cover with batter.

Bake muffins 25 minutes at 350.
Notes
This recipe is adapted from King Arthur Flour Whole Grain Banana Muffins.
Nutrition
More gluten free muffins: