Spring Vegetable Salad With Hot Peanut Dressing features all of the colors of the rainbow and all the fresh produce of the season.  Combining zucchini, red peppers, leeks, carrots, tomatoes and mango makes for a beautiful and delicious salad.   When you put these on a bed of fresh greens, and drizzle hot peanut dressing, suddenly salad is sassy.  Vegan, gluten free, dairy free, and ready in less than 30 minutes.
Tools Used In This Recipe:
Ok, I am not a farm girl, so perhaps I get a little more excited than normal when I actually grow my own food.  I started a Patio Garden this year, and am so pleased with the produce that I have grown as a result of not that much work.  Why is it that produce tastes to much better, picked out of your own garden, without pesticides, herbicides and other delays from transporting the to  market?  Ok, that was rhetorical, no answer needed.  Taking up only 4 square feet, check out my Patio Garden with the Garden Tower here.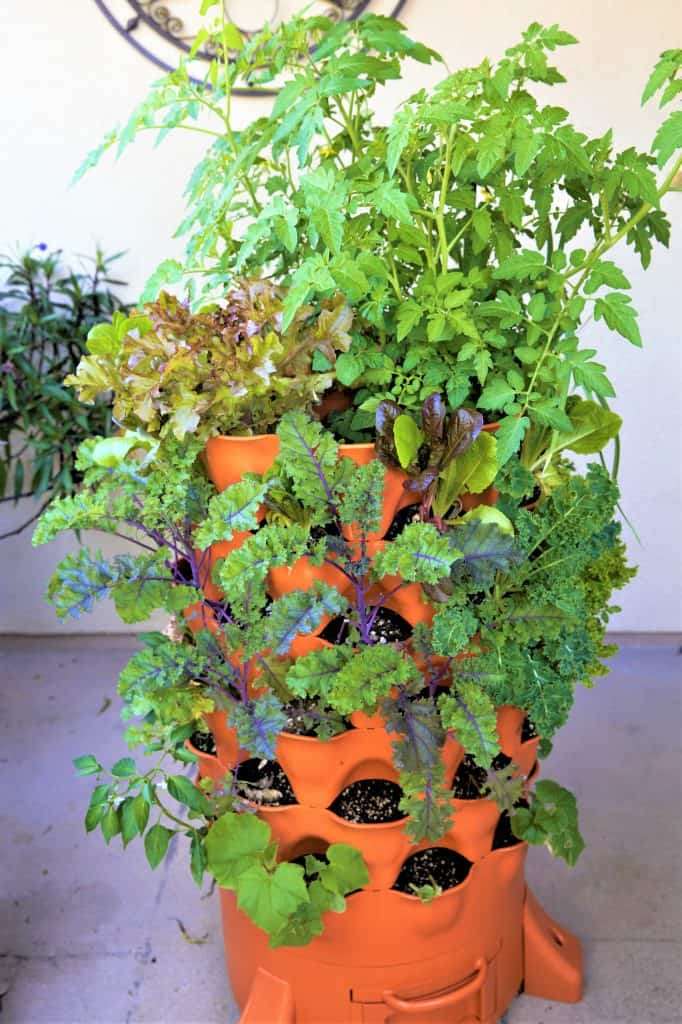 Recipe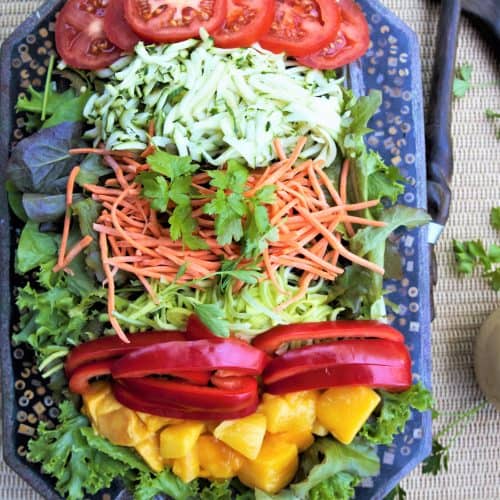 Spring Vegetable Salad With Hot Peanut Dressing
Added to fresh seasonal vegetables , this hot peanut dressing kicks up the flavor and makes this salad anything but ordinary. Vegan, gluten free, dairy free
Ingredients
Hot Peanut Dressing
⅓

cup

peanut butter

3

tablespoon

coconut aminos

4

cloves

garlic

2

tablespoon

chili sauce

1

knob fresh ginger/or 1 tsp

½

teaspoon

red pepper flakes

½

cup

water

3

tablespoon

sesame oil
Vegetables
2

cups

shredded zucchini

1

cup

chopped leeks

1

red pepper, sliced

2

cups

mango

2

tomatoes, sliced

5

cups

mixed greens

2

tablespoon

roasted peanuts

for garnish

1

tablespoon

parsley

for garnish
Instructions
Hot Peanut Sauce
Blend all ingredients in small blender until smooth.
Vegetables
Slice and chop all vegetables as directed above. Spread lettuce on large platter, and place vegetables across greens. Drizzle hot peanut dressing. This allows each to use as much dressing as they want. Or, if you prefer your vegetables with dressing, add all vegetables to bowl, add dressing and then place on the bed of greens.


OPTIONAL: If it isn't summer, and you want your vegetables roasted, place vegetables on large baking sheet lined with silicon or parchment paper. Drizzle with olive oil, salt, pepper and granulated garlic.
Bake for 30 minutes at 375 degrees, flipping at 15 minutes.


When vegetables are cool, add to bowl or platter of greens, and mix well. Top with peanuts and parsley.

Nutrition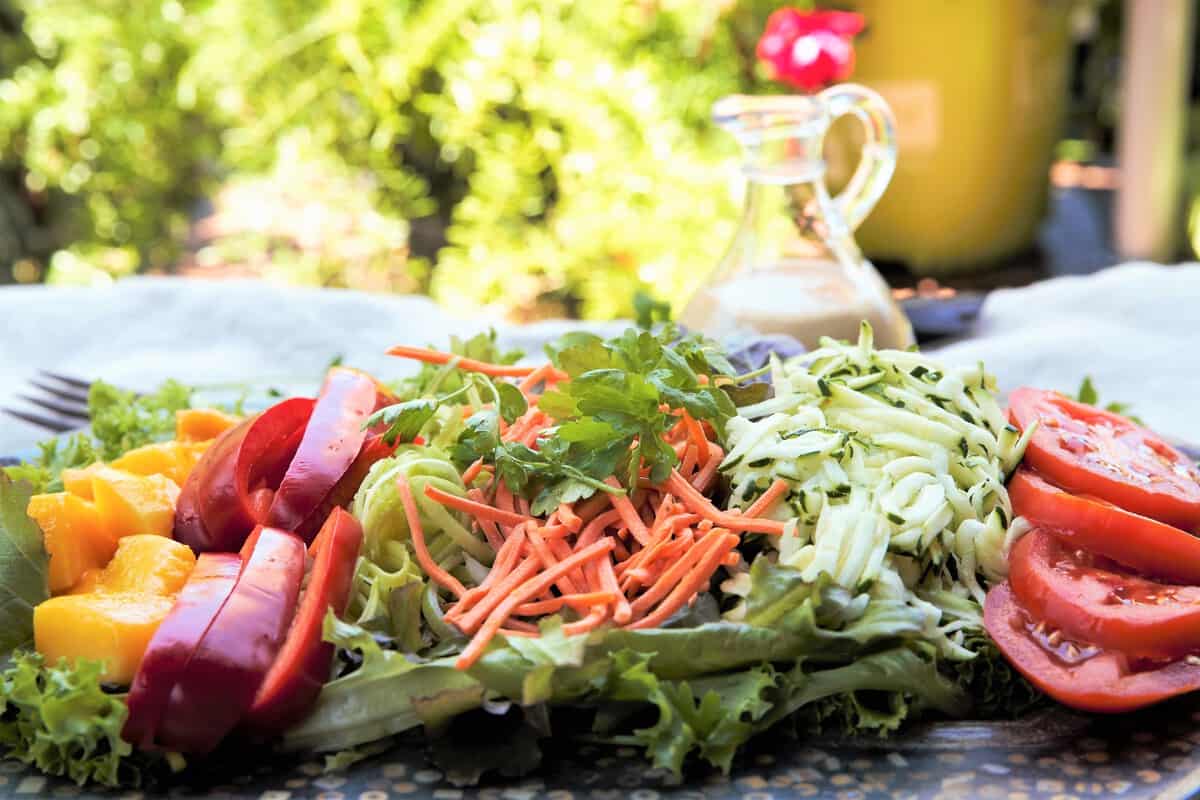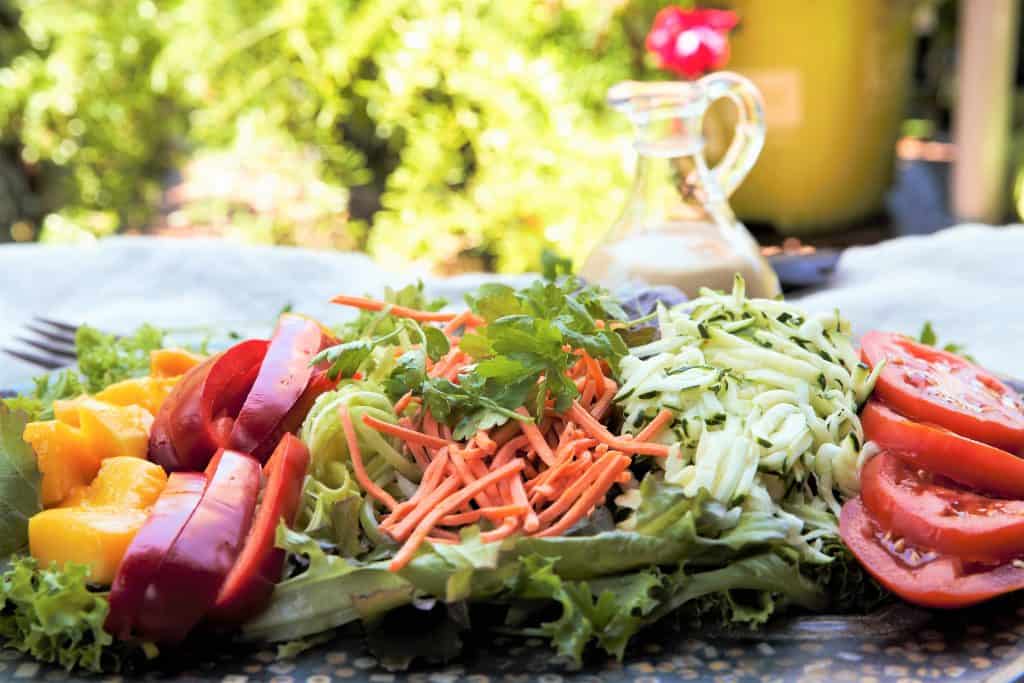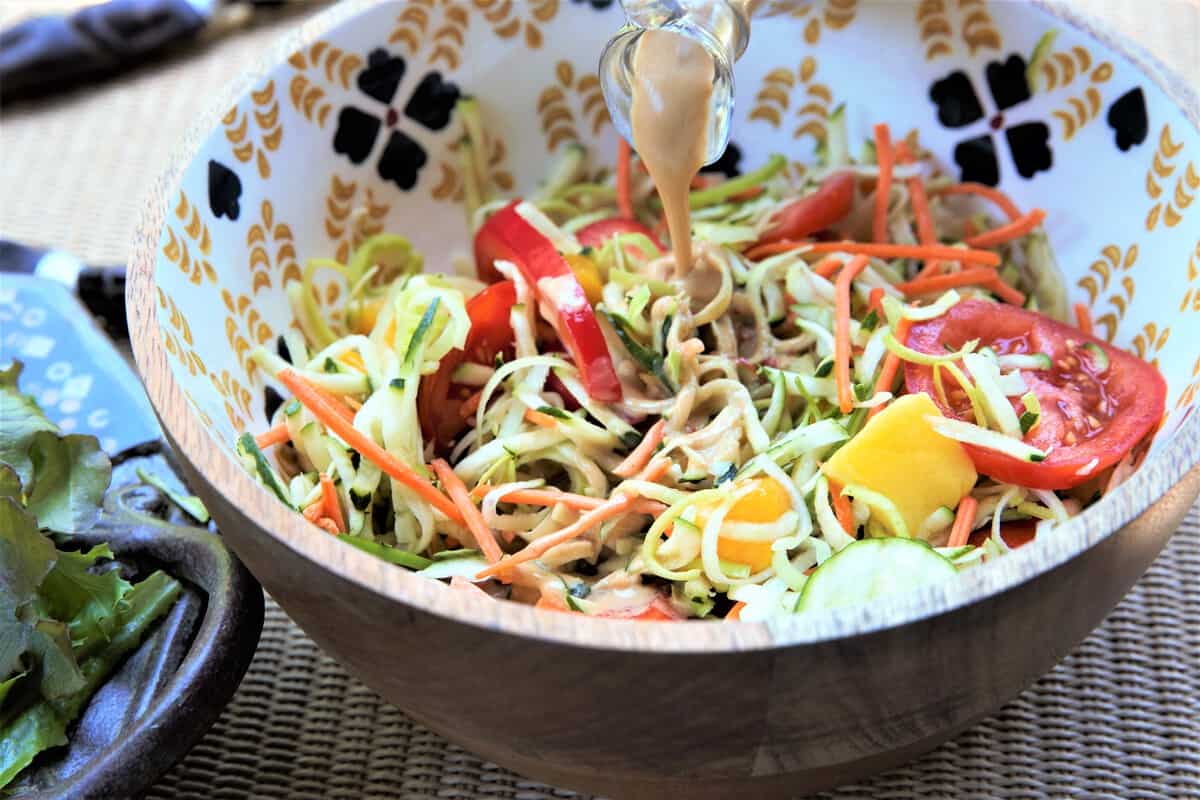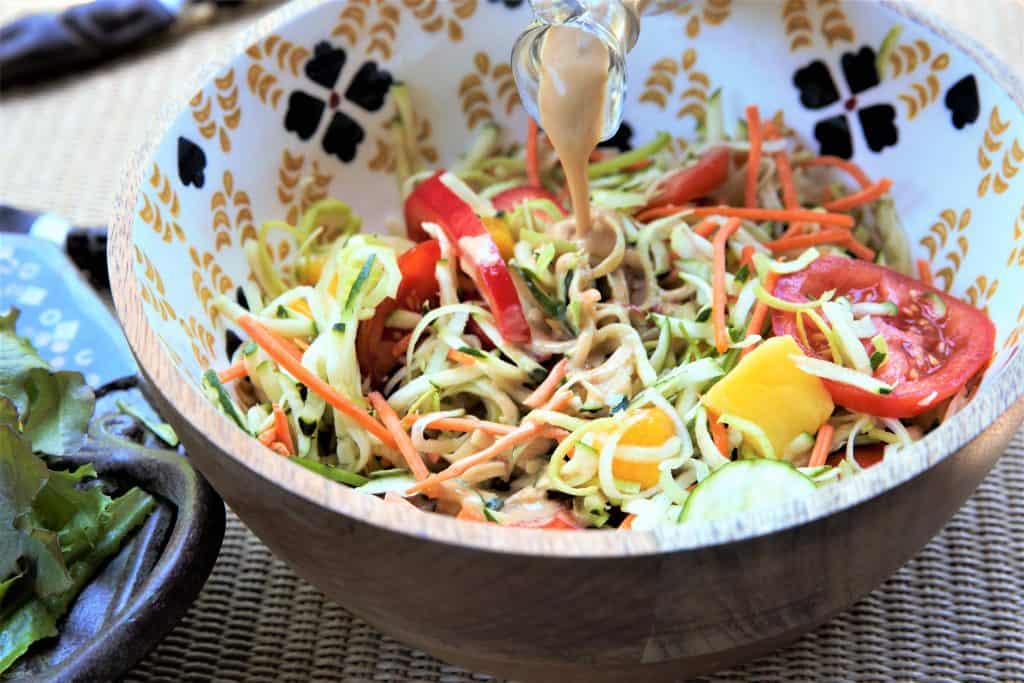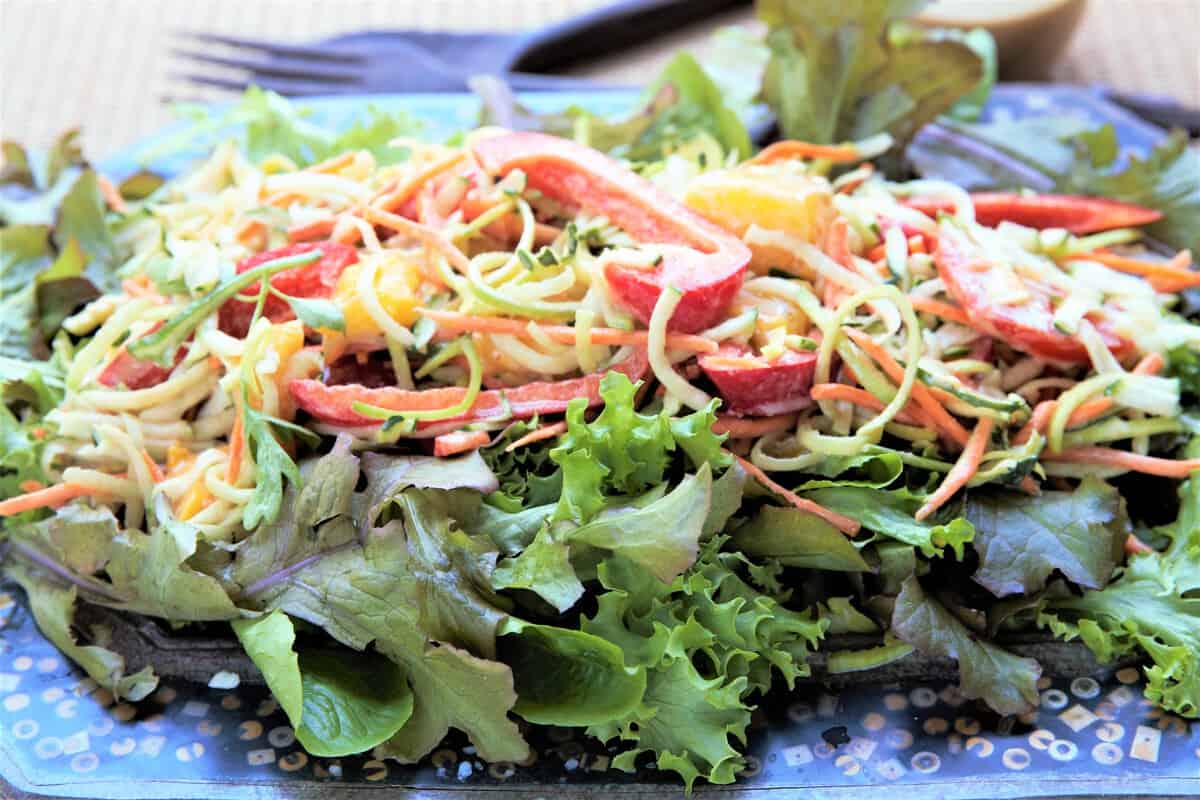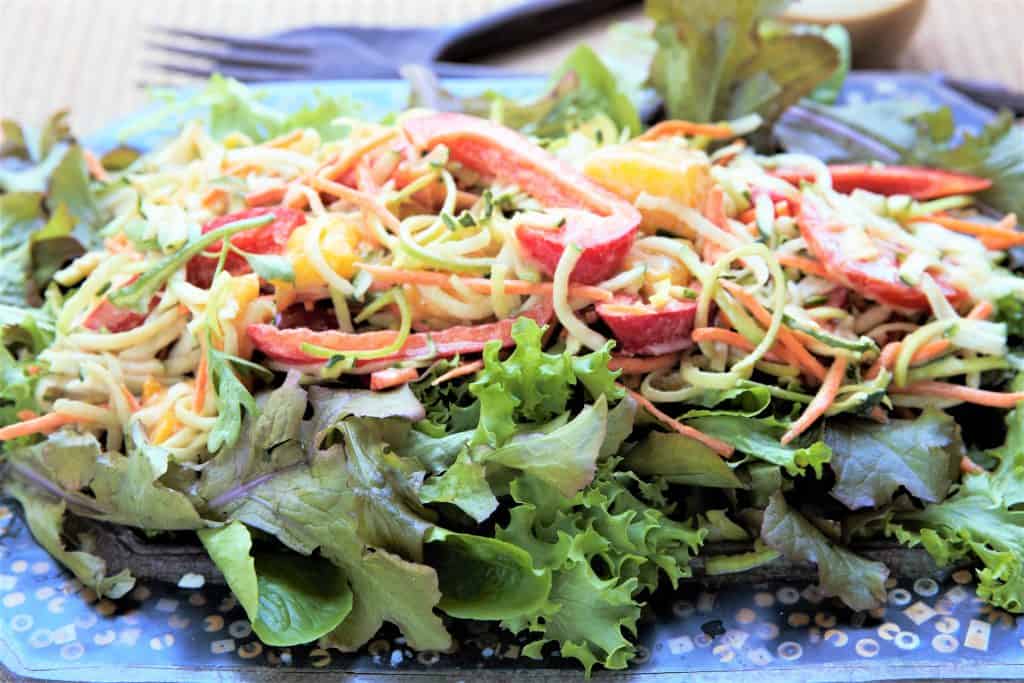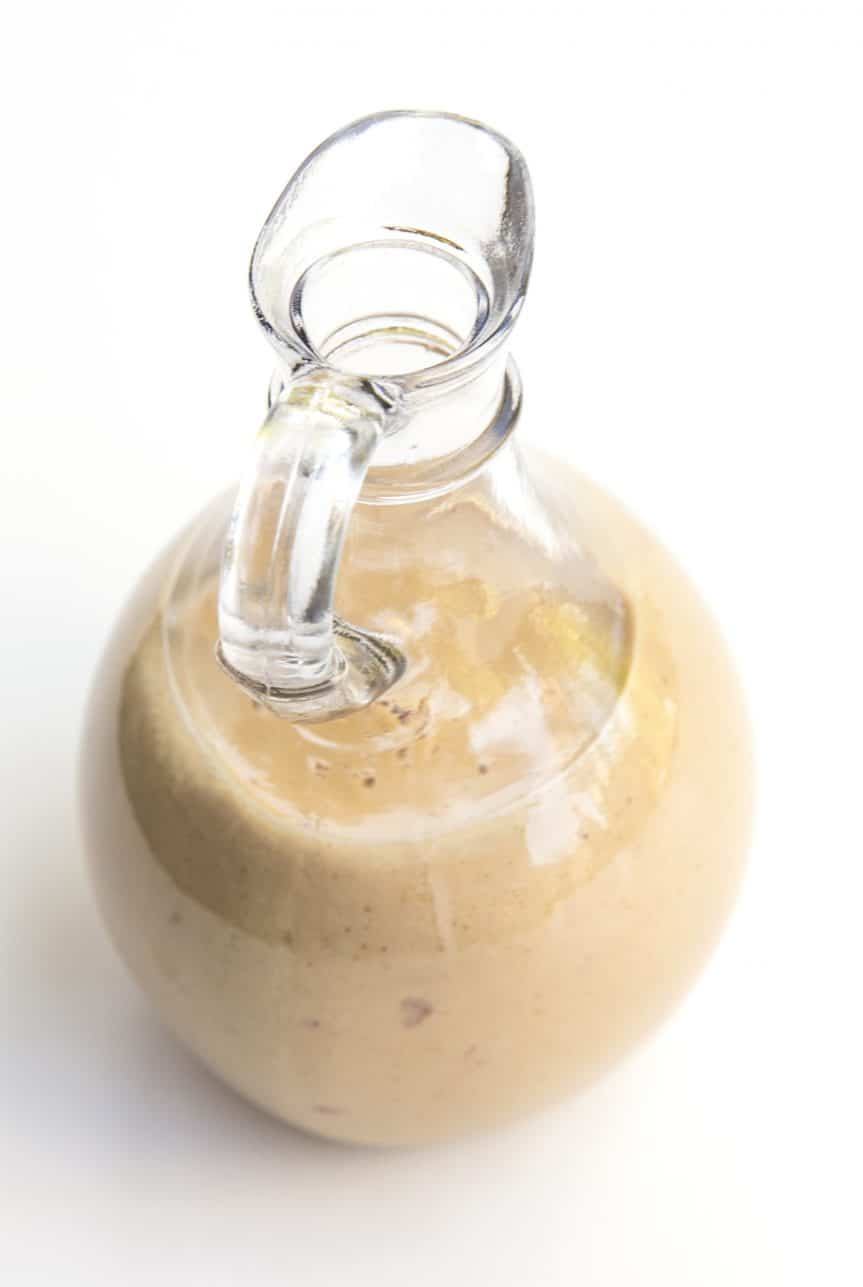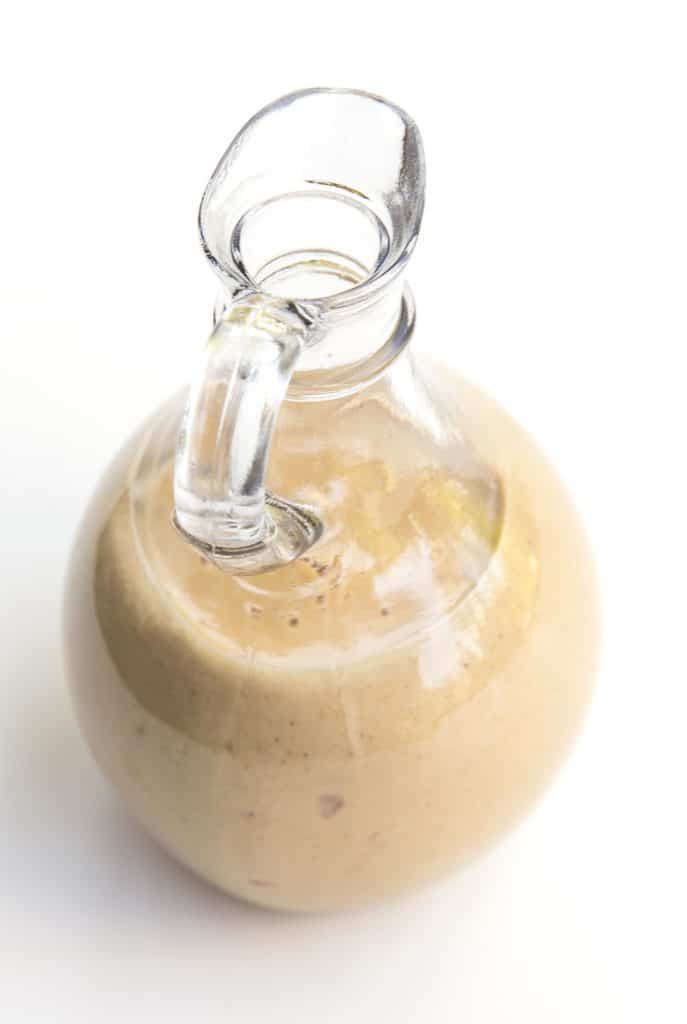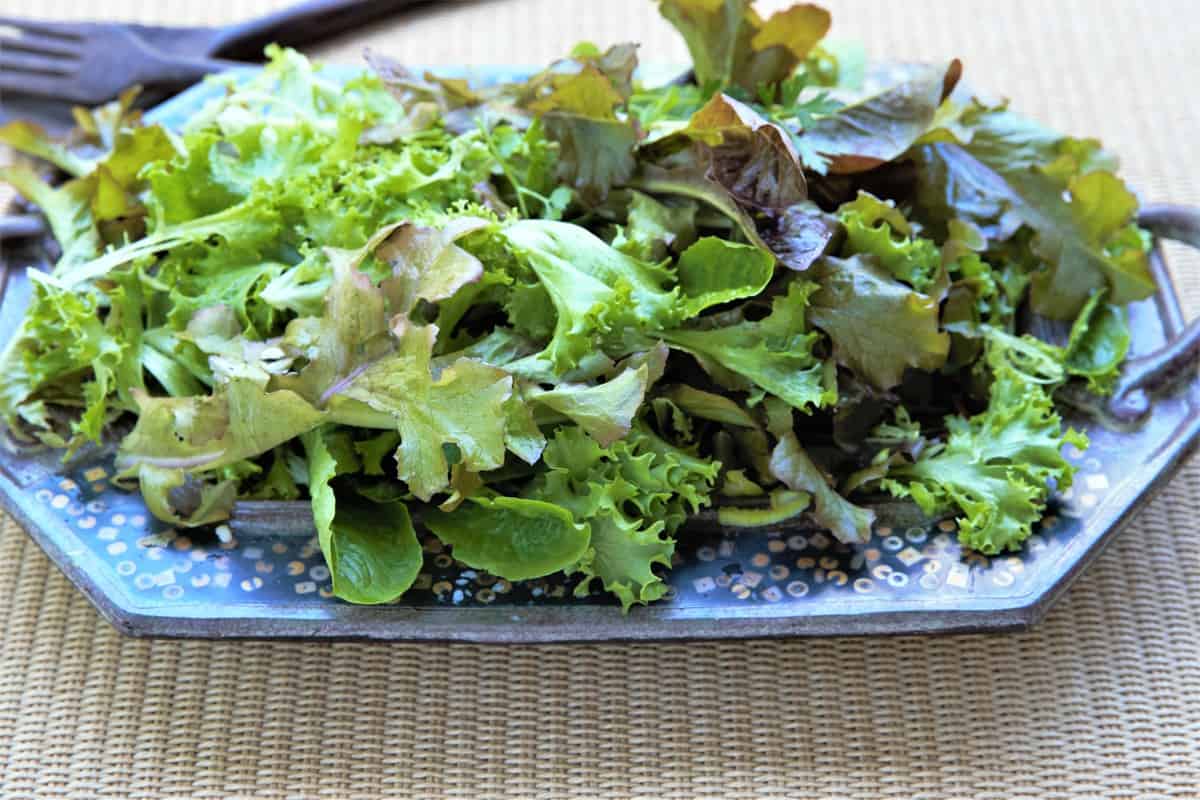 Fun Fact:  Where did I get these beautiful greens for this salad?  I grew them myself!  Yes, not in farm country, but right in the heart of the city in Orange County, CA. Check out my organic patio garden.
More recipes:
Grilled Chipotle Tofu Sandwich