Chicken Fried Rice And Greens.  There are so, so many options for making a stirfry with vegetables and rice.  Literally, whatever vegetables you have on hand will work.  The best things about a stirfry, are that it is one pan cooking and can be ready in less than 30 minutes.  Depending on how you season it, stirfry can be your go to, I'm hungry right now,  favorite.  For this stirfry, we have a base of chicken, but for a vegetarian option, either omit chicken or substitute tofu.  Tofu is a great addition because it adds additional protein to your fiber and greens, making the stirfry a nutrition powerhouse.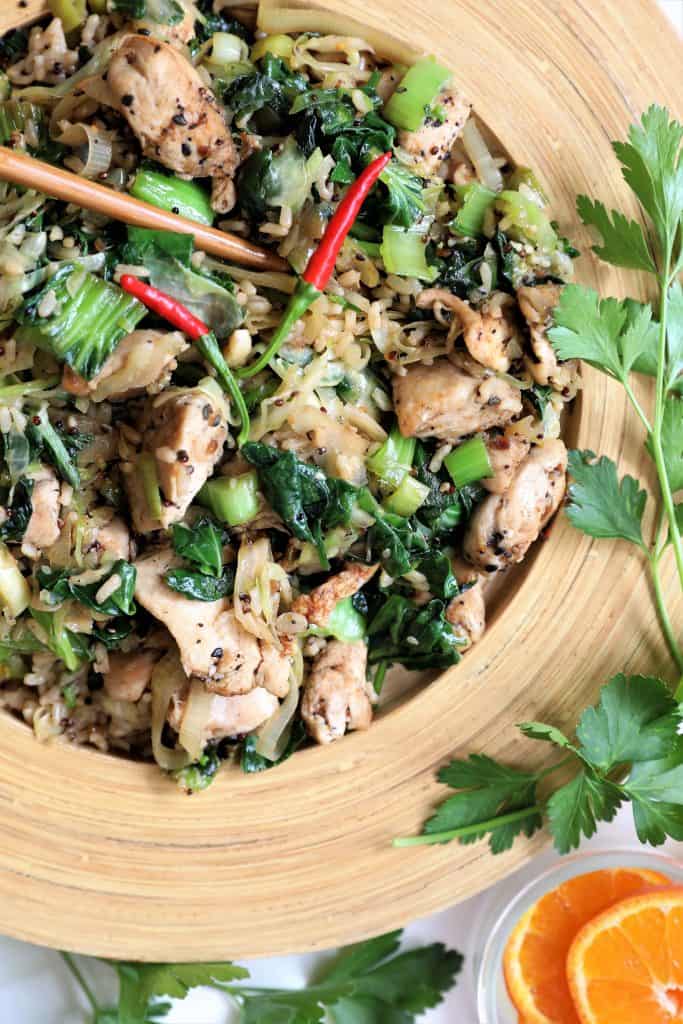 We start with the basic protein, either chicken or tofu, and stirfry it in coconut oil and spices.  When the protein is cooked, remove from the pan and set aside.  Add the vegetables and additional spices  to the seasoned wok and mix in rice.  That is is--done and ready to enjoy.   This stirfry is seasoned with salt, garlic, sesame seeds, spices, ginger, red pepper flakes, chili oil and lightly sweetened with maple syrup.  Yes, it does sound delicious, so try this quick and easy dish for yourself.
How Can I Add More Fiber To This Dish?
Stirfry is often made with white rice, which for 1 cup offers .6 grams of fiber; just by substituting brown rice, your fiber will be increased to 3.5 grams.  That simple change will not affect the flavor, but will definitely improve the nutritional value.
What Greens Will Work In This Recipe?
The recipe that I prepared features green cabbage, bok choy, leeks and spinach...so many good greens!  You can also use baby broccoli, kale, collard greens, green onions or swiss chard.  All of these leafy greens are low in calories and "are a rich source of minerals (including iron, calcium, potassium, and magnesium) and vitamins, including vitamins K, C, E, and many of the B vitamins." (source)  Basically,  leafy greens are  your key to serving up a nutritional powerhouse.
Is This Recipe Gluten Free And Dairy Free?
This recipe is gluten free and diary free, and if you omit the chicken it is also vegan and vegetarian.  We often need so many choices for so many appetites, so choose what works for you.  If you have meat eaters and vegans at the same table and want to accommodate that, separate the vegetables and rice into one portions, and serve vegan or add tofu, and add chicken to the other portion.  Yes, it can work.
Steps For Preparing Chicken Fried Rice and Greens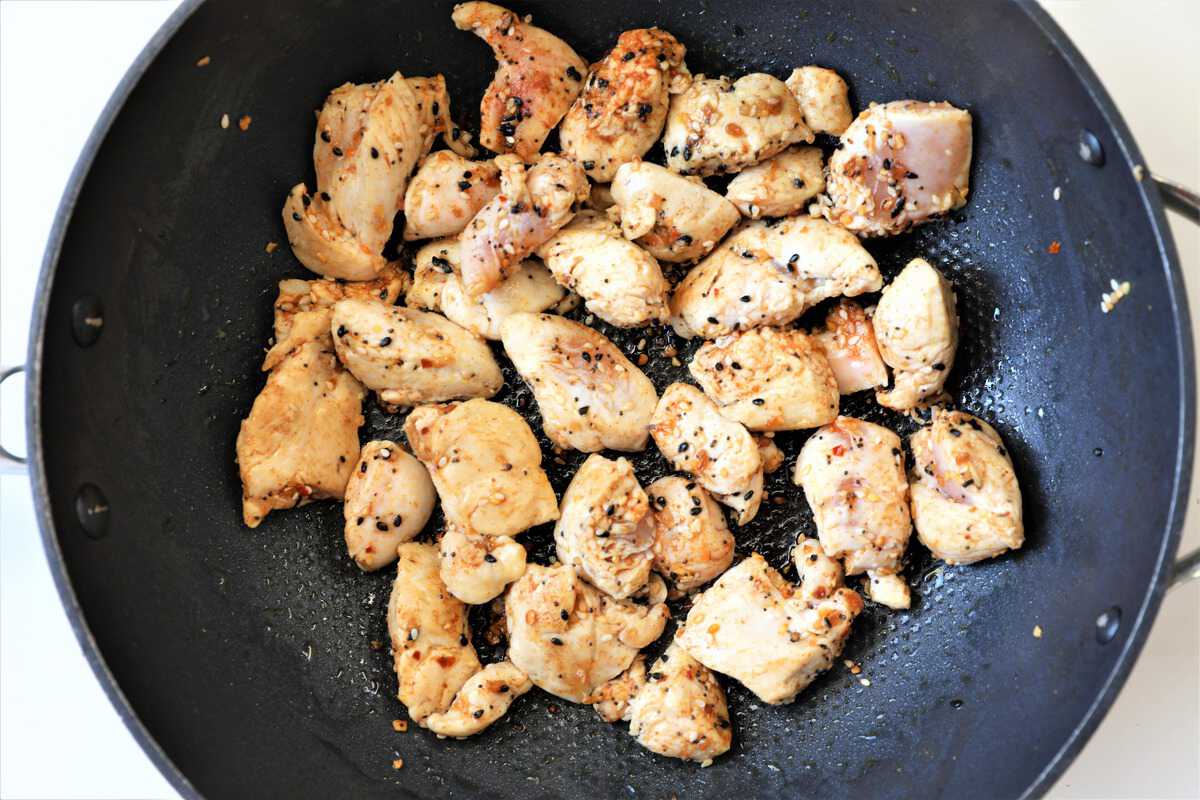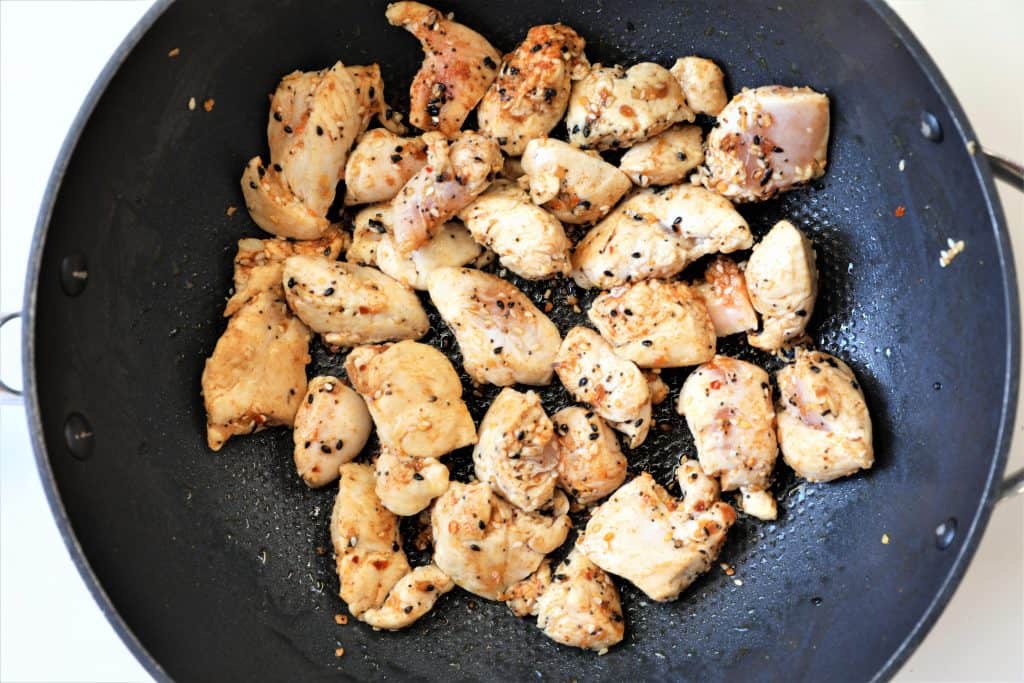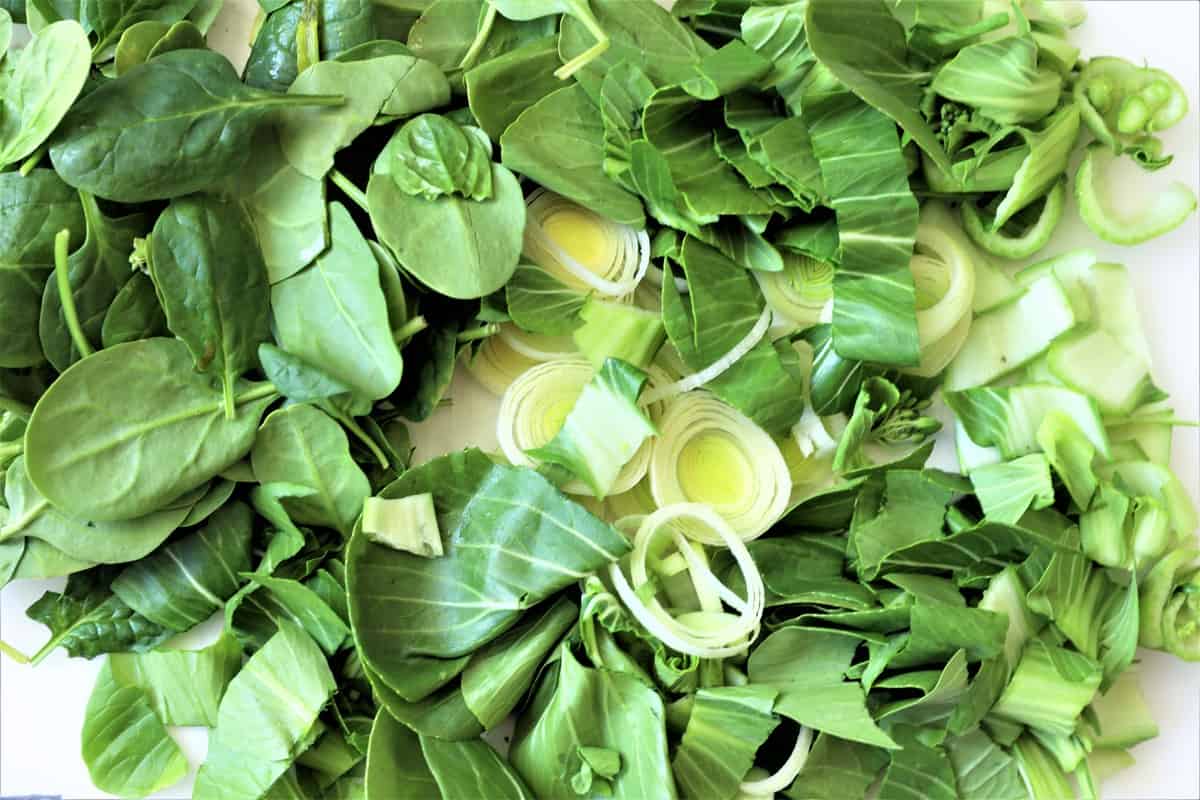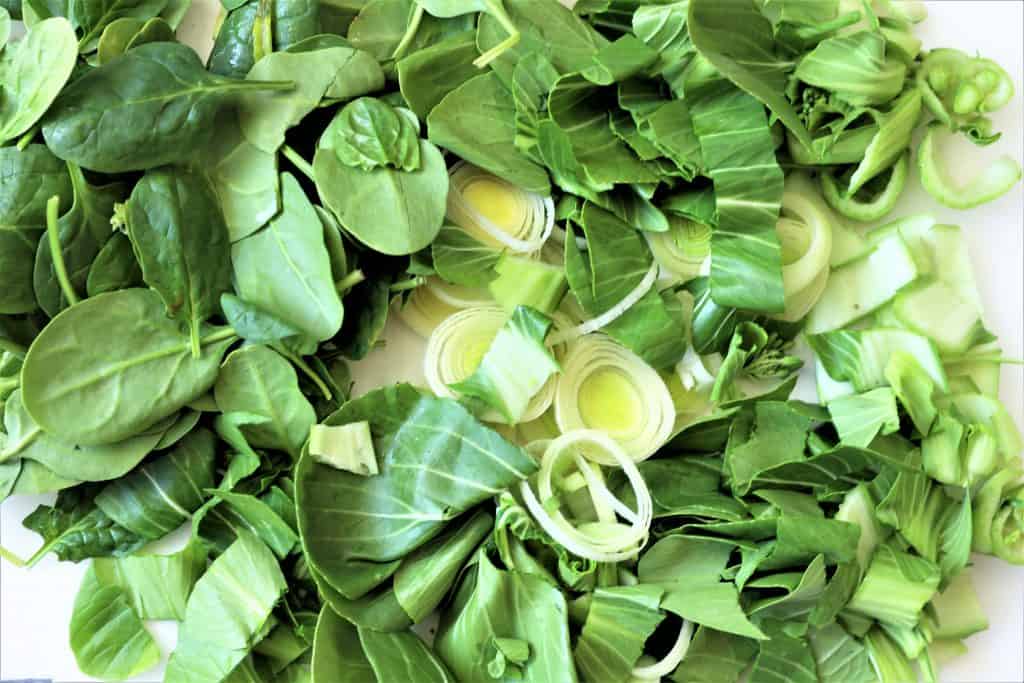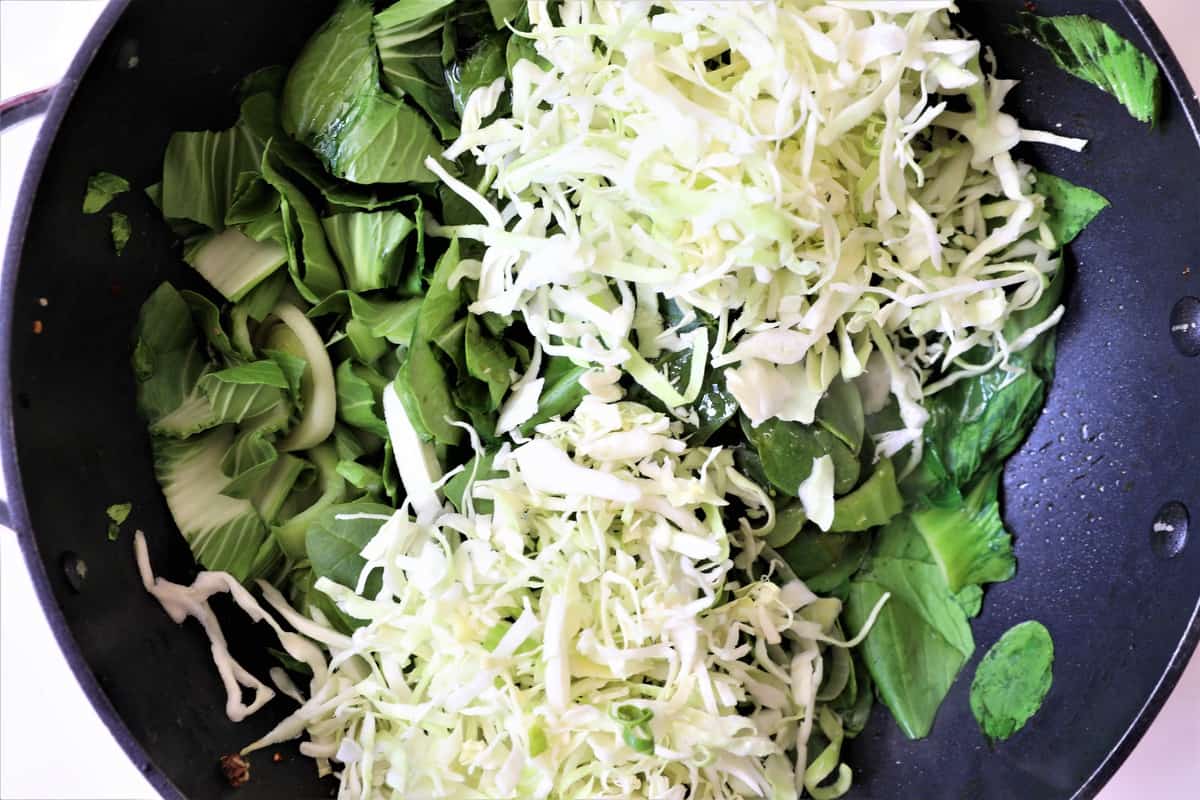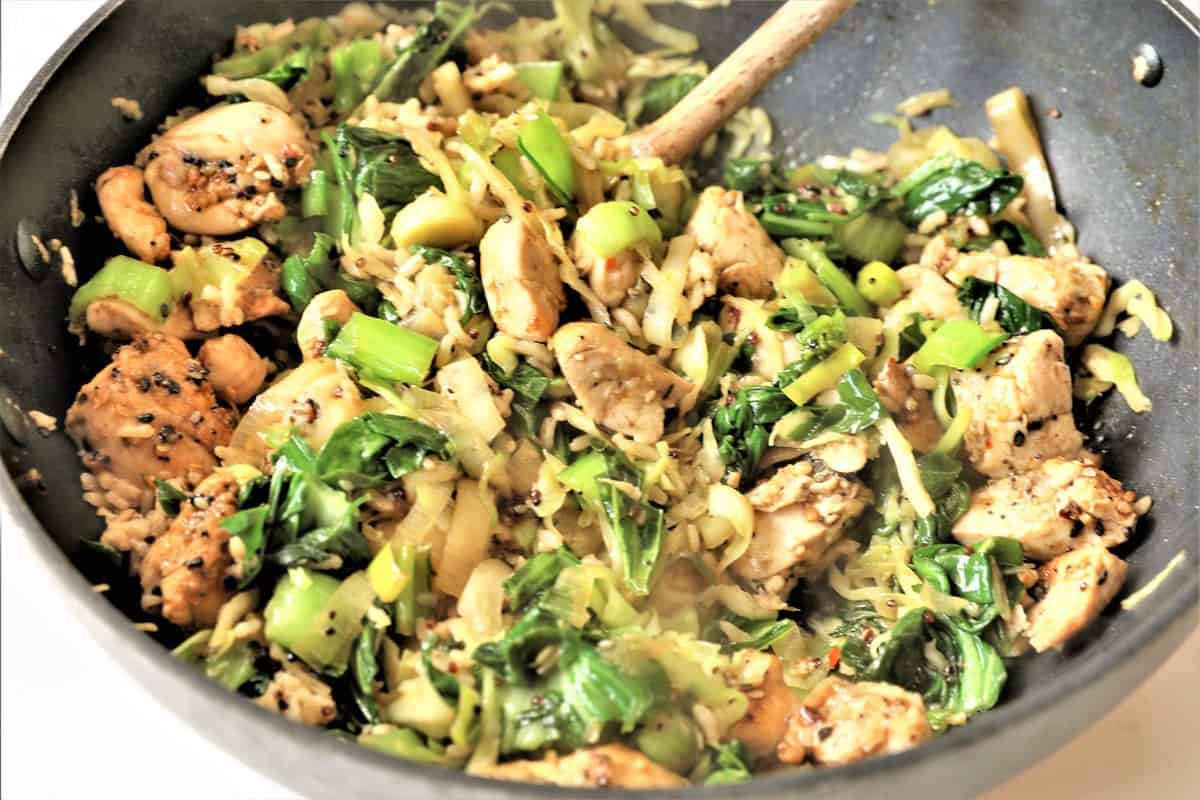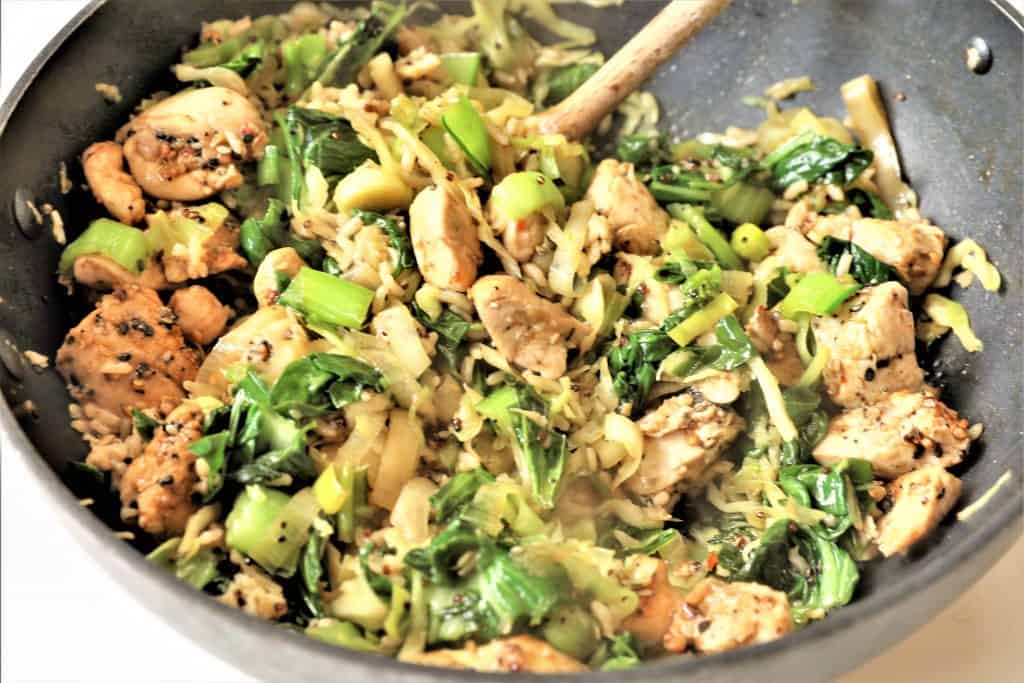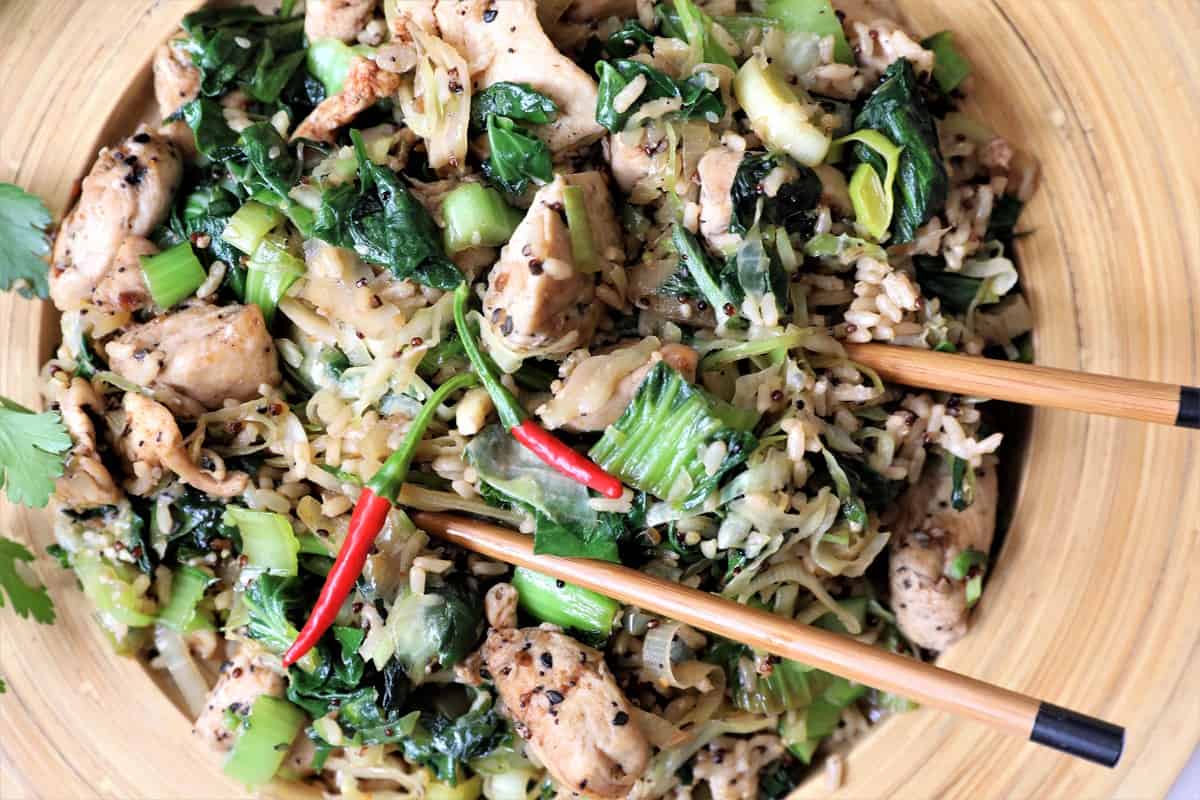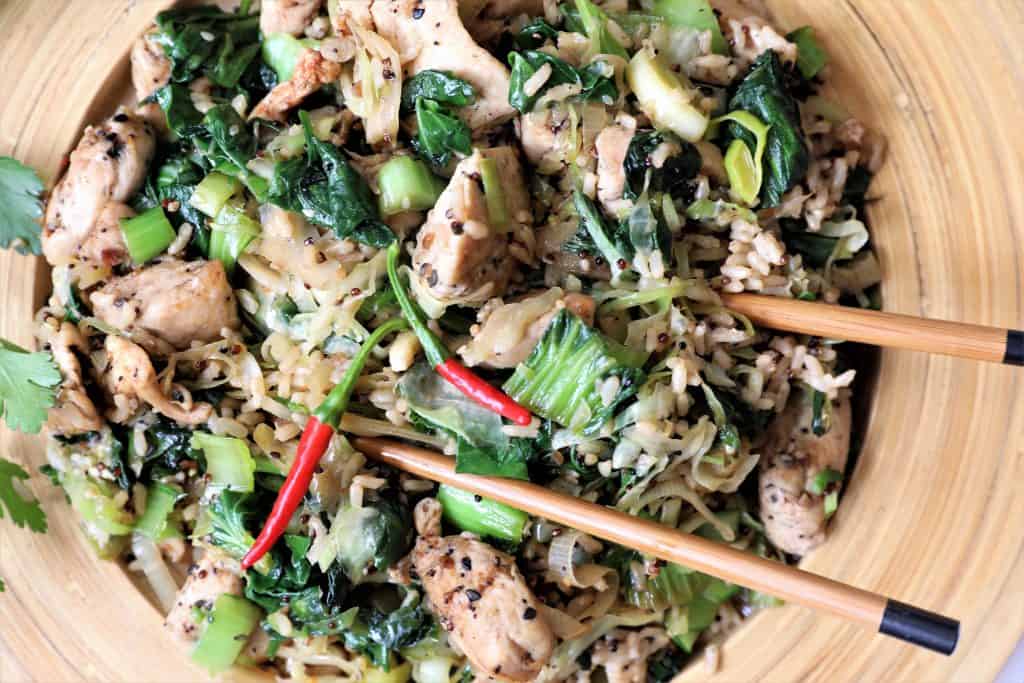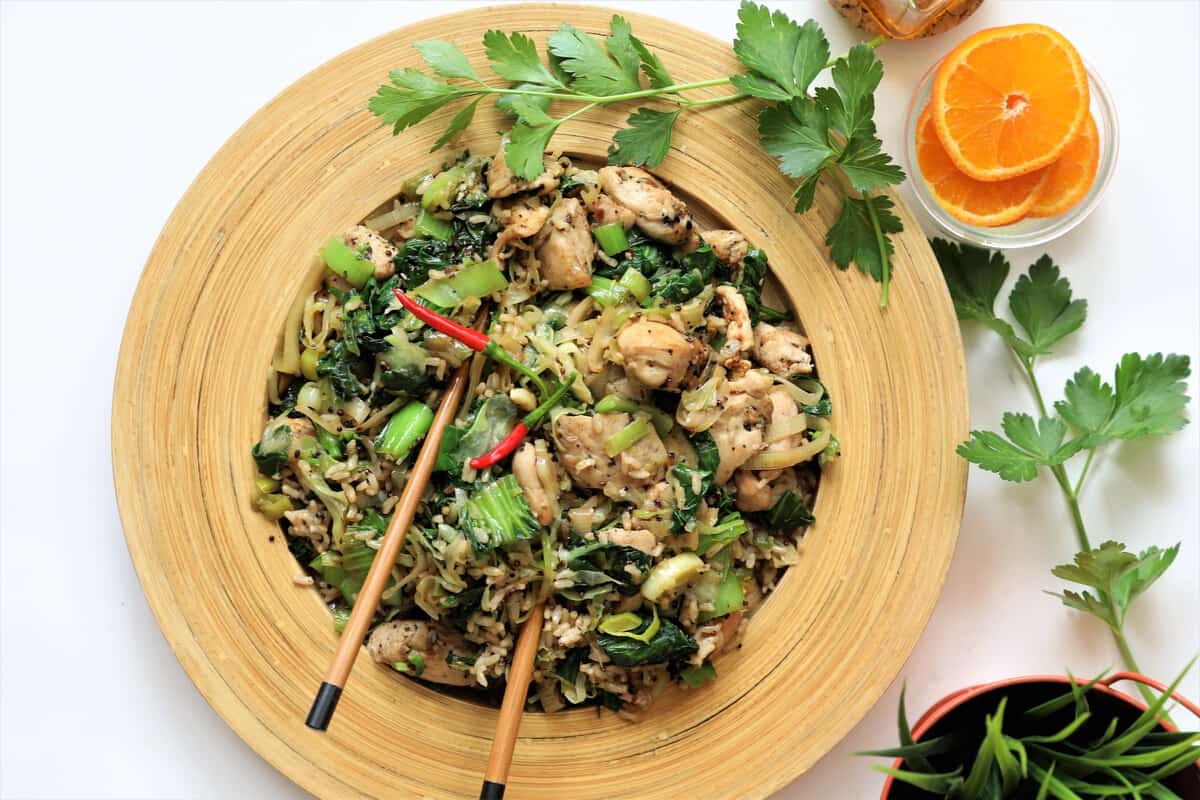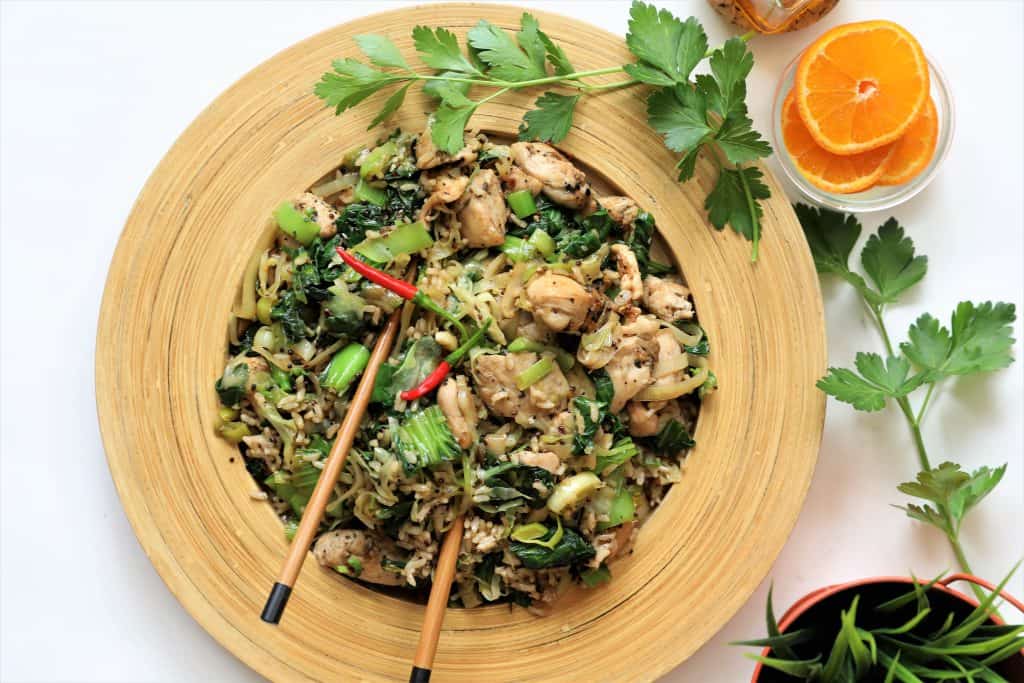 Recipe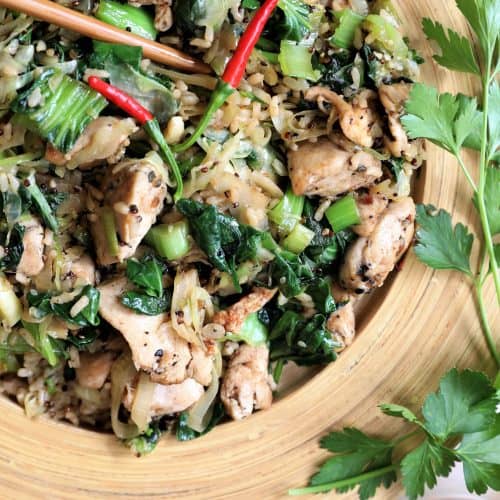 Chicken Fried Rice And Greens
Chicken Fried Rice and Greens is ready in less than 30 minutes and is perfect for leftovers.

Ingredients
Chicken
1

pound

boneless, skinless chicken breasts, cut into bite size pieces

For vegetarian, add 14 oz of cubed tofu

1

teaspoon

sea salt

1

teaspoon

granulated garlic

½

teaspoon

sesame seeds

1

teaspoon

Chinese five spices powder

3

tbsp

coconut oil
Vegetables and Rice
5

stalks

bok choy, sliced

½

cup

leeks or green onions

2

cups

spinach or greens

2

cups

shredded green cabbage

1

tablespoon

chili oil

½

teaspoon

fresh ginger

½

teaspoon

red pepper flakes

1

tablespoon

coconut aminos

¼

cup

maple syrup

1

cup

cooked brown or white rice

I used Seeds of Change Brown Rice/Quinoa
Instructions
Chicken
Add coconut oil, Chinese five seasoning, salt, sesame seeds, granulated garlic to wok. Stirfry chicken (or tofu) on medium heat until is cooked, approximately 6-8 minutes. Remove chicken (or tofu) from pan and set aside

Vegetables and Rice
Add vegetables and chili oil, maple syrup, red pepper flakes, ginger and coconut aminos to wok after chicken (or tofu) is removed. Stirfry on high until vegetables are crisp but tender, approximately 3 minutes. Add 1 cup of cooked rice and mix well. Add chicken (or tofu) and mix well.

Notes
In order to offer flexibility in the recipes, the stirfry ingredients are vegan, gluten free and dairy free.  To add more protein, add tofu or chicken as directed.
Nutrition
Serving:
1
cup
Calories:
285
kcal
More Recipes Like Chicken Fried Rice And Greens: