Macro Bowl  With Lemon Garlic Creme.  At the risk of completely repeating myself every time I post a recipe for a macro bowl, I like to explain the wonders of macro bowls.
A macrobiotic bowl  features grains, fermented food, and sea vegetables. I have created other recipes for macro bowls, as they are perfect dishes to experiment with different combinations.
What is macrobiotic, and why do I want to eat that way?  Generally speaking a macrobiotic diet involves eating primarily a plant based diet and combination of nutrients to obtain a yin-yang energy balance in the body.  I love these bowls, and definitely feel better after I eat one. You can mix it up according to your preferences, but this bowl includes some yummy choices. This dish is vegan, gluten free and dairy free.
Recipe
Macro Bowl With Lemon Garlic Creme
Macro Bowls are life, and this energizing bowl contains it all. Vegan, gluten free, dairy free.
Ingredients
Bowl
½

cup

adzuki beans

½

cup

quinoa/brown rice-I use Seeds of Change

¼

cup

kim chi

¼

cup

maple glazed beets

½

cup

roasted vegetables

1

tablespoon

dulse flakes

½

cup

chopped lettuce or fresh greens

½

avocado
Lemon Garlic Creme
½

cup

raw cashews

½

cup

water

4

cloves

garlic

½

teaspoon

sea salt

juice of 1 lemon

½

teaspoon

lemon zest
Instructions
Bowl
Preparing a macro bowl involves adding ingredients that have usually been already prepared. In this case, I used:

adzuki beans, canned

pre-cooked quinoa/brown rice from Seeds of Change,

kimchi from Trader Joe's,

already prepared maple glazed beets

recipe here greenschemetv.net/maple-glazed-beets/;

already prepared roasted vegetables

recipe here greenschemetv.net/roasted-vegetables/;

1 tablespoon dulse flakes;

Heat these ingredients in the microwave for 2 minutes. I add lettuce and avocado after heating.

½ cup lettuce (not romaine right now)

½ avocado

Assemble your bowl by separating your ingredients, (as shown), or if you prefer, mix it all together for an amazing flavor combination. Drizzle with Lemon Garlic Creme
Lemon Garlic Creme
Blend all ingredients in high speed blender
Notes
If you have not prepared your beets or roasted vegetables, the recipe will take an additional 45 minutes, but so worth it.
Nutrition
Serving:
1
g
Calories:
296
kcal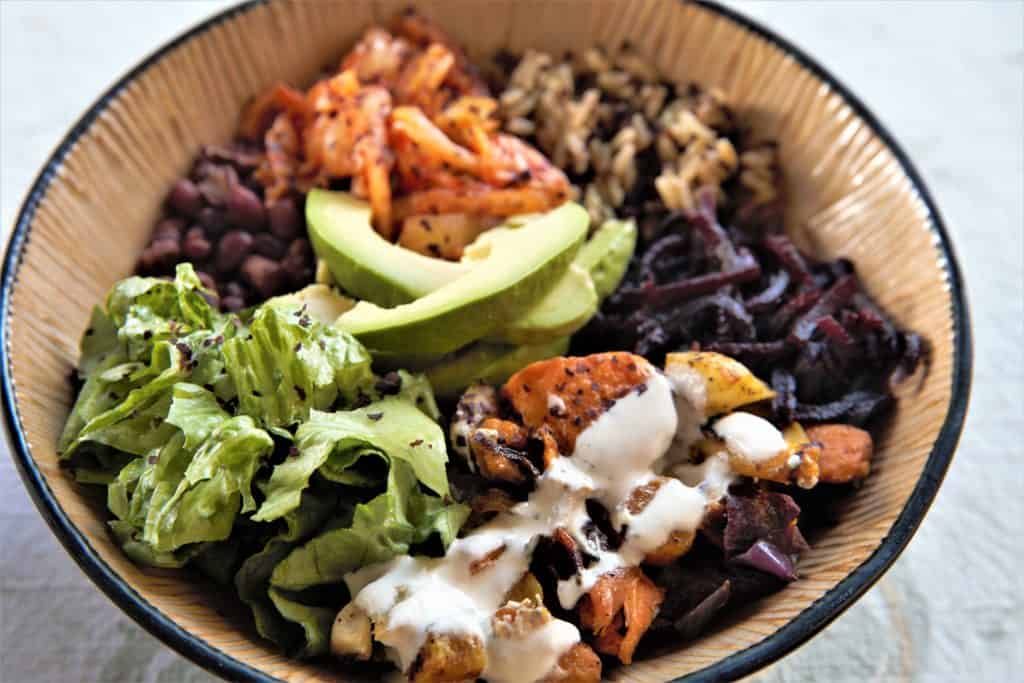 More recipes like Macro Bowl with Lemon Garlic Creme: