Grilled Macrobiotic Bowl. We love fresh produce and everything green here. There are many restaurants in LA that specialize in raw, vegan and vegetarian organic food. I frequent those restaurants whenever I can, and it is always an (expensive) dream meal.
One of my favorite dishes is a macrobiotic bowl which features grains, fermented food, and sea vegetables.
What is macrobiotic, and why do I want to eat that way? Generally speaking a macrobiotic diet involves eating primarily a plant based diet and combination of nutrients to obtain a yin-yang energy balance in the body. I love these bowls, and definitely feel better after I eat one. This bowl adds to the deliciousness of a macrobiotic bowl by grilling the ingredients and then topping with Garlic Cashew Creme.
This dish is vegan, gluten free and dairy free.

Tools of the Trade for this recipe:
George Foreman Indoor Outdoor Grill. Check out my complete review of this grill here, and take a look at all of the recipes that I have been grilling and why it makes your grilling indoors or outdoors, so much easier. This post contains affiliate links.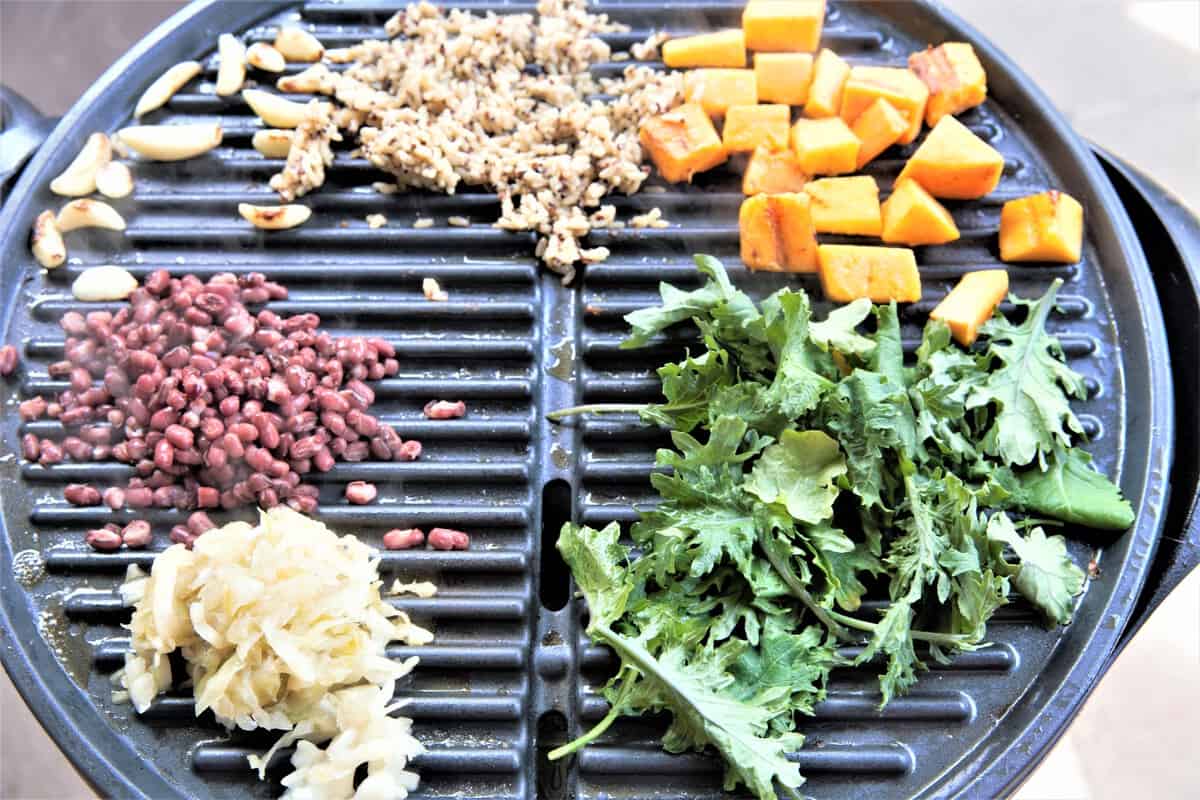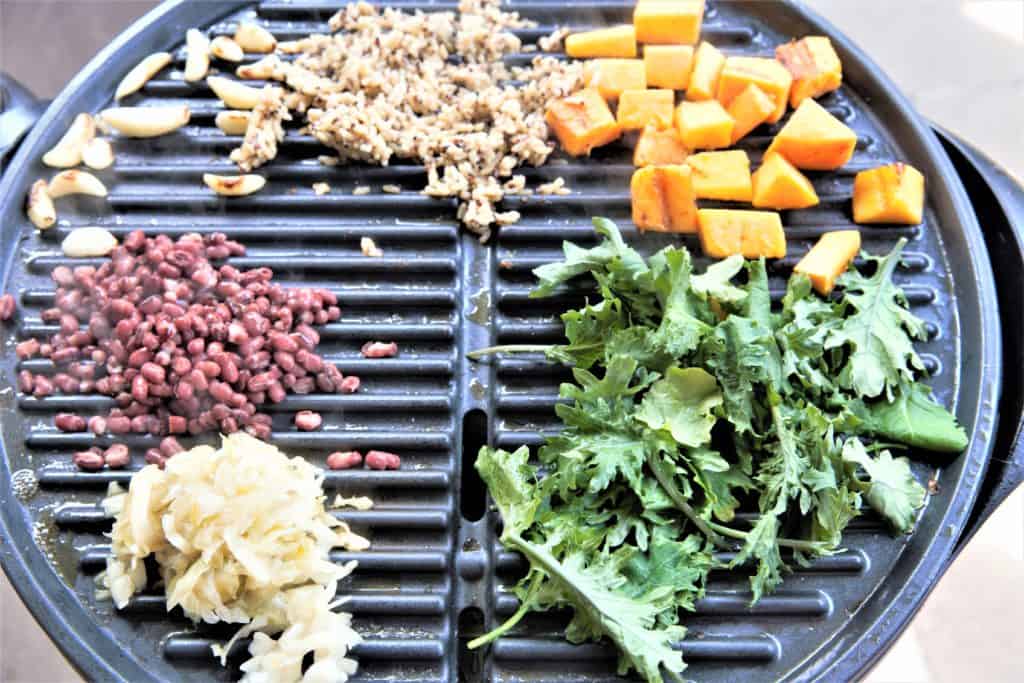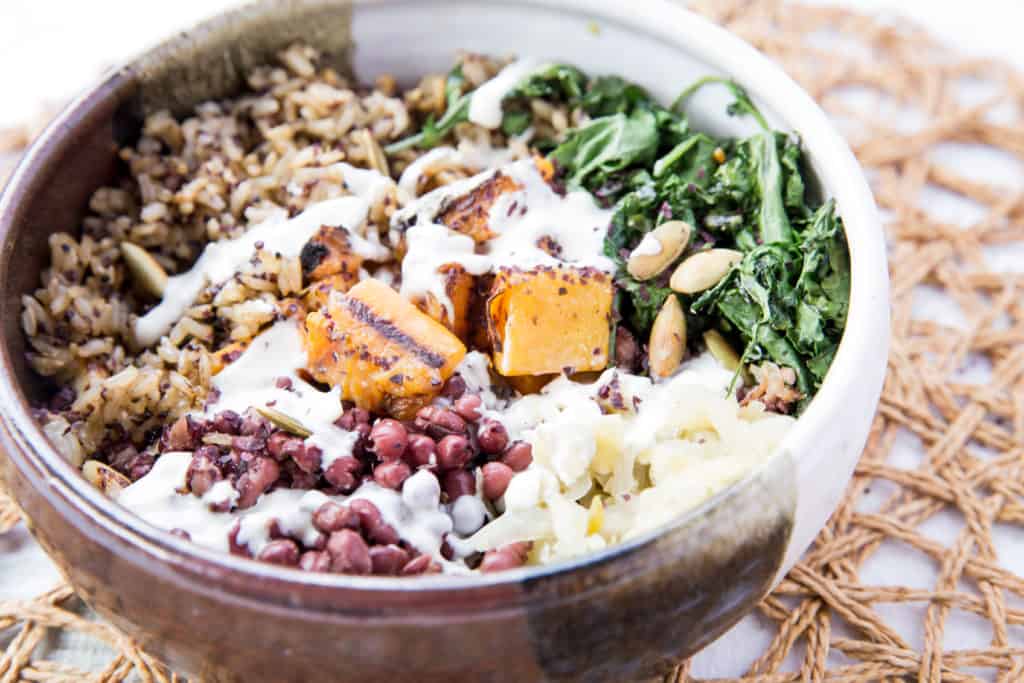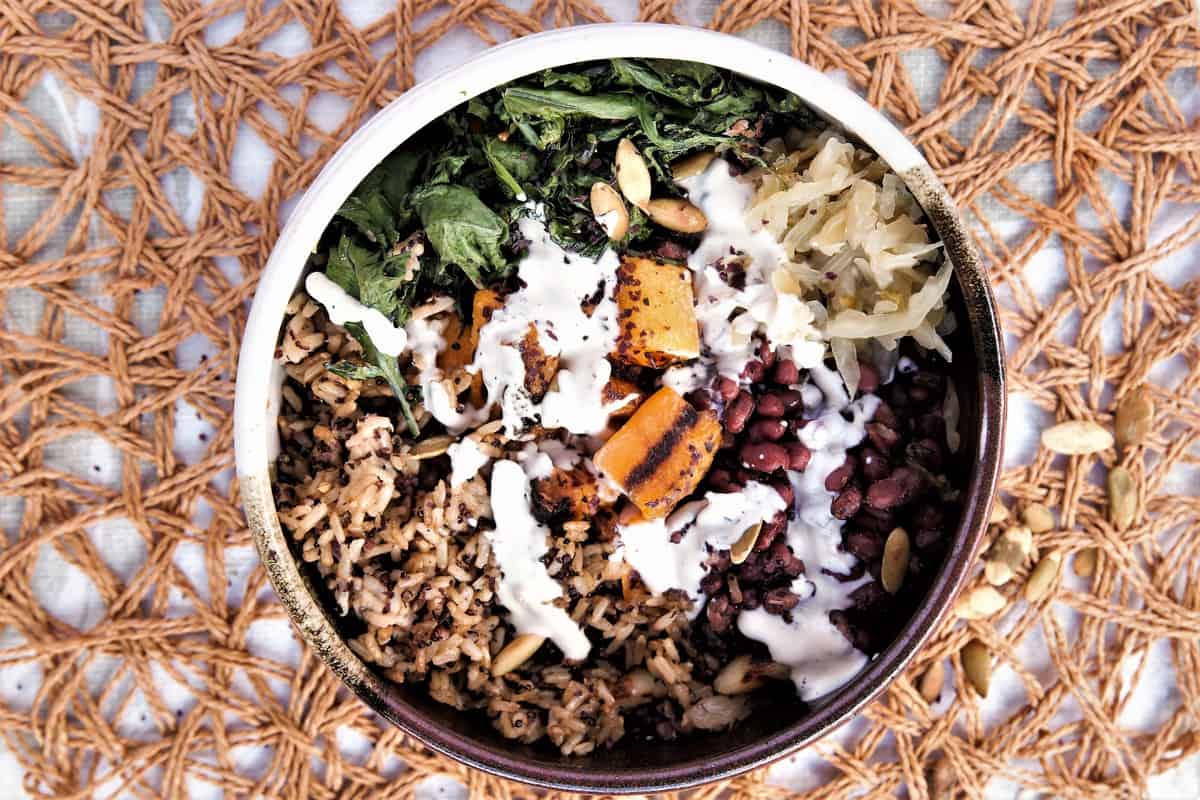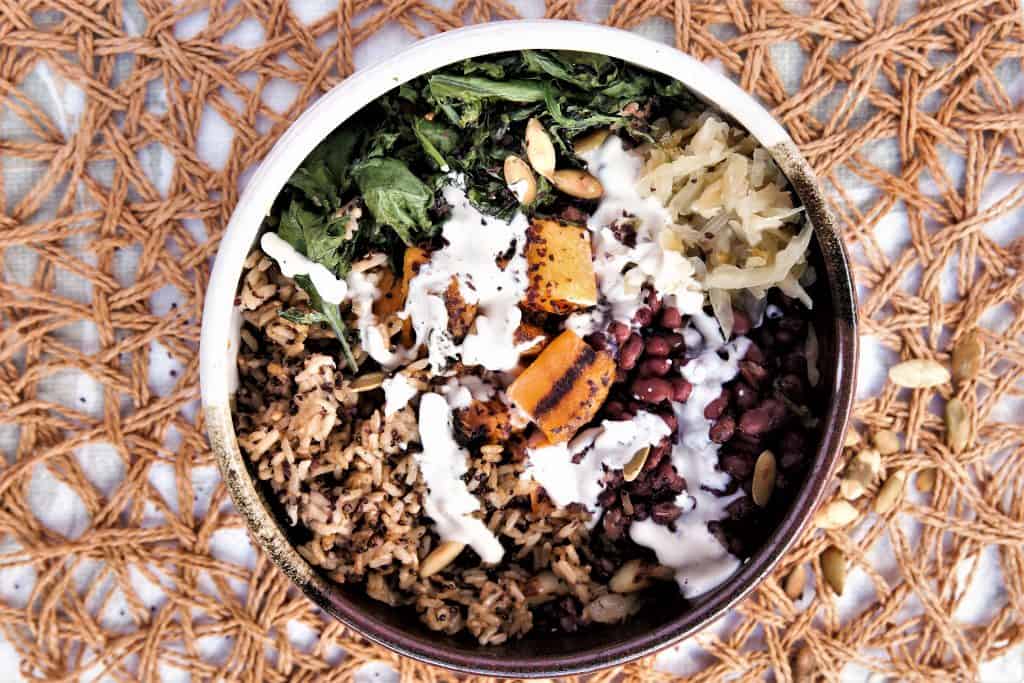 Related
Recipe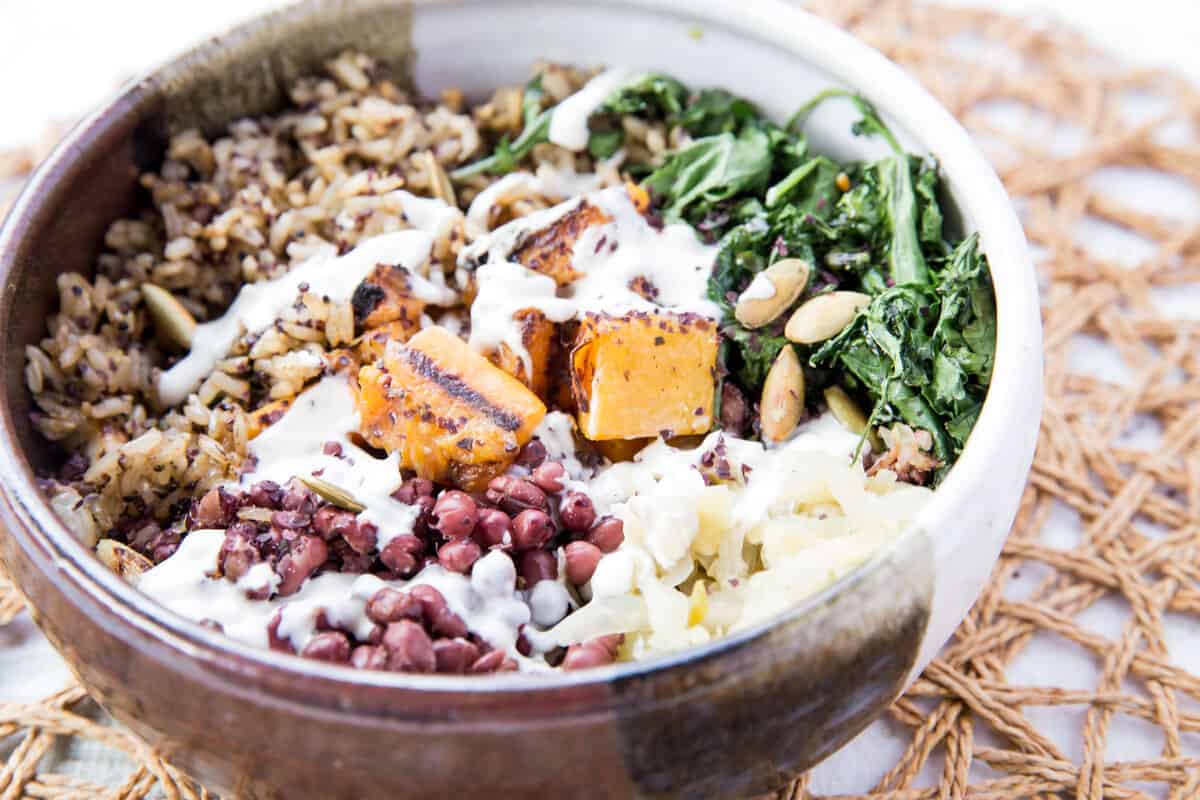 Grilled Macrobiotic Bowl
Grilled Macrobiotic Bowl is a delicious, nutrition packed bowl perfect for any meal of the day. Vegan, gluten free, dairy free.
Ingredients
2

tablespoon

olive oil

2

tablespoon

garlic, minced

½

cup

cubed butternut squash

1

cup

cooked brown rice or quinoa

I used Seeds of Change Brown Rice and Quinoa

½

cup

sauerkraut

½

cup

adzuki beans

cooked

½

cup

baby kale

or your preferred greens

1

tablespoon

dulse flakes

1

tablespoon

toasted pumpkin seeds

salt and pepper to taste
Garlic Cashew Creme
½

cup

raw cashews

3

cloves

garlic

½

teaspoon

sea salt

juice of 1 lemon
Instructions
Bowl
Pre cook butternut in microwave for 2 minutes

Spread olive oil on grill. *See notes if you are not grilling.


Add butternut, rice, beans, greens, sauerkraut, (and garlic if you are grilling them) to the grill.

Grill on medium high for 5-7 minutes, turning frequently until done. Salt and pepper to taste.

Assemble bowl

Sprinkle dulse flakes and toasted pumpkin seeds

Top with Garlic Cashew Creme
Garlic Cashew Creme
Blend all ingredients in high speed blender
Notes
*Sometimes it is winter, and you feel the need for a Grilled Macrobiotic Bowl.  In that case, instead of adding olive oil and ingredients to the grill, you can stir fry the ingredients in a pan.  Add the olive oil, minced garlic, butternut squash, beans and rice.  Stirfry for 3-5 minutes.  Add greens and sauerkraut and stirfry for an additional 2 minutes.  Top with pumpkin seeds, dulse flakes and garlic cashew creme. 
If you want your bowl to look like the photo, with your bowl ingredients separate,  after you saute the minced garlic in the olive oil,  cook each ingredient separately and remove from pan (squash, beans, rice, greens, sauerkraut).
Nutrition
Serving:
1
g
Calories:
386
kcal
Other recipes like Grilled Macrobiotic Bowl that you might like: