Zucchini Kale Lasagna.  If you are taking big carbs like pasta out of your diet for some reason (and there are many), it is great to have a pasta-free lasagna that is as scrumptious and as satisfying as the traditional pasta dish without the calories, fat, carbs or gluten.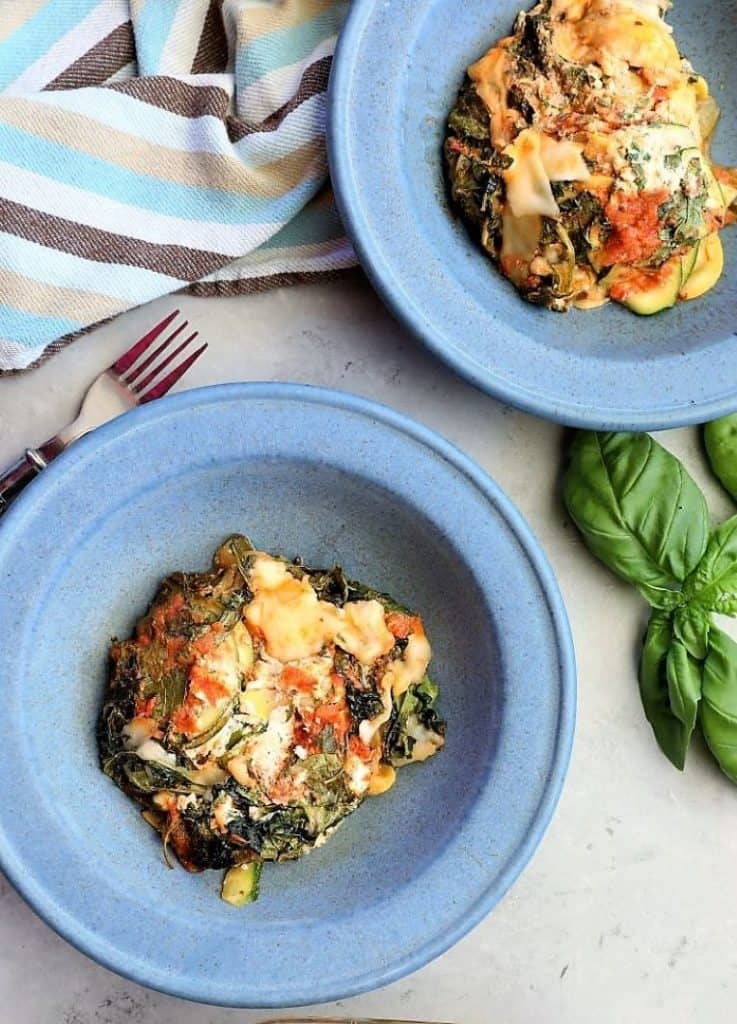 This pasta-free lasagna is made with zucchini and yellow squash, tomato basil pasta sauce, creamy ricotta mixture, and topped with fresh baby kale. It is much healthier than traditional lasagna, and you won't even miss the pasta with all the fresh vegetables. This recipe is vegetarian and gluten-free with vegan and dairy-free options.
Pasta is great comfort food, but if you are gluten-free it can be hard to find a pasta recipe you can enjoy. I have some delicious gluten-free pasta dishes on my blog. Some of my favorites are Lentil Pasta With Kale And Cauliflower Alfredo, Vegan Cajun Mushroom Pasta, and, of course, this Zucchini Kale Lasagna.
In approximately 1 hour, you can be serving up lasagna that is made with healthy fresh vegetables and herbs.  This dish is perfect all year-'round because any day is a good day for fresh homemade veggie lasagna. I can actually guarantee that this comfort food lasagna will definitely become a crowd favorite! 
Jump to:
Ingredients
Take a quick look at the ingredients to see what you need to make this dish. You can find all of these ingredients at Trader Joe's.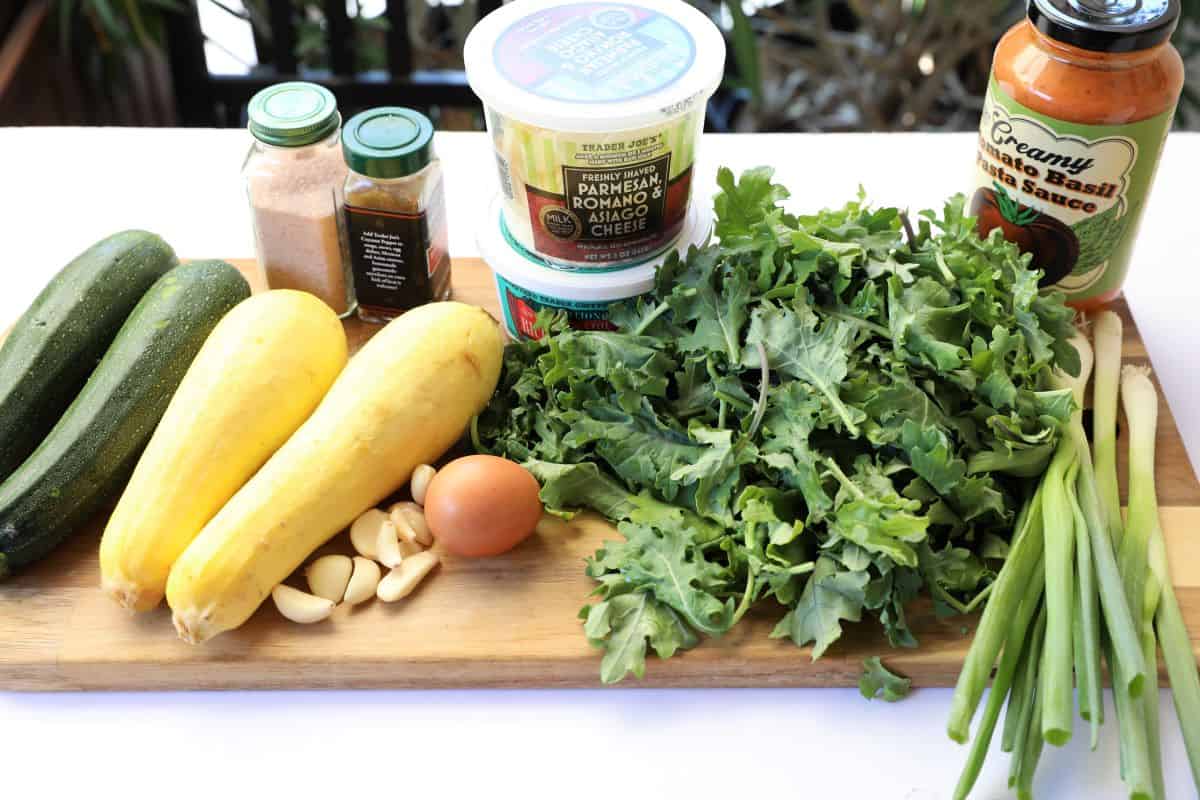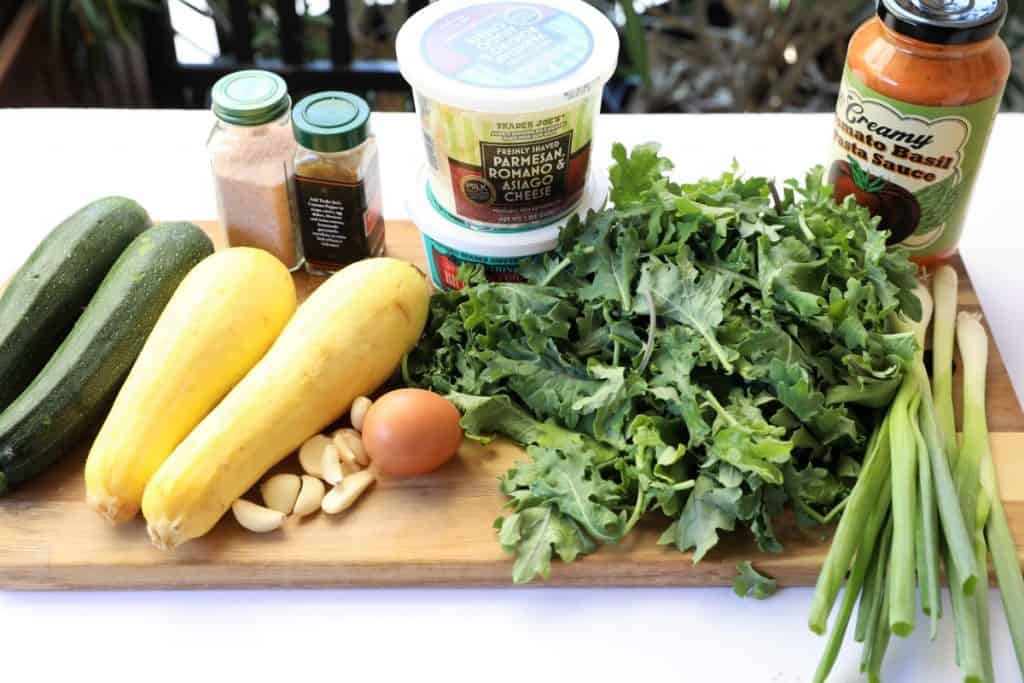 Tomato basil pasta sauce
Zucchini
Yellow squash
Onion
Red pepper
Sea salt
Egg - if vegan, use an egg substitute.
Garlic
Ricotta cheese - if vegan, use vegan cream cheese.
Fresh basil
Baby kale
Parmesan romano asiago cheese - if vegan, use your favorite vegan cheese.
Olive oil
Instructions
Like traditional lasagna, you will layer the ingredients and top with fresh baby kale and cheese before baking.  Here are the steps for making this lasagna and it is so simple, that even a beginner can be a culinary genius.
Slice zucchini, squash, and onions in a food processor. Mince garlic.
Cook zucchini, and squash in the microwave for 5 minutes. Squeeze liquid from zucchini, and squash with a paper towel.
Oil the bottom of a 9x13 baking dish.  Preheat the oven to 375 degrees.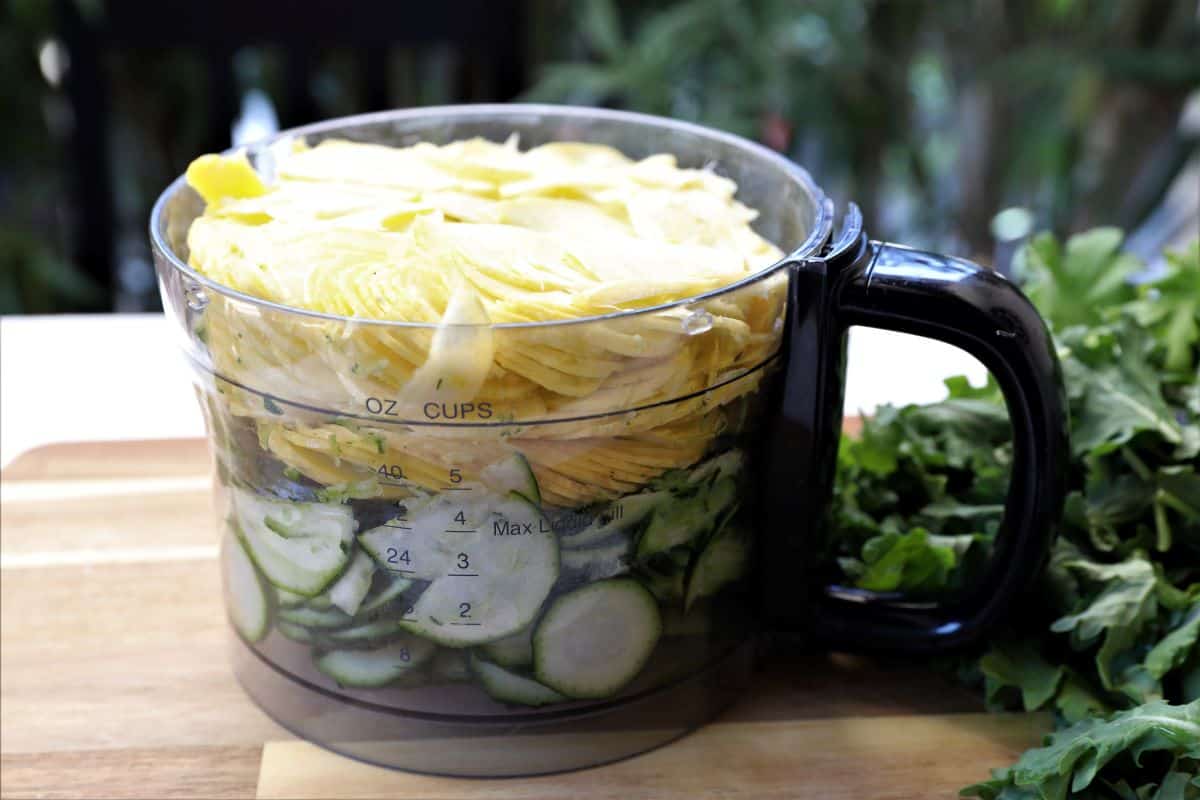 To layer your lasagna spread ⅓ of pasta sauce on the bottom of the baking dish, add ⅓ of zucchini and squash, add ⅓ of onions, and sprinkle with sea salt and red pepper.
Mix ricotta ingredients in a food processor.
Add spoonfuls of ⅓ ricotta mixture on top of other ingredients.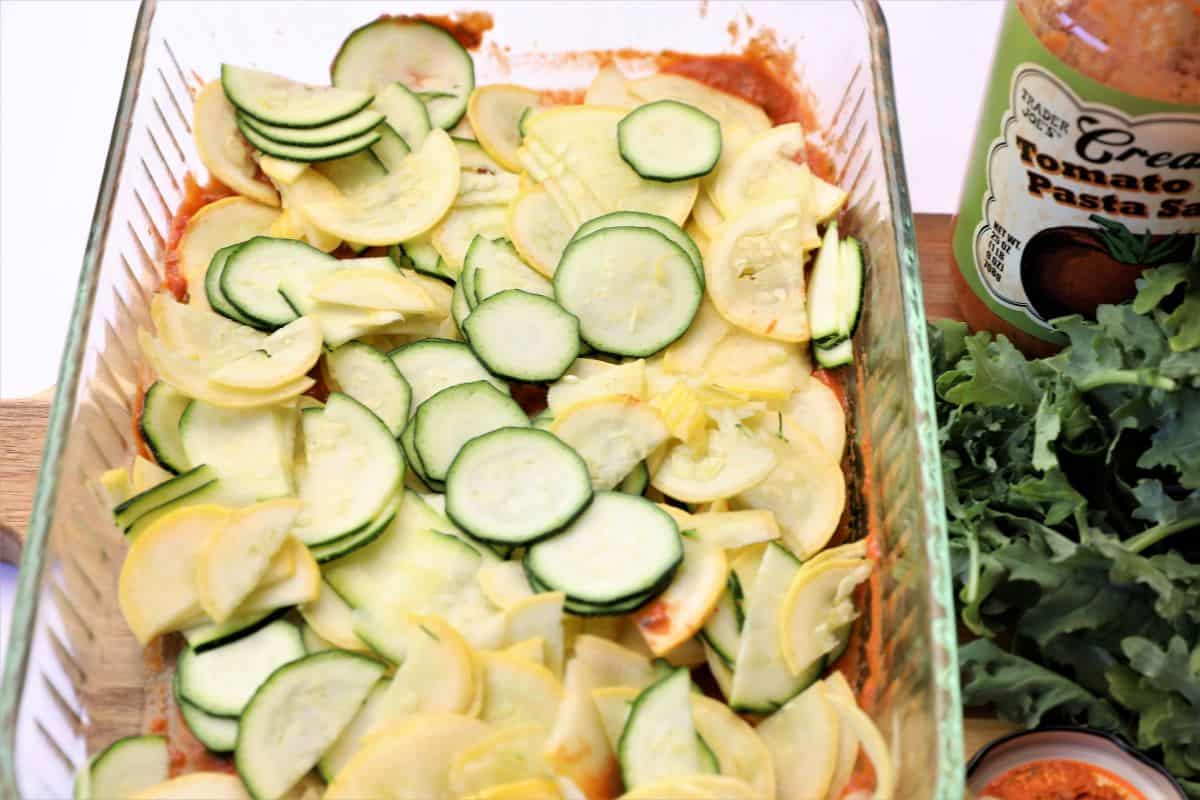 Starting over again for the next layer, spread pasta sauce, and other ingredients in the same order. Repeat.  Save a few tablespoons of pasta sauce to spread on the top layer before you add kale.
Add baby kale to the top.  Sprinkle Parmesan cheese evenly.  Cover dish in tin foil and bake for 45 minutes at 375 degrees.  Remove tin foil after 20 minutes.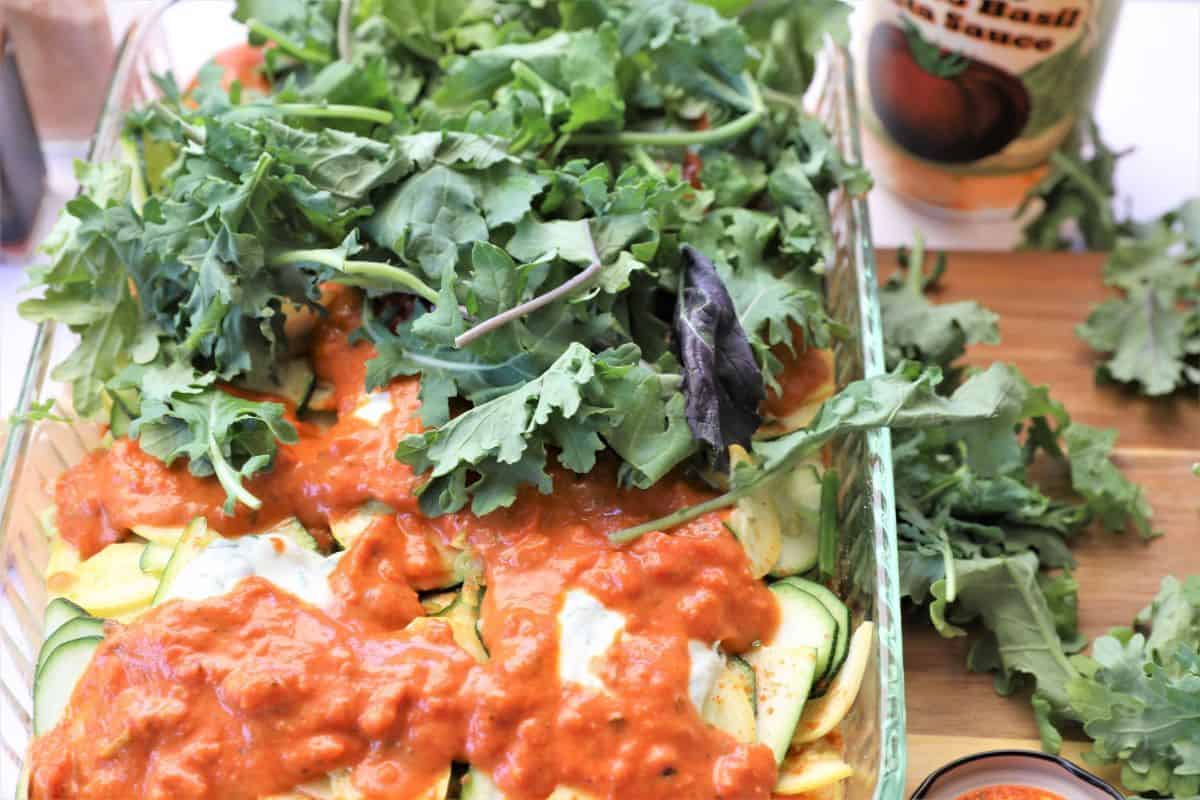 Although Spinach Kale Lasagna can be served on its own as a complete meal I sometimes like to add a small side to serve alongside it. Roasted Harvest Vegetable Salad, gluten-free bread, or Roasted Harvest Vegetables are all great options.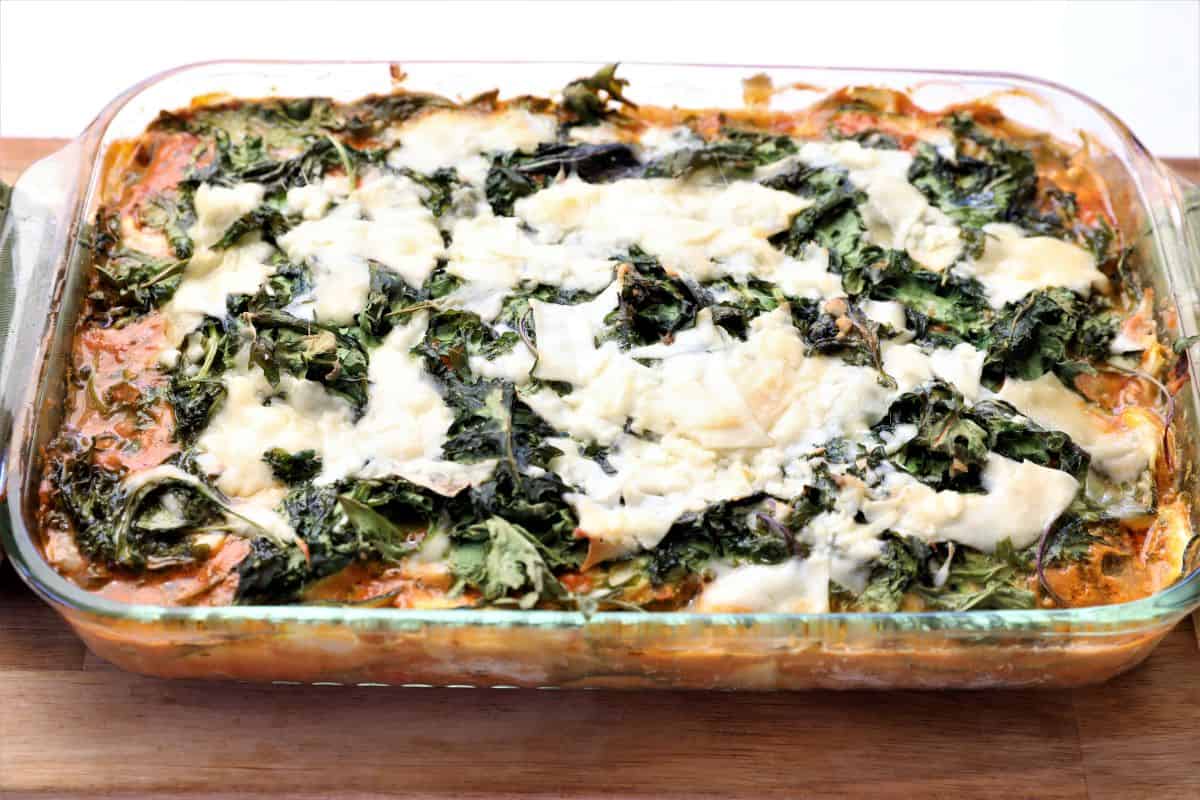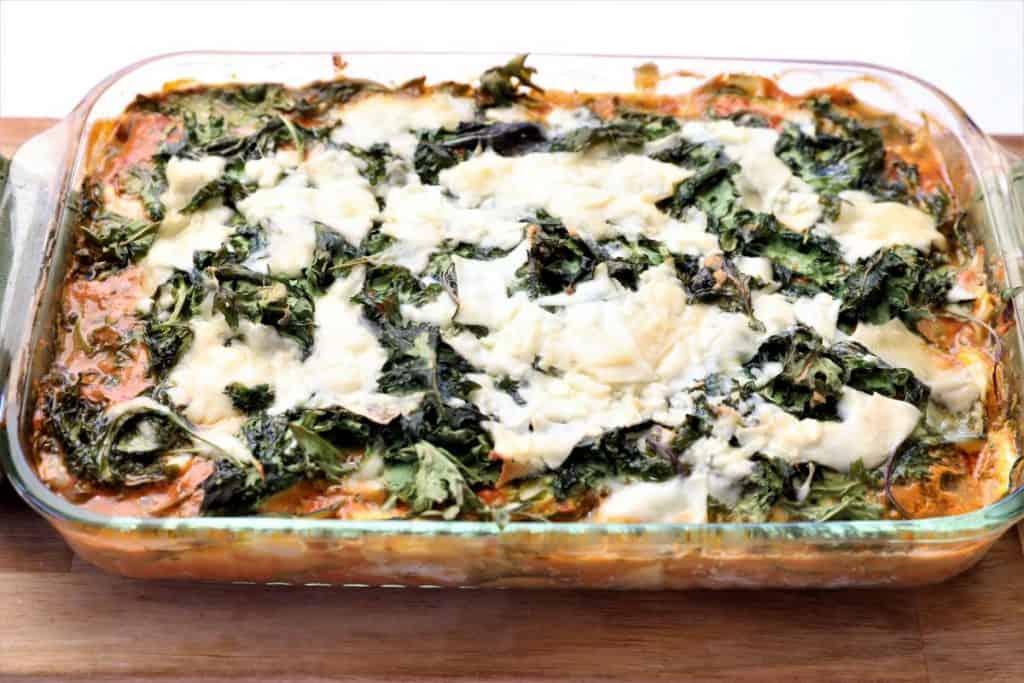 Tips
Zucchini kale lasagna is delicious comfort food that is made with fresh vegetables. Because zucchini and squash have high water content liquid will most likely accumulate in your baking dish. Here are some tips to help combat this.
The best option to avoid liquid is to microwave your zucchini and squash for 5 minutes and squeeze liquid from the vegetables with a towel to minimize water diluting your flavor.
To remove liquid from the baked lasagna you can drain the liquid, but it is very awkward sinch the dish is heavy. Make sure the dish is completely cooled before you drain the liquid. 
Serve lasagna with a slotted spatula so that any liquid that may have accumulated during baking is not on your serving plate.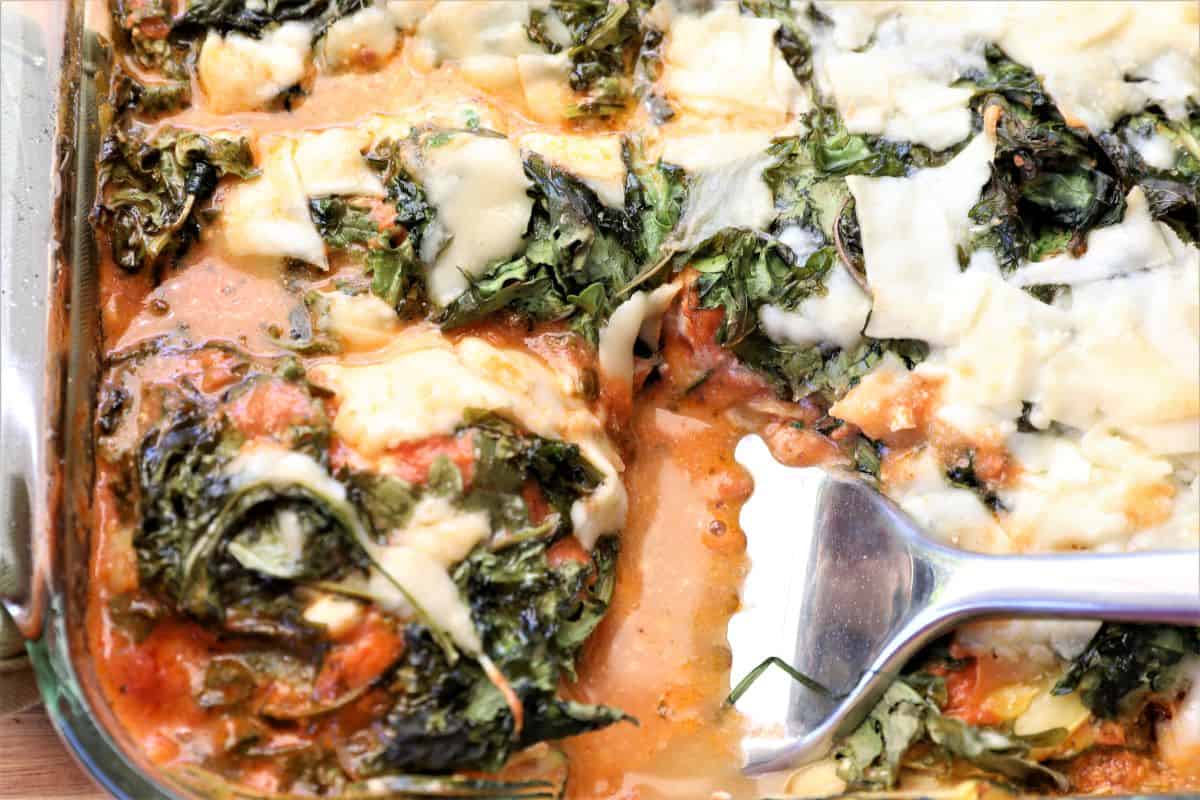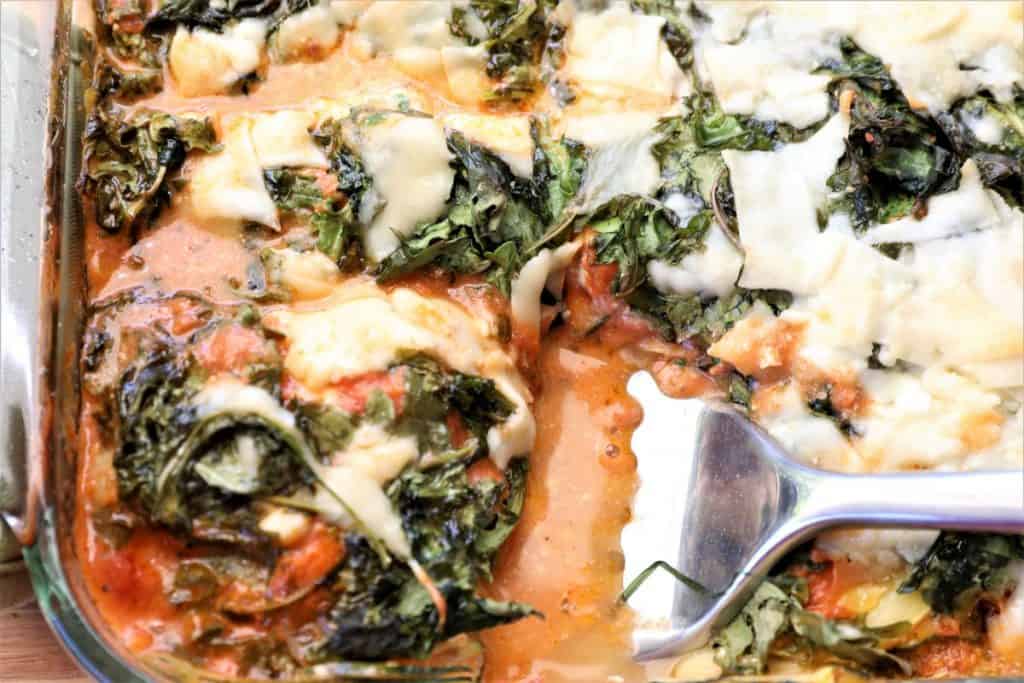 Variations
Zucchini Kale Lasagna is gluten-free and vegetarian but can be made vegan and dairy-free with just a couple of substitutions. There are also a few ingredients that can be swapped out or added if you would like to.
In place of baby kale, you can use spinach if you prefer.
The onions can be green onions, leeks, or white onions. This recipe features green onions.
If you are cooking vegan or dairy-free, use your favorite egg substitute in place of the egg and vegan cream cheese in place of the ricotta cheese.  For the topping, use your favorite vegan white cheese.
For a non-vegetarian option add cooked ground beef, ground turkey, or Italian sausage to the pasta sauce and mix before layering.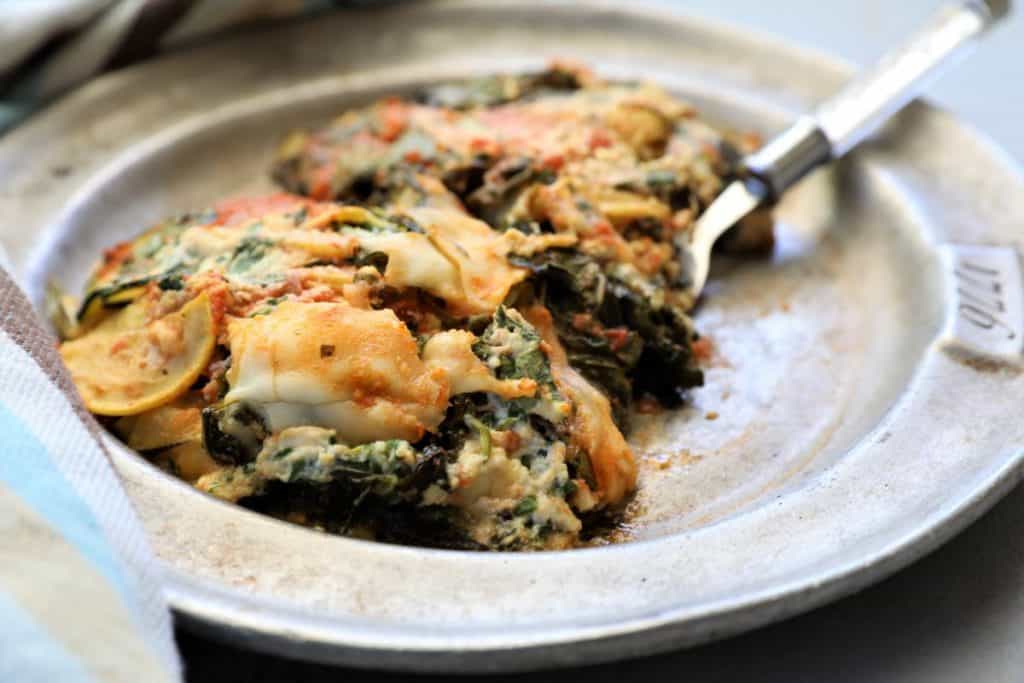 Frequently Asked Questions
How do I store leftovers?
Any leftovers can be stored in the fridge for 2-3 days in an airtight container. Reheat in the microwave.
Can this dish be frozen?
Yes! This Zucchini Kale Lasagna freezes well, so you can have fresh homemade veggie lasagna available anytime. It will keep in the freezer for 2-3 months.
Does Zucchini Kale Lasagna taste like traditional lasagna?
Well, the short answer is no, not really. The texture will be different and a little more watery than traditional lasagna, but it is still a tasty gluten-free lasagna.
Recipe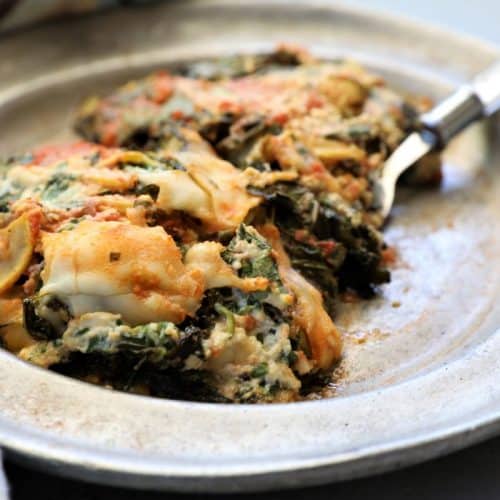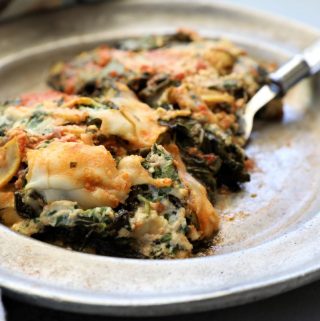 Zucchini Kale Lasagna
Zucchini Kale Lasagna. Healthy greens are the perfect alternative to make lasagna without pasta. You can enjoy the yummy flavor of lasagna without carbs or gluten. So delicious, it will be a favorite comfort food. Vegetarian, gluten free.
Ingredients
25

ounces

Tomato Basil Pasta Sauce

2

green zucchini

2

yellow squash

⅔

cup

minced onions

1

teaspoon

red pepper

1

teaspoon

sea salt
Ricotta Mixture
1

egg

or if vegan, egg substitute. I use Follow Your Heart

4

garlic cloves

minced

15

ounces

ricotta cheese

or if vegan, vegan cream cheese

1

cup

fresh basil

chopped
Baby Kale Layer
3

cups

baby kale

1

cup

Parmesan Romano Asiago cheese

of if vegan, your favorite vegan cheese

2

tablespoons

olive oil

for oiling baking pan
Instructions
Preheat oven to 375

Brush olive oil on bottom and sides of 8.5 x 11 pan and pour ⅓ of pasta sauce in bottom and spread evenly.

Slice squash and zucchini with food processor. Cook sliced squash in microwave for 5 minutes; after cooling, press with towel to remove liquid.

Spread ⅓ of squash and zucchini on top of pasta sauce. Sprinkle ⅓ of onions and red pepper and sea salt.

Mix ricotta cheese, garlic, basil and egg in food processor and spread ⅓ of mixture on top of zucchini, squash layer.

Repeat sauce, zucchini & squash, onions and red pepper and sea salt and ricotta mixture for a total of 3 layers.

Cover top layer with baby kale and top with Parmesan Romano Asiago cheese or vegan white cheese.

Cover and bake for 45 minutes, removing cover after 20 minutes

Layers: Sauce, zucchini/squash, onions, red pepper and salt, ricotta mixture. Repeat for 3 layers then top with baby kale and cheese.
Notes
Layers: Sauce, zucchini/squash, onions, red pepper and salt, ricotta mixture. Repeat for 3 layers then top with baby kale and cheese.
Nutrition
Serving:
1
g
Calories:
326
kcal