Sweet Butternut Ginger Soup With Maple Cinnamon Toast.  Butternut squash is one of those versatile vegetables that can be either savory, or sweet, but either way, it is delicious.  This soup, spiced up with cinnamon, ginger and nutmeg is smooth and comforting on a cold day, but fancy enough for a holiday spread.  Including preparation time and cooking in the Instant Pot, your soup is on in less than thirty minutes.  Serve it with maple butter cinnamon toast, and it is almost dessert.  Vegan, gluten free and dairy free.
Sweet Butternut Ginger Soup With Maple Cinnamon
Sweet Butternut Ginger Soup--smooth, creamy, vegan, gluten free, dairy free.
Ingredients
32 oz vegetable broth
64 oz of chopped butternut squash (I used 2 -32 oz bags from Trader Joe's)
1 tbsp cinnamon
1/3 cup maple syrup
1 can coconut milk
1/2 tsp nutmeg
1/2 tsp sea salt
1/2 tsp red pepper
1 small slice of fresh ginger(size of a dime)
1/2 red onion, chopped
2 fresh persimmons, ripe

For garnish

2 tbsp fresh pomegranate seeds
2 tbsp toasted pistachios

Maple Cinnamon Butter Toast

Gluten free bread, sliced
1/4 cup vegan butter
3 tbsp maple syrup
2 tbsp cinnamon
2 tbsp coconut sugar
Instructions
Instant Pot Directions

Add all ingredients to Instant Pot.
Set to high pressure, 5 minutes.
When Instant Pot is finished, QR, quick release, pressure.
After soup cools, blend with small hand blender until smooth.
Top with pomegranate seeds and toasted pistachios.

Maple Cinnamon Butter Toast

Mix melted vegan butter and maple syrup. Spread on bread
Mix cinnamon and coconut sugar.
Sprinkle on bread
Toast in toaster oven until slightly toasted.
Serve with soup.

Stovetop Directions

If you are not cooking in an Instant Pot, add all ingredients to large soup pot, and bring to a boil. Reduce heat and simmer for 45 minutes. Allow soup to cool, and blend with hand blender. Top with pomegranate seeds and pistachios.
https://greenschemetv.net/sweet-butternut-ginger-soup-maple-cinnamon/
Steps For Preparing Sweet Butternut Ginger Soup-Instant Pot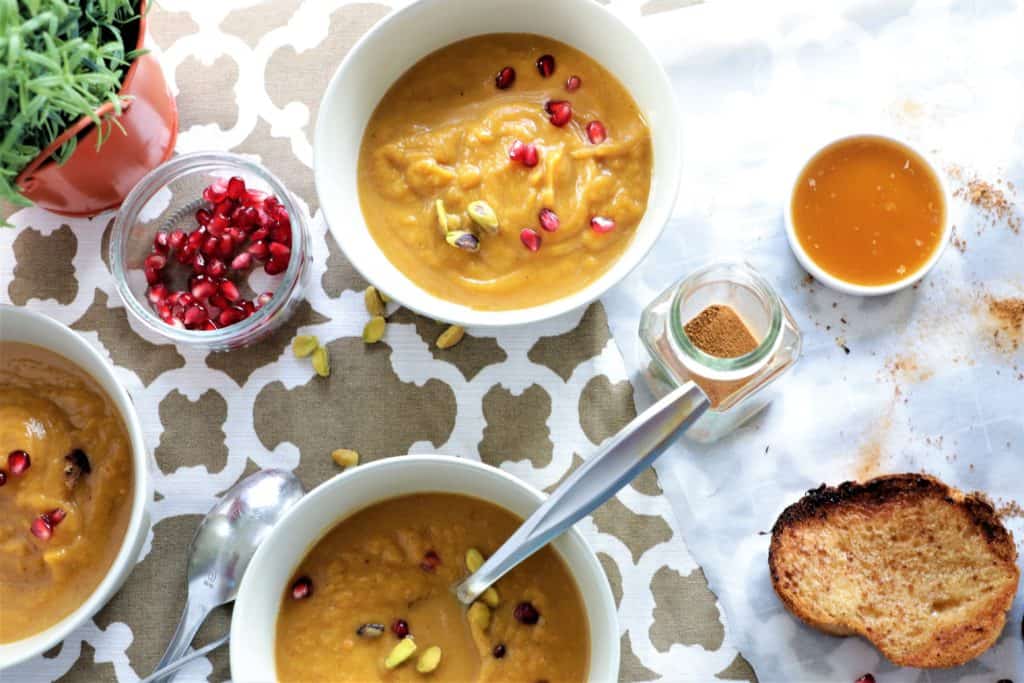 For more food photos like Sweet Butternut Ginger Soup With Maple Cinnamon, go to Instagram.
More recipes like Sweet Butternut Ginger Soup With Maple Cinnamon that you might enjoy:
Jackfruit Rice Tortilla Soup With Mango Salsa
Instant Pot Butternut Squash Bean and Kale Soup
Cream of Vegetable Soup With Dumplings