Chocolate Hummus. This snack is creamy and chocolatey and tastes like dessert.  Pair it with fresh, juicy fruit, and you have a yummy nutritious dip that is packed with protein, antioxidants, and vitamins. This snack is vegan, gluten-free, vegetarian, and dairy-free.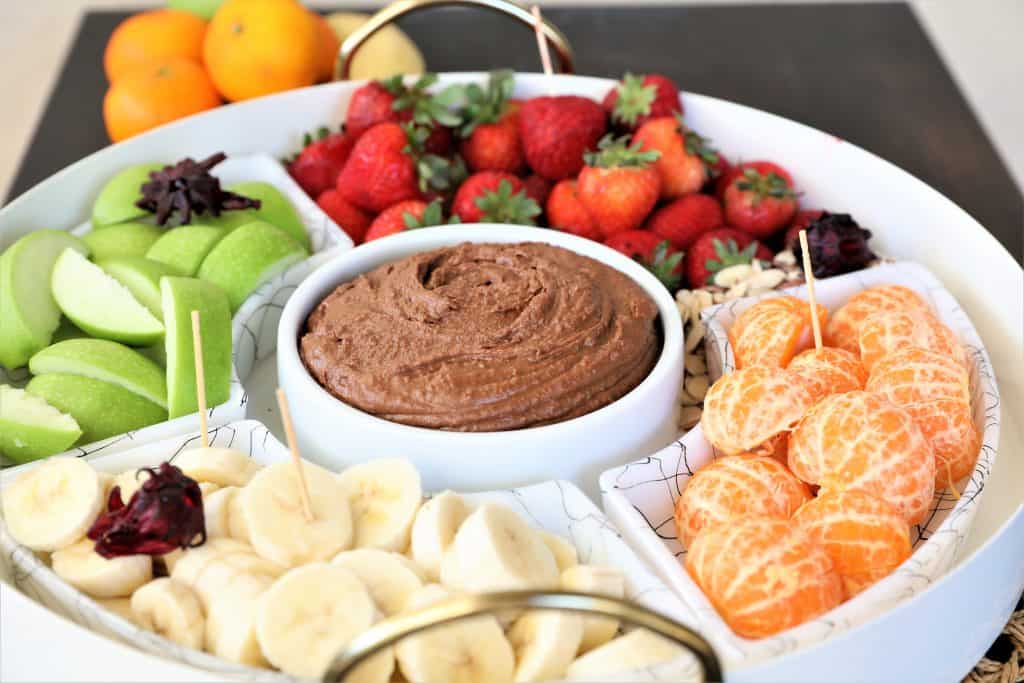 Whenever I serve dips, I like to make them as healthy and nutritious as possible.  If you pair dips with fresh fruits and vegetables, you can actually have a fruit and vegetable board that will serve as a mini meal. 
In this case, I was unaware of the deliciousness known as chocolate hummus.  My previous experience with hummus has always been as a savory, garlic dip that tastes great with vegetables.  While eating lunch at a restaurant, I tasted this sweet hummus for the first time, and definitely, had to try and create my own recipe.
This chocolate dip is lightly sweet and packed with protein from chickpeas.  Were you a kid who always licked the bowl of chocolate cake?  That is exactly what this Chocolate Hummus tastes like, chocolate cake! 
What goes well with chocolate?  For me, it had to be fruits--fresh, juicy strawberries, bananas, green apples, and mandarin oranges.  Each of these fruits has its own storied history of scrumptious recipes when served with chocolate.  The chocolate hummus/fruit combo does not disappoint, but feel free to add crackers, bread, or any other snack food that you like with chocolate. 
Jump to:
Health Benefits
According to experts (source), hummus boasts many nutritional benefits, which is likely why it is a staple in Middle Eastern diets.  I have always considered hummus to be a great addition to a snack or meal, primarily because it offers plant-based protein essential for a vegan or vegetarian diet. 
Hummus is typically made with garlic, lemon juice, tahini, and salt and it goes well with vegetables and bread. I didn't have time today, but I love to use freshly sprouted garbanzo beans to make hummus.  The flavor is amazing.  When making traditional savory hummus, there are so many options for using fresh hummus in your meal preparation.
More importantly though, in addition to great flavor, Dr. Axe includes these 8 factors as health benefits of hummus:
Good Source of plant-based protein
Fights illness and disease
Decreases inflammation
Helps digestion and intestinal health
High in vitamins and minerals
Supports bone health
Protects heart health
Boosts your energy
In addition to protein and fiber, chickpeas are also high in iron, folate, phosphorus, and B vitamins.  When you are considering a meal or a snack, the benefits of hummus make it a great choice over foods with little or no nutritional value.
This recipe is a twist on the traditional savory hummus and honestly, it tastes like chocolate cake!  I don't know why, but a recipe that is healthy and tastes like dessert is always a winner.  Additionally, with this recipe, pairing the chocolate hummus with all of this delicious, fresh fruit adds vitamins, minerals, and antioxidants to your snack.  When we are always on a quest to eat better and feel better, who doesn't love food that tastes great and that contributes so much to a healthy diet?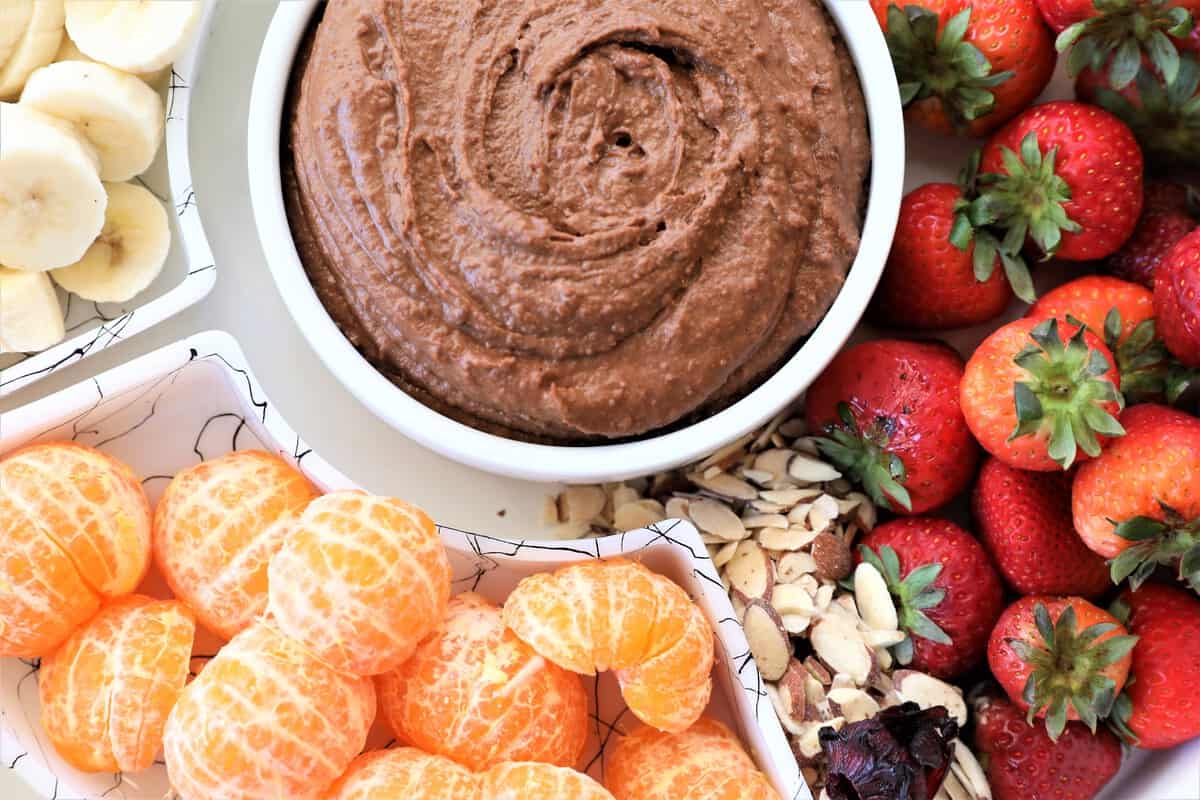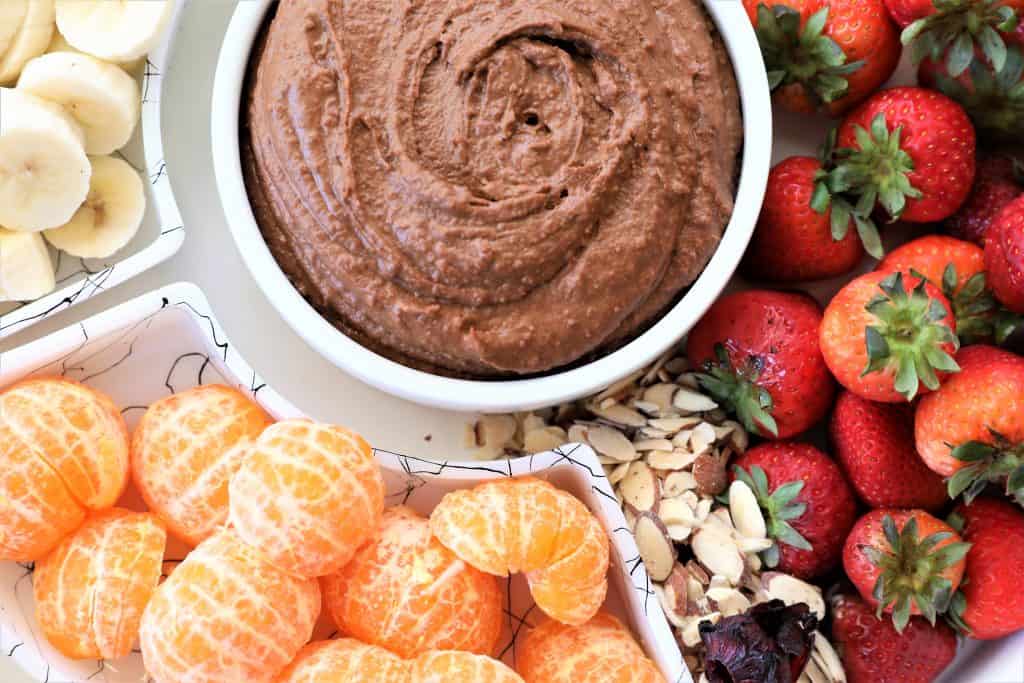 Ingredients
This chocolate hummus only takes 6 ingredients to make and is a delicious snack that pairs well with fruit. Here are the ingredients you need to make this recipe. The exact amounts are listed down below in the recipe card.
Chickpeas
Sea salt
Tahini - can be found in most grocery stores in the condiment aisle near the peanut butter.
Cocoa powder
Maple syrup
Vanilla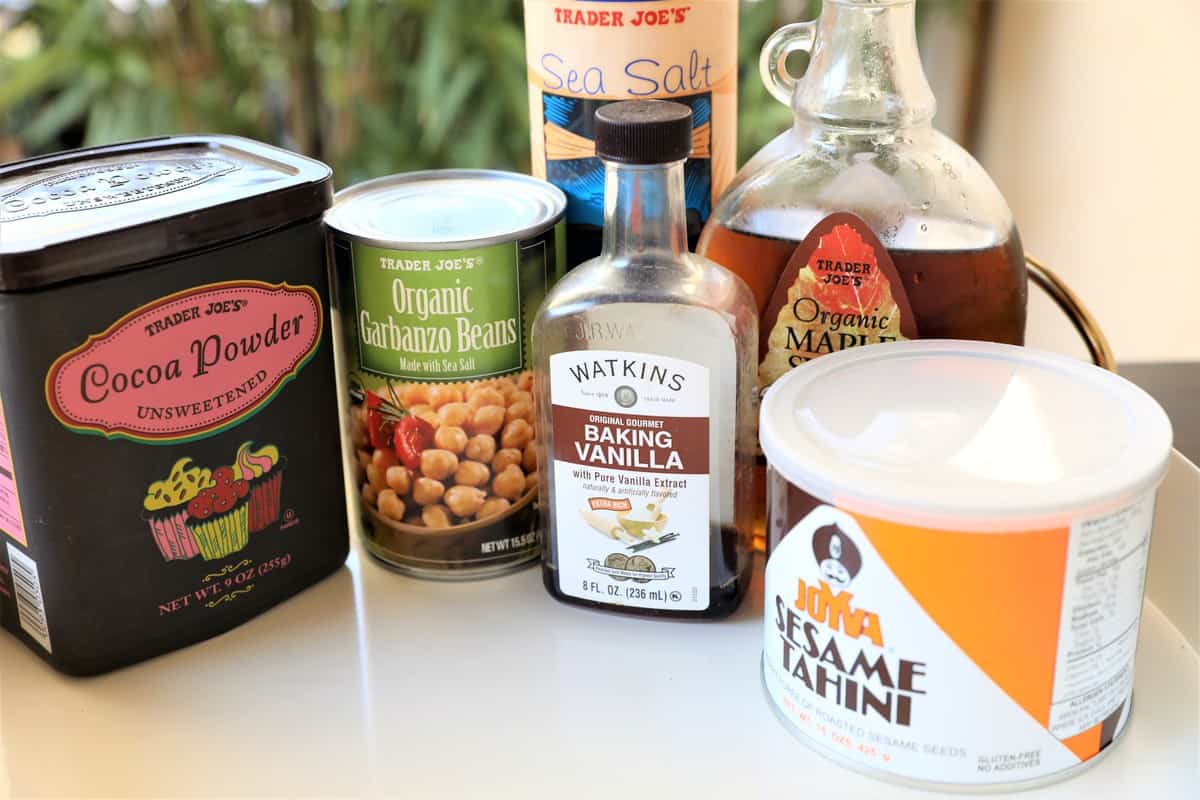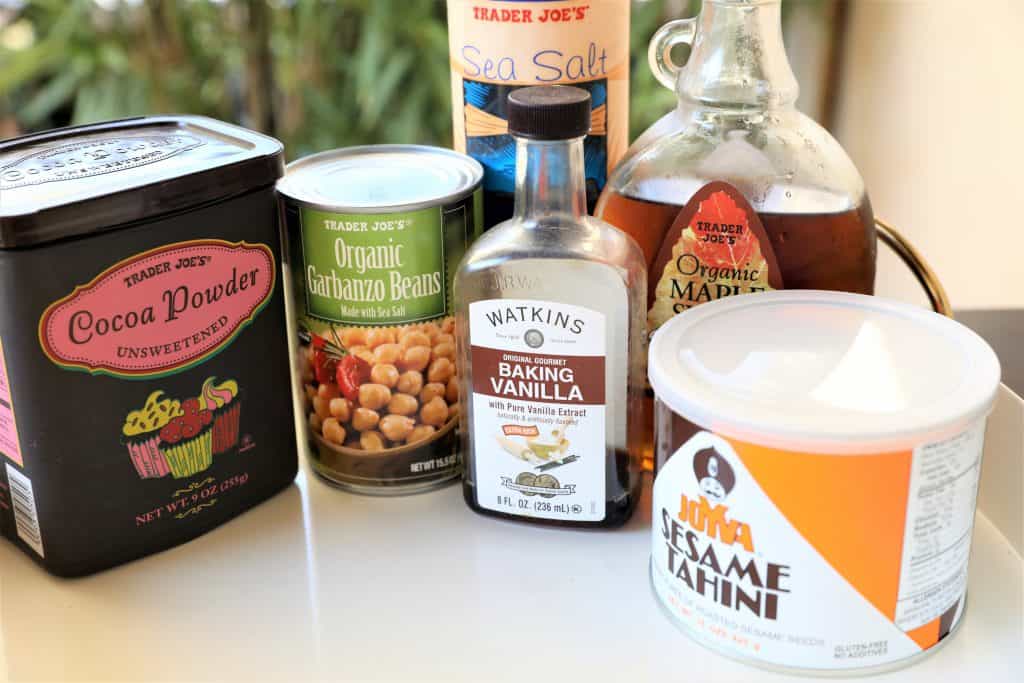 Instructions
This chocolate hummus dip is incredibly easy to make and will only take 15 minutes. All you need is a blender or a food processor. I prefer using the food processor because it is harder to scoop the hummus out of a blender.
Add all ingredients to a food processor.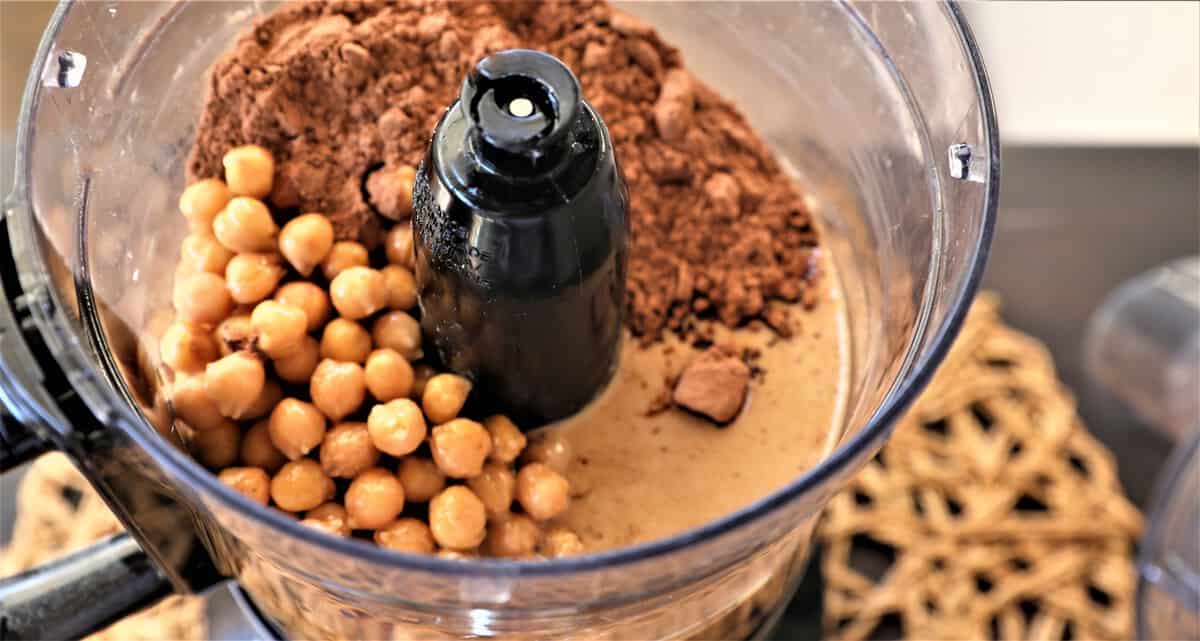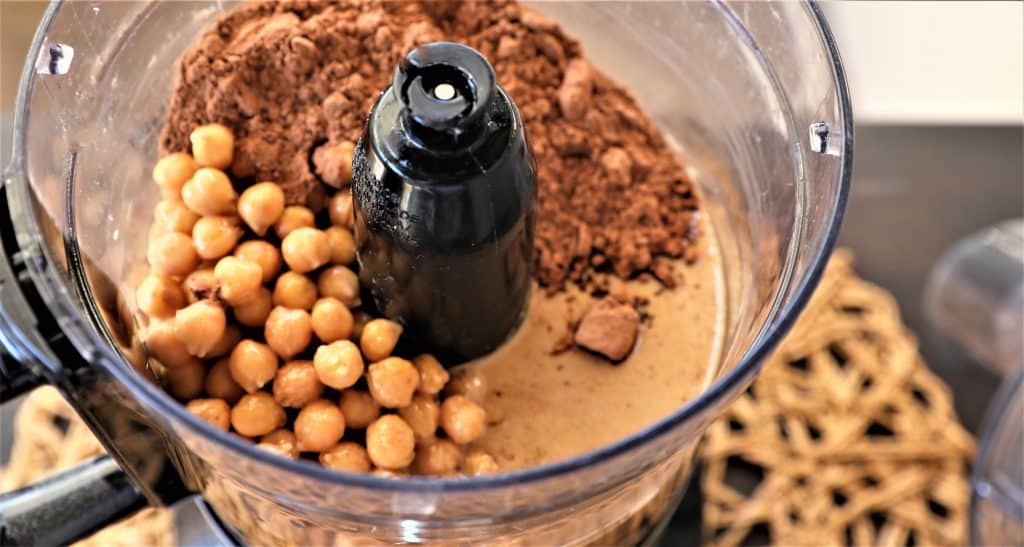 Process on high and blend until smooth and creamy.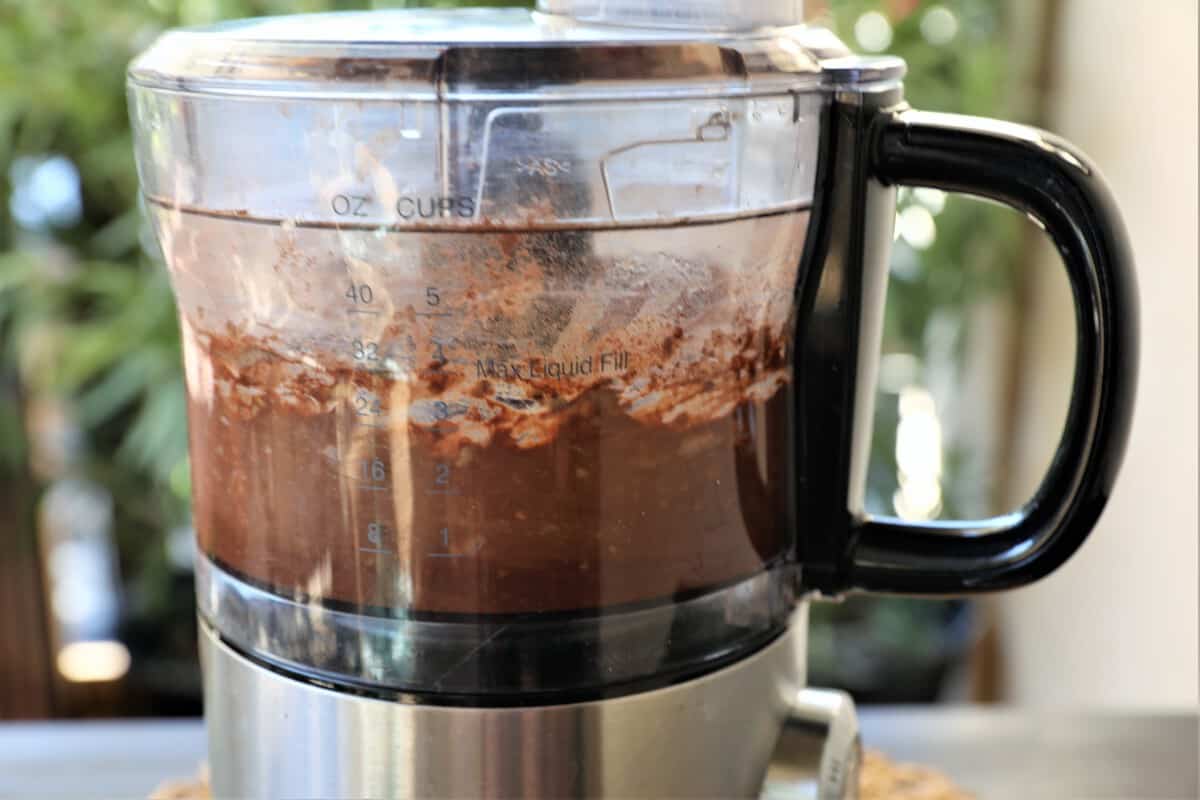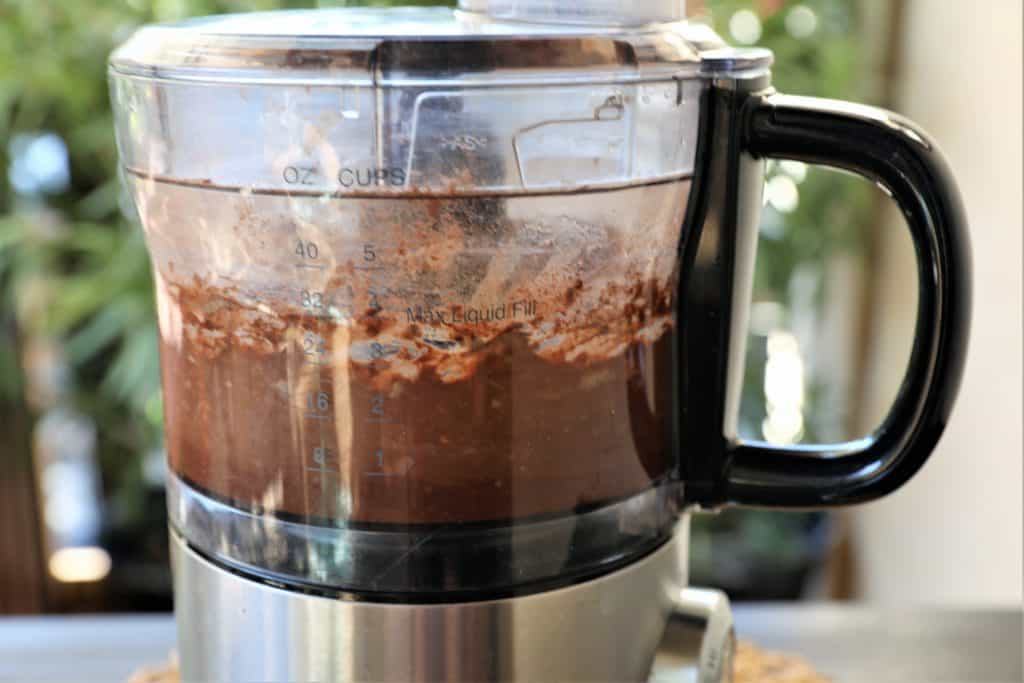 Transfer to a serving bowl and serve.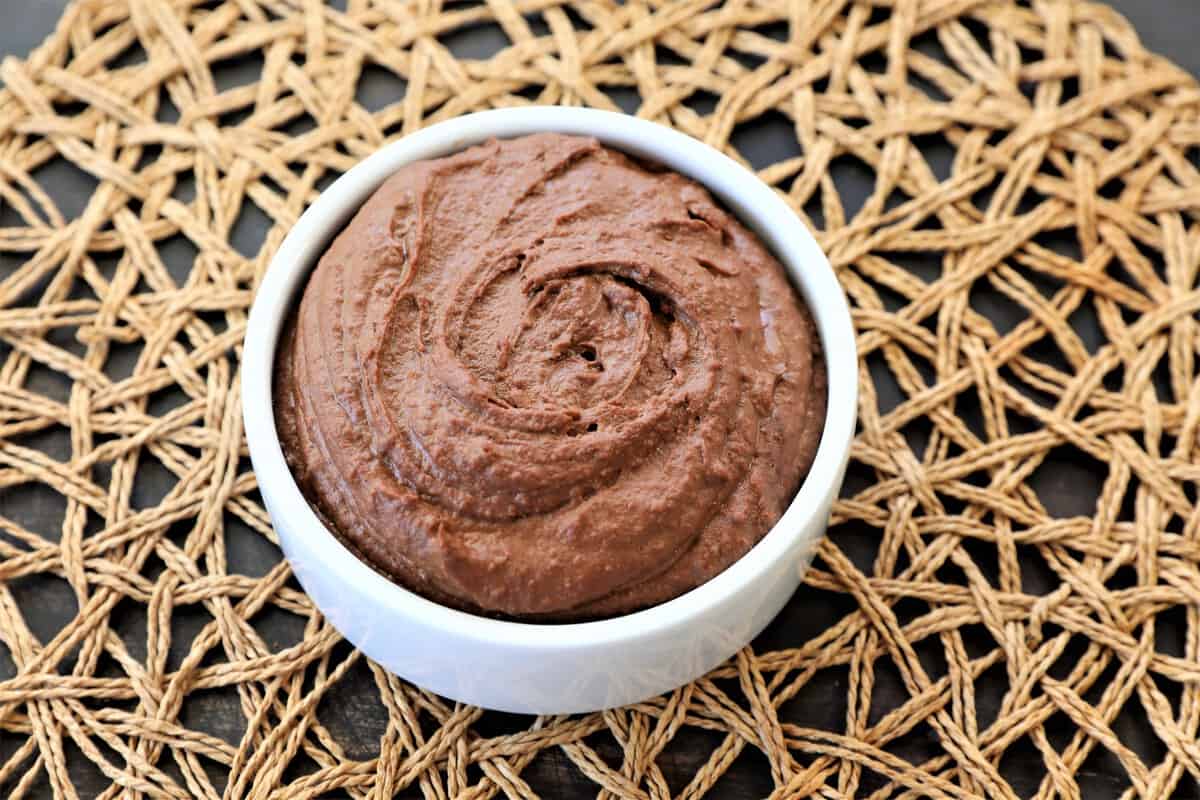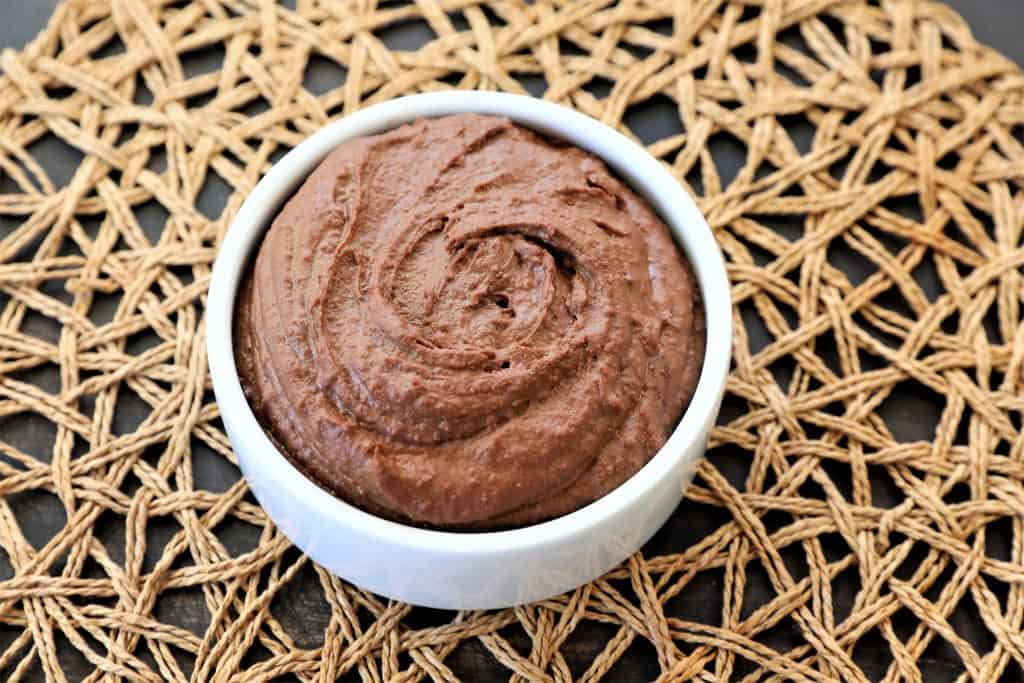 Serving Suggestion
Although I could probably eat this chocolate hummus out of the bowl with a spoon because it tastes like chocolate cake, it's best served as a dip. Here are some options to serve with this delicious and scrumptious chocolate hummus.
Pretzels
Bread - use as a dip or spread it on a slice of bread and add fruit or eat it plain.
Rice cakes
Fresh fruit - strawberries, bananas, mandarin oranges, apples, and raspberries.
Graham crackers
Pancakes
Pita chips
If you are looking for another sweet hummus recipe to try, check out this Maple Butter Pumpkin Hummus. It's a great dip to serve in the fall when everyone is obsessed with anything pumpkin.
If you are looking for a savory hummus recipe to make, check out this Chipotle Hummus. It pairs well with crackers or raw vegetables and is easy and quick to make.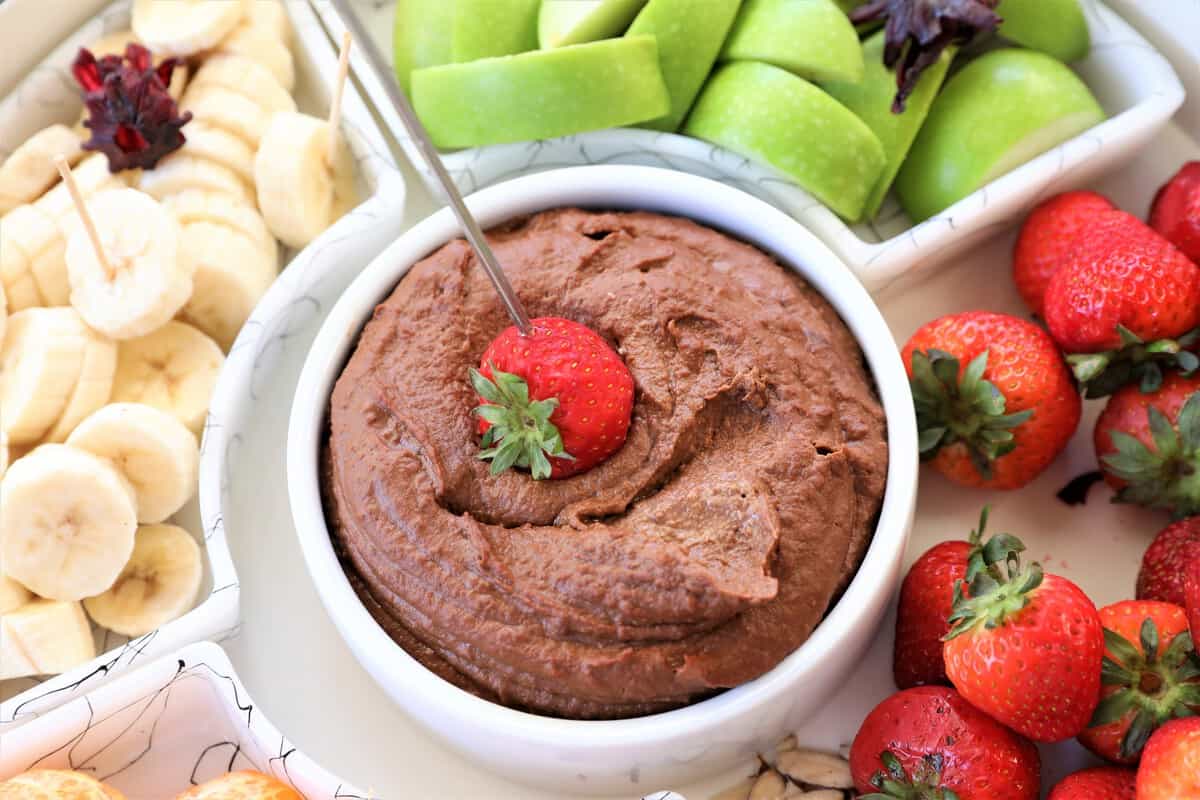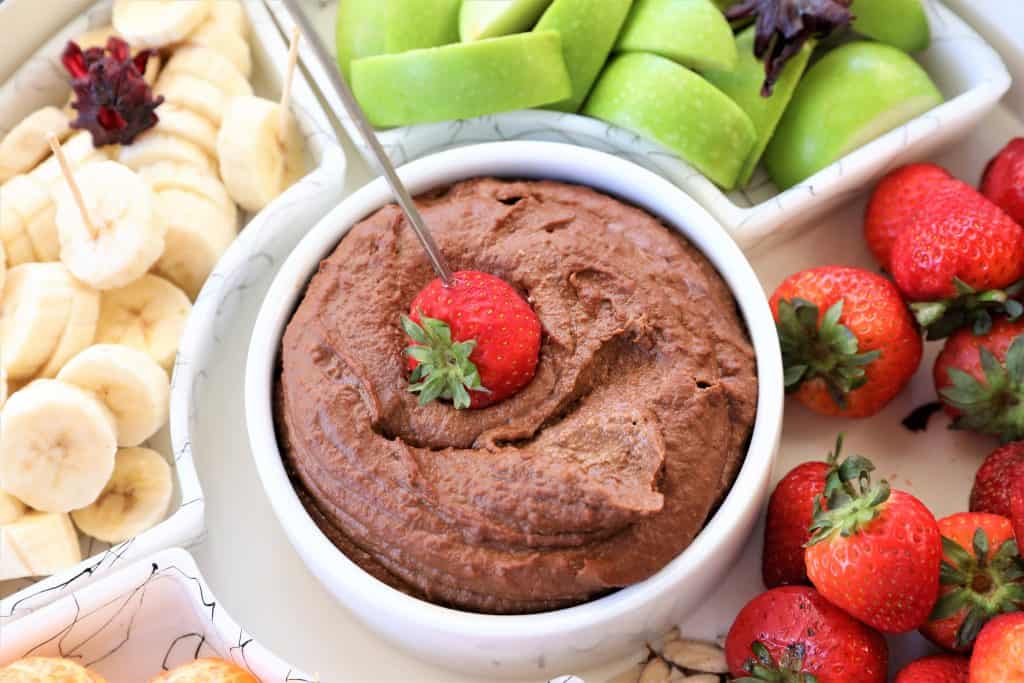 Frequently Asked Questions
What is tahini?
Tahini is a condiment that originated in Middle Eastern and Meditteranean cuisine. It's a paste that is made from ground sesame seeds and is a key ingredient found in hummus. Tahini contains important nutrients such as copper, iron, magnesium, and zinc.
How do I store leftovers?
Store leftover chocolate hummus in an airtight container in the fridge for up to 10 days. Stir well before serving.
Can chocolate hummus be frozen?
Yes! Chocolate hummus can be stored in a freezer-safe container in the freezer for up to 3 months. When you are ready to serve, let thaw overnight in the fridge and stir well before serving.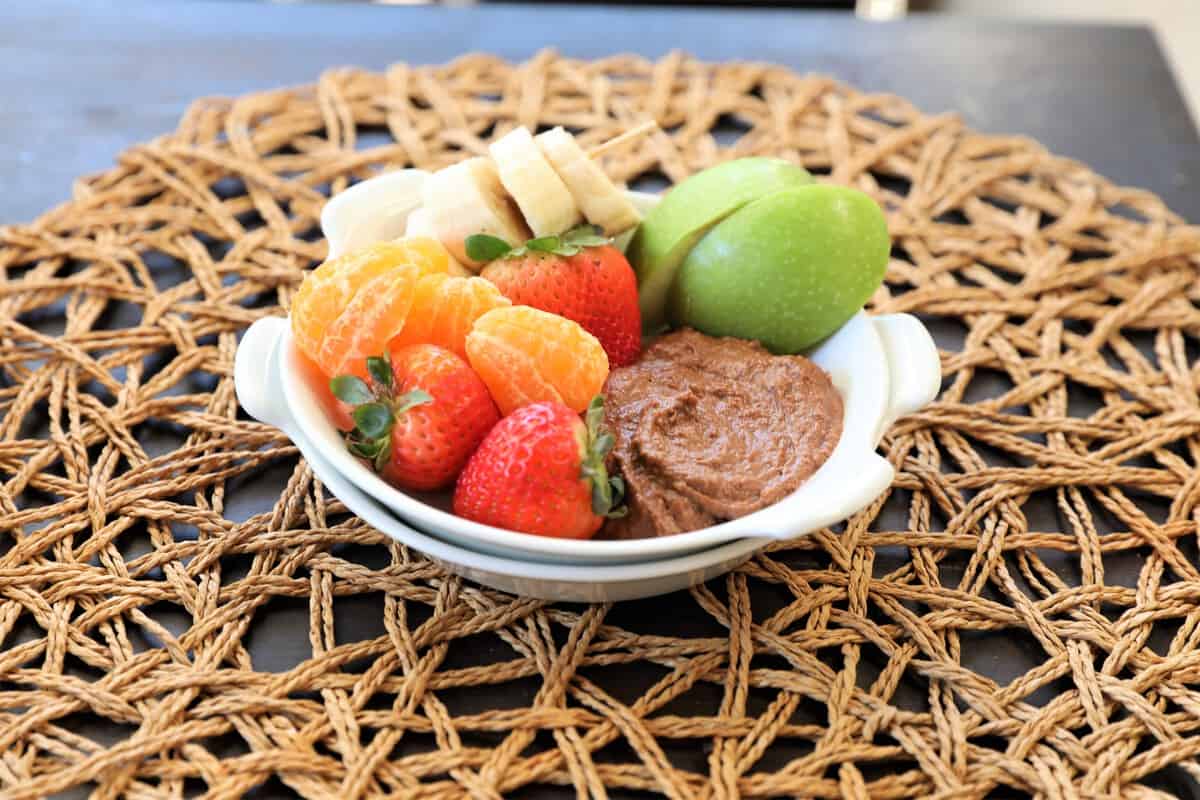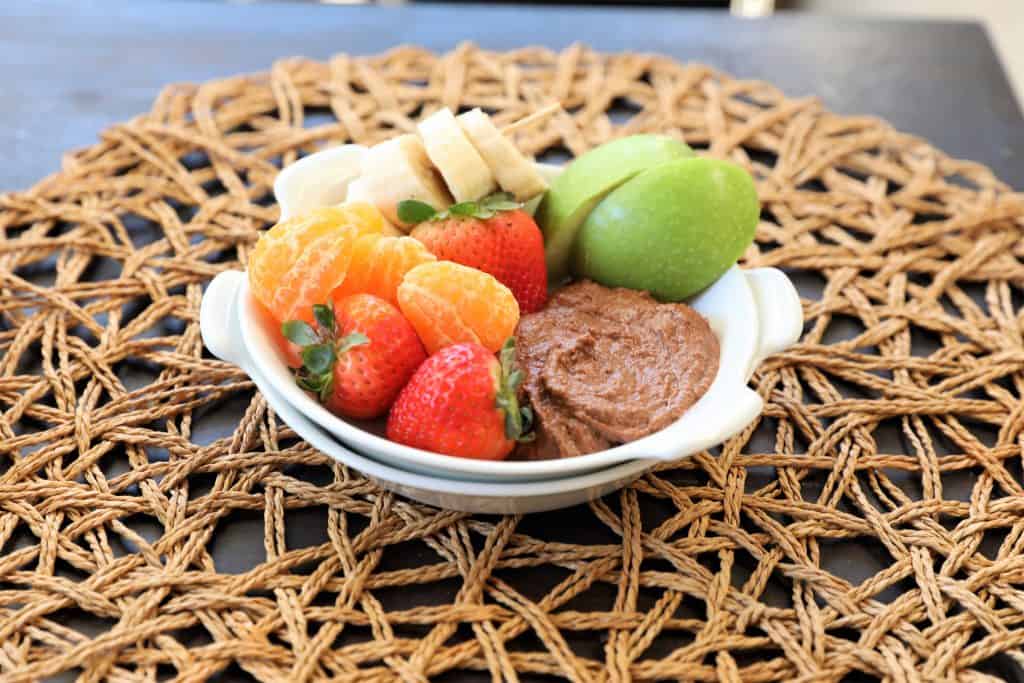 More Dip Recipes
Dips are the perfect thing to serve guests or bring to an event. They are easy and quick to make plus they are great for a big crowd. If you liked this Chocolate Hummus, check out more dip recipes here on Green Scheme.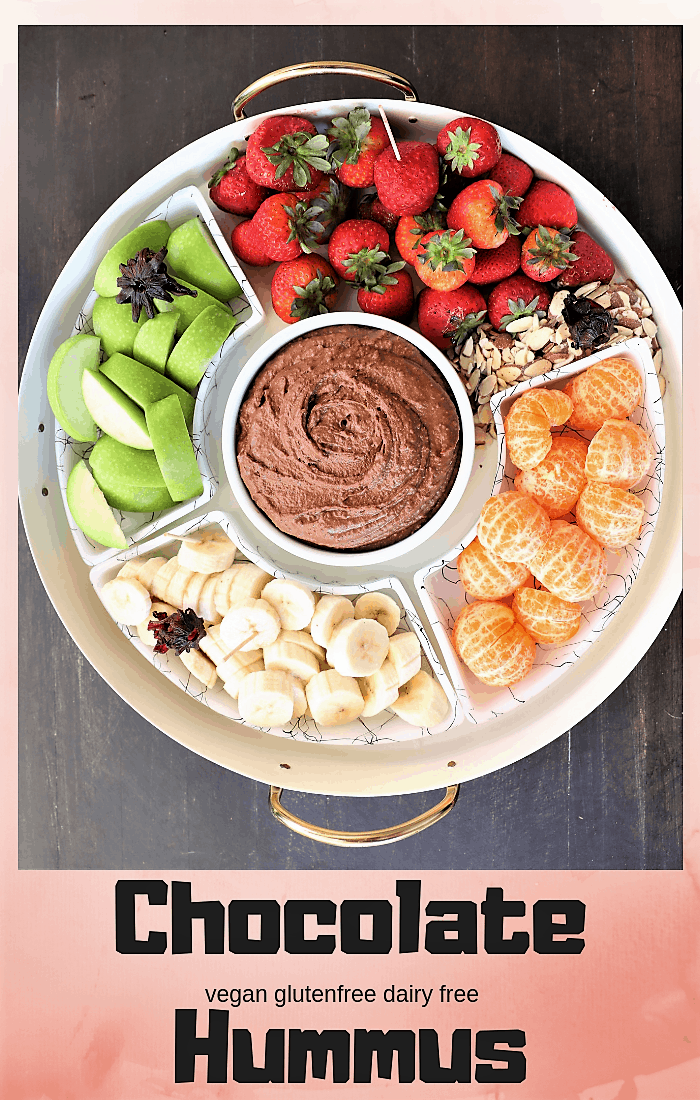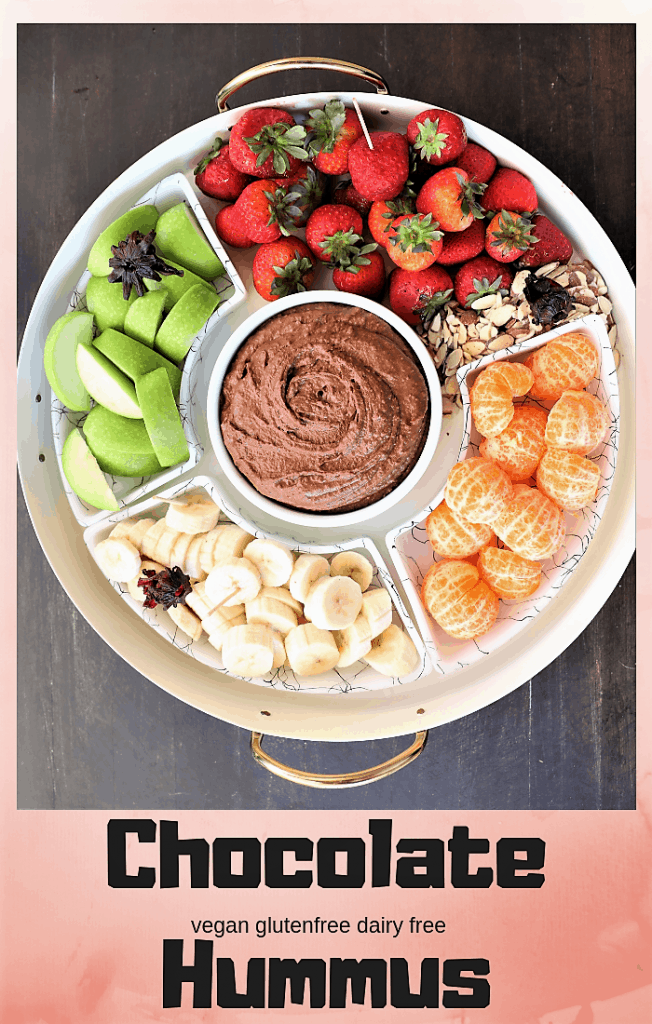 Recipe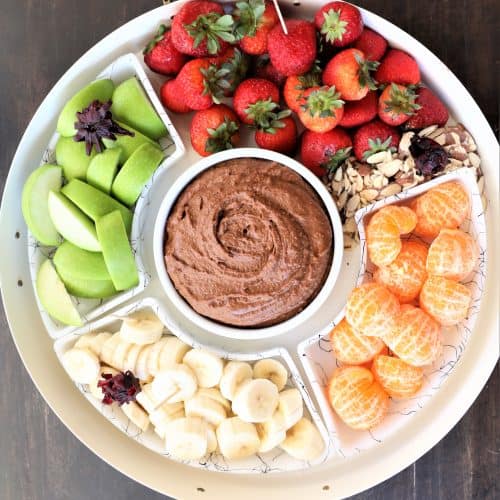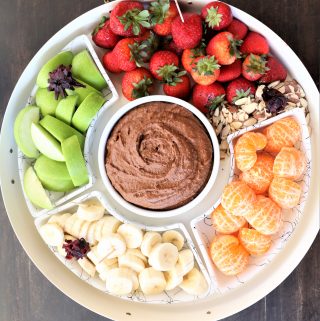 Chocolate Hummus
This snack is creamy and chocolatey, and tastes like dessert. Pair it with fresh, juicy fruit, and you have a yummy nutritious dip that is packed with protein, antioxidants and vitamins.

Ingredients
15

ounces

canned garbanzo beans/chickpeas, drained

1

teaspoon

sea salt

½

cup

tahini

½

cup

cocoa powder

¾

cup

maple syrup

1

teaspoon

vanilla
Instructions
Add all ingredients to food processor with blade and process on high until smooth.

I prefer to use a food processor for this recipe instead of a blender because it is harder to scoop all hummus out of the bottom of the blender.
Nutrition
Serving:
2
tablespoon
Calories:
67
kcal