Jackfruit Chipotle Chili.  A hot bowl of chili is a comfort food in the winter, and something spicy and hot in your belly is just what you need right now with temperatures dropping.  Jackfruit Chipotle Chili is a new flavor twist on an old favorite that you can cook on the stove, crock pot or in the Instant Pot.
Even though it is  a cooked dish that is perfect for winter food, chili is still an all year 'round craving.  Who can pass up a chili cook off in summer?   For today though, set your table in front of a roaring fire, and you have everything you need for an warm and toasty evening, with this tasty delish chili paired with some crusty fresh bread.  Vegan, gluten free, dairy free.
Grilled Jackfruit Chipotle Chili. Try this yummy vegan, gluten free, dairy free twist on traditional chili.
Ingredients
Chili

1 red pepper, chopped
1 onion, chopped
1 sweet potato, chopped
4 cloves garlic, minced
1 can, 15 oz kidney beans
1 can, 15 oz white beans
1 can, 15 oz roasted tomatoes
1 tsp sea salt
1 tsp chipotle pepper
1 tsp cumin
1 cup almond milk
2 cups vegetable broth

Grilled Jackfruit

1 can, 15 oz organic jackfruit
3 tbsp olive oil
1 tsp sea salt
1 tsp smoked paprika

Garnish

3 tbsp chopped cilantro or green onions
Instructions
Chili-Instant Pot

Add onion, sweet potato, garlic, red pepper, olive oil and spices to Instant Pot and saute for 3 minutes. Add remaining chili ingredients (not Grilled Jackfruit, yet). Set Instant Pot to pressure cook for 8 minutes. Prepare Grilled Jackfruit.

Grilled Jackfruit

Drain jackfruit and chop into bite size pieces.
Toss jackfruit with salt, olive oil and smoked paprika in bowl.
Grill (or pan stir fry) the jackfruit for five minutes on each side.
After chili is cooked, allow pressure to release naturally. NR. With small hand blender, blend a small portion of the cooked chili mix to thicken the chili. Leave most of the chili intact. After blending, add the grilled jackfruit and stir into the chili. Top with cilantro or green onionsand serve.

Crock Pot Instructions

Add all chili ingredients (not jackfruit, yet) to crock pot and cook on high for 5 hours. After chili is cooked, add grilled jackfruit.

Stove Top Instructions

Add all chili ingredients (not jackfruit, yet) to soup pot. Bring to a boil, and reduce heat. Simmer for 2 hours, or until sweet potatoes are done. Add grilled jackfruit.
Notes
The time estimate for preparation and cooking is for the Instant Pot. If you use a crock pot or stove top method, your time will be adjusted accordingly.
5 1/2 hours for crock pot 2 1/2 hours for stove top
https://greenschemetv.net/jackfruit-chipotle-chili/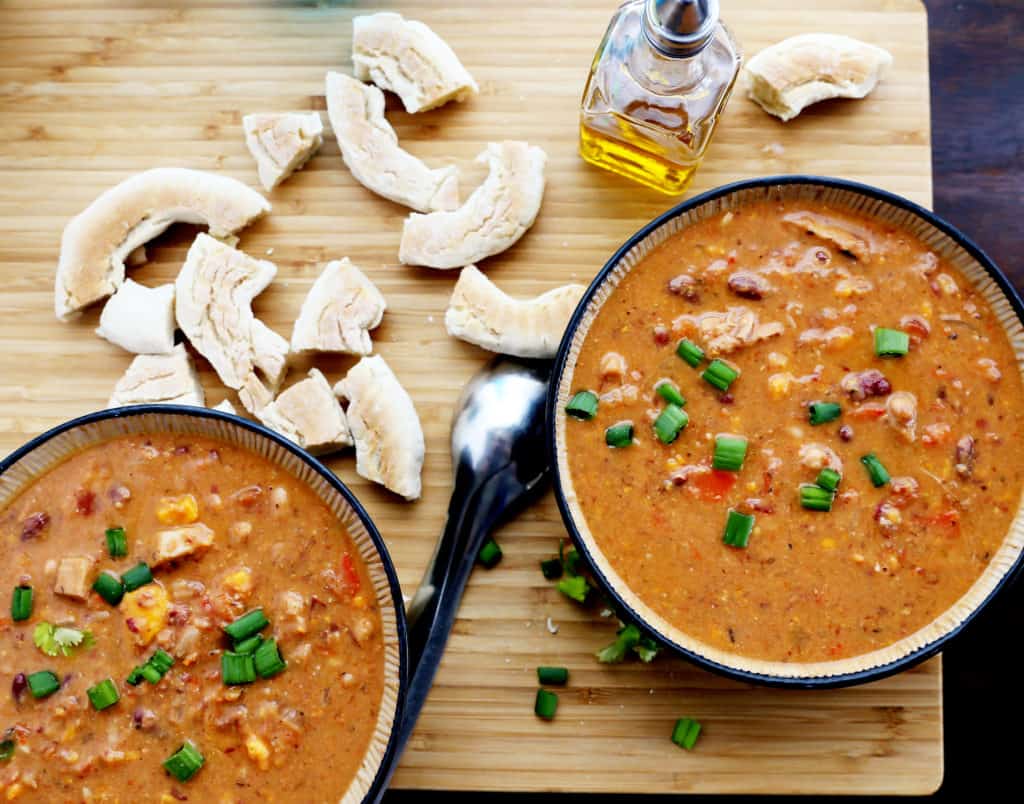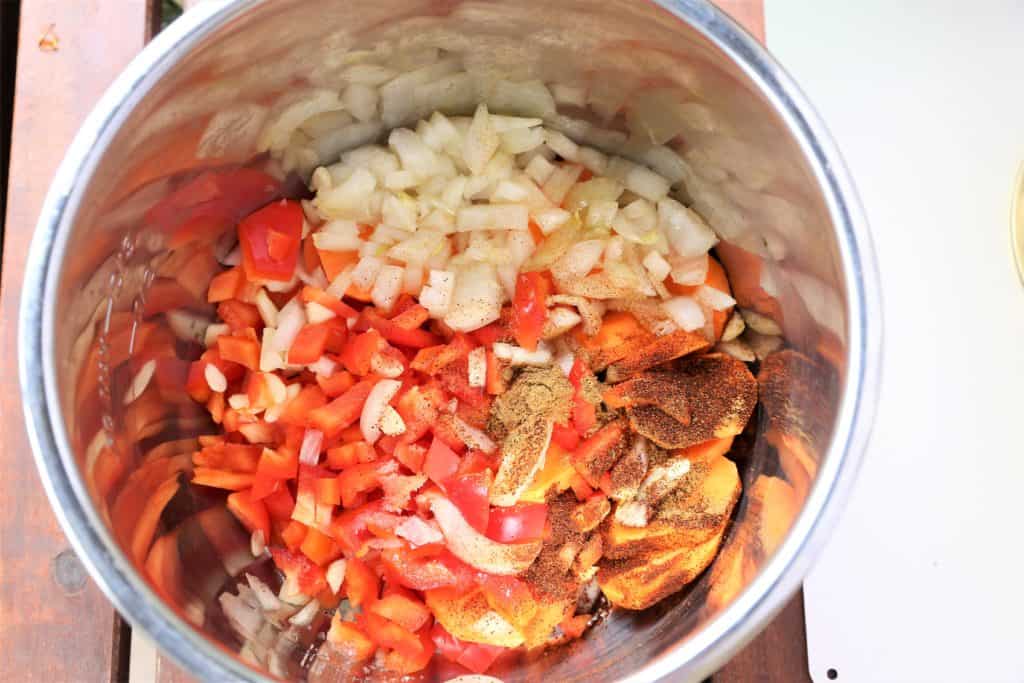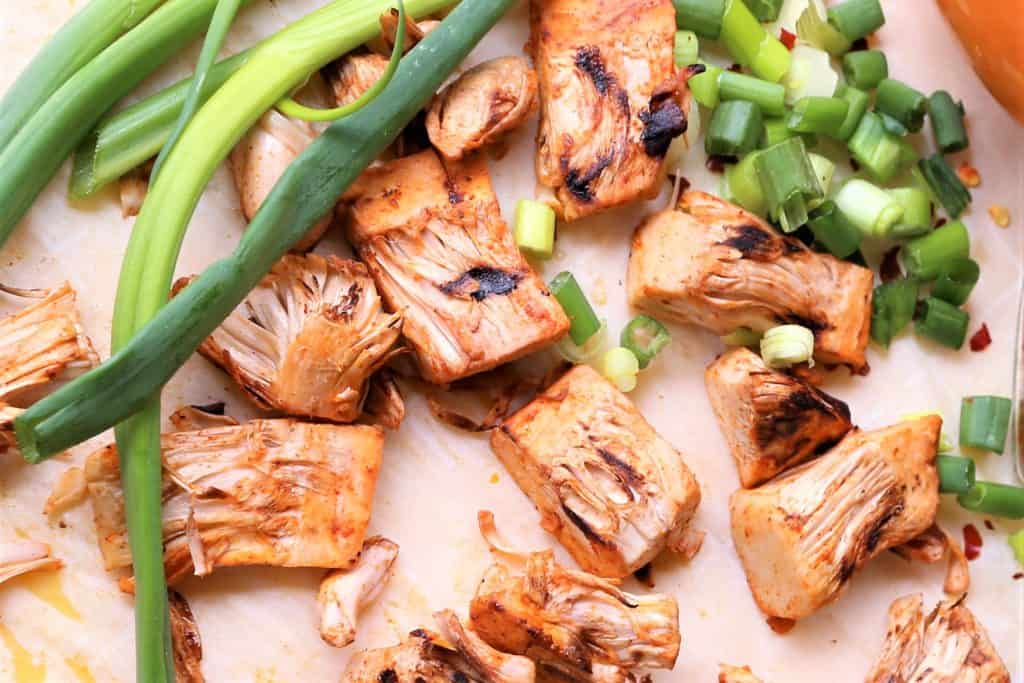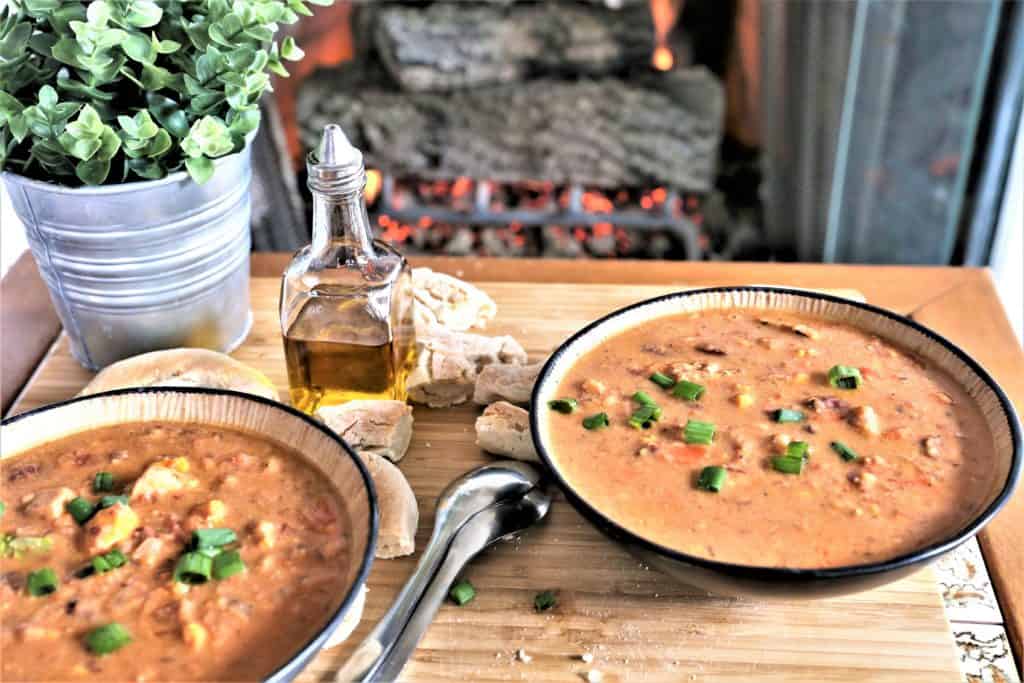 More recipes that you might like:
More photos on Instagram.