Cream of Vegetable Soup With Dumplings.  Anything with dumplings is a comfort food, and by that I mean, something that I ate as a child that my mother made from scratch.  Although her soup had chicken and this soup is vegan, the creamy texture and yummy flavor can provide the same comfort that any delicious, hot soup can.  The best thing about vegetable soup is that it is so user friendly.  You can add any vegetables that you like to a soup base, add the garlic cashew creme,  and create your own vegetable soup.  For this soup, I used mushrooms, onions, broccoli, carrots and a jalapeno for a little flavor.  And of course, the dumplings are the star of the soup! Vegan, gluten free and dairy free.
Cream of Vegetable Soup With Dumplings
Homemade creamy vegetable soup with dumplings. Vegan, gluten free, dairy free.
Ingredients
Vegetable Soup

2 cups sliced mushrooms
2 cups chopped broccoli
2 cups sliced carrots
1 cup minced onions
1 jalapeno pepper, chopped
2 tbsp olive oil
8 cups organic vegetable broth
1 tsp sea salt
1/2 tsp black pepper
1 tsp granulated garlic

Garlic Cashew Creme

1 cup raw cashews
1 cup water
6 cloves garlic
1 tsp sea salt

Dumplings

2 1/2 cups gluten free flour
2 tsp baking powder
1/2 tsp sea salt
1 cup organic vegetable broth
2 eggs, or for vegan option, egg substitute equivalent to 2 eggs (I use Follow Your Heart vegan egg)
Instructions
Vegetable Soup

Saute vegetables in olive oil for 5 minutes
Add spices.
Add vegetable broth and simmer for 20 minutes, or until vegetables are tender.
Add garlic cashew cream.
Bring soup to boil, and gently drop all dumplings onto top of soup. Cover soup pot.
Reduce heat and simmer for 20 minutes. Turn heat off and let dumplings sit for an additional 10 minutes. Serve.

Garlic Cashew Creme

Mix all ingredients in high speed blender until smooth.

Dumplings

Add all ingredients to bowl and mix until smooth.
Rub hands with oil, scoop dough with small ice cream scoop and roll dumplings into balls. (this recipe makes approximately 18-20 dumplings).
Drop dumplings onto soup.
https://greenschemetv.net/cream-vegetable-soup-dumplings/
Steps To Prepare Cream of Vegetable Soup With Dumplings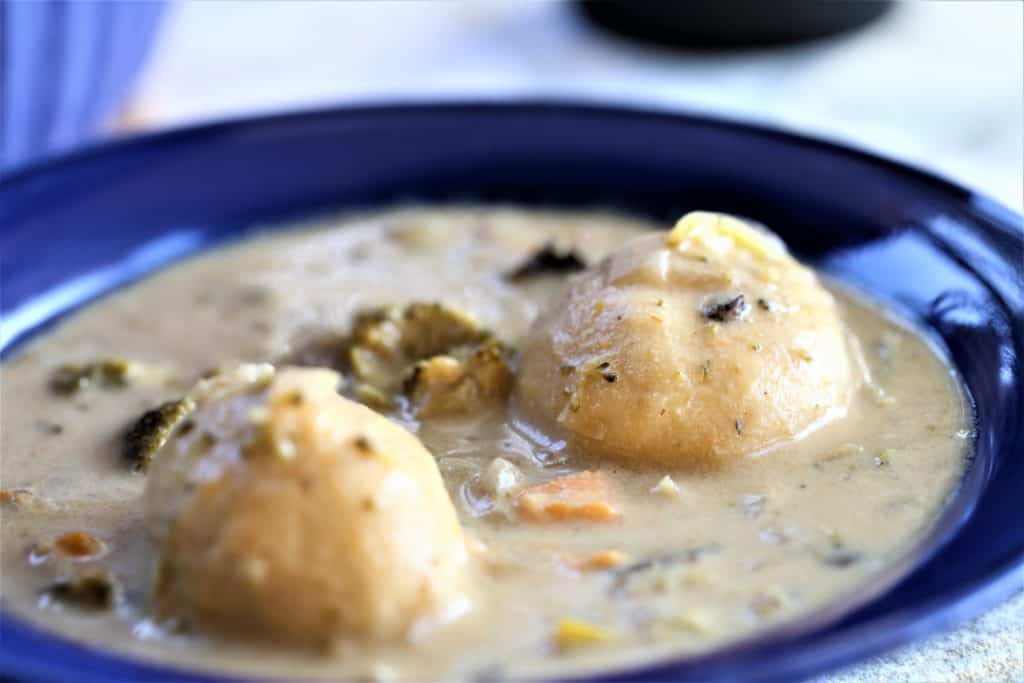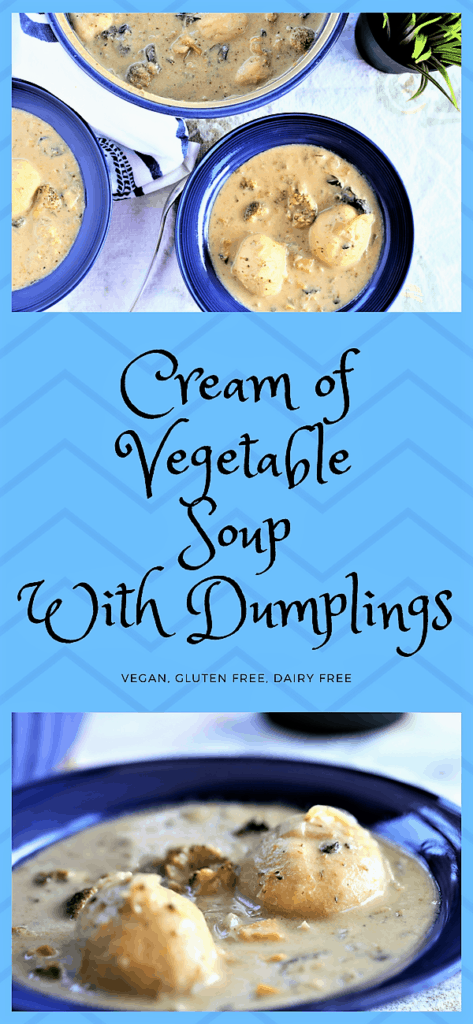 Smoked Chickpea, Cauliflower, Sweet Potato Pasta
For more food photos, see Instagram.