Instant Pot Spinach Mushroom Pasta really is instant....like the pasta is cooked in four minutes, and the remaining ingredients are sauteed in ten to fifteen minutes. The longest chore you have is chopping! This recipe is vegan, dairy-free, and gluten-free!
This is a simple recipe with only farm-fresh ingredients ready to serve in thirty minutes.  You can use any gluten-free pasta, and the fresh tomatoes and basil give the dish a tasty flavor.
This is one of those recipes that is perfect for those busy weekdays when cooking a healthy dinner is the last thing you want to be doing. I love that everything is cooked in the Instant Pot for easy cleanup. A healthy meal and fewer dishes. I call that a win-win situation.
Serve spinach mushroom pasta with a side of roasted harvest vegetables, a simple summer salad, or your favorite gluten-free bread for a healthy complete meal.
Jump to:
Health Benefits
When we think of pasta most of us typically think that it's high in carbs or that it's unhealthy comfort food. This is just not the case in this Instant Pot spinach mushroom pasta. Let me give you a couple of reasons why this pasta dish is healthy.
This recipe has loads of spinach! Spinach is considered a superfood because it is loaded with nutrients. It's high in vitamins and minerals that support a healthy immune system. It's also good for eye health because of the antioxidants and Vitamin A found in spinach.
It wouldn't be a mushroom pasta without using a ton of mushrooms. Mushrooms are a great source of fiber, protein, and antioxidants. Because mushrooms are packed with nutrients they are good for your memory, heart health, bone health, and much more.
This recipe also uses white beans, another superfood. White beans are a nutritional powerhouse! They are loaded with fiber and protein and they are low on the glycemic index. White beans also contain lots of important micronutrients, such as magnesium, that help maintain good health.
Equipment
I made this recipe in the Instant Pot 6 Quart Pressure Cooker.    Check out my review of the Instant Pot, and see all the delicious recipes that I have made with this gadget that replaces 9 kitchen tools!
If you are not cooking in an Instant Pot, cook pasta according to the package directions, and saute the remaining ingredients according to the recipe below. Vegan, gluten-free, and dairy-free.  This dish is definitely kid-friendly.
Ingredients
Your shopping list for this recipe is pretty simple and contains farm-fresh ingredients for a healthy pasta dish.  Here is what you will need:
Gluten-free penne pasta
Olive oil
Onion
Fresh garlic
Fresh spinach
Roma tomatoes
Cooked white beans
Fresh mushrooms
Red pepper flakes
Italian seasoning
Sea salt
Fresh basil
Instructions
This vegan and gluten-free Instant Pot Spinach Mushroom Pasta is a delicious recipe that is ready to serve in 30 minutes. It's so easy to make and everything is cooked in the Instant Pot which means fewer dishes for easy cleanup.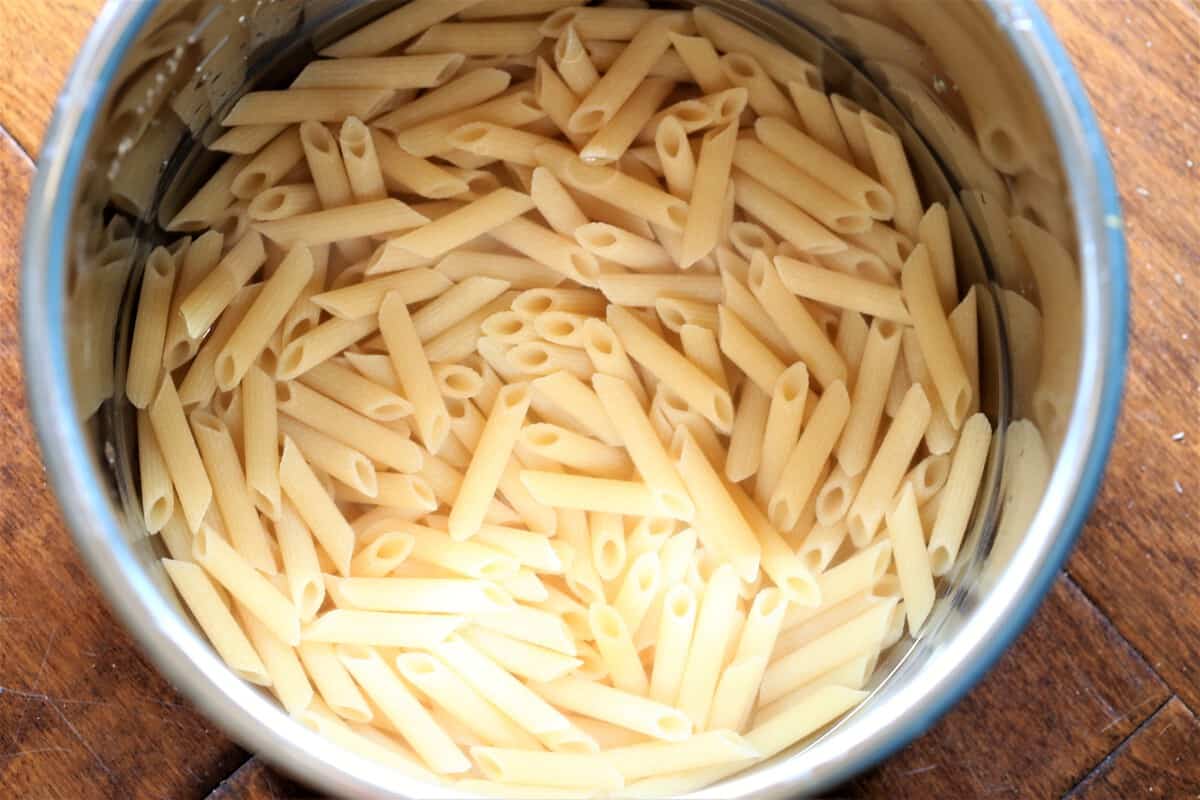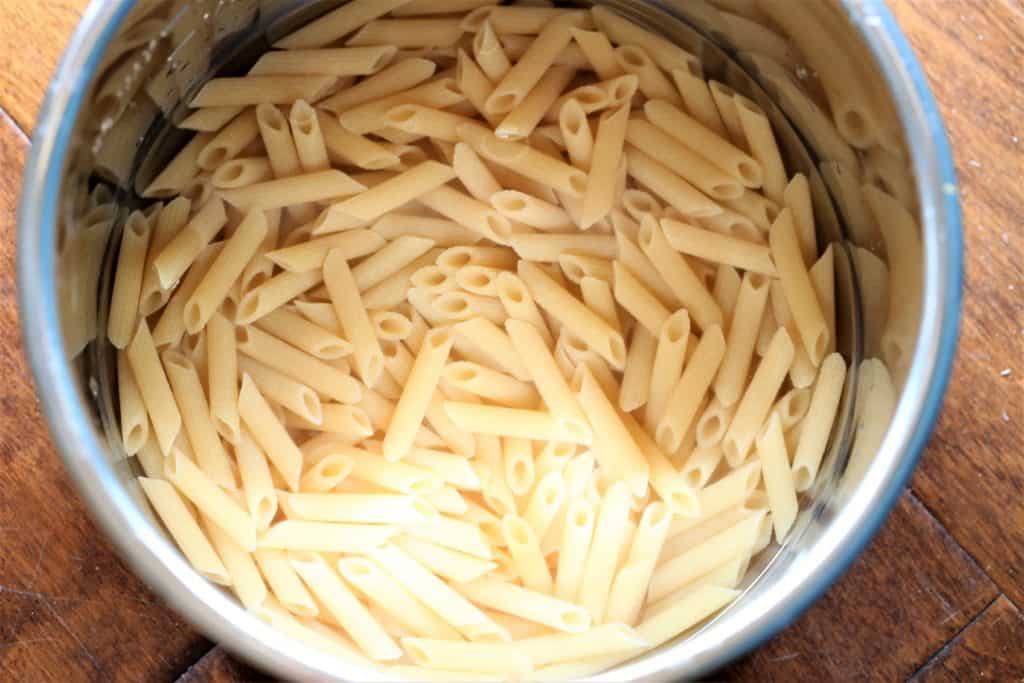 Stary by adding pasta and water to the Instant Pot and cook on high pressure for four minutes.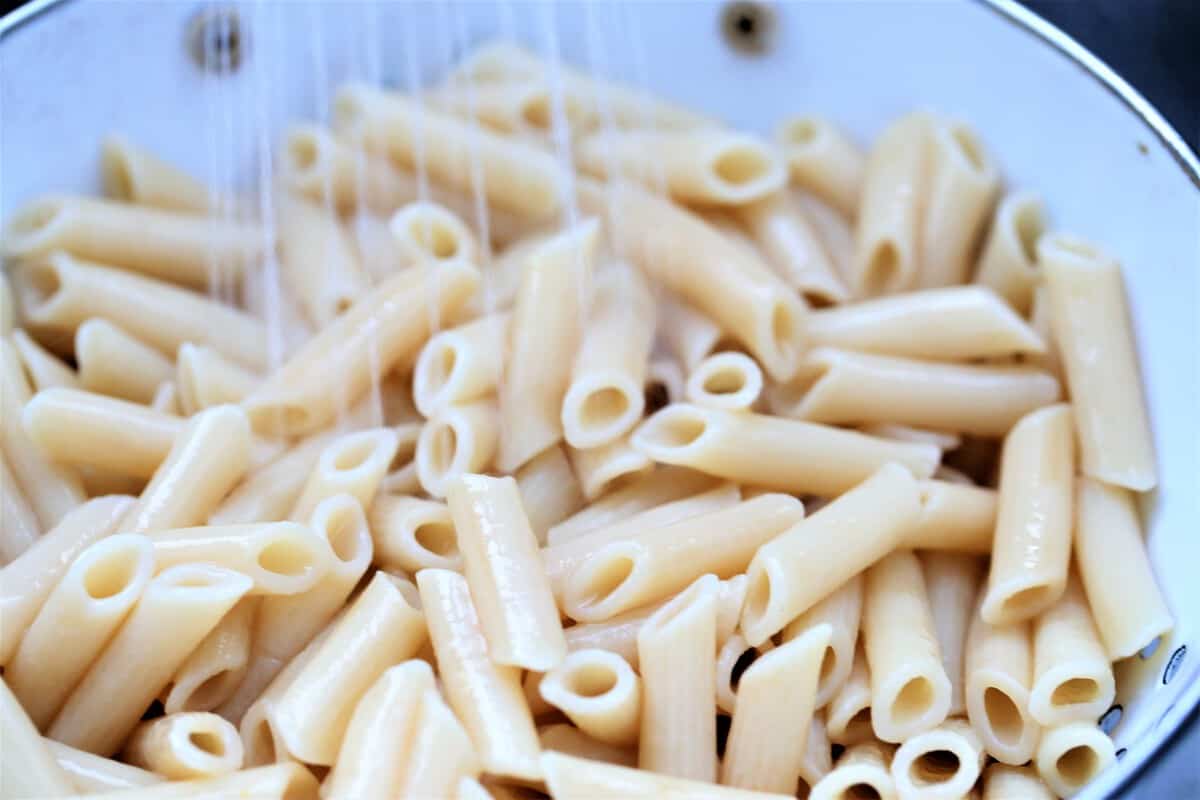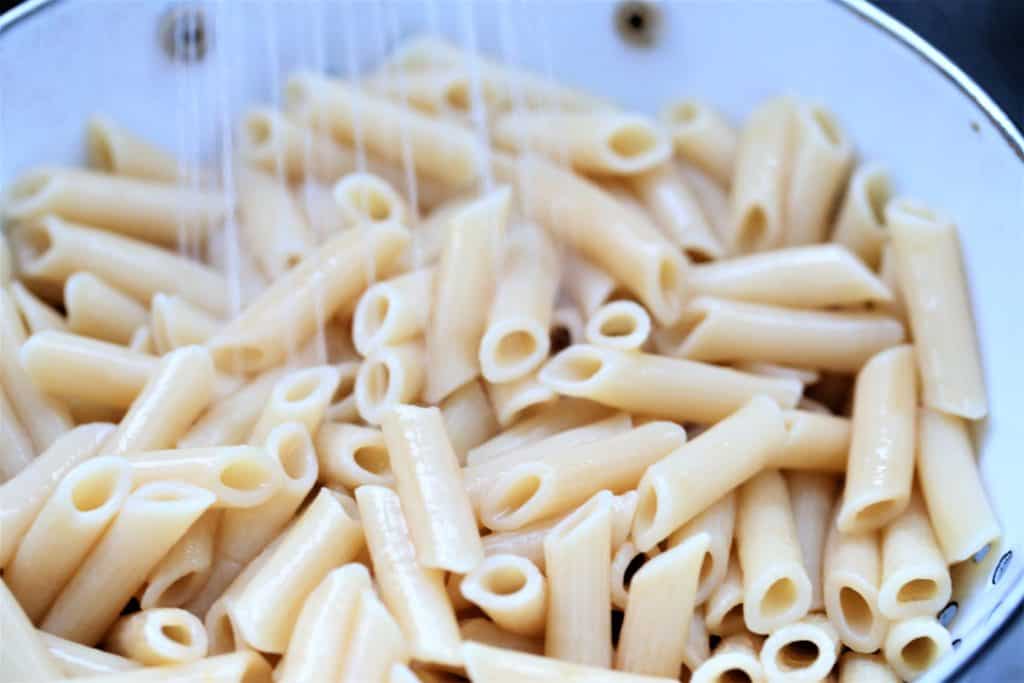 After the pasta is done cooking use the quick pressure release to release steam. Drain pasta in a colander and rinse with cold water immediately.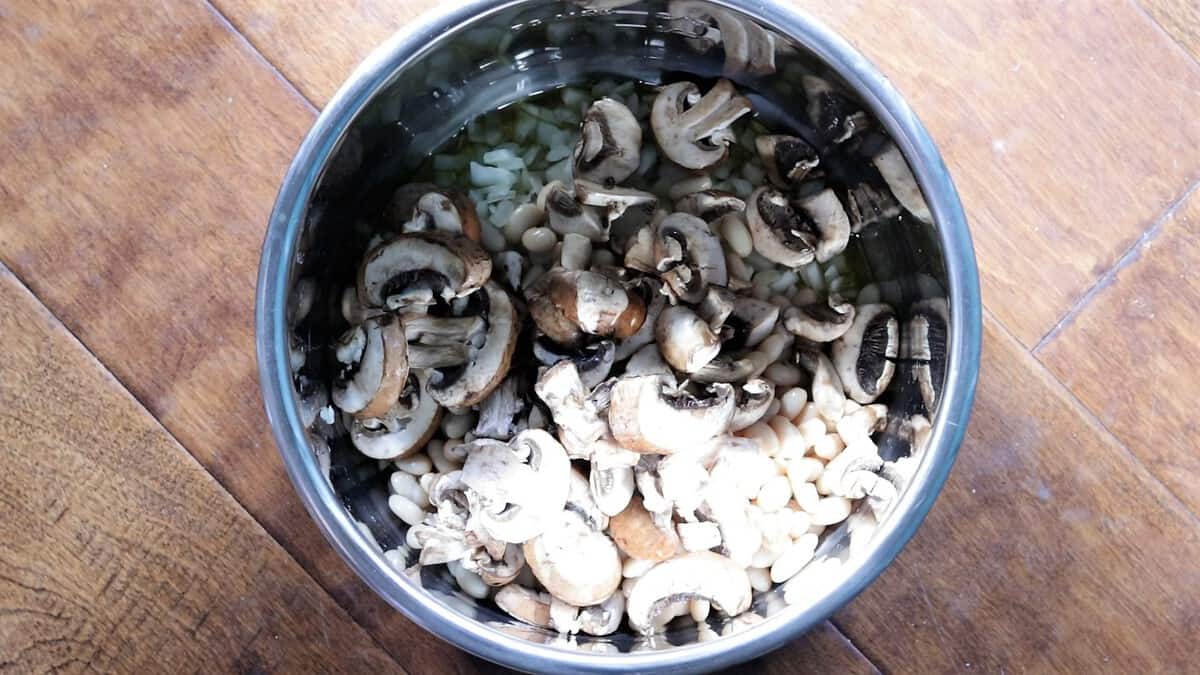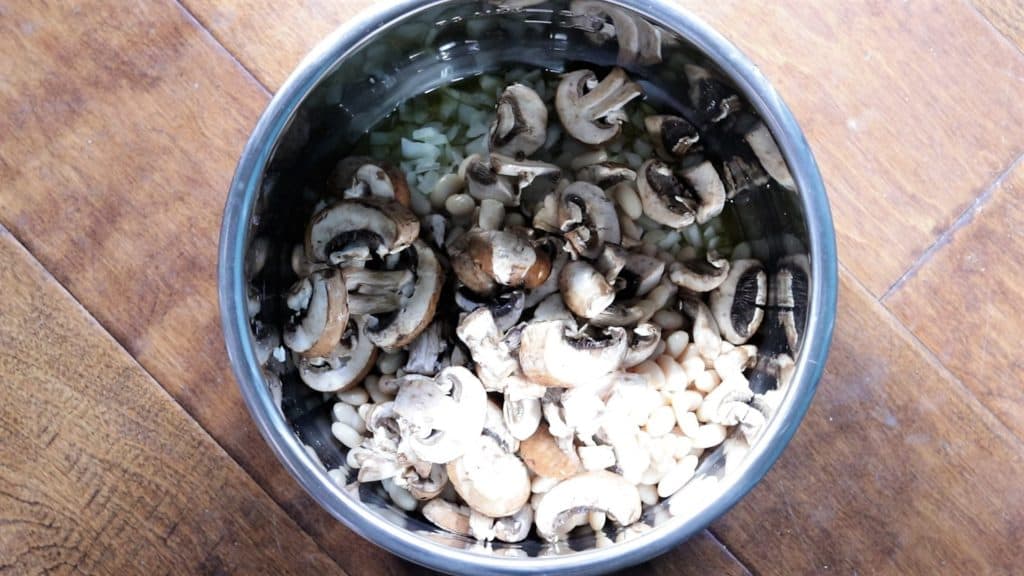 Rinse pot. Add mushrooms, onion, beans, garlic, and olive oil to the pot.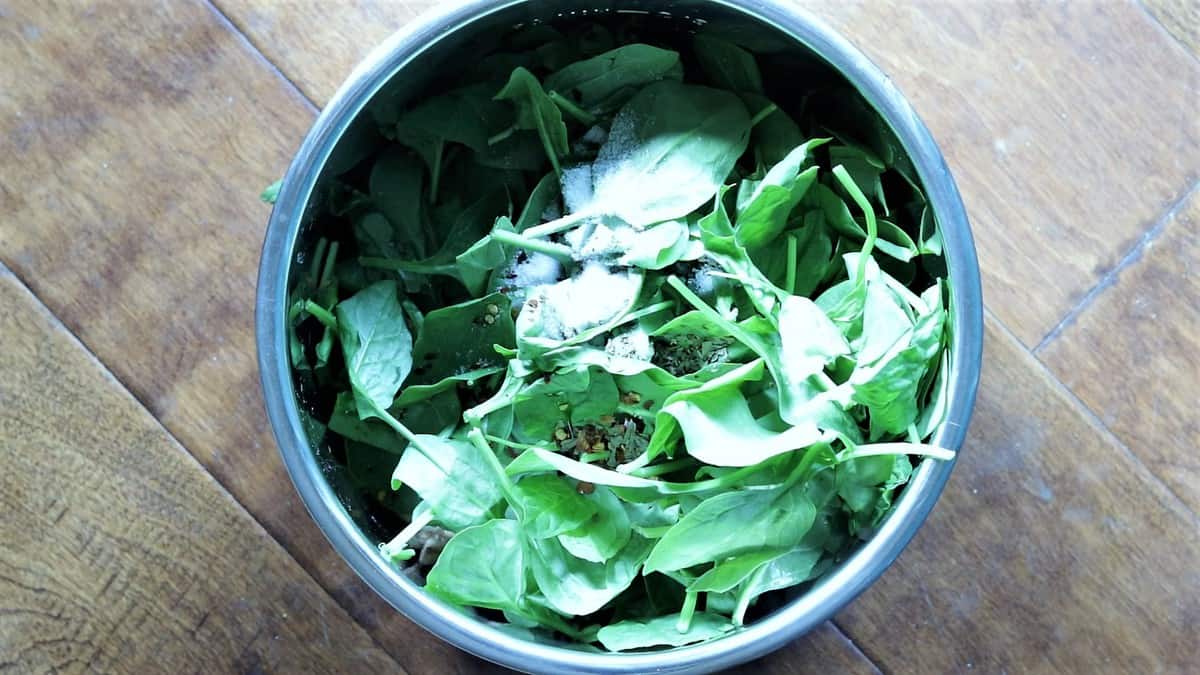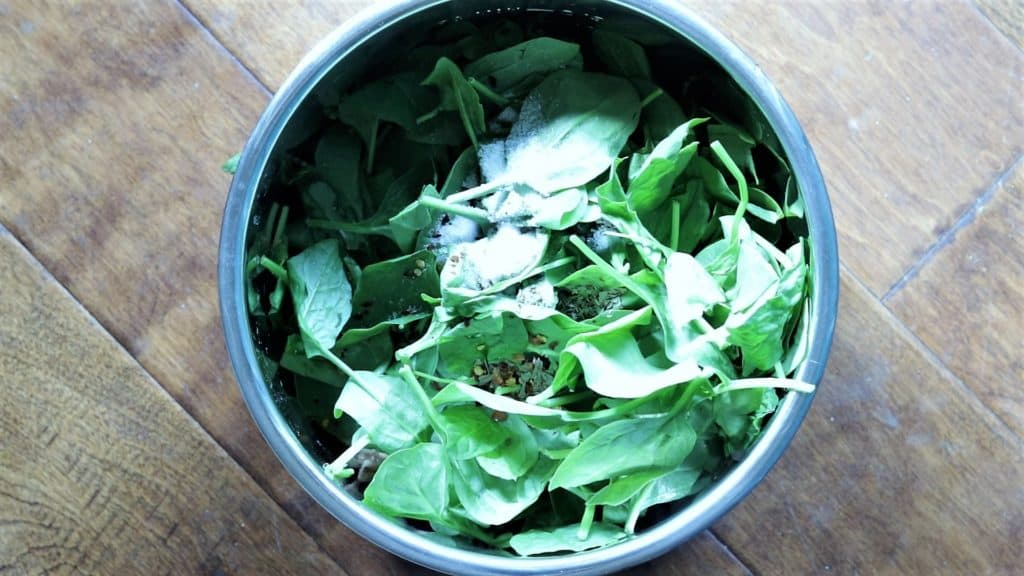 Add spinach and spices.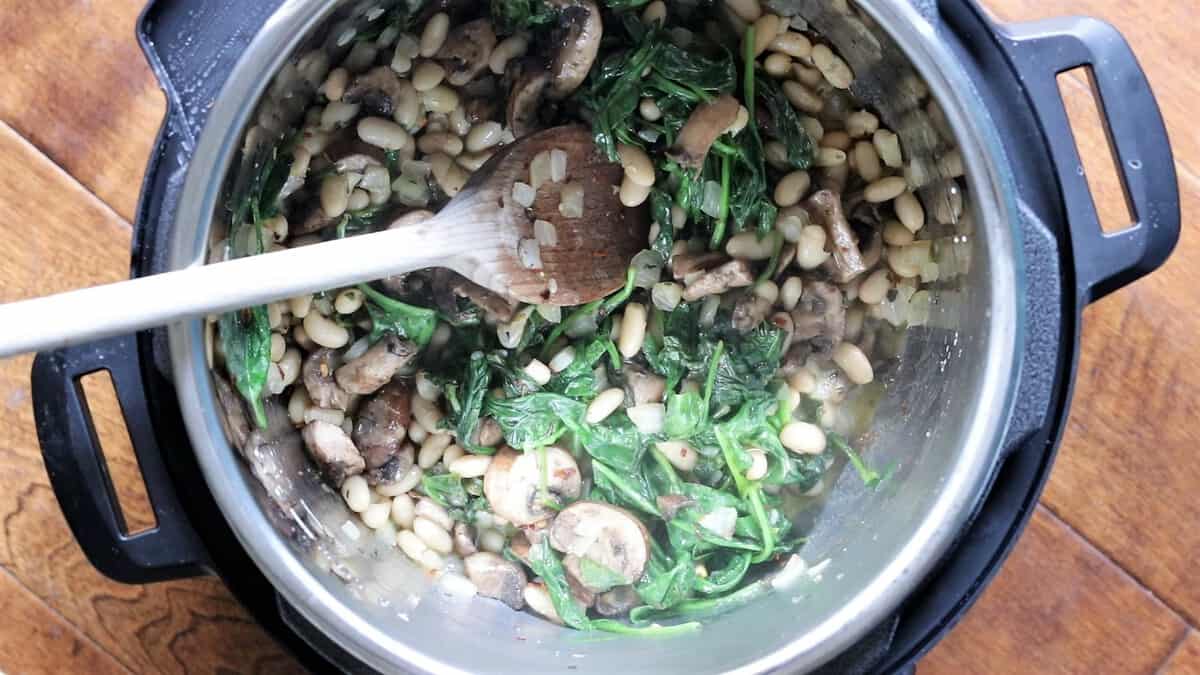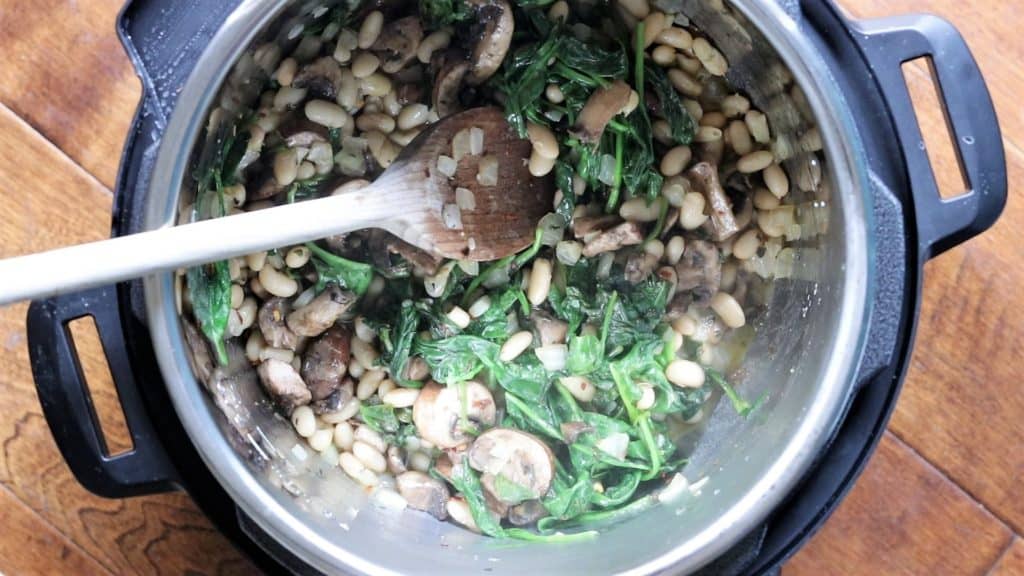 Set Instant Pot to saute and saute until tender.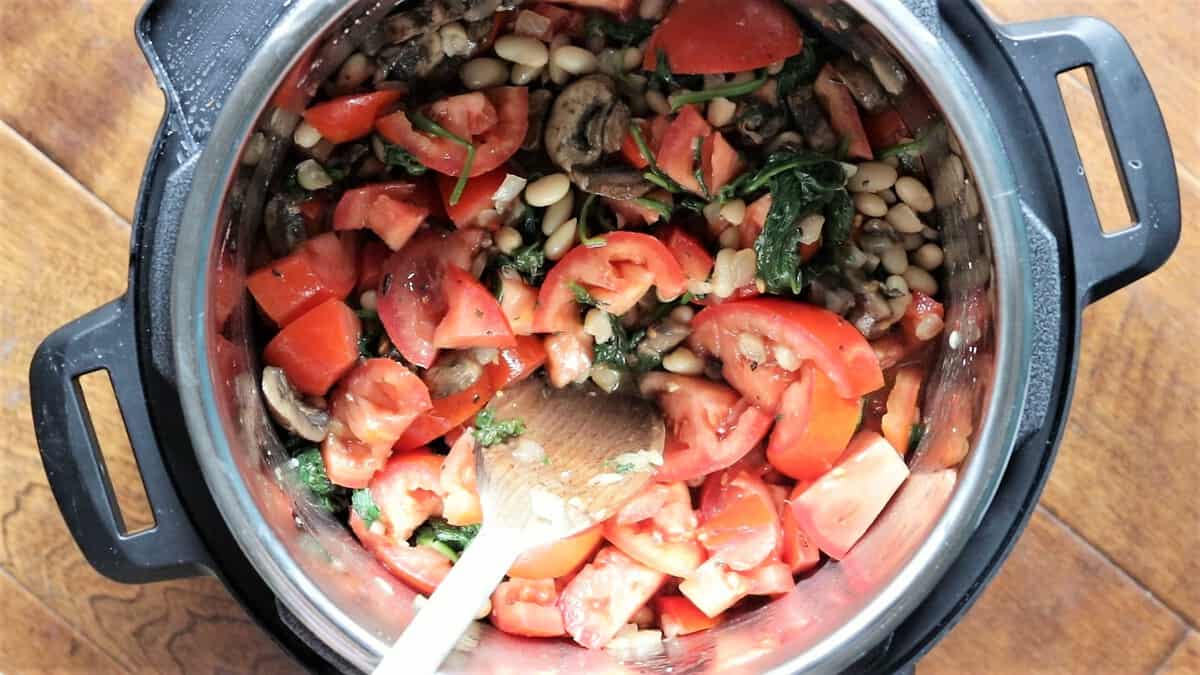 Add tomatoes and saute.
Using a small hand blender, blend a small portion of tomatoes to create a chunky sauce.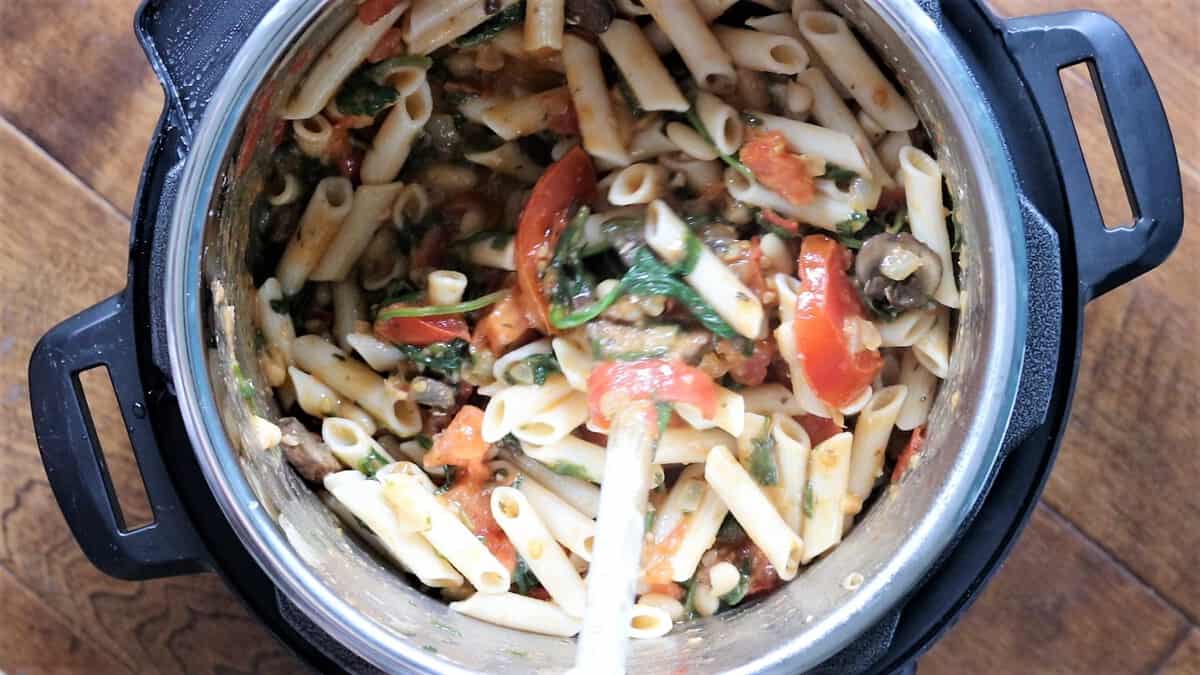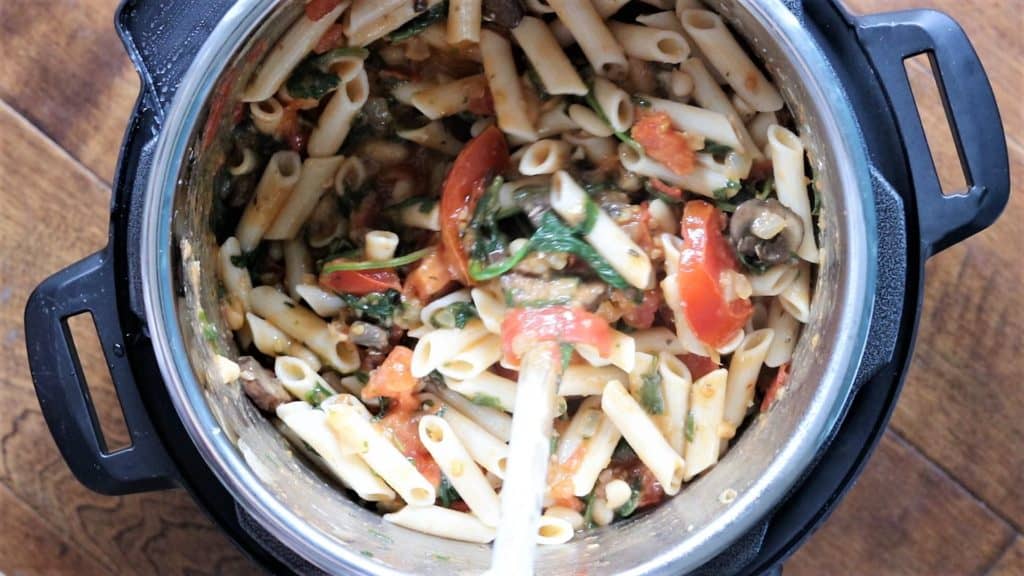 Add pasta and mix well.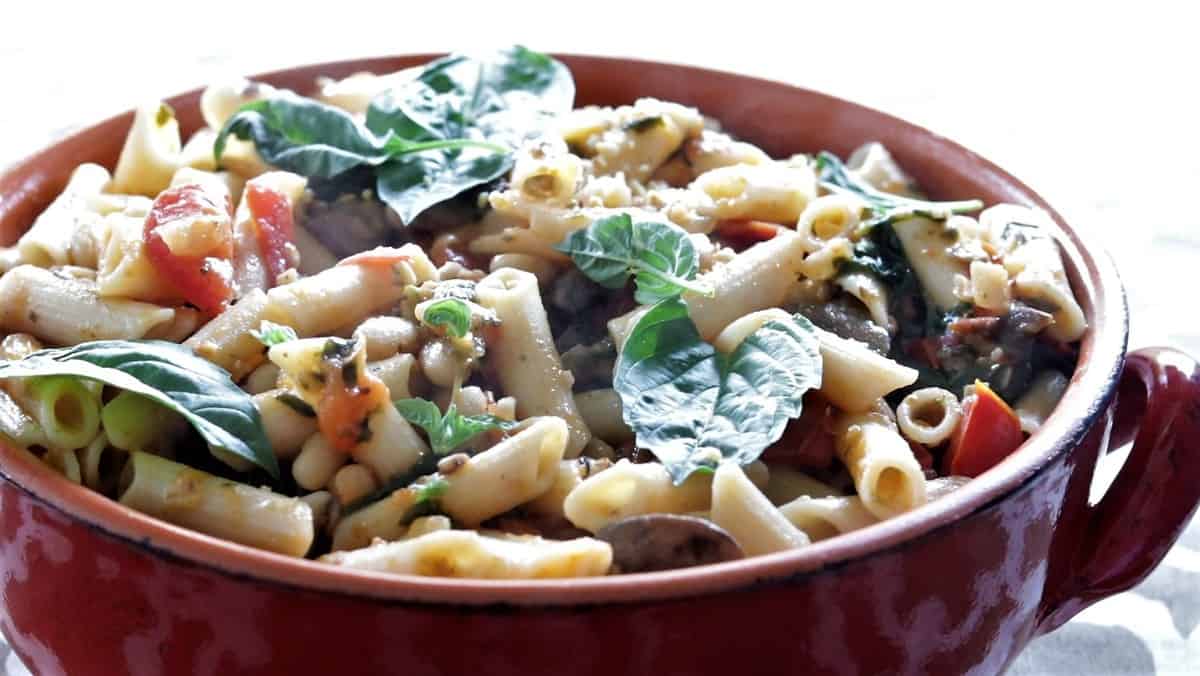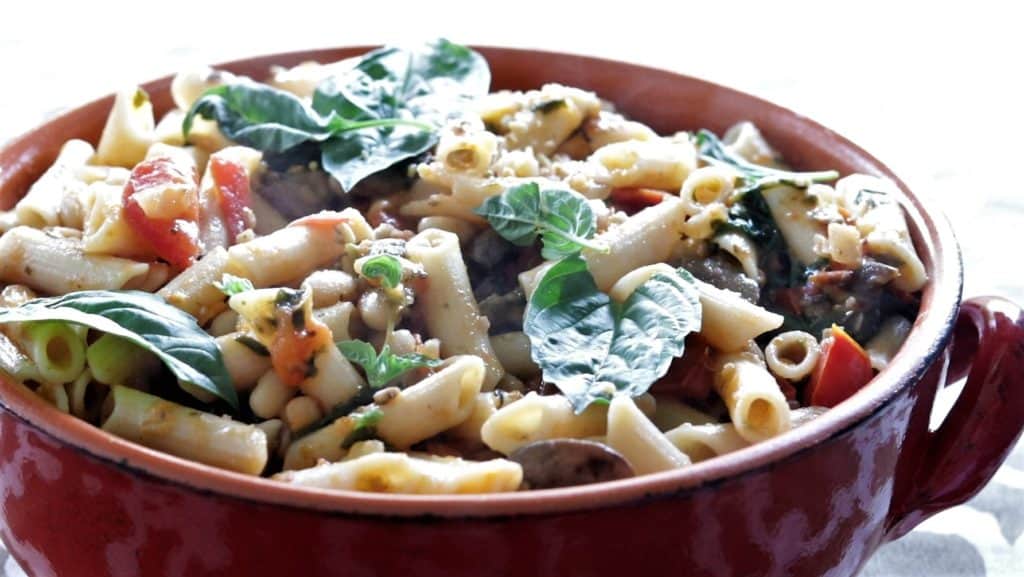 Serve garnished with basil and vegan parmesan and enjoy!
Tips
Instant Pot spinach mushroom pasta is a quick and easy meal the whole family will love. It's kid-friendly, vegan, gluten-free, and dairy-free. Here are some tips for making this pasta dish.
Definitely don't overcook the pasta or you will end up with mushy and unappealing pasta.
Most types of pasta will work for this recipe. Try out different kinds of pasta like elbow, penne, or ziti to find out which you like best.
Make sure to clear the vent of your Instant Pot immediately after pressure is released to prevent clogging the vent.
Be extra careful when releasing the steam from the Instant Pot to prevent accidentally burning yourself.
Feel free to add extra veggies to your pasta for a heartier dish. This spinach mushroom pasta will pair well with just about any vegetable.
Frequently Asked Questions
Can you cook pasta in the Instant Pot?
While I am not an expert on Instant Pot cooking,  I am trying to make it as useful as possible in my kitchen. In addition to the tender juicy flavor that food cooked in the Instant Pot has, it is ready in much less time than any other method of cooking.

Many do not recommend cooking pasta in the Instant Pot, as the gummy water can clog the vent.  I did notice that somewhat, but I cleared the vent immediately after pressure was released.  In my experience, the lentil pasta caused less of a problem with clogging than wheat pasta.
Can I still make this recipe if I don't have an Instant Pot?
Yes! Cook the pasta according to the package directions. Saute mushrooms, onion, beans, and garlic in olive oil in a pan until tender. Add the spinach and spices and saute until the spinach wilts. Add Roma tomatoes and continue with the directions in the pan.
How do I store leftovers?
Spinach mushroom pasta can be stored in an airtight container in the fridge for up to three days.
Recipe
Instant Pot Spinach Mushroom Pasta
So easy and yet, so delicious, this Spinach Mushroom Pasta prepared in the Instant Pot is ready in no time. It will be one of your favorites! Vegan, gluten free, dairy free
Ingredients
Pasta
12

oz

gluten free penne pasta

4

cups

water for pasta
Vegetables
¼

cup

olive oil

1

cup

chopped onions

6

cloves

fresh garlic

minced

4

cups

spinach or greens

6

Roma tomatoes

chopped

2

cups

cooked white beans

2

cups

fresh mushrooms

sliced

1

tablespoon

red pepper flakes

1

tablespoon

Italian seasoning

1

tablespoon

sea salt

2

sprigs of fresh basil for garnish

2

tablespoon

vegan parmesan for topping
Instructions
Pasta
Add pasta to Instant Pot with 4 cups of water

Set Instant Pot to High Pressure for 4 minutes

(Instant Pot will warm up and then begin cooking)

When complete, release pressure, QR, carefully with towel

Remove inner pot with potholders and pour pasta into strainer

Rinse with cold water. Set aside.
Vegetables
Rinse pot, return to cooker and set to saute.

Add olive oil, onions, garlic, spinach, beans, mushrooms and spices.

Saute about 10 minutes.

Add chopped tomatoes.

Saute for an additional 5 minutes.

When tomatoes are tender, use hand blender to blend a small section of vegetable mix to make a sauce. Leave most vegetables intact.

Add pasta back into pot and stir well.

Serve. Garnish with fresh basil and vegan parmesan. 6-8 servings.
Nutrition
Serving:
1
g
Calories:
340
kcal
See more food photos on Instagram