Golden Beet Zucchini Salad.  It is almost officially summer, and we are in prime salad season.   l like salads anytime of the year, but summer salads are the best when all of the produce is fresh and tasty.
This beet zucchini salad is not your ordinary summer salad!  It has fresh zucchini and beets, but the key is the creamy coconut ginger yogurt salad dressing that gives it an off -the-chart tangy flavor.  Beets and zucchini never tasted so good.

Ingredients For Golden Beet Zucchini Salad
Take a quick look at the ingredient list to see if you have everything that you need to make this salad.  For the salad, it is so simple, only 3 ingredients:
Golden Beets
Red Beet
Zucchini
For the dressing you will need:
Yogurt
Cinnamon
Ginger
Salt
Coconut Milk
Orange Juice
For garnish:
Orange zest
Mint
Why Use Beets?
I agree, beets aren't the tastiest vegetable available for your salad.  Golden beets have a milder flavor than red beets, but both have vitamins, minerals,  are low in fat and help with inflammation.  Additionally, beets are a great source of fiber, and that is essential to a healthy gut and digestive system.(source)
Steps To Make Golden Beet Zucchini Salad
I find it useful to make the dressing first, so that the flavors can mix together to create the tangy kick.  Simply add all of the dressing ingredients to a small blender and blend until smooth.  This dressing is very versatile, and can be used on any salad.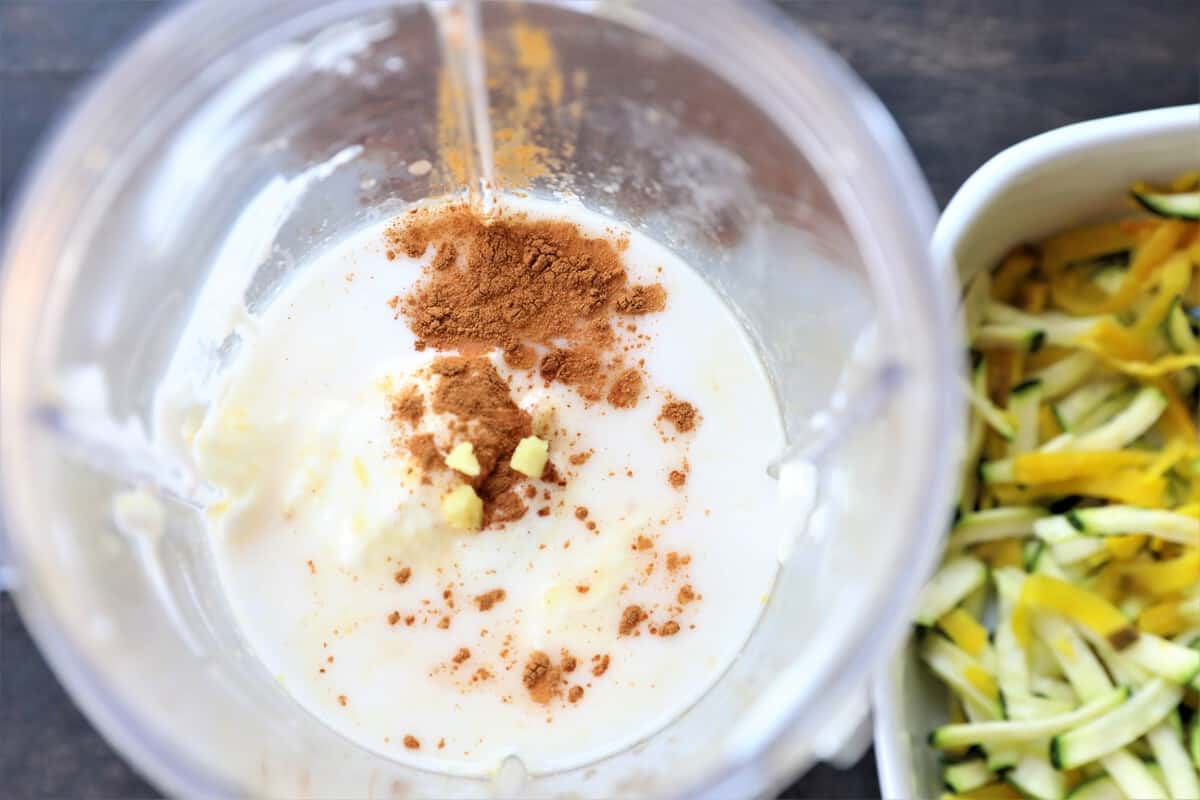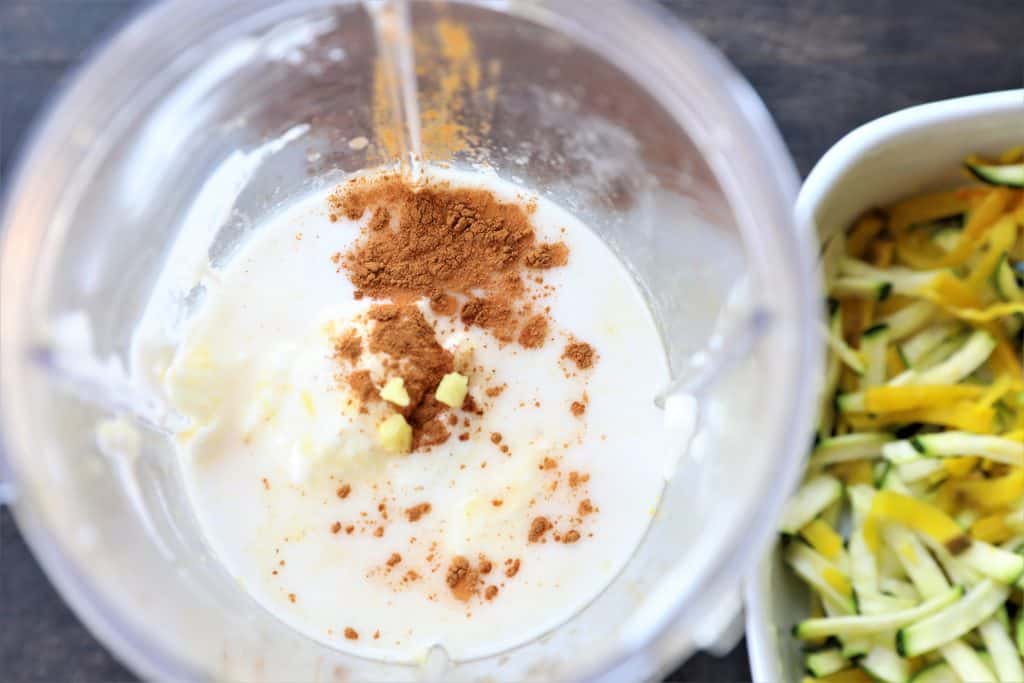 Place the dressing in the refrigerator while you make the salad.  Shred the zucchini and golden, and red  beets (separately), in the food processor.  Cook the golden beets in the microwave for 2 minutes.  Let cool.  Place in a salad bowl with zucchini and mix well.  (Don't cook zucchini)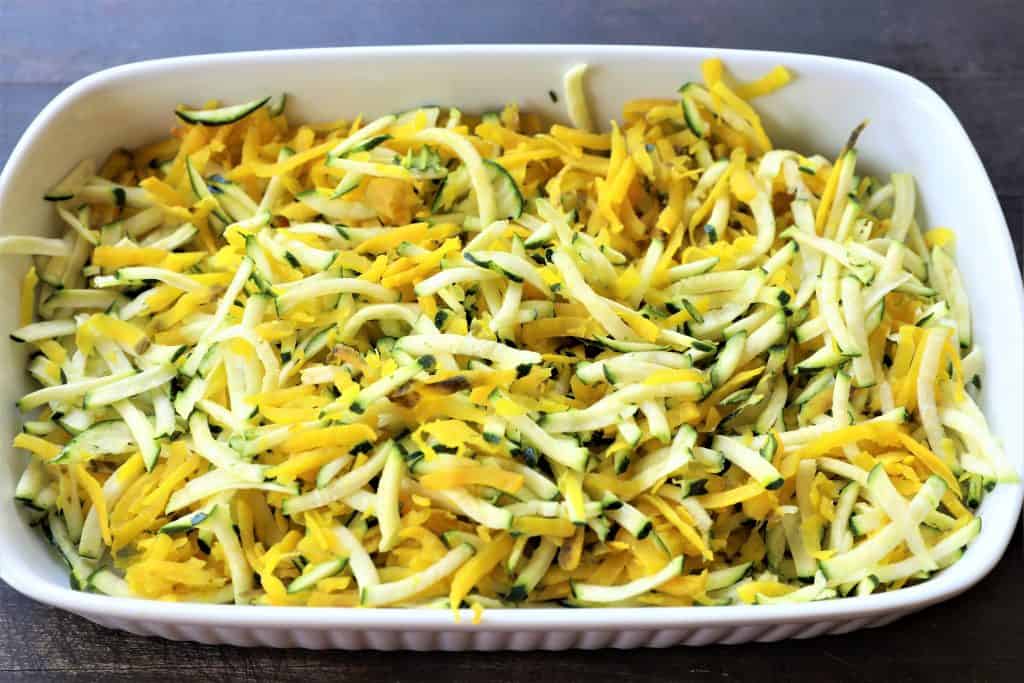 That's how easy this salad is!  Just add the dressing to the zucchini and golden beets and mix well.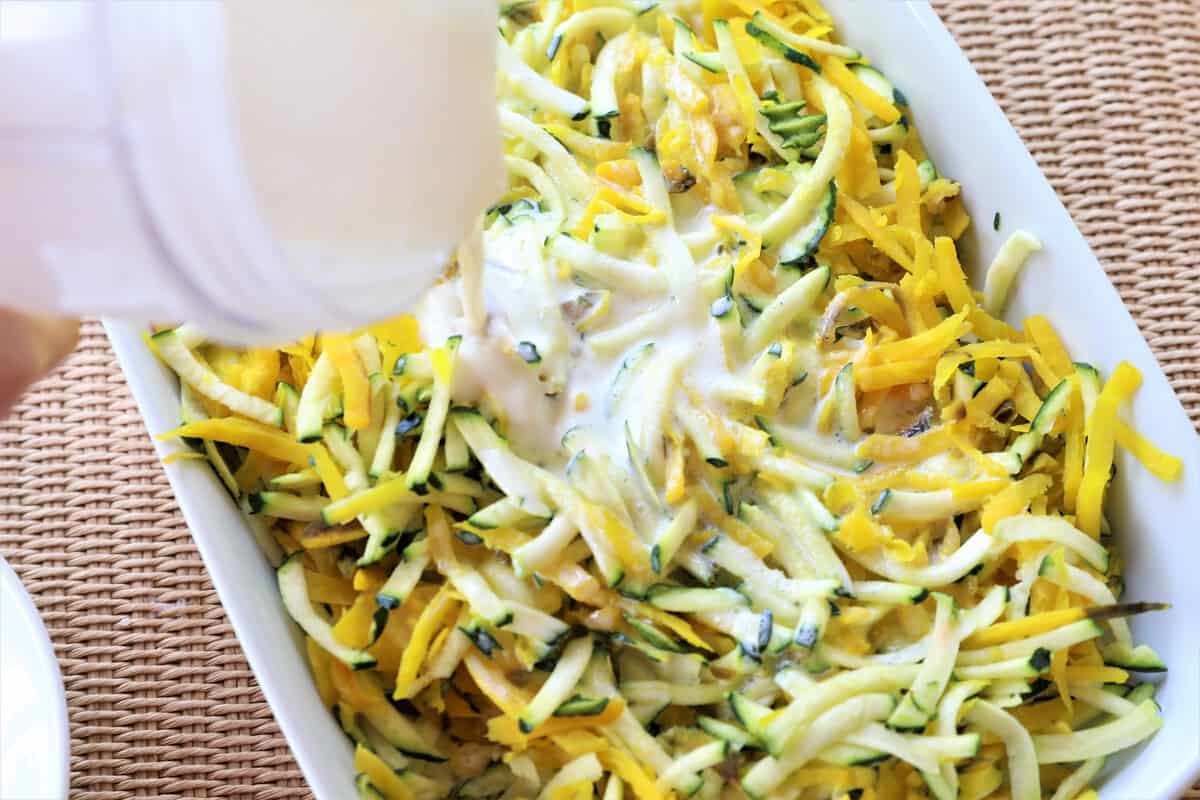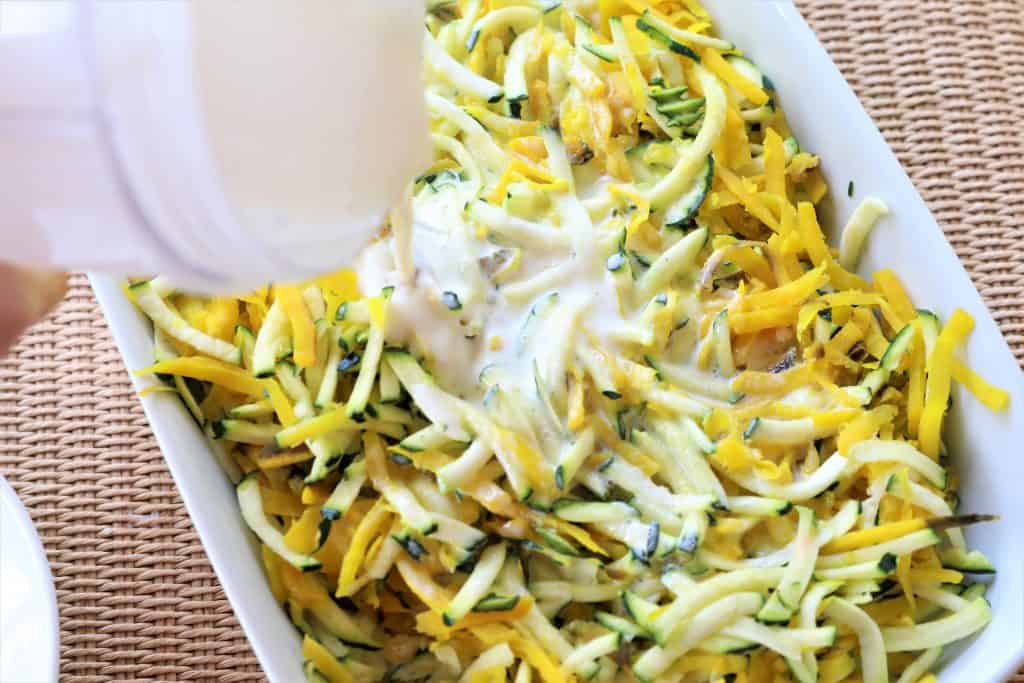 To add extra nutrition, fiber and color, spoon the shredded red beet on top of each serving of salad.
Top with orange zest, and fresh mint.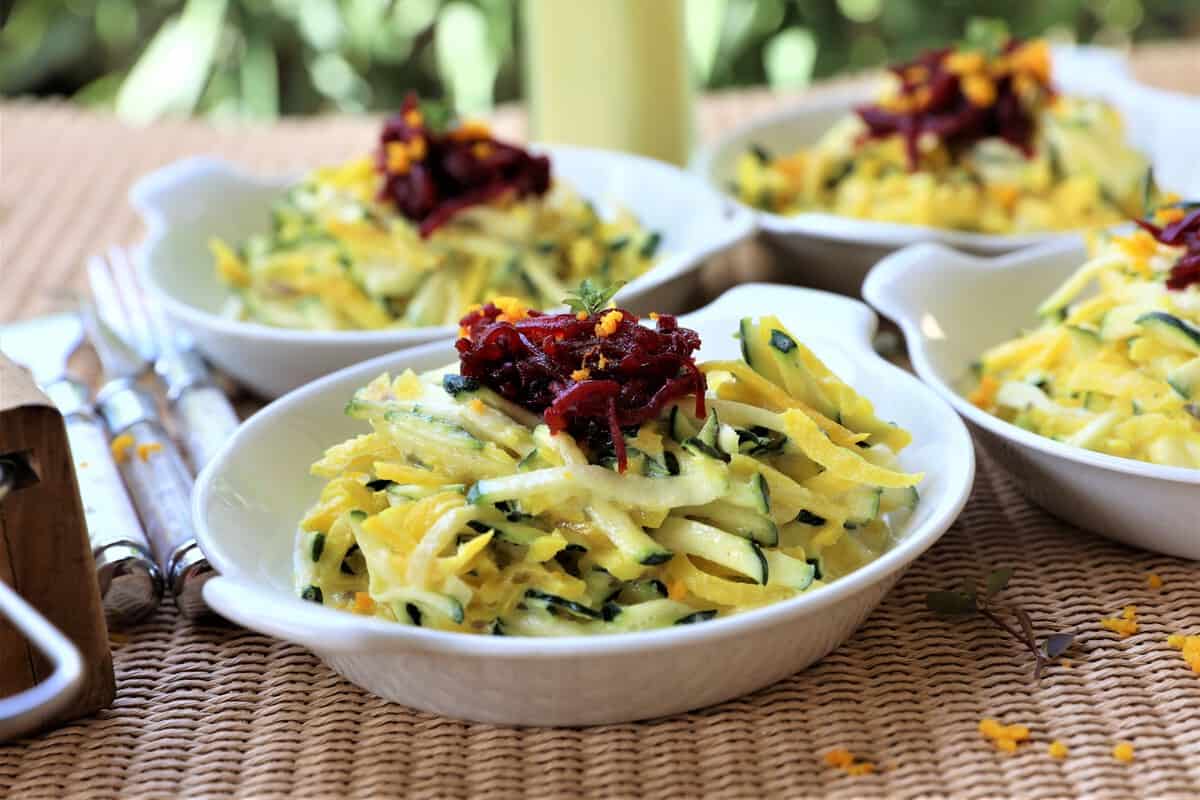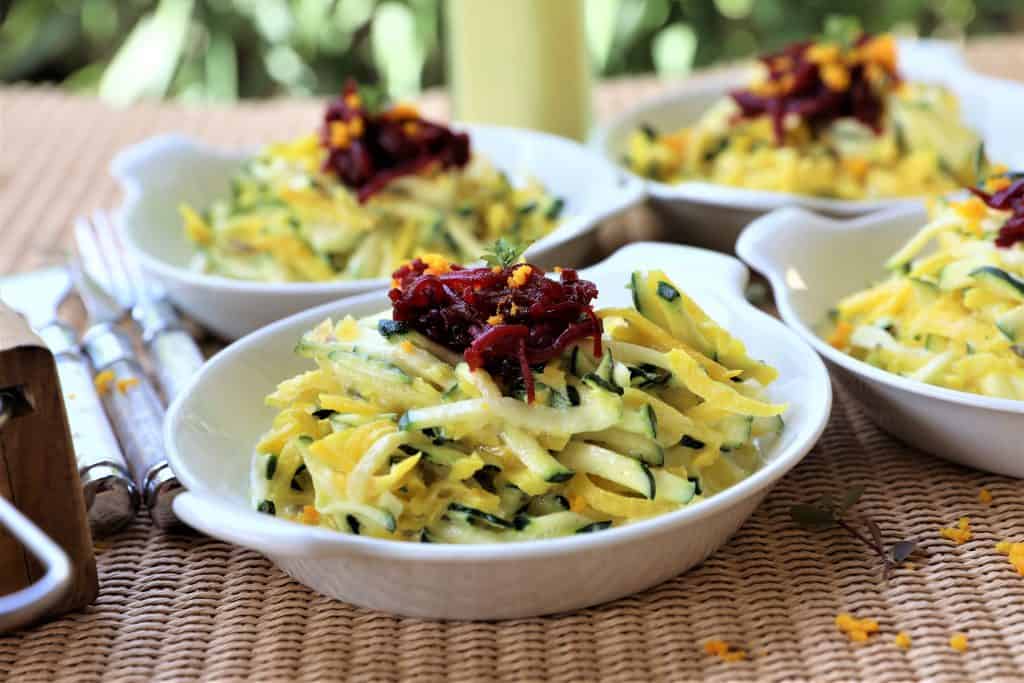 Tips For Making Beet Zucchini Salad:
I like to cook the beets in the microwave for a few minutes to make them a little more tender.
I do not cook the zucchini, because it is better fresh and crispy and tends to get soggy when it is cooked in the microwave.
This bright and fresh salad will look beautiful on your table.
Recipe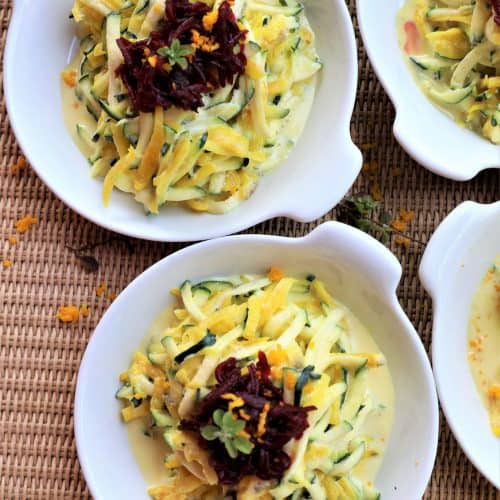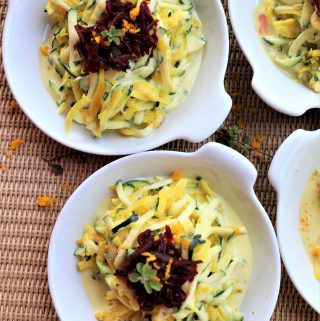 Golden Beet Zucchini Salad
Golden beets and zucchini topped with fresh, smooth and creamy yogurt dressing. This salad is so light and tangy and the perfect addition to any meal.

Ingredients
Salad
4

golden beets, peeled and shredded

1

red beet, peeled and shredded

2

zucchini, shredded
Yogurt Coconut Dressing
⅔

cup

greek yogurt

for vegan or dairy free option, use coconut yogurt

½

teaspoon

cinnamon

½

teaspoon

sea salt

2

tablespoon

orange juice

½

teaspoon

fresh ginger

3

tablespoon

coconut milk

1

tablespoon

orange zest

for garnish

1

teaspoon

fresh mint

for garnish
Instructions
Yogurt Coconut Dressing
Add yogurt, cinnamon, salt, ginger, orange juice and coconut milk to small blender. Blend for 1 minute or until smooth and creamy.

Salad
Shred golden beets in food processor. Cook for 2 minutes in microwave


Shred red beet. Cook for 1 minute in microwave. Set aside.


Shred zucchini. Do not cook zucchini. Add shredded zucchini and golden beets (not red beet) to large bowl and mix well.

Add dressing to zucchini and golden beets and mix well; spoon salad into 4 small serving bowls. Add 1 tablespoon of red beets on top of each salad; garnish with orange zest and fresh mint.

Nutrition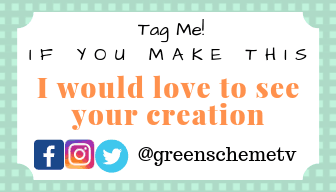 More Recipes Like Golden Beet Zucchini Salad: