Sheet Pan Veggie Meal Prep.  I have never really been diligent at meal prep.I often grill vegetables in bulk, and add them to different dishes randomly.  I also will make salad dressings or creme sauces and use them throughout the week.  Neither of these practices actually qualifies as official meal prep.  This week, I was more deliberate in planning--I wanted a delicious lunch for five days, and set out to do that.  The result was very weird.
The food turned out exceptionally well and I was pleasantly surprised that it only took 1 hour to make all of the dishes that went into the weeks' lunches.  What was weird was how excited I have been all week, knowing that I have these delicious lunches already assembled, and ready to eat. Seriously, I could have had 5 Amy's frozen dinners in the freezer and it would have been the same end result, but, it wasn't the same.  It was really cool, and here are the details.
I prepared a chipotle marinade, and roasted vegetables and jackfruit in the oven.  I cooked lentil pasta, (packed with 13 grams of protein in each serving) in the Instant Pot and used pre-cooked Seeds of Change Quinoa With Brown Rice.  I used pre-shredded cabbage for the slaw, and in one hour, done.  Delicious lunches for five days that are vegan, gluten free and dairy free.
Recipe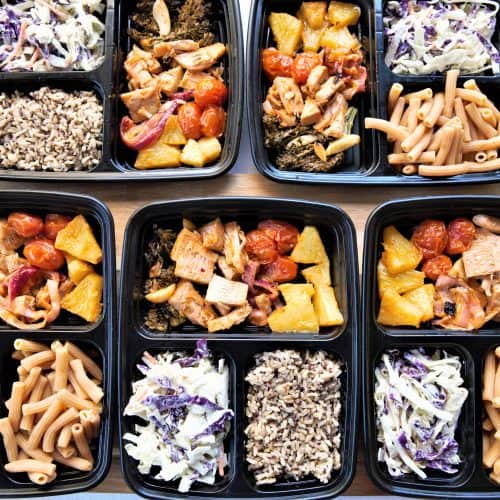 Sheet Pan Veggies Meal Prep
Delicious Sheet Pan Veggies Meal Prep. Vegan, gluten free, dairy free lunch for 5 days in one hour.

Ingredients
Chipotle Marinade
¼

cup

olive oil

½

teaspoon

chipotle seasoning

I use Mrs Dash Southwestern Chipotle

½

teaspoon

smoked paprika

¾

teaspoon

sea salt

1

teaspoon

lime juice

or juice of 1 lime

½

cup

fresh pineapple

4

cloves

garlic
Veggies and Fruits
2

cups

baby broccoli, chopped

10

cloves

garlic

15

cherry tomatoes

1

red onion, sliced thinly

1

can 14.5 oz

jackfruit, chopped into bite size pieces

organic if possible

20

bite size pieces of fresh pineapple

2

cups

quinoa/brown rice

pre-cooked-I used Seeds of Change

12

oz package

lentil pasta

you will only use 3 cups of pasta

4

cups

purple cabbage

2

lemons

juice of 2 lemons

4

cups

water

for lentil pasta
Instructions
Lentil Pasta
Place pasta and water in Instant Pot. Cook on high pressure for 3 minutes. Quick release when cooked. Note: Pasta and water create a lot of pressure. I lightly place a towel on the pressure valve when it is releasing to avoid having my kitchen sprayed with pasta water.)

Drain pasta and run cold water on it to prevent sticking. Set aside.
Sheet Pan Veggies and Fruits
Pre-heat oven to 425 degrees. Spread all fruits and vegetables on baking sheet lined with parchment or silicon baking mat. Drizzle with Chipotle Marinade.


Bake at 425 degrees for 30 minutes.

Chipotle Marinade
Add all ingredients to high speed blender and blend. Drizzle evenly on vegetables and fruits on baking sheet prior to baking.

Assemble Meals
After vegetables and fruits are cooked, distribute evenly among 5 meal prep containers. Add lentil pasta to 3 of the containers. Add quinoa/brown rice to 2 of the containers.
Slaw
Distribute shredded purple and green cabbage into 5 meal prep containers. Drizzle lemon juice on the cabbage to help avoid discoloration. At meal time, you may add a dressing of your choice, but don't do it in advance as the cabbage will get soggy.

Notes
If you don't have an Instant Pot, you can cook the lentil pasta according to package directions.  Also, you will only use 3 cups of the cooked pasta for this meal plan, so you will have leftovers from the 12 oz bag.
Nutrition