This Super Alkaline Cherry Smoothie is our favorite alkaline smoothie recipe Cherries are in season, so it is time to make all the deliciousness possible with these beautiful red fruits.
To make the smoothie as nutritious as possible, I look to the list of alkaline foods, and choose several to enhance the cherries. Adding almond milk, kiwi, cashews, fresh grown kale, beets and almond milk, I then mix up some magic. Try it! Vegan, gluten free and diary free.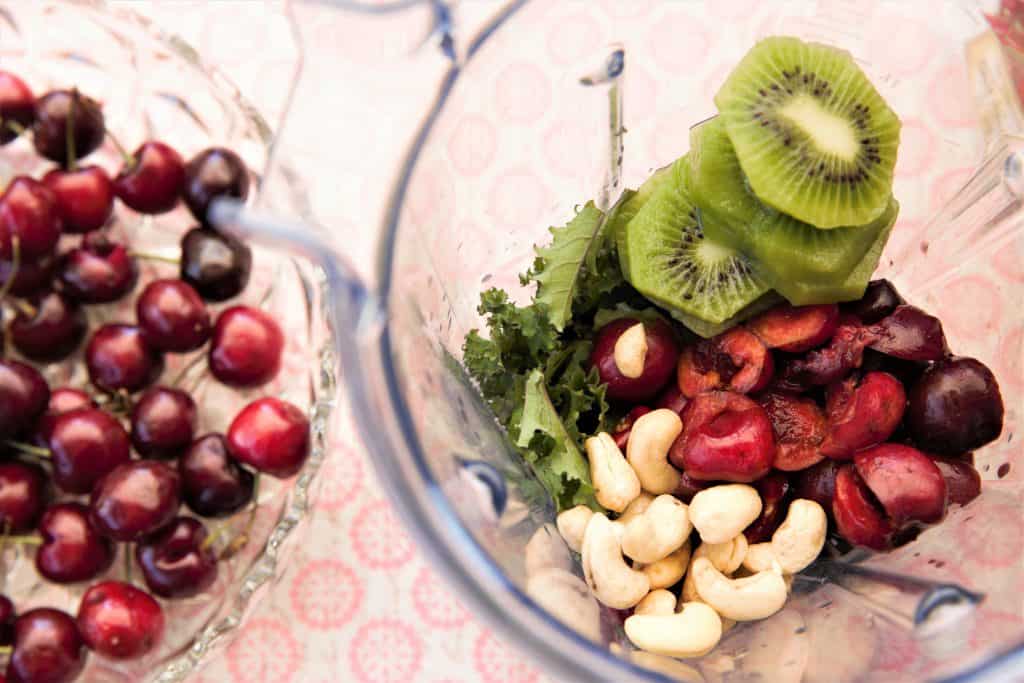 Jump to:
Ingredients
In order to create recipes with high alkaline foods, I created this chart. My selecting these foods, you can make delicious bowls, soups, smoothies and salads.
The combinations are endless!
Vegetables
Broccoli
Chard
Cucumber
Endive
Kale
Spinach
Arugula
Beets
Cabbage
Celery
Eggplant
Green beans
Okra
Onion
Peppers
Radishes
Tomato
Artichoke
Asparagus
Brussel sprouts
Carrots
Cauliflower
Leeks
Peas
Squash
Sweet potatoes
Zucchini
Mushrooms
Ginger
Garlic
Parsley
Wheatgrass
Fruits
Avocado
Figs
Lemon
Lime
Tomato
Coconut
Grapefruit
Pomegranate
Pumpkin
Rhubarb
Banana
Kiwi
Cherries
Pears
Pineapple
Berries
Apples
Watermelon
Oranges
Grapes
Apricots
Raisins
Cantaloupe
Mango
Peaches
Plums
Other
Navy Beans
lima Beans
Quinoa
Wild rice
Almonds
Hazelnuts
Cashew nuts (raw)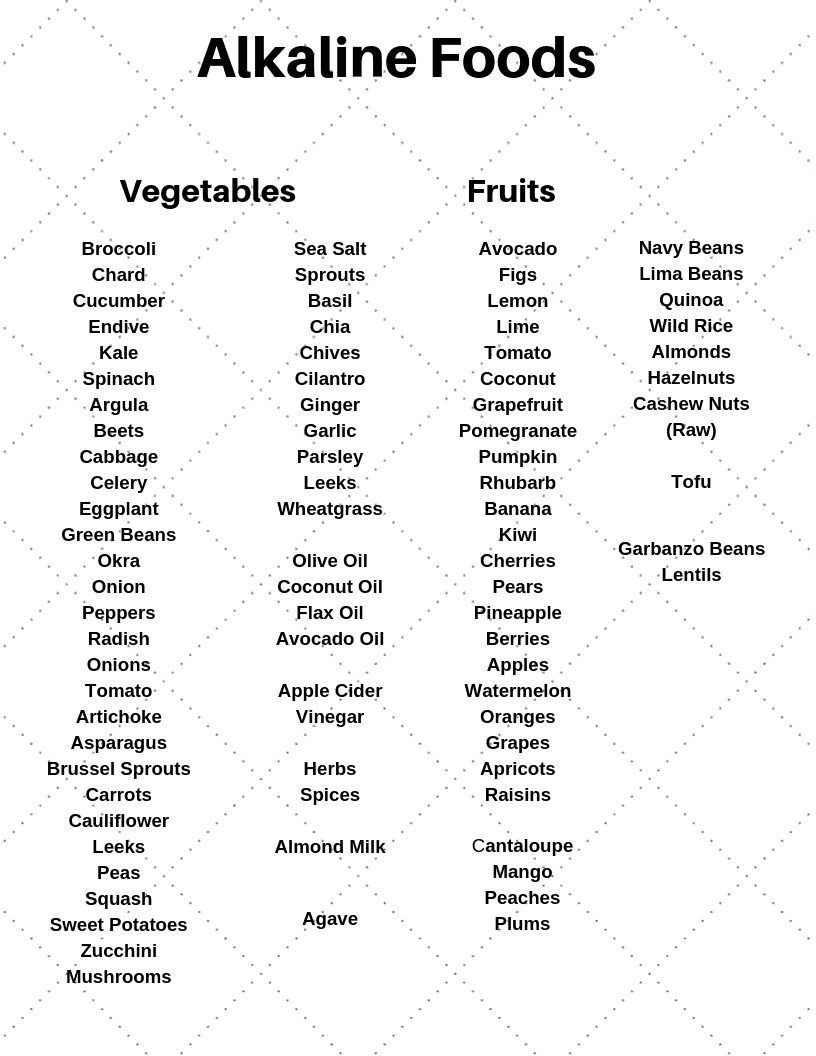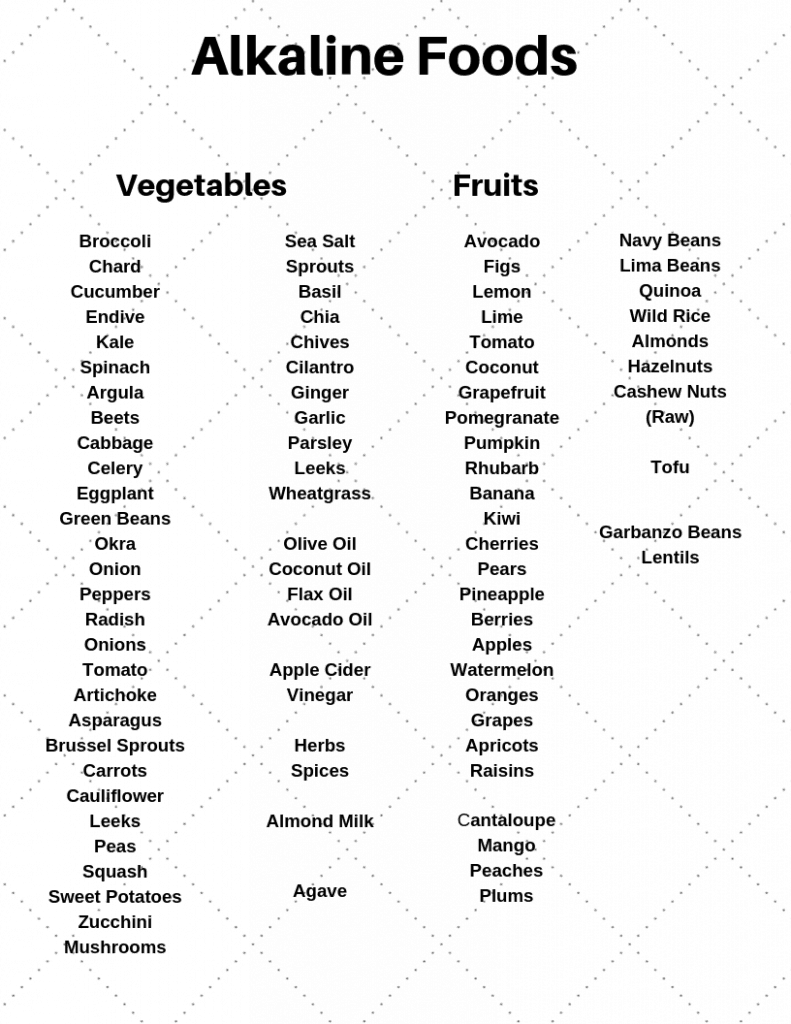 Download your printable chart here
Instructions
This smoothie is so easy! Just combine all ingredients in your high speed blender, and blend until smooth.
I used the fresh kale that I grew in my patio garden in this smoothie. If you want to grow your own organic vegetables and herbs on your patio like I do, check out my organic patio garden here.
Recipe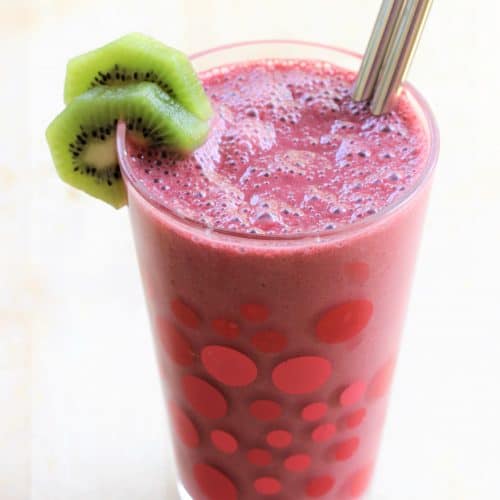 Super Alkaline Cherry Smoothie
These super alkaline ingredients make for a delicious, nutrition packed smoothie.

Ingredients
1-½

cup

almond milk

1

cup

fresh cherries, seeded

1

cup

kale

1

kiwi

peeled

2

tablespoon

raw cashews

½

fresh beet, chopped
Instructions
Add all ingredients to high speed blender.
Nutrition
Serving:
30
oz
Calories:
244
kcal
Check out our 28 Best Alkaline Recipes
If you are trying to add more alkaline recipes to your diet, you can create many recipes with the ingredients listed on the chart above.
I have had this blog for over 3 years, and many of my recipes are vegan, vegetarian, gluten free and dairy free. Most importantly, they contain many of the healthy alkaline foods listed above.
If you don't have time to create your own recipes, no worries. I have prepared a list of what I think are the 28 Best Alkaline Recipes. Check them out and pick your favorite!