Many food bloggers add a resource page to their sites to inform readers how they can  purchase items that are used in the  recipes.  Although everyone understands the nature of affiliate relationships, it still seems to have a negative connotation for some. Here is my deal: I spend a lot of time creating recipes that are helpful and hopefully delicious, for those who have specific diet requirements like I do.  I really enjoy the process, and in the course of working on food, I use products that, in some cases, took a long time to find, or are perfect for the recipe. When appropriate, I share this information for those who want to receive it, and if you purchase any product, I may receive a small referral fee from the merchant, or Amazon. Don't ever feel obligated to purchase anything, just use the resources if they help you.  I thank you for reading my blog, for trying my recipes, and for supporting my efforts. Here are some of the products I love and use.
TOOLS OF THE TRADE
Probably the most important tool in my kitchen is the blender.   For most of my blending, I use the Vitamix , the queen of all of the blenders.  It handles all challenges well, and if you can find a way to get one, do it.  There are so many great things about the Vitamix, too many to mention here.  As with all my purchases though, one thing that is important is the warranty, and it has a seven year warranty.  So you can blend ice and nuts and make delicious meals, and if your Vitamix fails you, the company stands behind it's product.

Magic Bullet MBR-1701 17-Piece Express Mixing Set
There are something however, that I don't use the Vitamix for because I hate when the food gets stuck in the bottom and on the blade.  This happens occasionally when I am only blending a small portion or, when I am making certain salad dressings that have stick ingredients, like almond butter.  In that case, I use the Magic Bullet, or the Nutri Bullet which has a design that allows you to shake the cup and dislodge any stuck food or ingredients.  It is so perfect for salad dressings, but is dainty and delicate and can't handle big items or hard textures.

Finally, for chopping, dicing, shredding and slicing, I rely on my Cuisinart food processor.  As an added bonus, I found that it works extremely well for the nice cream,  with the meat blade.  It slices through the frozen bananas like a charm, and makes the most perfect nice cream.
Nutri Bullet "Veggie Bullet" Food Processor, Silver
When I am feeling creative, and want to spiral, ribbon or decorate with the vegetables, the Veggie Bullet Spiralizer is my go to tool.  Two of my favorite dishes are Basil Zoodles and Angel Hair Zucchini Salad and I use this tool to make beautiful zucchini noodles so that I am never disappointed.
 George Forman 15 serving indoor/outdoor grill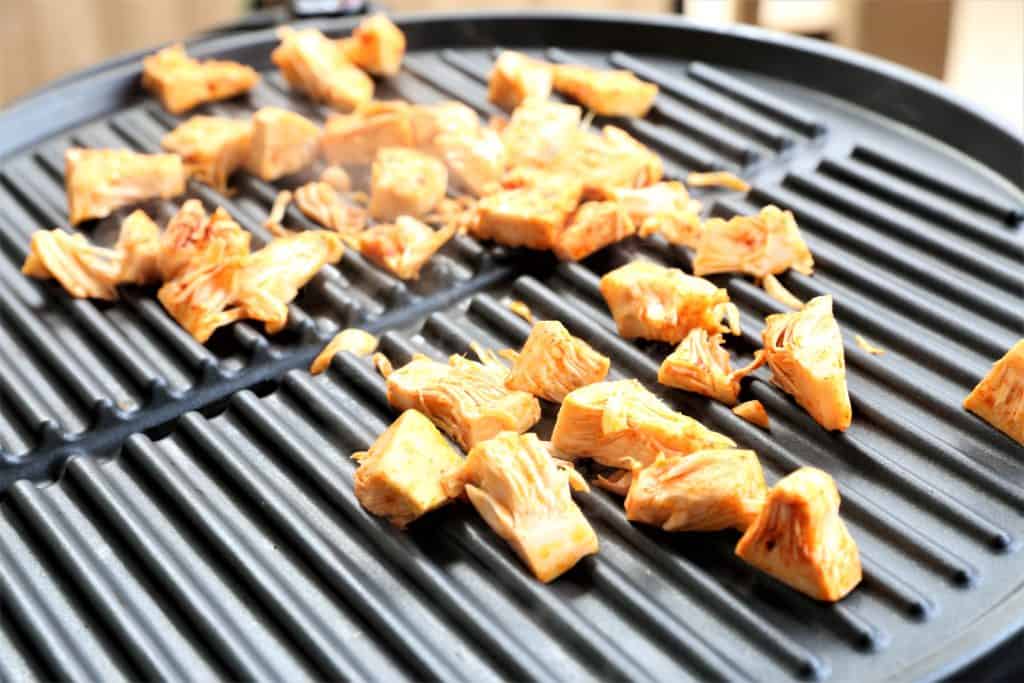 I have only used this grill outside, but it is fabulous.  It heats evenly, is easy to clean and simple to put together.  This is my new favorite cooking gadget because, doesn't everything taste better grilled?
Kai Pure Komachi 2 6-Piece Knife Set 6 Stainless Steel Knives Colored Sheaths 743680
I had been using the same knives for over 20 years– they were Ginsu knives that I bought from an infomercial on tv. Finally, with all the cutting, chopping, slicing and dicing that I do for my recipes, I wanted and needed some new knives. I found these bright, colorful and sharp knives, and love the fact that they have covers so that no one accidentally reaches into the drawer and gets sliced.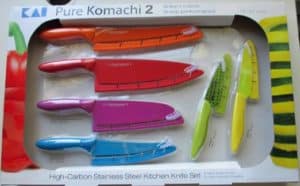 Prepworks by Progressive Mini Colanders – Set of 3
I love these little adorable strainers!  I am always using fruits and berries in my recipes, and these strainers are pre-measured, 1/4, 1/3 and 1/2 cup.  I  just toss my berries in, and rinse them in one step….time saver!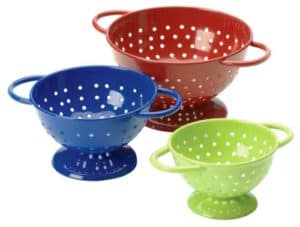 Yes, another bullet gadget.  Sometimes I think I need to cut back on kitchen gadgets, but nah. Meet the  Dessert Bullet.   With just frozen fruit, you can create a super healthy dessert without any added sugar, preservatives or chemicals.  On a hot summer day, this gadget is a must!
Lodge 10 1/4 inch cast iron skillet.  I use this for many dishes, and love the fact that I can toss all the ingredients in it, bake, and it is one pan cooking.
Finally, these adorable popsicle molds are perfect for summer snacks, and easy for kids to use.


Rednolia Popsicle Molds and Ice Pop Maker with Attached Lids [Set of 6] Multi-color