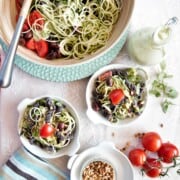 Print
Black Bean Pasta Salad-Instant Pot
Ready in less than 30 minutes, this protein packed pasta salad, topped with avocado dressing is yummy!

Avocado Dressing
1

ripe avocado

½

cup

raw cashews

1

cup

water

add gradually to food processor

2

tablespoon

olive oil

4

cloves

fresh garlic

1

tbsp

fresh lemon juice or juice of 1 lemon

1

teaspoon

sea salt
Black Bean Pasta Salad
Add pasta to Instant Pot with 4 cups of water.  Cook on high pressure for 3 minutes.  QR, quick release pressure. DO NOT cook for longer than 3 minutes or fail to release pressure immediately.  (you will have bean soup) Drain pasta and rinse with cold water. If you are not cooking with an Instant Pot, cook pasta according to package directions.


Spiralize zucchini, or if you don't have a spiralizer, shred with food processor.


Add olives and dried cranberries


Mix all ingredients together. Top with dressing and garnish with pine nuts.