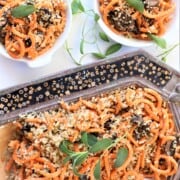 Print
Garlic Sage Butter Vegetable Stirfry
Garlic Sage Butter Vegetable Stirfry requires 3 ingredients for the stirfry, 3 ingredients for the garlic sage butter and 30 minutes! How much easier can it be to have dinner on the table? This dish is vegan, gluten free and dairy free.
Garlic Sage Butter
½

cup

butter. I used vegan butter Miyoko that I found at Trader Joe's, but if you are not vegan, use salted butter

3

cloves

garlic

½

teaspoon

sea salt

3

tablespoon

fresh sage, leaves only (not stems)
Stirfry
Using no oil, stirfry mushrooms on high until slightly browned, about 3 minutes in large pan


Spiralize or shred sweet potatoes. Cook sweet potatoes for 5 minutes in microwave.


Add minced cauliflower and ½ garlic sage butter to mushroom stirfry, lower heat to medium high and mix well for 3 minutes


Add sweet potatoes and remaining garlic sage butter and stirfry for an additional 3-5 minutes, depending on how well done you like your sweet potatoes. If you cook them too long however, they will get mushy, so watch carefully.


Serve stirfry garnished with fresh sage.