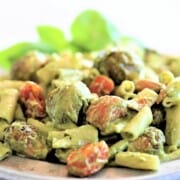 Print
Roasted Tomato and Brussel Sprout Pasta With Pesto
Pasta with peso and roasted tomatoes, brussel sprouts.

Heat oven to 350

Drizzle olive oil, salt and garlic on tomatoes and brussel sprouts

Roast for 45 minutes, or if you have time, slow roast at 200 for 5 hours

Cook pasta according to package directions.

Drain pasta and rinse with cold water.

Add roasted vegetables to pasta.
Pesto
Blend all ingredients in high speed blender.

Add to pasta and vegetables; toss and serve.