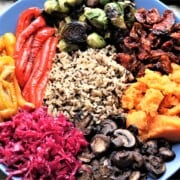 Print
Buddha Rainbow Vegetable Bowl
Buddha Rainbow Vegetables! Quick, easy and oh so healthy, this bowl will be one of your favorites.

Drizzle olive oil, sea salt and pepper on mushrooms, brussel sprouts and red and yellow pepper

Bake at 375 for 30 minutes

Bake sweet potato for 60 minutes

Build your bowl with all baked vegetables and add cooked rice/quinoa, ruby red kraut and sun dried tomatoes.